Looking for the quietest Keurig coffee maker for your kitchen?. Perfect, you've come to the right place. In this guide, you can expect to learn the following:
What a Keurig coffee maker is
How does a Keurig coffee maker work?
Our top-rated quietest Keurig coffee maker picks
How to choose the quietest Keurig coffee maker
How to make your Keurig coffee maker quieter
And more…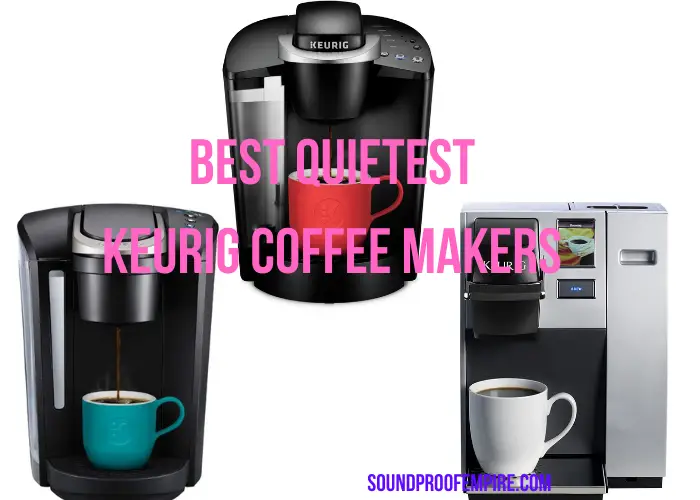 Quick Preview of the Quietest Keurig Coffee Maker Picks
In a hurry?. Well, I understand. Here is a quick preview of the quietest Keurig Coffee Makers in the Market.
If you are a coffee fan, I am sure you are already aware of the Keurig coffee makers. They are the most popular and phenomenal single-serving brewer in the United States of America.
Most of us can't even begin to function without a cup of coffee in the morning. That is how addicted we are to this hot beverage. But we all know that making coffee the traditional way is a long tall task in the morning especially if you are getting ready for work.
To simplify this task, Keurig coffee makers are our best option. With a Keurig coffee maker, you can have a tasty flavored coffee in minutes. Just so convenient and time-saving.
However, with the different Keurig coffee brewers in the market today, some are quite noisy and some also have quiet brew technology that makes the beverage quiet. These are ideal for late nights, early mornings, offices, and in areas where peace of mind is much appreciated.
That being said, today, we look at some of the best quiet Keurig coffee makers in the market. Keep reading below to learn more.
In this post, we're going to be breaking down everything you need to know to find the perfect quiet brew Keurig maker.
Also Read:
Our top-rated quietest coffee grinders
The best quiet air fryers for healthy meals
The top-rated quietest pellet stoves for heating your home
What is a Keurig Coffee and How Does It Work?
Keurig is a beverage brewing system for home and commercial use. It was invented by Massachusetts entrepreneur John Sylvan in the mid-90s and is a cultural phenomenon and the most popular single-serving brewer in the united states.
The main Keurig products are K-Cup pods, which are single-serve coffee containers; other beverage pods; and the proprietary machines that brew the beverages in these pods.
Since the introduction of the original coffee maker, Keurig has introduced several upgraded models and different beverage systems.
Keurig K-Cups are little pre-packaged, freshly ground coffee pods. Keurig lovers can find K-Cups for just about any type of coffee they prefer, no matter the roast, blend, origin, or flavoring.
The device uses small needles to puncture pods of coffee sealed with plastic and nitrogen, with coffee than brewed with a quick stream of hot water.
These coffee makers are synonymous with single-press button coffee makers. They feature a water reservoir that allows you to press a button, the water is heated to an optimal temperature required for the best-tasting coffee.
The heated water passes into a hose at the top of the brewer. Here, the brewer houses an opening piece in which K-Cups are inserted. Once the K-Cup is in place, the opening piece is depressed and shut.
once this is done, small pins pierce the K-Cup to deliver the heated water and distribute the freshly brewed coffee. One small pin punctures the foil lid, thus releasing hot water into the K-Cup.
Another small pin punctures the bottom plastic layer, thus allowing the just-brewed coffee to pour straight into your coffee mug.
The Top-Rated Best Keurig Coffee Makers Reviews
Keurig coffee makers make brewing coffee much easier and if you want to have your peace of mind doing so, here are some of the quietest Keurig coffee makers in the market.
1). Keurig K-Select Coffee Maker
Best Overall
The Keurig K-Select single-serve coffee maker combines sleek design and more intuitive features to help you brew your perfect cup every single time. It features a quiet brew technology that minimizes the noise while making you a cup of coffee.
It also features four brew sizes, so you can brew 6, 8, 10, or up to 12 oz of your favorite coffee, tea, hot cocoa, or iced beverage with the touch of a button. There are six beautiful colors to choose from.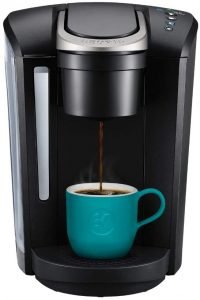 This coffee maker is equipped with a large 52-ounce water reservoir that allows you to brew up to 5 cups of coffee before having a refill. If you enjoy strong coffee to kick start your day, then this coffee maker is great as it has the strong brew feature to allow you to start your day strong.
When it comes to controlling this machine, it has a simple control panel that makes it easy to make your coffee in minutes without any complexity.
Pros
The large 52-ounce water reservoir

Brews multiple cup sizes: (6, 8, 10, and 12 ounces).

Strong brew feature
Quiet brew technology

Removable drip tray

Accommodates travel mugs up to 7.4" tall
Cons
 The water reservoir is somewhat small and will require frequent refills
---
2). Keurig K-Classic Coffee Maker
Best Value for the Money
This Keurig K-Classic Coffee Maker is one of the most affordable Keurig coffee makers and it comes in black and Rhubarb colors to choose from.
If you live alone or with one roommate or partner, then the best Keurig for your household might be this compact option
Whether you like your coffee strong, mild, decaf, or flavored, you can brew all of your favorites with the Keurig K-Classic – and with its large 48 oz water reservoir, you can brew 6+ cups before having to refill.
This model is slightly smaller than the Keurig K-Select above.  But it also has multiple brew K-cup pod sizes which are (6, 8, and 10 ounces) with the most popular brew size being the 60 ounces for the strongest coffee.
This coffee maker also has a simple control panel that makes it easy for everyone to use.
One complaint that some users had was that coffee or other beverages brewed by the Keurig K-Classic Coffee Maker often tasted or smelled burnt. But with further investigation, we found out that, wrong descaling or irregular descaling was the main cause behind this.
Pros
Large 48-ounce water reservoir:

Comes with 4 K-Cup Pods
Descaling it is possible
Automatic Timers
Cons
Some customers complained it quit working after sometime
---
3). Keurig K1500 Coffee Maker
Best Overall 
This Keurig K1500 coffee maker is ideal for small businesses and offices. With this Keurig coffee maker, you can brew your favorite beverage at the touch of a button.
It features a quiet brew technology that enables you to make brew your favorite coffee or make your favorite beverage quietly without disturbing those around you.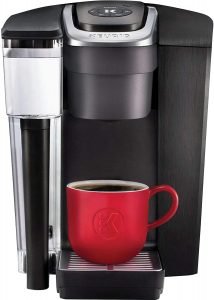 The K1500 commercial brewer is fully featured for effortless beverage customization, including four cup sizes (6 oz., 8 oz., 10 oz., and 12 oz.), and a STRONG button that increases the strength and bold taste of your coffee flavor. It's equipped with a 96 oz water reservoir.
The K1500 brewer makes brewing your coffee, tea, and hot cocoa easier and brings convenience to any business or office. So, if you are looking for the quietest single-serve coffee maker or the quietest single-cup coffee maker, then I will recommend this product to you.
Pros
Ideal for small businesses (up to 15 employees)

Brews 4 cup sizes (6, 8, 10, and 12 oz.)

Extra-large, 96 oz. water reservoir to save time on refilling

STRONG button delivers a more intense flavor

Quiet Brew Technology minimizes brewer noise
Cons
Few customers complained it didn't last long
---
4). Keurig K150 Commercial Brewing System
Best Keurig Commercial Coffee Maker for Office
For offices with more than 10-15 people, a standard home Keurig machine won't do. That's when you need to upgrade to one of Keurig's commercial coffee makers. For small- to medium-sized businesses, we recommend the Keurig K150.
It is designed for small to medium-sized businesses and its durability can without all the daily brewing capacity needed for your office.  This Keurig coffee maker also features quiet brew technology that enables you to make your beverages quietly.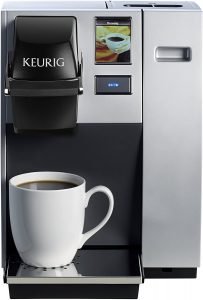 With its 90-ounce water reservoir, you can make up to 18 cups before you refill the water reservoir again. There are five brew sizes available: 4, 6, 8, 10, or 12 ounces.
The Keurig commercial brewer is NSF certified. It has passed extensive testing and analysis by the national sanitation foundation. 
It also has an easy-to-use touchscreen and can brew coffee in a variety of sizes. This is the best quietest Keurig coffee maker for commercial purposes.
Pros
Designed for small to medium-sized businesses

The large 90-ounce water reservoir
Five brew sizes
Touch screen interface
Quiet brew technology
Cons
It may give you some errors
---
5). Keurig K-Duo Coffee Maker
This Keurig K-Duo Coffee Maker has a fashionable black design that will make it a perfect addition to any home.
Not all users will like this coffee maker. But if you want something brand new from Keurig as well as a Multi-functional coffee maker that allows flexibility to brew a single cup or a full carafe.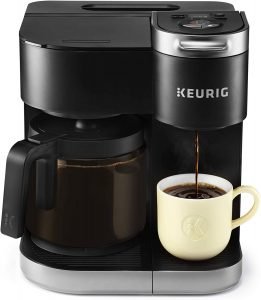 With its 5 buttons to control the machine, it's very easy and convenient for everyone to use.
Keurig K-Duo Coffee Maker is not programmable for a single cup. This could annoy some people, but it's Duo, so of course, it will be programmable for two of course.
Pros
Strong Brew for a bolder, more intense single cup.
4 Brew Sizes for Single Cup & Carafe: 6, 8, 10, 12 oz. / cups.
60 oz. Single Reservoir.
12-cup Glass Carafe & Heating Plate.
Pause & Pour.
Programmable.
Cons
The regular carafe brew is quite weak
---
How to Choose a Keurig Coffee Maker
Keurig coffee machines are well known for their fast brewing process. This is the main aspect that distinguishes them from traditional coffee makers.
With the different models of Keurig coffee makers in the market today, you can easily get overwhelmed when shopping especially if you are new to these coffee makers. Here are some tips to guide you in selecting the right one for your needs.
Noise Levels
Every coffee machine has some level of noise when in operation. You need to check out the noise level of the Keurig coffee maker before you make any purchase if noise is a concern to you. Luckily, all the  Keurig coffee makers here in this guide have quieter operations.
Water Reservoir
How many cups of coffee do you need to be brewed at once?. This will determine the water reservoir size you choose. It dictates the convenience of the machine significantly. The bigger the water reservoir is in your coffee machine, the less often you will need to refill it.
Bigger water reservoirs not only save you time but are great in an office setting when you have to brew several cups of coffee for staff on a break.
In other words, if you tend to drink lots of coffee daily, you have a large office, conference, or other settings, you should give preference to those models of Keurig coffee makers that are equipped with bigger water reservoirs.
There are even models that can be hooked directly into the plumbing system of your mansion.
Brew Time
Keurig brewing machines allow you to save a lot of time you can. Remember the various models of Keurig coffee makers have different brewing times. when choosing, you need to keep that in mind, in order to choose one that will be perfect for you.
Brew Temperature
As a coffee lover, you may already know that the brewing temperature can affect the taste of the coffee. There are Keurig coffee machines that have features of temperature control to help you choose the perfect brewing temperature for your coffee.
Cup Size
When it comes to cup sizes, almost all coffee machines produced by Keurig have several different options. The most common combination is a small cup (6 oz.), a medium cup (8 oz.), and a large cup (10 oz.).
Despite the possibility of changing the size of your cup, you can't change the amount of coffee used for one brew.
The best cup size for K-cups is a medium one that will guarantee you the best flavor and aroma of your coffee. A smaller cup size will provide you with some stronger taste, while a bigger one will be better for those who prefer a lighter drink.
Brew Style
Do you want it strong, regular, or mild?. The brewing style of the Keurig coffee maker will give you the opportunity to decide on the best brew strength. even though the size of the coffee cup can influence the taste, this option will help you to improve it.
Energy-Saving Mode
The point is that coffee makers produced by Keurig are rather energy-saving; however, there are models that have an extra energy-saving mode.
Without any doubt, it is a great way to save some money. In fact, most Keurig machines are equipped with a special shutoff system to avoid extra energy consumption.
User Interface
The simplest Keurig coffee maker will present you with just a few buttons. However, some of the latest models have LCD screens that allow you to select a lot of modes, settings, and options.
Just keep in mind that if you prefer some simpler gadgets, it is not an option for you as it can make it harder to deal with all those settings.
Price
You need to know that the average price of a Keurig coffee brewer is pretty high. In fact, most drip coffee makers are much cheaper.
Of course, when it comes to Keurig, there are both cheaper and more luxurious options.  If you have a tight budget, you may give preference to some simple, basic models.
How to Use a Keurig Coffee Maker Quieter
Keurig coffee makers are a great way to get a quick cup of coffee in the morning. But some of their models can be quite noisy. If your coffee maker loudly rattles or "walks" on the kitchen countertop, here are some easy ways to reduce the noise.
Try placing a corkboard, mouse pad, or cutting board under the coffee maker to reduce the noise.
You can also turn the unit over and check the feet on the bottom. Some models have the black rubber feet not touching the countertop, but rather, the hard plastic frame that supports the unit. This could be the part of creating the loud sounds.
Purchase silicone cabinet door bumpers from a home improvement store. Install them as soft feet to cushion the bottom of the unit and reduce the noise.
If it comes to the worse case that you can really fix the noise of your Keurig coffee brewer, you can get one of these quietest Keurig coffee maker machines in this guide to save yourself all the trouble.
Latest posts by Josephine
(see all)