Looking for a quiet air fryer for oil-free healthy cooking?. Perfect, then you've come to the right place. In this guide, you can expect to learn the following:
What is an air fryer?
How does an air fryer work?
Our top-rated quietest air fryer picks
How to choose an air fryer
And More…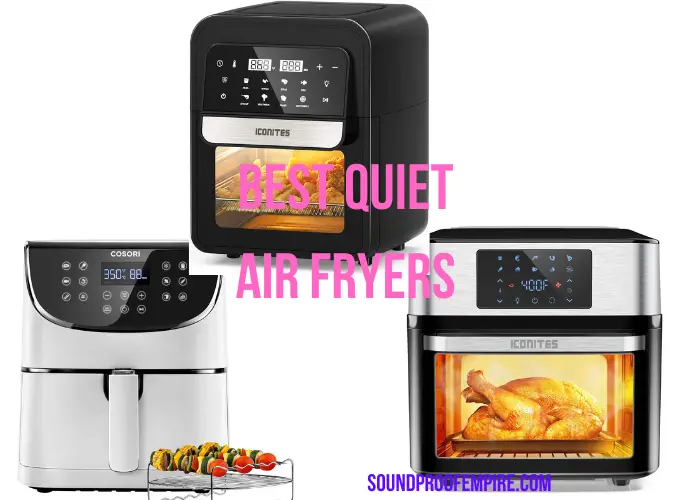 Air fryers are challenging the old adage that goes: if it tastes so good, then it probably isn't good for you. We all know how good and tasty Mac'D and the fried chicken taste. But we also know that they are not that healthy for our bodies in the long run.
That is why brands are challenging themselves to replicate your favorite oil-fried foods but this time with air. So, if you enjoy fried foods but want it done the healthy way, then an air fryer is recommended for you.
There are even air fryer ovens that have more functionalities compared to a standard air fryer. Here, are covered in both air fryers and air fryer ovens.  air fryers can reduce the fat content of your food by up to 75%.
But with all that said, these appliances are also noisy to deal with and finding the best and quietest air fryer can be a challenge because there are now many brands on the market.
BEST OVERALL
COSORI Air Fryer Max XL
Large Capacity: 5.8-quart square baskets
13 Cooking Functions
100 Included Recipes
RUNNER-UP
Emeril Lagasse Power Large Air Fryer Oven
9-in-1 Multi-Cooker
Free Emeril's Recipe Book Included
Digital Display & 12 Preset Programs
BEST BUDGET
Ninja AF101 Air Fryer
Roasts, Reheats, & Dehydrates.
4 Quart Capacity
Wide temperature range 
That is why this guide was compiled to help you save your time and energy and get the best quiet air fryer for healthy cooking for your family.
but you may want to know;
What is an Air Fryer and How Does it Work?
An air fryer is a small countertop convection oven designed to simulate deep frying. A fan circulates hot air at high speed, producing a crisp layer via browning reactions such as the Maillard reaction.
An air fryer works similar to an oven in the sense that it bakes and roasts, but the difference is its heating elements are only located on the top and there is also a powerful fan that helps to move the air and heat around the oven the air fry the food in no time.
It heats up quickly and cooks food also faster and evenly. The air fryer parts like baskets and racks are also dishwasher safe.
Air fryers have come to change the way frying was done. In the past, the only way to fry was to use oil. Air fryers have changed the game. You can now have fried food without oil.
Are Air Fryers Noisy and Noise Comparison Chart?
Just like any electronic appliance, air fryers also make some noise. The loudness is depending on the brand and type of air fryer.
Generally, air fryers make a similar amount of noise to a washing machine or dishwasher. Imagine if you have at least two or more such appliances in your home operating at the same time. The house is going to be super loud.
The average air fryer has a fan inside of it to help circulate the air and heat the food inside. Depending on the noise level of the fan, the average is around 65 decibels or about as loud as a vacuum cleaner.
If you've ever thought of making life easier by purchasing an air fryer, you're not alone. However, air fryers make noise.
Similar Reads:
Best quiet ice cream makers for homemade delicious ice creams
Best quietest Keurig coffee makers
Air Fryer Noise Comparison Chart
In the chart below, you will find all some of the popular brands of air fryers and their noise levels. Disclaimer, the noise levels may vary depending on the age and the quantity of food you put on it.
Top-Rated Air Fryers and Air Fryer Ovens Reviews
Air fryers are changing the way people fry food these days. So, if you are noise adverse like me, then you definitely need the most quiet air fryer for your kitchen. Here are some of the best and quietest air fryers on the market.
1). Cuisinart Afr-25 Air Fryer
Best Value for the Money
This unique kitchen workhorse is actually a premium full-size toaster oven with a built-in air fryer. That means it not only bakes, broils, and toasts, but it also lets you air fry right inside the oven.
This unit has a compact design and is a large quiet air fryer that can easily fit any countertop and air fries food up to 2.5 lbs capacity of food.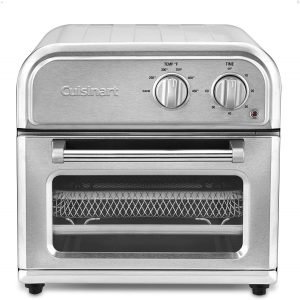 It is equipped with an adjustable timer from 0 to 60 minutes and an adjustable temperature from warm to 450ºf. The viewing window also allows you to monitor what is happening inside the fryer with your food and how it's turning out.
The motor fan and heater deliver powerful airflow and high heat to cook your food while operating quietly and its brushed stainless steel exterior will make a perfect addition to your kitchen decor.
---
2). COSORI 5.8QT Smart Air Fryer
Best Overall 
The Cosori Air Fryer means so much more than fries. Serve up egg bakes, impressive sides, desserts, roasted veggies, and just about any protein, expertly cooked.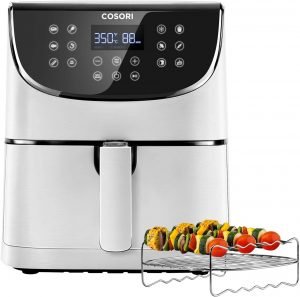 This features a built-in digital one-touch screen menu that has 11 presets including steak, poultry, shrimp, bacon, frozen foods, french fries, veggies, bread, and more. All you have to do is tap your desired setting and it starts the cooking process. Very easy to use.
This oven has a capacity of 5.8 quarts of food at a time and it can cook faster than conventional ovens. Plus, it's much healthier to cook with.
This unit comes with a 100 recipes cookbook and it's easy to clean after use.
---
3). Emeril Lagasse Power Air Fryer Oven
This Emeril Lagasse power air fryer oven is a 9-in-1 air fryer that can replace your countertop convection oven,  it's a large and quiet air fryer oven with heating elements that are commercial-quality and are great for cooking your food evenly.
It is one of the quietest air fryer toaster ovens on the market.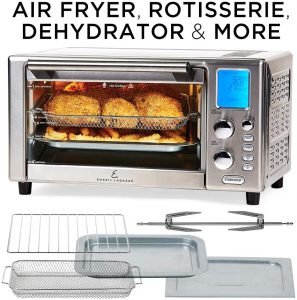 This unit is also equipped with an LCD digital display with 12 cooking functions which include: air fry, bake, rotisserie, dehydrate, toast, reheat, roast, broil, bagel, pizza, slow cook, and Warm/ reheat.
With this quiet air fryer oven, you can cut your calorie consumption down by up to 70% while still enjoying your favorite foods.
It has a 360° quick-cook technology, has an ultra-quiet operation, and comes with a 1-year warranty.
---
4). Caynel 12.5 Quart Digital Air Fryer with Rotisserie, Dehydrator, and Convection Oven
This Caynel multi-functional air fryer can handle any cooking task you give it whether is baking, rotisserie, dehydrating or air frying. It is an all-in-one multi-cooker that can replace your convection oven, microwave, deep fryer, toaster, and more.
It features a high-performance rapid air technology that makes food crispy and evenly cooked.  Its 1700 watt, heating elements, and 360°air rotation ensures efficient heat up and uniform texture. Express Heat System cooks food up to 30% faster than an oven.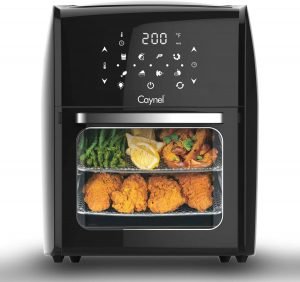 This large quiet air fryer has a capacity of 12.5-quart oven and 5 lb which can make plenty of food for the whole family, making it the perfect family-sized air fryer oven for your home.
This product has 8 in 1 programmed cooking settings with an LED touch screen that enables healthier oil-less recipes.  The manual time and temperature controls of up to 60 minutes and 400°F.
The Caynel air fryer comes with a 3-years warranty.
---
5). Iconites 6.5 Quart Air Fryer Oven
This Air fryer oven can also replace a lot of your kitchen appliances like a toaster, pizza oven, dehydrator, and more. It has a compact design that saves space while allowing you to make more than one type of food at once.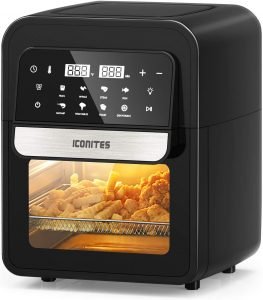 This easy-to-use air fryer is equipped with a wide temperature range from 120℉ to 400℉ in 10-degree increments and a cooking timer from 0-60 minutes.
The Interior of these air fryers is made of high-quality stainless steel, allowing you to enjoy a healthy cooking and cleaning experience. In addition, you can turn on the light and watch the meals through the transparent glass window.
---
6). Iconites 20 Quart Air Fryer Toaster Oven
Worried that the above-mentioned air fryers won't still meet your needs?. Then this 20-quart air fryer oven is large and big enough to make plenty of food for a large family.
This large quiet air fryer oven with 10 preset functions is powerful and easy to use for your everyday cooking needs.
It is not only an air fryer but also it can dehydrate, make pizza, girl, and even oven toast your foods with a wide temperature range from 180℉ to 400℉.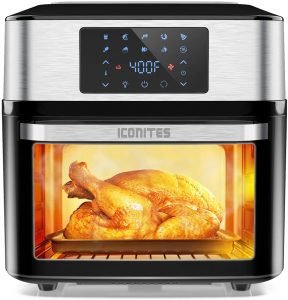 The LED digital touchscreen is clearly visible and you can choose any cooking mode meals are done with just the press of a button.
It comes with 13 accessories which include: a skewer rotisserie, fry net basket, chicken fork, 2pcs oven mitts, roasting basket, drip tray, fetch rack, 5pcs dehydrating racks, Removable drip tray, and dishwasher safe parts.
---
7). Ninja 4 Quart Air Fryer
The Ninja 4 quart air fryer is a compact and beautiful black-colored air fryer that is designed for small-sized families and individuals.
It has a capacity of 4 quarts and a wide temperature range from 105 degrees Fahrenheit to 400 degrees Fahrenheit allowing you to gently remove moisture from foods or quickly cook and crisp foods with convection heat.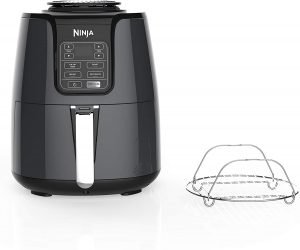 But unlike the other units above, this unit will need to be preheated for about 3 minutes before adding your ingredients in order to achieve your desired results.
The parts are also easy to clean with a dishwasher and you can now enjoy your food guilt-free.
---
Factors to Consider When Choosing the Quietest Air Fryer
As it is with every appliance, when choosing an air fryer, there are certain factors you need to consider before to ensure you are picking the right unit for your needs. Below are some factors and tips to guide you in your selection.
Noise
Most kitchen appliances make noise when in operation. That is because they either are using a motor, compressor, fans, or a combination of electronics that make a sound when running. Air fryers also use powerful fans to move the air and heat evenly inside the fryer.
There is bound to be some level of noise when it's running. Then you need to choose a quiet air fryer, you need to consider the noise if you value your peace of mind when cooking.
Luckily, there are brands that have factored the noise level into their design to ensure that you can enjoy quieter cooking time with your air fryer. All the models mentioned above have quiet operation.
Capacity and Size
The capacity and size of your air fryer should be a top factor. Because you have to consider how many people you are likely going to be cooking for and the quantity of food you will need for serving your family.
If you want to keep several batches of food for one meal, then you need to pick an air fryer that is big or small enough to accommodate the needs of your family size.
So, depending on the size of your family or how many people you would need to cook for at once, you can choose between a small or a large capacity air fryer.
Also, the size of the quiet air fryer you are choosing matters because the space you have in your kitchen will determine what can fit in or not.
While some air fryers are small and compactly designed, some are rather bulky and tend to consume more space.
Ease of Use and Cleaning
A good air fryer should be easy to clean and use. If you are not sophisticated when it comes to electronics, then you should choose a unit that is easy to operate.
Even with all the best features, if you cannot easily use and clean your air fryer, it will certainly overshadow any good the air fryer may intend to achieve. It is, therefore, necessary that you should get an air fryer that is easy to clean and use.
For the cleaning aspect, there are air fryers with parts that you can easily clean in the dishwasher. Pick one that will be easy to clean.
Versatility
Air fryers come in a range of functions. Some do the basic function of only air frying the food while others are capable of performing a range of other cooking processes.
Depending on what you want, there are several air fryers in the market with varying levels of versatility. Some can fry, grill, sauté, bake, roast, and steam.
Some air fryers have pre-programmed settings that enable them to cook several types of food making them easy to use.
Power
An air fryer with a high power output would cook faster but consume less energy whereas a low wattage air fryer would cook slower and consume less energy.
It all comes down to what you think is best for you. Would you like to cook quicker or would you simply opt for energy-saving air fryers, it's only yours to decide.
Price
This is often the most important to many people. Questions like; Is it worth it? Should I buy it? And much more stems from the pricing tagged to any particular air fryer.
This is normal since no one would be happy buying an air fryer that would not justify its price tag.
Factors like capacity, brand, and features influence the pricing of an air fryer. Your budget size will determine the kind of air fryer you get. You can get a decent air fryer for less than $100 while the feature-rich ones are steeply-priced.
Air Fryer Accessories
Granted that you have a highly versatile air fryer capable of cooking several food types apart from frying, you'll want to make use of certain accessories that may or may not come with your air fryer product package.
It will do you enough good before choosing your air fryer to know if the air fryer of your choice is capable of being used with other accessories.
Latest posts by Josephine
(see all)