Looking for the quietest ice cream maker for your home?. Great, you've come to the right place. In this guide, you can expect to learn the following:
How does an ice cream maker work?
Our top-rated quietest ice cream maker picks
How to pick an ice cream machine
Is it worth buying an ice cream maker?
Is Homemade ice cream better than store-bought?
And More…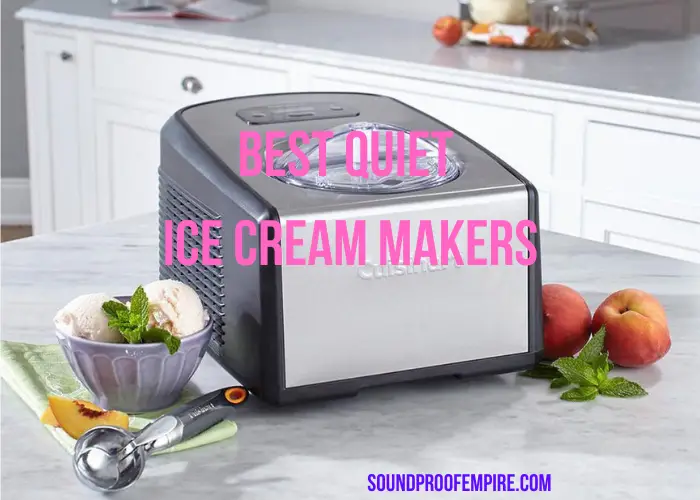 Quick Preview of the Quietest Ice Cream Makers for Summer
In a Hurry?. I understand. Here is a quick overview of the best quiet ice cream machines for your summer.
Nothing beats scoops of ice cream in a cone, on a waffle, or cool milkshake that chills you down in the hot summer. Making your own ice cream at home and using your favorite ingredients will beat a lot of the store-bought ice creams all hands down.
But to make your own ice cream, you will need an ice cream maker. Luckily, there are a lot of portable ice cream machines that you can get for your home. However, there are also a lot of them that can make a lot of noise that will disturb your home peace.
If you want your peace of mind while making your favorite ice cream at home, then you need a quiet ice cream machine, which is why I was able to come up with some of the top-rated quiet ice cream machines based on users' experiences and through deep research that will make your search easier and less time consuming since the market is flooded with many brands and models.
But before I get into details of each model, let's look at how ice cream makers work.
Similar Reads:
Best quiet undercounter(built-in) ice makers
How Does an Ice Cream Maker Work?
An ice cream maker is a machine used to make small quantities of cream for personal consumption. The ice cream machine may process the mixture by employing the hand-cranking method or employing an electric motor.
After the mixture is prepared, it is then either chilled through a pre-cooling machine or by employing a machine that will freeze the mixture.
An ice cream maker must be able to churn and freeze the mixture simultaneously so as to aerate the mixture and keep the ice crystals small. This makes the ice cream ready to consume immediately. Except for alcohol-based ice cream that needs to freeze further.
Best Quiet Ice Cream Makers Reviews
If you are looking for a silent ice cream maker, then you ought to consider these quietest ice cream makers.
1). Whynter Automatic Ice Cream Maker
This award-winning ice cream maker by Whynter is designed to make delicious homemade ice cream and customize it to the taste of your choice.
You can create delicious ice cream, rich creamy gelato, and sorbet all in the comfort of your own home. Ideal for entertaining, this high capacity unit makes up to two quarts of your favorite frozen dessert in a single batch.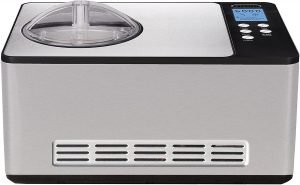 This Self-contained frozen dessert maker that does not require pre-freezing and it easy to use. It has a built-in powerful compressor freezer which allows you to make ice cream continuously without any inconvenience.
It has a sleek stainless steel exterior and a touch LCD control panel that makes a perfect addition to any kitchen. It makes 2 liters of ice cream at a batch. Enough to enjoy with the whole family.
---
2).  Cuisinart ICe-100 Compressor Ice Cream and Gelato Maker
The easy to use, fully automatic Cuisinart ICE-100 Ice Cream and Gelato Maker features a commercial-style compressor so you can make batch after batch without waiting.
This ice cream maker features a 1.5-quart capacity, a 60-minute countdown timer with touchpad controls and an LCD readout, a 10-minute cool feature keeps your ice cream or gelato cool after the timer has gone off.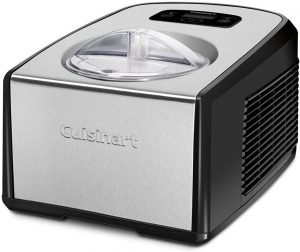 This ice cream maker includes a recipe book that features a variety of flavors to create with the Cuisinart Ice Cream and Gelato Maker. You can also add in your favorite ingredients — be it fresh fruits, chocolate chunks, even brownies
---
3). Whynter Upright Automatic Ice Cream Maker
This Whynter upright automatic ice cream maker is a designed with an upright, small footprint profile, this space-efficient ice cream maker fits easily on any countertop.
It has a 2.1-quart capacity. With this machine, you can make delicious homemade ice cream and it is fully customizable to your taste. You can make rich creamy gelato, sorbet, and many delicious ice cream.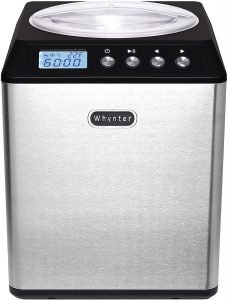 The unit can be operated in three convenient modes: Ice Cream mode, Cooling only mode, and Mixing only mode. It also features a built-in powerful compressor freezer that allows for continuous use without the inconvenience of having to pre-freeze the mixing bowl.
This model similar to the first one above, the only difference is it is for more countertop friendlier. It is also designed with a sleek stainless steel exterior and has a soft touch LCD control panel that will complement any kitchen decor.
---
4). Cuisinart Pure Indulgence Automatic Ice Cream Maker
This fully automatic Cuisinart pure indulgence ice cream machine makes 2 quarts of your favorite frozen desserts or drinks in just 25 minutes. Whether it is ice cream, sorbet, or frozen yogurt, this ice cream machine with an integrated motor, double-insulated freezer bowl, and automatic mixing paddle will do all the work for you.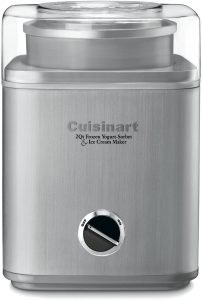 This unit is also easy to operate and has brushed stainless steel housing that is also BPA free like all the models on this list. There also two colors to choose from: red and silver colors which can be  perfect addition to any kitchen.
This product comes with a three-year limited warranty.
---
5). Hamilton Beach Automatic Ice Cream Machine
This unit is the cheapest ice cream maker on this list. Very basic and affordable, beginner-friendly, and easy to use.
With Hamilton Beach Ice Cream Makers, you can enjoy creating homemade ice cream, frozen yogurt, sherbet, and gelato in your own kitchen. Just add your favorite ingredients, sit back, and relax.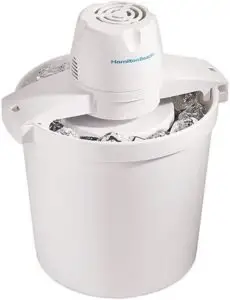 It can make about 4 quarts of ice cream, frozen yogurt, and sorbet.  Just add the ingredients, ice, and rock salt and it will do all the work and stop when it's ready without any stirring.
There is also a 20 recipe book included for you to create your own unique taste. Ideal for anyone looking for a soft-serve ice cream maker or a keto ice cream maker
---
Factors to Consider when Choosing a Silent Ice Cream Maker or Machine
When choosing your ice cream maker, you may be presented with different options such that you might not know which one to pick. With these tips, you will be able to select the right one that meet your needs.
Freezing Method
To make ice cream proper heat control is important. To maintain low temperatures, homemade ice cream makers adopt different technologies. Some of the technologies used include:
Traditional Technology
This is an old technology whereby a bowl will be kept in the freezer for 24 hours. There is no specialized equipment needed and this makes these types of ice cream machines cheaper and easy to use.
Soft Serve Technology
The soft serve technology is used in making ice cream treats that require no freezing after churning. The ice cream is served directly from the machine in this technology and you can continually serve ice cream without worrying about the consistency. Some models may require you to use rock salt and ice to complete the making process.
Compressor Technology
This is the latest technology in the field of ice cream making. It is a technology that has taken the industry by storm and is making a huge impact. With this technology, you do not need to bother freezing the ice cream.
It will continually make batches of ice cream and will meet your ice cream demand without any problems.
Capacity
What is your family size and how much do you intend to serve everyone?. This will ensure that you choose a quiet ice cream machine that will make enough for everyone. For high demand supplies, you should choose a compressor unit is recommended but if it's just for occasional treats, a small canister ice cream maker will comfortably make small batches for your family.
Time  and Efficiency
How long will a batch of ice cream take to make? will the machine require pre-freezing?, Can it make two batches at once?. All these questions you need to ask before you choose your ice cream maker.
While some ice cream makers will make ice cream on the fly, others will require more than 24 hours to make a single batch. Analyze your needs are settled on the maker that won't disappoint.
Ease of Use
It will depend on your level of sophistication. If you are someone who is not familiar with digital displays then a compressor ice cream maker will be difficult to use while a hand crank model will be easier to use for you.
Price
When deciding to make any purchase, you need to do it according to your budget. Homemade ice cream machine prices can range from $20-$400. This is a huge range and you need to be sure that you are getting something that is within your budget.
Those with the motor re a little expensive but they are more efficient and durable.
Is It Worth Buying an Ice Cream Maker?
absolutely!.  Should you make your own ice cream at home?.and the answer is a resounding YES. Not only it is cheaper, but you also get to make and consume a large quantity of ice cream which is significantly better or high quality than the store-bought in most cases.
You also decide the ingredients you are putting together to make your ice cream. That way, you are sure of what you are consuming and how healthy it is.
You also get to make different flavors you want which you probably won't be able to do at the store because can test about 10 different ice cream flavors for free unless you are willing to spend a lot of money on it.
Latest posts by Josephine
(see all)