Looking for a quiet bread machine for your home?. Perfect, you've come to the right place. In this guide, you can expect to learn the following:
How does a bread maker work?
Our top-rated quiet bread maker picks
How to choose a bread maker
Is it cheaper to make your own bread with a bread maker?
And More…
Quick Preview of  the Top-Rated Quiet Bread Machines
In a Hurry?. I understand. Here is a quick overview of the quietest bread machines for your home.
Breville BBM800XL Custom Loaf Bread Maker ( 1st Runner Up)

Zojirushi BB-HAC10 Home Bakery Mini Breadmaker ( 2nd Runner Up)
Since the first bread maker was invented in the 1980s by the now Panasonic company, they have generated a bit of mixed reputation with some bread lovers rooting for them while a typical French might not consider them.
Well, bread makers are not necessarily for everybody. But we dont all have the time or willpower t make fresh bread daily by hand. Hence, bread machines come in very handy to help us enough the fresh bread we love.
However, not all bread making machines are quiet to work with. Maybe you enjoy baking your bread early in the morning before everybody wakes up, hence you will prefer the most quiet bread maker for peaceful baking.
That's why I researched and gathered other bakers' opinions on the quietest bread machines and was able to compile the top-rated quietest bread makers for you to select from for your home bread baking needs.
Similar Reads:
Best quiet vacuum sealers for longer food preservation
Quietest stand mixers for a quieter kitchen
How Does a Bread Maker Work?
A bread maker, overall, does the exact same thing that someone making bread by hand would do. The obvious advantage is that it is all done for you without much effort or thought.
The most essential step is how to introduce the ingredients into the bread maker. The ingredients must be added in their right proportions otherwise, the whole thing won't work.
Here are the steps to using a bread maker to bake bread.
Mixing and Kneading:  Once the ingredients are in, there are a set of programs that are available at the touch of a button. The first command is mixing and kneading. The bread maker will start by mixing the ingredients with the hook for like 2 minutes and afterward, let it rest for 10 to 15 minutes for it to develop gluten and then the kneading will begin. This will also last like 5 to 6 minutes.
Rising: The thermostat in your bread maker will now raise the temperature around the dough slightly cause it to rise, once it is properly raised, then the bread making machine will immediately start baking.
Baking: After the rising of the dough, the same microchip that controls the thermostat in your bread maker will raise the temperature again. Only that this time, it is baking the bread. The bread will bake for the predetermined time set by you and will shut off.
There you now have your baked bread from your bread maker. Just leave it for 30 to 1 hour and its ready to eat.
Best Quiet Bread Maker Reviews
Below are some of the quietest bread makers that will allow you to bake your bread with less noise in the kitchen.
1). Zojirushi BB-PAC20Ba BB-PAC20 Virtuoso Breadmaker
This 2-pound capacity Zojirushi Virtuoso breadmaker is has a revolutionary heating element built into it for baking a variety of bread and recipes. This technologically advanced breadmaker can be used by both nice and expect.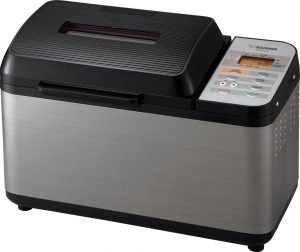 If you have been wondering who makes the quietest bread maker?, then you should consider the Zojirushi brand. It has some of the quietest bread makers in the market.
It offers a 13-hour delay timer and 10 bake settings. The cleanup task is described by many owners as rather easy and it is a durable product.
Its quick baking cycle prepares bread in about 2-hours and the Gluten-free and custom menu settings will accommodate gluten-free and organic baking ingredients as well. Also depending on how you want your bread, you can choose from three crust shades–light, medium, or dark.
---
2). Breville BBM800XL Custom Loaf Bread Maker
It offers a 13-hour delay-bake function and a total of 13 programs to choose from. You will likely get the most bang for your buck with this bread machine.
This Breville custom loaf bread maker is one of the largest quiet bread makers with capacity: 1.0-pound, 1-1/2-pound, 2.0 ln, and 2-1/2-pound (Family size).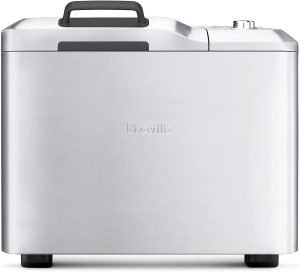 It is a great value for your money and it lets you determine what time you want the bread to be ready, you can add additional ingredients like fruits, nuts, using the automatic dispenser and even create your own recipes.
The smart LCD screen with progress indicator displays the 13 automatic settings, the four loaf sizes, and the 3 crust colors for you to have total control of your baking.
---
3). Zojirushi BB-HAC10 Home Bakery Mini Breadmaker
Home Bakery Mini Breadmaker is the perfect size for smaller households to savor the taste of freshly baked bread every day without waste. It is recommended as the best mini bread maker that operates quietly.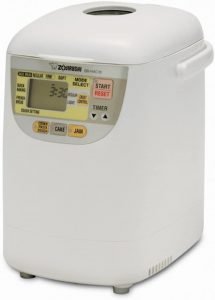 This programmable breadmaker can produce 1 pound loaves of cakes or bread for a smaller household.  It also has a 13-hour delay timer, 8 bake settings, and an LCD control panel, and a viewing window to check how your bread is turning out.
The 'quick baking cycle' prepares bread in under 2 hours, great for those times when you haven't planned ahead.
---
4).  KBS Pro Stainless Steel Bread Machine
The KBS bread maker has 17 program settings and light, medium or dark crust. The different loaf capacity consists of 1, 1.5, and 2.2 pounds.
It is also equipped with fruit and nuts dispenser and a patented non-stick ceramic pan allowing you to bake different recipes and whole bread for the family.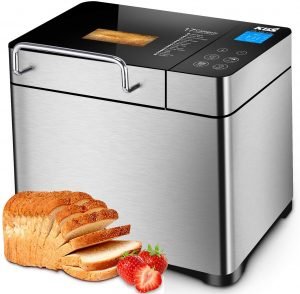 The intuitive digital touch panel control and 15-hour timer allow you to easily and timely control your bread making process and when you want it ready.
This attractive sleek stainless steel bread maker is a beautiful addition to your kitchen and it comes with a 2-year replacement for all parts and accessories.
---
5). Hamilton Beach 2 Ib Digital Bread Maker 29882
It features settings such as gluten-free and whole-grain so you can bake wholesome bread using a variety of flours. In addition to bread, you can make pizza dough, cakes, jams, flatbreads, and croissants.
This is the cheapest quiet bread machine in this guide if you want a budget bread maker, then you can get this model.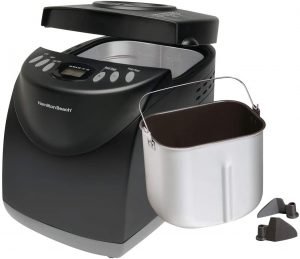 This home baker bread machine is easy to use and comes with 12 settings including gluten-free developed with nutrition in mind, and the settings include French, quick bread (no yeast), sweet, 1.5-pounds express, 2-pounds express, dough, jam, cake, whole grain and bake audible reminder for adding fruits and nuts.
You can choose  1.5 pounds or 2-pound loaf and crust settings of light, medium, or dark. Plus, it also has a delay timer you can set to bake your bread later.
---
6). Cuisinart Compact Automatic Bread maker
Cuisinart makes some of the quietest kitchen appliances and this Cuisinart compact automatic bread maker is not different. This model has 12 preprogrammed menu options to select from. You can also make 1, 1-1/2, and 2 – pound loaf sizes and the crust settings gives you the option to choose light, medium, and dark.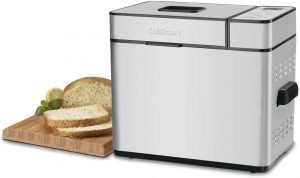 Other features include the 13-hour delay timer, power-failure backup, viewing window, and more.
The Kneading Paddle and Bread Pan are removable and hence can easily be cleaned.
---
How to Choose a Bread Maker
Here are some tips to guide you in choosing your bread maker.
Noise Level
Your bread maker will go through mixing, and kneading which require a powerful motor to make it possible. That is why bread machines also have some level of noise when using them. The good thing is that some manufacturers have put in the effort to ensure their bread makers dont make a lot of noise.
If you are noise adverse or you want to be considerate to your neighbors and family at early hours or later night, then you need to select one that is less noisy. Luckily, this guide is about quiet bread machines that you can select from.
Capacity
The capacity of the bread maker will be determined by the size of the bread your family consumes on a daily basis. If you are a family of two or three, a bread machine with a size 1.5 pounds loaf capacity should be enough. For a bigger family, the capacity should be about 2 to 3 pounds.
It is a good idea to look for a machine that offers two to three loaf size options so that you get the right-sized loaf for your needs.
Loaf Shape
Unlike the older bread makers which could only make vertical loaves, the newer models can make horizontal loaves that look like the grocery store bread. This makes them much easier to slice and serve.
The material of Baking Pan
All bread pans are made of non-stick coated aluminum. If you need bread with thick and harder crusts, then the bread pan should be made of thick cast aluminum. If you would prefer light thinner crusts, then choose a thin aluminum pan. Overall, ensure you choose a bread maker with removable pans that make cleaning much easier.
Kneading Blades
The kneading blades are responsible for mixing all the ingredients and kneading the dough and they are located at the center of the bread bucket. If you plan on using a horizontal bread maker, then look for the ones with two kneading blades.
Delay Timers
Most machines have delay timer on them but be sure to cross-check on your own model. It is a good feature that allows you to program the unit to make your bread at the appropriate time.  Maybe you want fresh bread in the morning, you can program the bread machine at night to give your fresh bread ten hours later.
Some machines also have a 'rapid' feature for quick breakfast loaves, and the ability to pre-program your own recipes.
Ingredient Dispensing Feature
With this feature, the bread maker will signal when the ingredient has to be added. Some bread machines allow you to add additional ingredients such as nuts and dried fruits in the bread-making process. If you like such features, then be sure to look out for it before you purchase.
Bake Different Types of Bread
If you enjoy different types of bread such as gluten-free bread, whole wheat bread, pizza dough, artisan bread, dessert loaves, or cakes, be sure to choose a unit with additional settings and preset cycles that allow you to bake different types of bread.
Crust Contro Feature
Whether you like your bread crust dark brow, hard light brown, and soft, will depend on this feature. It is a common feature on bread makers that allow you to control the browning of the crust.
Latest posts by Josephine
(see all)