Looking for a quiet vacuum sealer for preserving your foods?. Perfect, you've come to the right place. In this guide, you can expect to learn the following:
How does a vacuum sealer work?
Our top-rated quiet vacuum sealer picks
Types of vacuum sealers
How long do vacuum-sealed foods last?
And More…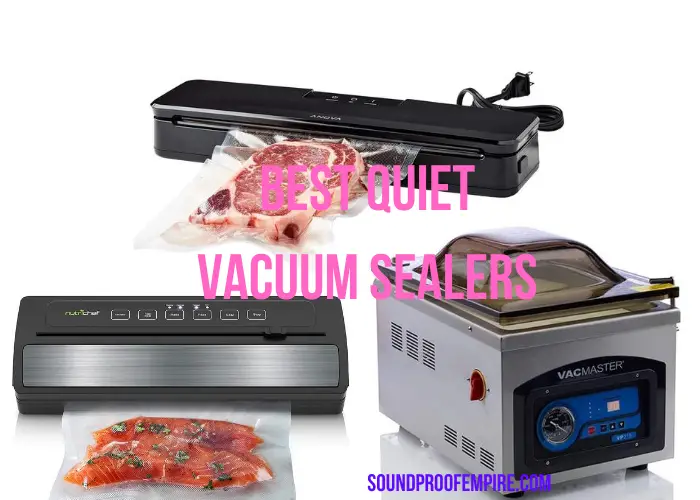 Quick Preview of the Quietest Vacuum Sealers
In a hurry?. I understand. Check out this overview of the best quiet vacuum sealers.
If you like preserving foods in your home, then having a good vacuum sealer in your kitchen can be a lifesaver. It will preserve the freshness of the food by reducing the air and limiting bacterial growth on the food.
When you seal your foods, it blocks the growth of mold, fungus, and bacteria that are responsible for spoiling the taste of your food, texture, and appearance. You also get to save your fridge of some space.
However, food vacuum sealers are not quiet appliances to have in your kitchen when they are at work. They work more or less like air compressors and are loud.
But some models and brands are a bit quieter to work with than others like these models I will talk about below. They are less noisy. It doesn't mean you won't hear any sound again, instead, they won't make too much noise.
Similar Reads:
The quietest hand mixers for peaceful baking
How Does a Vacuum Sealer Work?
A vacuum sealer as its name implies does the work of sealing the contents of plastic bags through the vacuum. After placing the food in a sealable bag, the vacuum sealer removes the air and leaves the item intact for you to store it for a longer time without it spoiling or changing the flavor.
The vacuum created by the vacuum saver preserves your foods by making sure any compound does not permeate the bag.
If you're sealing an item that has juice you don't want to lose, it's important to freeze the food for a few hours, then seal it for the long haul.
Best Quiet Vacuum Sealer Reviews
As I said earlier on, vacuum sealers are not necessarily silent appliances. But you can find some models that are quieter than others. Hence I was able to research and gather some of the top silent vacuum sealers that you can get for your kitchen.
1). Nutrichef Upgraded Vacuum Sealer Food Preservation with Starter Kit
This Nutrichef vacuum sealer is cleverly engineered to be useful and practical. IT has two selectable modes to provide your food with the best possible preservation based on the type of food you want to seal.
Very easy to operate because it is fully automated. You simply plug it in and it has soft touch digital buttons with led indicator lights.
This vacuum sealer comes with a starter kit. Apart from the vacuum sealer and the air suction hose, the NutriChef vacuum sealer package also includes 5 medium vacuum bags (7.8" x 11.8") and one extra-long vacuum bag roll (7.8" x 79.0"), both kinds being reusable and waterproof.
---
2). Anova Culinary Precision Vacuum Sealer
Whether you need a vacuum sealer for sous vide cooking or as a food storage solution, the Anova Precision Vacuum Sealer ensures your sous vide bags are sealed airtight every time.
This is also considered one of the quietest vacuum food sealers compared to other brands. It is also easy to use as well.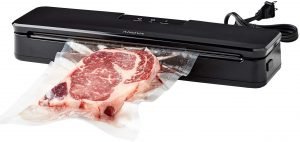 The Anova vacuum sealer is reliable, compact, and simple to use compared to most other vacuum sealers on the market. It also ships with 10 free Anova pre-cut vacuum sealer bags to get you started.
It also has a compact design which makes it fit into any home with smaller kitchen space. One of the best vacuum sealer for sous vide cooking.
---
3). GERYON Vacuum Sealer Machine
The Geryon sealer machine designed with fully automatic vacuum sealing operation, soft-touch digital buttons, LED indicator lights, electric plug-in and the control center placed on the top panel provides a user-friendly experience for its operator.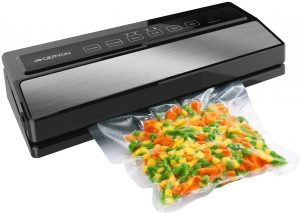 It is can easily be separated for clean, it has a compact design and is lightweight to store and move around.
It has a starter kit which consist of 1 x Air suction hose, 5 x Heat-seal bags (7.8″*11.8″), 1 x roll (7.8″*78″), 1 x User Manual, 1 x Vacuum Sealer; Manufacturer's Lifetime Support.
---
4). Foodsver V4400 2-in-1 Vacuum Sealer Machine
This Foodsaver V4400 2-in-1 vacuum sealer machine with automatic bag detection and starter kit has an automatic bag detection which makes vacuum sealing easier.
Meat preserve with this unit in a freezer can last up to 3 years and still taste fresh, flavorful and freezer burn free.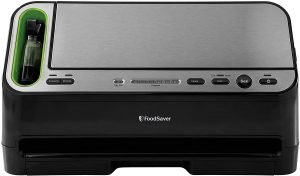 This Foodsaver vacuum sealer works with FoodSaver 8 inches and 11 inches vacuum seal rolls, all pre-made bag sizes, freshsaver zipper bags, fresh containers, and quick Marinator.
Built-in roll storage and cutter let you easily make custom-sized bags to fit whatever you seal, while led light indicators easily guide you through the vacuum sealing process.
---
5). VAC-VIDA Chamber Vacuum Sealer
The VS301 Vacuum Chamber Sealer allows the packing of liquids, moist foods, meats, etc. A great solution for the serious home cook, restaurant, hunter, or fisherman.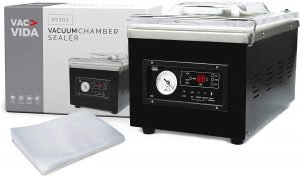 This is a great solution for heavy-duty sealing jobs and all types of sealing jobs. It is reliable and powerful for any space. Plus, the elegant black coated high-grade stainless steel modern design makes it a great addition to any kitchen or restaurant.
It comes with a 1-year warranty and 100 bags included in the package. So, if you are looking for a quiet commercial vacuum sealer and the best vacuum sealer for wet foods, this is one of the models recommended by users.
---
6). VacMaster Chamber Vacuum Sealer
The VacMaster chamber vacuum sealer is a famous brand. This model is much quieter than other machines that have dry pumps.
It's a quiet chamber vacuum sealer that can run continuously and it doesn't need a cool-down time in between bags.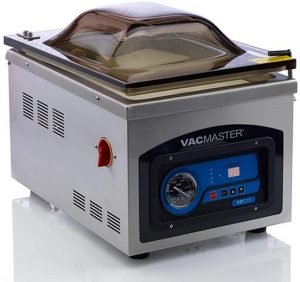 The VP215 is the solution to all your storage problems, no matter how heavy the load.
This unit vacuum package liquids and liquid-rich foods like fresh meat, soup, marinades, and stews. It is a  reliable and quiet vacuum sealer is ideal for small restaurants, catering, hunters, fishermen, delicatessens, and culinary institutions.
Types of Vacuum Sealers
There are different types of vacuum sealers in the market that can seal your foods for you. Depending on your needs, you will find a sealer that works best for you. whether you want to package liquid or you have a low budget, you will find one that will work perfect fine for you.
External Vacuum Machines
These types of sealers are a great choice for doing occasional sealing and if you dont intend to seal liquids. They are mostly cheaper than chamber vacuum sealers and provide perfect sealing,  but do lack a lot of in terms of performance and versatility that a chamber sealer can provide.
If you need a light-duty vacuum sealer or you are trying vacuum sealer for the first time, then you will find these types of sealers great.
Pistol-Type Vacuum Sealers
A pistol vacuum sealer is primarily for applications where it's more convenient to take the sealer to the bag, rather than the other way around. It uses a special bag with a built-in valve – you seal the bag first, manually, using an included handheld sealer tool and then draw air out through the valve.
The pistol-style grip lets you draw air out as-needed, similar to the pulse mode of a traditional external machine.
Chamber Vacuum Machines
Chamber vacuum sealers are great for applications where you will be doing a lot of sealing, sealing liquids, and large batches of sealing. They are high-end products that are expensive, but they give you much better performance and versatility than their external counterparts. These are the best vacuum sealers for long term food storage.
If you'll be packaging liquid-rich foods frequently, a chamber machine is practically a must-have.
How Long Do Vacuum-Sealed Foods Last?
Vacuum sealing food preserves it 3 to 5 times longer than food stored in plastic containers or bags. The shelf life of your food is greatly extended when you vacuum seals it. The exact amount of time food will last in vacuum sealing varies depending on whether you are storing in the refrigerator, freezer, or pantry.
Most vacuum sealed foods will last in the refrigerator for 1-2 weeks, which is much longer than the typical 1-3 days that unsealed foods last in the fridge.
Frozen food that is vacuum sealed can last on an average of 2-3 years.
Latest posts by Josephine
(see all)