Top 5 Quietest Gas Lawn Mower Picks for Yards
Looking for the quietest gas lawn mower for your yard?. Perfect, then you've come to the right place. In this guide, you can expect to learn the following:
What is a gas lawn mower
Our top-rated gas lawn mower picks
How to choose a gas lawn mower
How to make a lawn mower quieter
And more…
Quick Preview of the Quietest Gas Lawn Mowers
In a hurry?. I understand. Here is a quick overview of the best quiet gas lawn mower picks that allow you to mow your yard lawns in peace.
Craftsman M105 140cc Gas Powered Push Lawn Mower ( Best Budget-Friendly)
Lawn-Boy 17732 21- Inch Self-Propelled Gas Lawn Mower( Best Value for Money)
The best gas lawn mowers can make cutting grass an easy breeze. There's no bigger pleasure than having a tidy yard and the smell of freshly-cut grass. But having a noisy lawn mower can make this process a tiresome process and which shouldn't be.
The best gas lawn mower will handle your bagging, mulching, and discharging for you and if you even for a twin blade system, it can make a more precise cut for you. Unlike their electric counterparts, gas lawn mowers use fuel to operate and tend to have a far more powerful engine which is either kickstarted by pulling a cord or coordinated with an electric key start.
Fortunately, self-propelled models can start with the tap of just a finger and they also enable you to cruise along using hydrostatic control.
Either way, whether you have a huge backyard that requires a wide deck or a slimmer yard that is best paired with a narrow deck,  the best quiet gas lawn mower should be able to maneuver easily without any problems.
Today, we will be talking about gas lawn mowers that have low noise. The truth is, gas mowers are not the quietest of lawn mowers because of their powerful engines that can allow you to get a lot done in a short time.
Mostly electric and battery-powered lawn mowers are the quietest but not that powerful compared to a gas lawn mower.
Also Read:
Best Quiet Lawn Mowers for Yards
Gas lawn mowers are powerful and can get the job done without wasting much time. However, it's worth mentioning that they are not the quietest lawn mowers you will find. Therefore the models listed in this guide are considered quieter than other brands. But you won't find a gas lawn mower that is very quiet, unfortunately.
1). Craftsman M105 140cc Gas Powered Push Lawn Mower
This Craftsman gas-powered push lawn mower is one of the best quiet lawn mowers in the market.  It features rear discharge, 3-in-1 side discharge, and mulching capabilities that make it versatile. With the automatic choke and smooth recoil, it is easy to start than any of its competitions.
It's a great mower when cutting grass even though it has smaller wheels that may make it difficult to work with on early morning grace, but it does cut grass like a charm.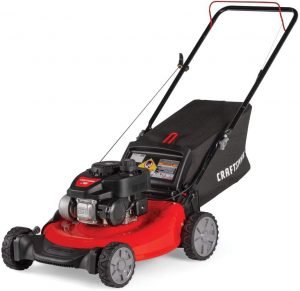 The 21-inch cutting deck offers dual-lever height that is adjustable up to 6 points of height settings. This enables you to cut the grass more effortlessly in changing conditions of the lawn.
If you are looking for something that is lightweight and affordable, then you'll like this Craftsman M105 140cc gas-powered push lawn mower. It is perfect for small to medium-sized yards.
Features & Specs
Lawn Mower width – 21" | Weight – 65 lbs. | Minimum Cutting Height – 1.25" | Maximum Cutting Height – 3.75" | Front wheel size – 7" | Rear wheel size – 8" 

Engine – 140cc Briggs and Stratton

3 in 1 Capability: Unit has side discharge, rear discharge, and mulching
Pros
Easy to assemble and maneuver
Easy to start
Durable
Lightweight
Works well on tall grass
Cons
Small bag capacity
Wheels are small compared to other models
---
2). PowerSmart 170cc Gas Powered Self-Propelled Lawn Mower
PowerSmart is one of the best brands in outdoor power equipment.  This gas lawn mower is equipped with a 170cc  4-stroke OHV engine and a 21-inch steel mowing deck which provides you with a powerful backup for clearing the tallest and toughest of grass.
With its 21-inch steel mowing deck, it creates a large cutting area that gets the job done easily especially if you are dealing with a large yard.
This self-propelled mower has a 5-position height adjustment which allows you to change the cutting height to cut grass and overgrowth easily and the height can be adjusted in increments of 1.18 to 3.0 inches.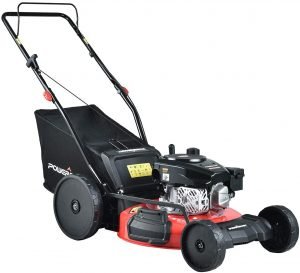 The gas power lawn mower can be quickly folded without tools due to the foldable handle design. It can be stored tidily after folding, save space and keep your workhouse organized.
This 11.5 rear-wheels self-propelled lawn mower  allows for easy movement and is flexible and agile with 3-in-1 side discharge and mulching capability that allows you to spread the grass clippings to the side
Features & Specs
21-inch & 170CC
Gas Powered Self-Propelled Lawn Mower with 4-Stroke Engine
3-in-1 Gas Mower in Color Red/Black
5 Adjustable Heights
Pros
Easy to assemble and maneuver
Easy to start
Durable
Lightweight
Works well on tall grass
Cons
---
3).  Lawn-Boy 17732 21- Inch  6. 5 Gross Torque Kohler XTX OHV  Self-Propelled Gas Lawn Mower
This Lawn-Boy gas mower features 3-in-1 mowing options and is equipped with the Tri-Cut system that helps to deliver a clean even cut during your lawn work. It is also able to work on hilly and slopes without many problems because of the powerful traction it has.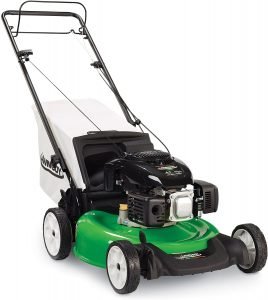 It's a convenience unit that has a 21-inch blade and it's easy to start with just a turn of a key. Plus, it's a rear-wheel-drive self-propelled lawn mower that makes your job very easy.
Features
Rear Wheel Drive System 

2-Point Height-of-Cut System 

Height of Cut- 6 Position 1.25 – 3.75 inches. Cutting Width- 21 inch

3-year Tru-Start Commitment 

Kohler 149cc/ 6.5 ft.-lbs. Gross Torque/ OHV Engine
Pros
Easy to start and assemble
Large wheels
No need to change the oil regularly
Electric start
Work well on hills and sloped yards
Cons
Small grass bag
Not ideal on wet grass
Smelly fumes
4). Yard Machines 132cc 20 -Inch Push Gas Lawn Mower
The Yard Machines push gas lawn mower is great for small to medium-sized residential yards. It is equipped with a 132cc OHV engine and a compact 20-inch frame, which gives you the ability to maneuver around tight corners and shrubs easily.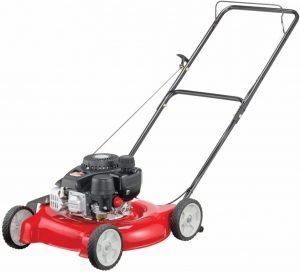 There are also 3 cutting height positions available with this lawn mower that allows you to cut the grass to your ideal size. Whether it's light trimming or a full cut, you get to choose the right cutting height for your lawns.
This lawn mower is also lightweight and easy to move around because it has a loop handle and durable 7-inch rear and front wheels that will give you command over your machine.
Features & Specs
132cc OHV engine and a compact 20-inch frame

7-inch rear and front wheels

Dimensions: 26 x 22 x 15.25 inches
Lightweight
Pros
Great for small to medium yards
Easy to maneuver and lightweight
Cons
Some customers complained about it not cutting their lawns properly
Hard to assemble
---
 How to Choose a Quiet Gas Lawn Mower
When choosing a quiet lawn mower, there are certain factors you ought to consider. These features here will help you choose the best gas lawn mower for your needs.
Noise Level
As mentioned above, gas lawn mowers are not very quiet by design. A standard gas-powered lawn mower can produce about 95 dB of noise. Which is dangerous for the human ear without any hearing protection in place.
That's why is important to get something slightly lower in noise and use ear protection when operating the gas lawn mower.
Push Mower vs Self-Propelled Mower
These types of gas lawn mowers can easily be distinguished by the way they are started. The self-propelled gas lawn mower has a gearbox that can automatically push either the front or rear wheels to move forward. While the push mower operates on your sweat.
Self-propelled mowers are the best option for hilly and uneven terrains. On the other hand, push mowers are ideal for flat yards if unless you are strong enough to push through the hill and slopes with your manpower.
However, self-propelled mowers tend to be on the heavier end and are also more expensive than a traditional push counterpart. There are two kinds of self-propelled mowers, these are; front-wheel drive and rear-wheel drive. Your choice will depend on the type of terrain you are dealing with.
Engine
It's novel to have a quiet lawn mower but if it cannot serve its purpose properly, then it's of no use. A mower with various height positionings will help you navigate and sweep through a lawn with different kinds of grass easily.
Lawnmowers vary in the noise they make. Unfortunately, most of the mowers are quite loud. You can, however, choose to buy quieter lawn mowers or soundproof the one you have.
When mowing, you should also wear protective gear for your ears.
Most mowers produce a noise level of around 90 dB (Decibel). This is high than the recommended noise level for your ears. No one should be subject to this noise level for over eight hours. Here are some techniques you can use to make your lawn mower quieter.
Work on Your muffler
Due to the high levels of noise that lawn mowers make, most of them have a muffler installed on the engine. It is most specifically fixed at the exhaust port. This muffler forces the loud sound from the engine to pass through the noise-canceling chamber on the muffler.
This also produces pressure on the engine to work at its maximum horsepower. But as time goes on the muffler may crack causing it not to cancel the noise effectively. Therefore, resulting in a louder lawn mower. You can change it by getting a new muffler to replace it. Or better still, you can change your mower muffler and get a more powerful muffler to lower the noise levels more.
Work on the Deck
To reduce the noise coming from the blade, rock pings, and vibrations, then you have to quiet the deck. The best method you can use to quiet the lawn mower deck is to use a sound-deadening material. You can use the same sound-deadening materials used on vehicles. Such as Noico, Dynamat, Kilmat, etc. Check out this article on Kilmat vs Dynamat sound-deadening materials.
Install Engine Silencer on Your Lawn Mower
Silencers work the same with combustion engine mufflers in automotive engines. The silencers reduce the noise produced during combustion by the water lawnmower engine.
Engine silencers are mainly into three categories. Every category determines the level of noise reduction applied to your lawn mower.
Absorptive Silencer: This is a silencer with E glass or fiberglass insulation in its internal construction. When connected to the lawnmower exhaust, it dampens the vibration and sound produced by the engine. Absorptive silencers are perfect for reducing the high-frequency noise level lawnmowers.
Reactive silencers: They should be connected by a tube to the engine exhaust. The muffler has three internal chambers. Exhaust noise bounces between the chambers and reduces the noise produced by the lawn mower. Reactive silencer should be used to reduce low to mid-level noise
Combination silencer: As the name suggests, it combines the technology of absorptive and reactive silencers. It's fixed like all the other silencers. A combination silencer reduces all levels of sound frequency from the lawnmower.
Wear Hearing Protection
As already established above, the noise levels of lawn mowers is very high even if you choose a quieter lawn mower, there will still be high noise, especially with the gas models. They are pretty noisy. That's why is always good to wear ear hearing protection when working with lawn mowers.
---
How Long Does Lawnmower Engine Last?
With proper maintenance, an average lawn mower lasts 8 to 10 years. A lawn mower that is not well maintained may last one-half that time.
---
Does Wet Grass Dull Lawn Mower Blade?
With continuous use, lawn mower blades are bound to get dull, irrespective of whether they are used to cut wet or dry grass. This happens to all shape metallic objects that are used for cutting things.
However, remember that mowing wet grass is not a very healthy activity for your lawn and strains the lawn mower. Since wet grass bends over, you can't mow it correctly and when it dries, it will stand up straight again, leaving your lawn look uneven and hideous.
Wet grass can also get stuck to the desk and bog down the engine. The wet grass can even leave marks on your clothes making them difficult to wash away. Generally, it's not ideal to mow wet grass.
---
Final Thoughts on the Quietest Gas Lawn Mowers
Choosing a quiet gas lawn mower can spare you some of the ear-splitting noise that some gas-powered lawn mowers make. You get to have happy neighbors as well because trust me, you will get angry neighbors if you pull out that noisy lawn mower on your yard while your neighbors are trying to rest.
The above recommended quiet gas lawn mowers will get the job done.
Latest posts by Josephine
(see all)