Kilmat vs Noico: A Comparison of Both Sound Deadeners
There are many sound deadening materials in the market to select from. Today, we will be comparing the Kilmat sound deadeners and Noico sound deadeners.
Noise is a nuisance especially when you are listening to music in your car, it could be the engine roaring or other cars on the road disturbing your peace. Choosing a sound deadener to soundproof your car doesn't have to be confusing.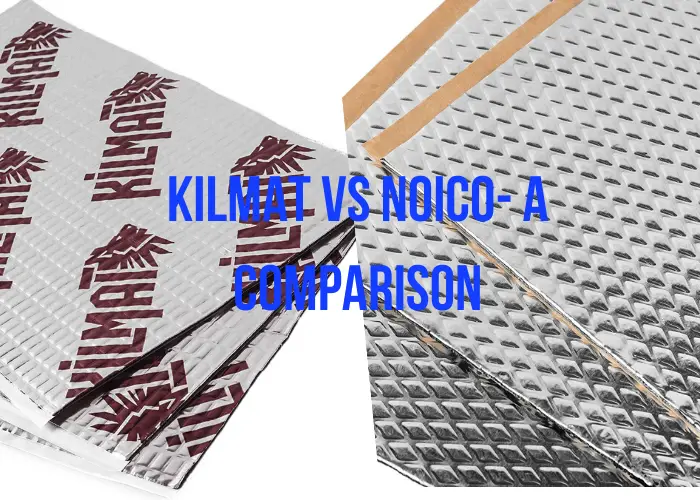 Before we look at the sound deadening materials of Kilmat and Noico companies, let's have a look at a brief history of both companies.
Noico has been an established noise control company for the past 33 years. It's a UK company that was established in 1986 by a team of noise control engineers.
Noico has established itself as a go-to company for both household and industrial noise control solution providers.
Similar Read:
Dynamat vs Kilmat: Which is a better sound deadener?
Anyway, I am sure you are not here for their company history, rather you want to know a comparison of Kilmat vs Noico sound deadening materials. Which one you should choose.
I will compare both brands' sound deadening materials in terms of their size, thickness, ease of use, reliability, and effectiveness, price and installation.
Comparison of Kilmat vs Noico Automotive Sound Deadening Materials
[ninja_tables id="792″]
Let's start with their sizes.
Sizes
Knowing the right size of the material to purchase for your car will help prevent wasting and help you save your money.
These sound deadening mats are manufactured by different companies, hence they come in different sizes. even if they are of the same thickness.
These soundproofing mats for cars are sold in sheets. So if you know the size of the sheet, you will be able to determine how many sheets you need in order to soundproof your car.
From the table above you can see that the Kilmat 80 mil sound deadener and the Noico 80 mil sound deadener are of dimensions 17.5 x 3.5 x 11 inches and 21.5 x 11.5 x 2.8 inches respectively.
They both have the same thickness but the sizes are different.
Clearly it is obvious that the Noico 80 mil sound deadener is bigger than the Kilmat. It is worth mentioning that the size of the material it's not that essential when it comes to soundproofing.
However, it does have an indirect impact. This is because the more area you cover with the soundproofing material, the more likely the noise will be reduced
Noico 80 mil sound deadener is clearly bigger than Kilmat 80 mil sound deadener
The other Noico and Kilmat sound deadeners are a bit to compare against each other because they don't have the same thickness and per sqft.
Thickness
When it comes to the thickness, Noico brand has a lot of variety to select from compared to Kilmat. The thickness of the Noico sound deadening materials are; Noico 80 mil 36sqft, Noico 80 mil 10sqft, Noico 80 mil 18sqft, Noico 150 mil 36sqft, and  Noico 315 mil 20sqft.
while Kilmat has variety in the range; Kilmat 80 mil 36sqft, Kilmat 50 mil 50sqft, and Kilmat 50 mil 25sqft.
Looking at these sound these automotive sound insulation and deadening materials, the thicker the material, the better soundproofing results you will get.
so, the products that have thicker mil, will offer better sound insulation than the less thick ones.
Noico has a lot of different materials with different thicknesses than Kilmat products.
Related: Best  Car sound deadening materials for the money
Reliability and Effectiveness
product quality is important when you are making any purchase. It's no different when it comes to choosing a sound deadening material.
You don't want to install one and the next day you are installing another.
Noico brand has been around for over 3 decades. They are specialized in the noise control space. Well known and respected around the globe.
Kilmat, on the other hand, seemed to have entered the market not long ago. But they have also managed to establish themselves as a worthy competitor to other well-known brands.
During my research, I found many users of both brands giving good ratings and recommendations of them.
Many users of both brands gave me good accounts of them. How well they both work.
Price
I know you might be wondering how much each of these sound insulation for cars might cost. Well, they both cost less than 100 bucks.
The Kilmat 80 mil 36sqft sound deadening mat cost less than the Noico 80 mil 36sqft  sound deadener. The price difference at the time writing the comparison was less than 10 dollars.
Noico 80 mill is slightly higher in price compared to the Kilmat. But like I said the difference is not much.
But the price difference is not surprising because if you look at the dimensions of both brands of the same thickness on the table above, you will notice that Noico 80 mil is a bit bigger than the Kilmat.
Ease of Use and Installation
Both Noico and Kilmat installation is not complicated. They both have a special indicator that shows that it is properly installed.
They have a special embossing on the foil that must be rolled out with a roller until it is plain smooth. Then you will be 100% sure that the insulation is set correctly and professionally.
Check out this video on Kilmat installation.
They are both beginner and user-friendly when it comes to installing them. You don't need a professional to do it for you. Unless maybe you don't have the time to do it yourself.
Noico and Kilmat come in sizable and handy sheets which make it easier to cut to the right sizes and shapes to fit in the areas of the car you wish to soundproof.
Below is a video showing the Noico Installation.
Final Words
I hope the comparison of Kilmat vs Noico above would have given you an idea of each product. But frankly speaking, both brands have similarities such as ease of use, user-friendliness, good value for the money and similar price points.
However, Noico has more models for you to choose from than Kilmat.  It's a tight one. I guess it will boil down to maybe brand preference and may models.
Latest posts by Josephine
(see all)