5 Best Sound Deadening Materials for the Money
In as much as it's important to keep our eyes and ears open while on the road, it is also important to preserve your hearing and enjoy some peace. You can only achieve that with one of these best sound deadening for the money.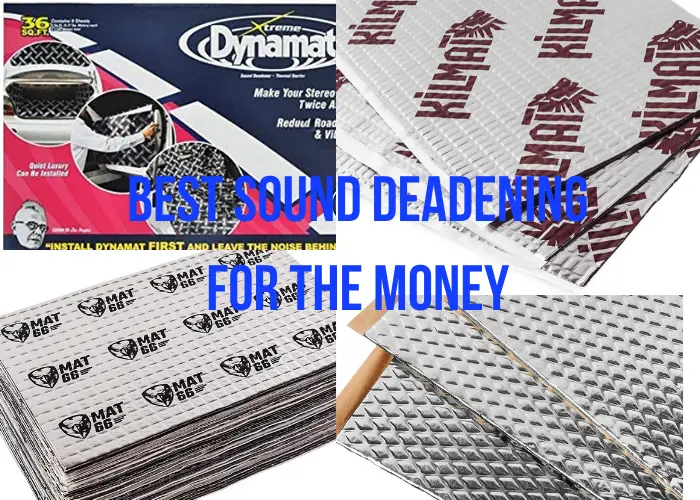 With these automotive insulation and sound deadening materials, you will be able to stop fighting your engine rumble, road noise, your speaker rattle and other buzzing parts of your vehicle.
All these are unpleasant noises that you don't have to deal with anymore and you don't have to spend a fortune in order to keep noise and sound in your vehicle at bay.
Don't get me wrong. It is good to get the best quality sound deadening and insulation material for your automobiles. But if you are on a budget, you can still get a decent sound deadener for your car.
Best Automotive Sound Deadening Material for the Money
These are some of the best sound deadening materials that are a good value for the money.
1 . Dynamat
10455 18″ x 32″ x 0.067″ Thick Self-Adhesive Sound Deadener
Dynamat has since been in the business of sound deadening materials for a long time and has built a good reputation for themselves.
If you have a little bit of money and want a really high quality sound and heat insulation, then the Dynamat sound deadener is your best choice.
It has one of the purest butyl insulation you can find. A Dynamat sound deadener usually comes with a Dynamat logo printed all over it in white or silver color.
The Dynamat  Xtreme 67 mil is the thickest in their range of sound deadeners available. Although Dynamat provides one of the best automotive sound deadening insulation for cars.
However, it is not always the easiest to install and to cut into referable sizes. But not to worry, Dynamat now has pre-cut versions for the windows, doors, speakers and other areas.
In all, you will get Nine 18″ x 32″ sheets high tack permanent adhesive sound deadeners. This Dymanat extreme is can be used for doors, decks, floors, trunk floors, trunk lids, roofs, quarter panels, and under-hood installations.
2. MAT66 80 mil 72 Sqft Sound Deadening Mat
The Mat66 80 mil is a full weighted automotive sound deadener. The Mat66 is easy to cut and install by yourself and doesn't require any professional help. Making it one of the best user-friendly sound deadening mats.
This insulation mat will eliminate vibrations, reduce noise and raffle levels of your car to allow you your peace of mind to listen to music and concentrate on your driving.
It is recommended that you should you the Mat66 80 mil in combination with a layer of closed cell foam, which is a special heat and cool insulation material and additional noise barrier.
To install this sound deadening mat, you simply peel the special embossing on the foil and roll it out with a roller till it is plain smooth. this way you will be 100% sure that the soundproofing is set correctly and professionally. This is a special indicator it is installed correctly.
3. FatMat Self-Adhesive Rattletrap Sound Deadener
FatMat is fairly a popular brand that has been around for a while. The company has different sound deadeners of varying thickness.
The FatMat 80 mil thickness is far better than the other option with lesser layers. with regards to dimensions, the one sheet is 18-inch wide x 33.5 feet long roll and has patented a super thick adhesive for it to stick for a long time.
The installation kit comes with easy instructions, knife, roller, and a FatMat sound control decal. This sound deadening material has a heat resistant coating and its easy to cut. Besides using it for your car, you can also use it in competitive sports such as dB Drag racing.
4. Kilmat 80 mil 36 sqft Car Sound Deadening Mat
Kilmat is an affordable, soundproofing option for those who are looking for cheaper but quality.
It's a butyl soundproofing material with an aluminum and foam rubber coating. These three combinations give an effective sound deadening experience.
However, just like Fatmat, this material is effective when installed in cars driven in colder climates. As temperatures rise, the butyl material produces a strong rubber smell in your car.
The Kilmat 80 mil is an effective sound soundproofing material at low weight and it is a good value for money.
5. Noico Car Sound Deadening Mat
Noico is a very popular brand when it comes to soundproofing cars and automobiles. With products of various thicknesses.
This Noico 80 mil is 1,5 times better in comparison to sound deadening material of 50 mil and just 25 % more expensive. The thicker the material the more performance you get.
Noico Automotive self-adhesive insulation consists of butyl. Noico sound deadening has a total weight of 0.7 lbs/1sqft. This weight ensures maximum efficiency and sound insulation that could be possibly gained from 80 mil thickness material.
To install it is easy. The special embossing on the foil must be rolled out with a roller till it is plain smooth.
How to install a sound deadening material?
Properly installing a sound deadening material will help you enjoy its added benefits of listening to your relaxing music while driving.
You won't have to stress about the noisy environment around you as you move along the road, the roaring engine noise, road noise and noise from other cars.
Here are steps to help you in the installation of your automotive insulation and sound deadening material.
Step 1
wear gloves. Remember that you don't want to run the risk of the foil liner cutting your hands into pieces.
The gloves will protect your hands from any form of injury.
Step 2
Measure out the area of the car you wish to install the sound deadener. Now, cut the material according to the size you measured. The installation won't take time. So don't rush this process.
Step 3
Grease and degrease the area you are going to insulate. This way the sound deadening material wil stick to the surface well.
Step 4
Stick adhesive should be applied to the area where the insulation will go. This is done if the sound deadening insulation is not self-adhesive. Some of these sound deadeners are already self-adhesive.
Press your pre-cut material over the area and firmly stick it. Some of these materials such as Noico sound deadener have an indicator to show you which areas you need to press on more.
Use a roller to roll down the foil to ensure it sticks.
Step 5
Once the foil is rolled down until it is smooth, it is time to now spray within the cracks to make sure your foil holds firmly.
For those of us who might be encountering problems with installing out Dynamat sound deadener, here is a video to help you get it done.
How to Remove a Sound Deadening Material?
Its easier to install a sound deadening material for cars than it is to remove it. The removal might take about an hour.
There are two main ways f removing sound deadeners namely; heating and scraping the material, which is messy and time consuming and using dry ice which is the optimal way.
Step 1
Wear gloves and get about 20 pounds of dry ice and sprinkle it to cover the tar.
Step 2
Clear all items from the car, otherwise, any item that the dry ice is on or touches will freeze. Anything that might be littering in the car should be taken out.
Step 3
Place a layer of the dry ice down on the sound deadener. the layer should be around a chunk thick to obtain optimal results. Now leave the dry ice on for some time until you hear the popping and cracking noise starting from the chassis. This is the sound deadener breaking free from your car.
Step 4
Repeat this process for the other remaining parts and the bits and pieces of the material that might still be remaining. After was, clean your car and now you have removed all the sound deadening material.
Also Read:
Best cheap soundproofing materials for room
Best Insulation materials for walls
Final Word on the Best Sound Deadening Insulation
Noisy roads and cars don't have to stop you from enjoying your music in quietness. These best sound deadening for the money materials will help you to achieve that.
They are of optimal quality and affordable prices and great value for your money.
Latest posts by Josephine
(see all)