10 Best Insulation for Soundproofing Walls
Walls are the pillars that hold a building together and at the same time, these walls separate one room from another. They serve as barriers to ensure privacy and quietness.
However, sometimes these walls are a source of unwanted sound from the people around us. This happens when the walls are not or are improperly soundproof. Thereby letting in sound through them.
So, if you found out that your walls are thin and letting sound leak through them, here are some of the best insulation for soundproofing walls that will help in reducing the noise. Today, different soundproofing materials are at your disposal in the market.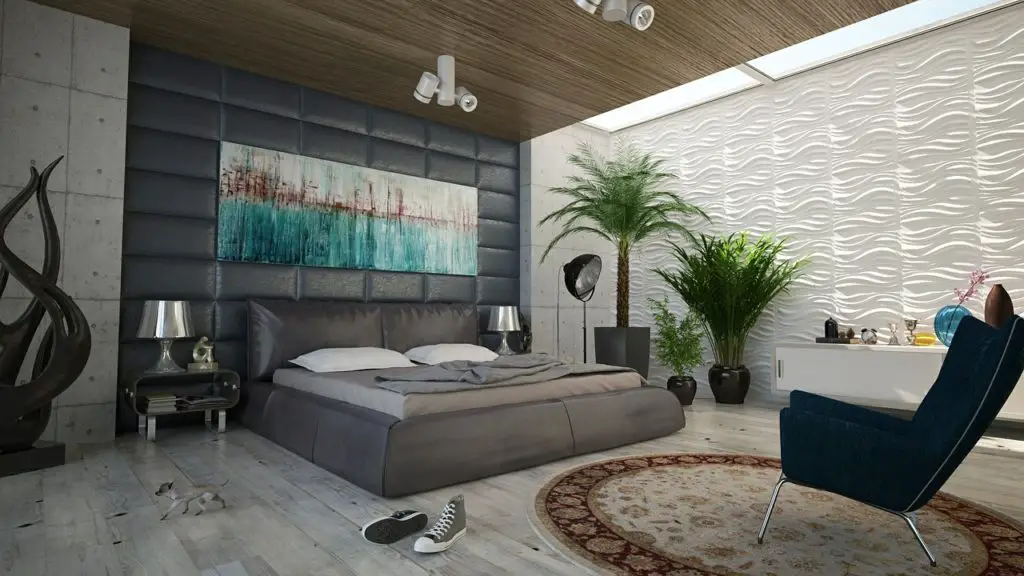 The quality of some of these materials is good and is useful for soundproofing walls and even the entire room.
However, like any other product in the market, there are also others with sub-optimal quality.  Here are some of the best soundproofing materials for soundproofing in your home.
But first, before we get into the best soundproofing for walls, let us discuss the types of soundproofing materials that you can find in the market;
Types of Sound Insulation Materials for Walls
Acoustic Foam: It is commonly referred to as Studio Foam. It has a unique wedge or pyramid shape which increases its effectivity to absorb sound. The material can be used on the walls, ceiling, and corners and are used as panels, baffles, and bass traps respectively.
Insulation of Sound: These are batts that are made of mineral wool, fiberglass, and rock wool. They are designed to fit in between the walls' studs and take up airspace that is responsible for transmitting sound.
Acoustic Boards: They are similar to sound insulation and acoustic foam but are decorative. They come in attractive patterns, colors, and fabrics. This feature makes them have a dual purpose, that is, decoration and soundproofing.
 Acoustic Fabrics: These are thicker and denser than other fabrics. They are more than often used in theatre curtains, studio blankets as well as blackout curtains.
Acoustic Coatings: It involves materials such as MLV (Mass Loaded Vinyl). These are dense and are rubber-like and are used in various occasions such as appliances, machinery, car soundproofing, and as underlayment. The density of the material is what helps it to act as a barrier of sound.
Floor Underlayment: This is done on the tile or hardwood floor. The process needs disengagement of the floor surface as this reduces the transmission of noise.
Soundproofing Using Architecture: These are things that are used in building structures. They include soundproof windows, walls, doors, and disengagement products that help in the installation process.
10 Best Soundproofing Materials for walls
1. Mass-Loaded Vinyl Sound Barrier
This is used to add extra mass to the walls without adding unnecessary weight. It is a synthetic material that is thin and flexible and at the same time maintains its functionality.
The main ingredient for the material is vinyl. However, there is an additional high-mass compound called (either calcium carbonate or barium sulfate).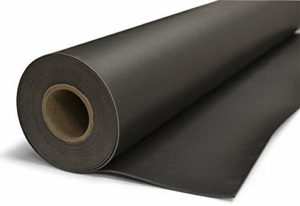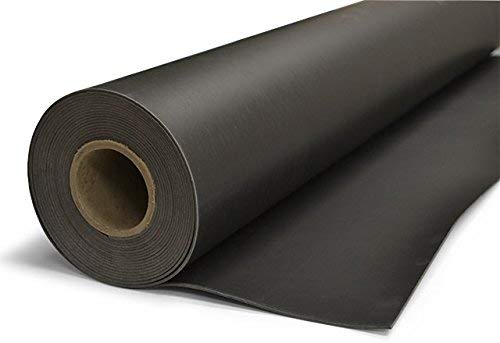 The primary function of the product is to add mass and block sound or rather reflect the sound. Mass-Loaded Vinyl does this function effectively.
Actually, you can use the product for soundproofing pipes, air ducts, or window plugs. The disadvantage of the product is that it is expensive.
One of the best brands in the market is the Trademark Soundproofing MLVs and can be found in Amazon.
The size of the product is 4' by 25' with a weight of 100 pounds and this helps in blocking noise and sound as well as create an acoustic barrier.
It is suitable for walls, pipes, automobiles, pool pumps, machinery, ceilings, and floors. It has no odor since it is extracted from natural materials. It is available in black color.
It is also easy to install and helped to block the sound. This vinyl mat has an STC rating of 27.
This means, you can hear the sound from outside but it is subtle to a point of not bothering anyone unless you are keen.
The material used is heavy and requires it to be cut and the use of screws to be attached to the walls. Even though it is dense, it is easy to cut through which is another advantage.
Additionally, It is worth noting that the 1/8, ¼, and ½ inch sheets do not stop low bass. This is because low bass creates long wavelengths. The sound is able to pass through the TMS but will completely block high frequency sounds. The price is okay because you will get a quality product that is very effective.
2. Acoustic Mineral Wool Insulation
It is believed that the best soundproofing starts from within. This product is used inside the walls during the construction stage.
The primary purpose of insulation is to prevent air from getting on the surface and not completely soundproofing. However, this material stuns at how it soundproofs.
If air can get through the walls then it means that even sound can. Since sound can be transmitted through the air The material is efficient as it adds bulk and absorbs air and sound from the walls.
One of the best brands for acoustic mineral wool insulation is the Rockwool Acoustic Mineral Wool Insulation.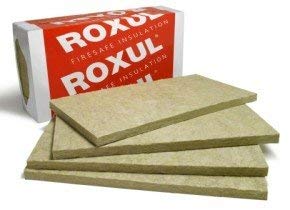 This mineral wool insulation comes as six pieces and weighs 54 pounds. The dimensions of each piece is 48" by 24" by 2". The material can be used for soundproofing and also for acoustic wall insulation. Plus, it is cost-effective
The product is the best to be used in making acoustic sound panels. It is very effective in making walls more soundproof.
They are easy to install since they do not require major insulation work. Additionally, they are easy to uninstall and are portable if you wish to move houses.
The products help you attain sound privacy as they help in calming echo in rooms, especially those with high ceiling.
3. Green Glue Soundproofing Compound
This is one of the best soundproofing materials for walls you can purchase if you are relying on the principle of sound damping.
Sound damping materials are more effective when placed between two surfaces that are hard.
The two surfaces are normally plywood and drywall, which are attached together. This then acts by causing the drywall to vibrate against the damping compound once sound reaches it. The vibration is converted to heat.
It may seem far fetched but the aspects regarding the are easy to understand. The advantage of Green Glue over other sound damping materials is that there is no need to use screws to attach the two surfaces.
Additionally, it acts as an adhesive. It can be used as an extra layer of drywall, where you can attach acoustic foam to the wall. The effectiveness of the product is increased once two soundproof drywalls are attached together.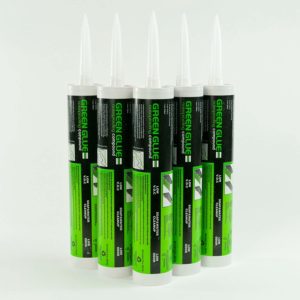 The box contains six tubes that are 29 pounds each. Each tube has 828 ml of the product.
There are also two big wipes that should be used for cleaning up and a visual instruction guide that helps you to use the product correctly. The dimension of the products is 12 by 8 by 15 inches.
The manufacturer, that is Trademark Soundproofing, recommends that the consumers should use 2 tubes for every drywall panel of size 4 by 8.
The application of only one tube has an effectivity of 70% while two tubes provide more functionality of dampening sound.
Around one week is required to cure and have maximum soundproof and true to the manufacturer's words, using two tubes is more effective.
I would recommend the product. However, it is important to note that three tubes are the maximum that you can use for 4 by 8 drywall. Using more than three will not increase effectiveness but rather it will be wastage.
4. Resilient Sound Channels
These are used for decoupling of drywalls from internal structures of the building. They help to block noise on walls and ceilings.
They come as pieces of sheets and are installed when the last layer of drywall is not done. They cannot be installed in an existing wall since they need striping the drywall first and replacing it with a new one.
Installation of drywall means that the screws will have to pass through the channels and instead of studs.
It is important to be careful when installing these channels to ensure that you do not cancel decoupling. Successful installation prevents any sound to pass through the walls. The vibration will end on the metal sheets and will not reach your house.
One of the popular products is the Auralex RC8 Resilient Channel in 25 Gauge Metal. It can also be found on Amazon.
The product is formed using metal devices. The effectiveness is improved when they are used to hang drywall rather than being attaching the drywall to studs.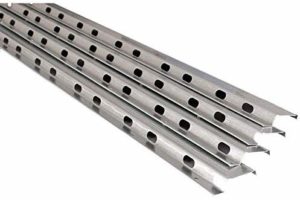 This helps to improve the transmission of sound.  The product should be installed horizontally at the top and bottom of the wall, ensuring that there is a space of 2'.
The product has 25 Gauge Steel and there is a description for installation that is provided for consumers. The weight of the product is 1.1 pound with a dimension of 96 by 2.4 by 0.5 inches.
The installation of the product is hard even though the product comes with a manual. Installing the products the wrong way makes it ineffective.
Therefore, if you are not sure how to install them, I would recommend you find someone who can do it. It's better to pay extra money to have the channels installed the right way than to get them installed the wrong way and sound can steal enter through the walls.
5. Soundproof Drywall
This is an effective part of the process of soundproofing. Drywalls are thin layers that highly contribute to soundproofing for ceilings and walls.
You will find these drywalls are the walls separating rooms in many apartments and homes.
There are different types of drywall, which include soundproof drywall, regular drywall, and moisture resistant drywall. Using drywalls can be coupled with Green Glue for maximum effectiveness.
If the room walls are made of drywall, you can add an extra layer of drywall.
6. Acoustical Caulk
This is the finishing touches that is added after putting up drywall and addition of soundproof materials.
These are sealants that come in 28oz tubes and have tips that are long and sharp, which aid in their application.
The product is mainly used to seal off or for plugging cracks. Air is capable of passing through cracks and thus the sound can too. The product is used to rectify the fissures to prevent sound from penetrating the walls.
This acoustic caulk  weighs 2.8lbs with the dimensions of 13.5 by 2 by 2 inches. It is a high quality product that seals gaps on walls. It is sold by the Green Glue Company.
It is smooth and of high quality. The color of the product is white and does not have any significant odor. It comes with big wipes clean-ups.
It is very useful and works magic. It can be used to seal all the cracks on walls and it prevents sound from penetrating through the walls. I would highly recommend it.
7. Soundproof Blankets
These are famous in recording studios. A soundproof blanket is thick, dense, heavy, and sturdy all-round. It is normally 80 inches long and around 72 inches wide. It can be used with other materials or used independently.
More often than not, soundproof blankets come with grommets all over the edges. They do not have appealing patterns but can be covered using soundproof curtains to help hide them and to increase their efficacy.
These can be found on Amazon. For example, the Sure-Max 12 Moving & Packing Blankets does a great job when used for walls or even the door.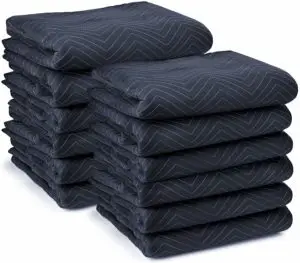 The weight is 34.9 pounds with a package dimension of 20.5 by 15 by 11.7 inches. They are oversized with 80 by 72 inches. They protect against dust, moisture, and scratches.
The thickness of the products aids in their perfect functioning. They can be used for soundproofing and are more effective in studios.
8. Soundproof Curtains
These are less effective than blankets since they only cover the windows. However, they add an aesthetically pleasing style to your home. Just like the blankets, soundproof curtains are thick, dense, and heavy and cannot be compared with the regular curtains.
The way they are made ensures that they are dense enough for soundproofing as well as blackout shades.
They are made using the triple weave blackout fabric using triple weave technology. So, it is a sound absorbing fabric.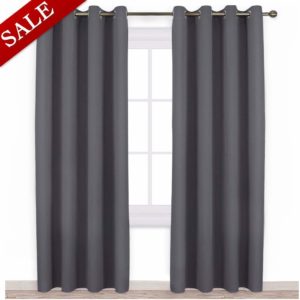 This soundproof curtain is good for blocking light in the room.
9.  Acoustic Paint
This is a controversial product since there have been debates as to whether the product really works. The efficacy of the product is not so good.
However, it is important to acknowledge that soundproof paint works better than regular paint.
The product claims to dampen and thin out the noise in metal structures. It weighs 8 pounds and is water-based paint. I have not used it before, but my friend tried it and said it helped.
It is easy to clean using soap and water. The texture and thickness of the paint is good. It applies smoothly on the surface and many layers can be applied to make a thicker layer. However, it does not function as a soundproofing material.
10.    Soundproof Foam Panel
Soundproof foam panels are not the best for soundproofing but they get the job done. They are used to offer absorption and thus are more useful to improve the quality of audio instead of block out sound. This is the main reason as to why the product is popular in recording studios.
These are some of the cheap soundproofing materials you can find in the market today.
I used this soundproof foam panel before. It is affordable and effective. The number of panels is dependent on what the consumer wants, this is because there are 18 packs and 24 packs. It weighs 5.35 pounds with dimensions of 12 by 2 by 12 inches.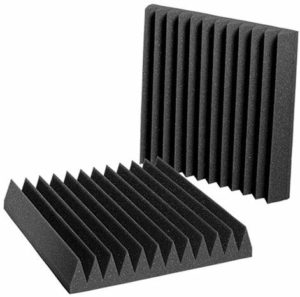 It is the best absorbing material that can be found on the market. It is effective in studios since it helps in reduction of reverbing as well as bouncing in studios. These can only be installed in each corner or in the entire room.
Many of these foams are self-adhesive but in case you got ones that are not self-adhesive, you can get a foam tape to help you install them.
On the Best Insulation for Soundproofing Walls
These above mentioned Best Insulation for Soundproofing Walls materials I discussed can help reduce the noise that is leaking in or out through any room walls. Especially if the walls are thin which is what most apartment walls are found to be.
If you are renting and maybe can not make any invasive changes to the walls like adding extra drywall and stuff, the acoustic foam panels, the soundproof blankets, curtains paint might work best for you.
But if you own the space, you can do a couple of altering to the wall especially adding vinyl mat, resilient channels, extra drywall, and stuff.
Soundproofing walls can take a little bit of work, but the results are impressive when you finish. Everyone deserves a privacy and I hope you found this post helpful.
Latest posts by Josephine
(see all)