Kilmat is no doubt one of the best budget-friendly sound deadening materials for cars today. In this Kilmat review, I will look at what features, pros and cons make this car sound deadening material standout.
Soundproofing a car is a must in our today's busy roads and cars with loud engines and vibrations.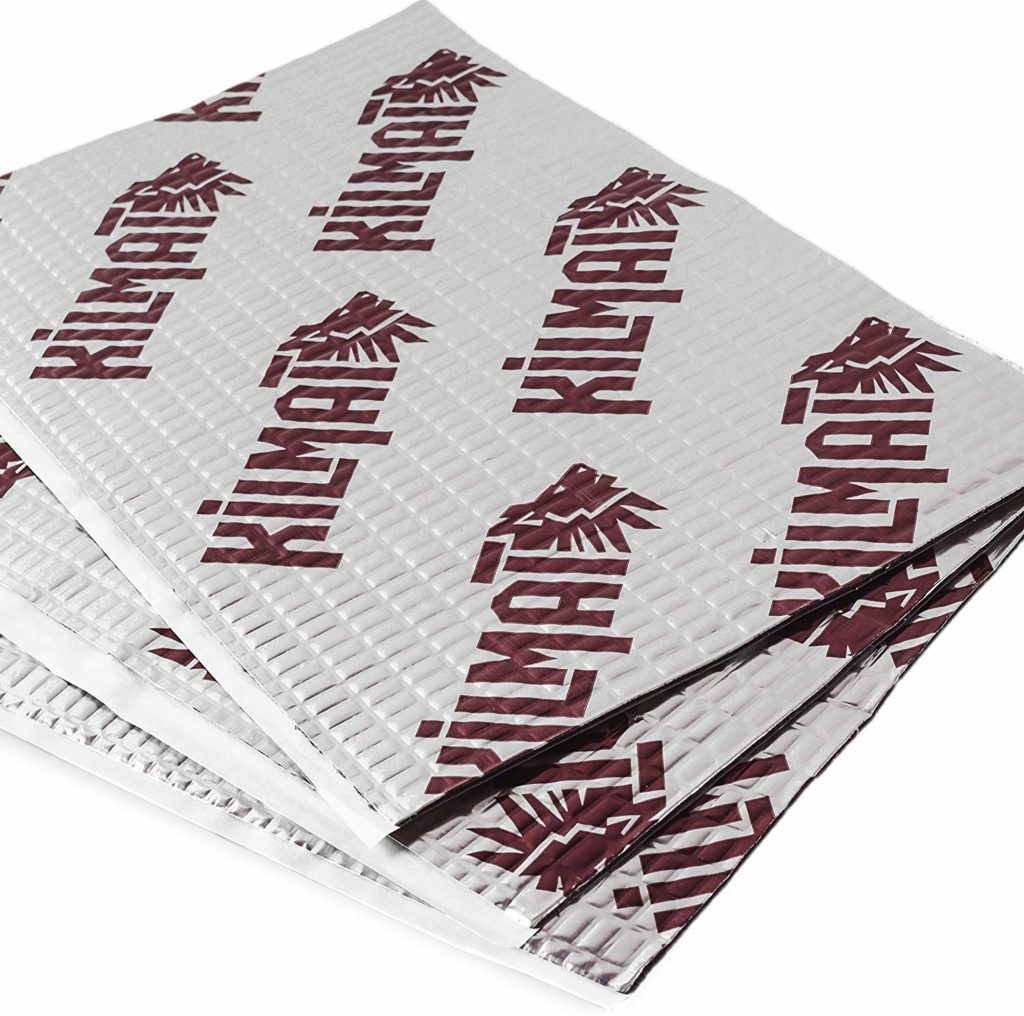 If you are not fighting an engine rumble, a speaker rattle, then its probably the buzzing parts of the car. The benefits of adding a sound deadening material to your car or vehicle far outweigh the disadvantages.
You will be in control of the amount of noise you let in or out of your car. Listening to music will even become better.
Kilmat is a noise control company for cars. Kilmat has sound deadening mats designed to be user-friendly and cost-effective especially for car owners on low budgets who can't afford premium brands like Dynamat.
Kilmat sound deadening mats at a glance.
[ninja_tables id="851″]
Kilmat sound deadener is made with butyl that is a foil that sticks well on your car metal body.
There are currently has two sound deadening mat thicknesses namely; Kilmat 80 mil and Kilmat 50 mil. Although they have about three different sizes of Kilmat sound deadening mats.
Kilmat products are all self – adhesive. Which makes them easy to install. Plus, they come with an indicator that lets you know whether you install it right or not.
This ensures that you get the best results from your installed product.
In the Kilmat  80 mil package, you will find the material in 34 handy size sheets that make cutting and installing easy for all, regardless of the size of the space to be covered. There's enough material in one package to cover 36 square feet.
The Kilmat 50 mil packages, one of the packages comes with also has 12 sheets which cover an area of 25 Sqft.
The other Kilmat 50 mil package has 47 sheets which cover an area of 50 Sqft.
The affordability of Kilmat makes it one of the most purchased soundproofing mats on the market. Its also among the top automotive sound deadeners in the market.
Kilmat products not only sound insulate your car, but it's also an effective heat insulator. This is a double win that will serve car owners well when driving in winter.
Features
The product features a universal material that ensures the material can be installed anywhere outdoors or indoors as a sound insulator.
Sound insulation and heat insulation rolled into one product to give you a less noisy and cozier ride.
Oil and water-resistant
Kilmat does have any odor. Even the adhesive used to stick it on is odorless.
The adhesive on the Kilmat material is designed to stick fast and last long. The adhesive is already on the mat, so this makes installation quick and easy.
You can cut Kilmat sheets into the size you want
Every product has its pros and cons. Below are the advantages and disadvantages of Kilmat sound deadener.
Pros
Affordable price without compromising on quality
No bad odor
Powerful, long-lasting adhesive
Small size sheets that are easy to work with
Suitable for internal and external installation
Thick and lightweight
Cons
The sheets are relatively stiff which can slow down the installation process.
Doesn't come with a roller
Kilmat Installation
Kilmat stressed that you do this properly as the efficiency of the product not only depends on the quality but also on the installation as well.
clean and degrease all the areas of the car you wish to soundproof. You can start from anywhere; the roof, door, hood or the floor. You can start from anywhere and work your way around. It is recommended that for better soundproofing, you cover all these soundproofable areas.
Measure the surface you which to insulate and cut the mat according to the measurement with a knife or scissors. This will prevent wastage and money.
Careful peel the cover at one end and work your way using your hand to press the adhesive surface on the car surface.
After you have done that, use a roller to roll over it to smooth out any air bubbles.
Related:
Final Thoughts on This Kilmat Review
Kilmat sound deadening mats are budget-friendly, easy to install and it's durable. If you are looking for Dynamat alternative or any of the other brands around like Noico, Fatmat, SoundSkin, etc.
Its an affordable car audio insulation mat.
Latest posts by Josephine
(see all)