Quiet Mattress:7 Best Quietest Mattress for Peaceful Sleep
Looking for the best quiet mattress for a quieter sleep or for couples time?. Perfect, then you've come to the right place.  In this guide, you can expect to learn the following:
The different types of mattresses
Our top-rated quietest mattress picks
A quick buyer's guide on silent mattress
How to make a mattress quieter
And more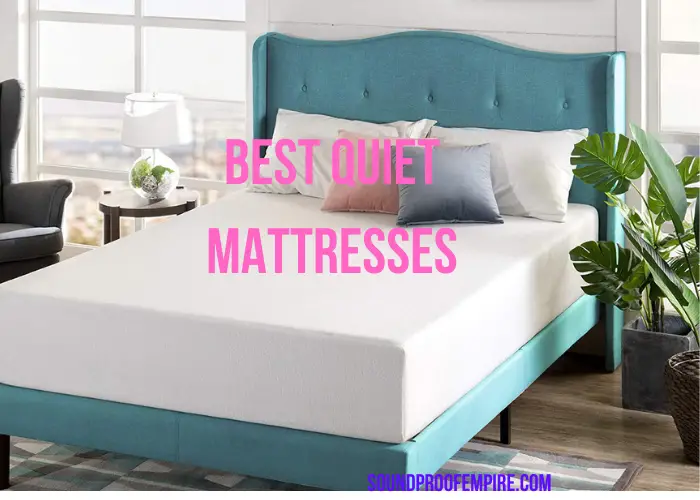 Quick Preview of the Quietest Mattresses for Peaceful Nights
In a hurry?. I understand. Here is an overview of the best quiet mattresses in the market.
Avenco Silencer 12 Inch Memory Foam Mattress (Quietest Pick)
TUFT & NEEDLE Adaptive Foam Mattress ( Best Value for the Money)
You will quite agree with me that buying a mattress is one of the most important purchases you will ever make for your home. Having a sound sleep and rest at night is very vital for our wellbeing.
Therefore, a mattress needs to be comfortable, supportive, and quiet enough to give you the best possible sleep for many years to come. And because mattresses can get pricey, you really want to make sure you are investing in one that's actually worth the cost.
Finding the best quiet mattress has never easier. With more and more top mattress brands moving online, it can be challenging to pick one that is best for you. But today, in this guide, I will help you to narrow down and zoom in on the best options.
Whether you are looking for a mattress on a budget or a premium model for a couple of thousands, there is something for everyone. Plus, these mattresses here are quiet and don't squeak, making them great for couples and those who dont like noise when they turn.
Related Reads:
The Different Types of Mattresses
The type of mattress you sleep on every night can have a serious impact on your sleep quality and waking life. If your mattress leaves you tossing and turning all night, then it's time to change ships.
sleeping on the right mattress can be the keystone to happier, healthier waking life. Here are the different types of mattresses you will find in the market today.
Innerspring Mattress
The innerspring mattress has been on the scene since the 1930s and since then, it has become the traditional choice. If you are just starting out and on a low budget, these may be a good choice but they also have a couple of downsides like; they dont do a good job of counteracting pressure points, they tend to wear out quickly and may start to sag in the middle.
Memory Foam
Memory foam mattresses are an incredibly popular mattress style among many sleepers. After all, who doesn't want to go to sleep on a material that contours to your body, delivering comfort where you want it and support where you need it?
There are three common memory foam mattress densities you will find in the market; low, medium, and high density. The density affects motion transfer, durability, body contouring,  foam time response, weight, temperature, and price. Memory foam mattresses are designed for all types of sleepers.
Hybrid Mattress
Hybrid mattresses are made of a combination of innerspring and memory foam mattresses. With this type of mattress, you'll get equal types of support and cloud-like softness.
Hybrid mattresses feature individually-wrapped springs for a traditional mattress feel plus a layer of soft memory foam. Not all hybrid mattresses are created equally, however. Some hybrid mattresses feature memory foam that turns into a heat trap and wears out quickly.
Waterbeds
These types of mattresses are often made of a poly-vinyl material completed with a flexible top layer for additional comfort.
Although they're usually viewed as a novelty item, some sleepers love the wave-like motion of a waterbed. Some even compare the motion of a waterbed to a massage.
While waterbeds do have some advantages such as the potential to be heated for a soothing sleep and a hypoallergenic choice, but they also have their flaws such as they may cause nauseating to those prone to seasickness, they may also cause discomfort to those with back pains and they may also leak and cause havoc to your room.
Air Mattress
Air mattresses are portable to travel with and for homes with limited space.  This is because you can easily fold them into a bag and store it away. However, these types of mattresses are notoriously known to be uncomfortable and are extremely vulnerable to punctures and tears.
Adjustable Beds
Adjustable beds are types of beds that can be adjusted into a number of different sleeping positions depending on the sleeper preference. In most cases, these adjustable beds have hinges operated by a motor that allows different sections of the bed to be raised or lowered independently of one another.
The drawbacks of this type of mattress include the potential for mechanical failure and the risk of exacerbating existing back pain if you set your bed to a poor angle.
Pillowtop
These mattresses feature a pillowy material on top of a traditional innerspring design. The top pillowy section might be made out of memory foam, cotton, wool, or synthetic materials.
Best Quiet Mattresses for Quieter Bedroom
Below are some of the top-rated quiet mattress picks reviews that will ensure you have your peace of mind in your bedroom.
1). Avenco Silencer 12 Inch Memory Foam Mattress
This Avenco Silencer Memory Foam mattress is designed with gel-infused foam with open cells that allow for ventilation. This mattress is available in sizes such as queen, full, king, and California king sizes.
This mattress is able to adjust its temperature to make sure you sleep comfortably while reducing sweat and perspiration during hot or damp weather.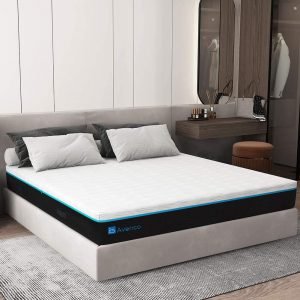 The high-density base foam relieves your pressure points and conforms to your body, providing unparalleled support during the night or anytime you sleep.
This is a high-quality foam mattress that is quiet and it's recommended for anyone who desires comfortable sleep and wants to invest in a high-quality quiet mattress that will last for years. It is backed by Avenco 10- years of support.
Avenco recommends you allow it 24-72 hours to expand to its full size after receiving it. Please note that this mattress is not compatible with an adjustable frame.
---
2). Live & Sleep 12 Inch Gel Memory Foam Mattress
Unlike the Avenco above, this Live & Sleep mattress is available in all the mattress sizes which include; twin, twin xl, king, full, queen, short queen, and California king sizes. So, you will get a size that will fit your bed frame.
This mattress is made of 2.5-inch premium air-flow over 1″ of gel-infused memory foam plus 8.5″ of high-density polyurethane base. Making it a luxurious mattress for any bedroom including hotels.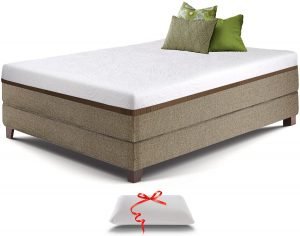 The mattress is breathable and offers optimal comfort that relaxes and cools your body, allowing you to have a deep rest at night. The Classic medium-firm HD core relieves pressure points + less tossing & turning. Good for side, back, and stomach sleepers.
It is also a CERTIPUR-US Certified. Hence is non-toxic, eco-friendly, and hypoallergenic. This mattress is compatible with box spring, platform bed frame, adjustable, or for the hard floor only. Plus, comes with 20- years warranty.
---
3). Signature Sleep Memoir 12 Inch Memory Foam Mattress
This mattress is available in all mattress sizes and you can also choose from different styles ranging from 6″ to 12″.  It one of the most affordable quiet mattresses on this list for those who are on a tight budget.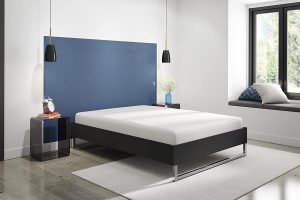 It's uniquely designed to help minimize pressure on the sleeper's body, help distribute weight evenly, and offer balanced support regardless of how much you turn and your sleep positions.
In addition, it's made of CertiPUR-US certified foam, and hence it's free from toxic materials. In addition, the mattress also includes a soft cover that's made of ventilated knit fabric that's non-removable.
---
4). Zinus 12 Inch Green Tea Memory Foam Mattress
Zinus is a well-known brand in the US for its high-quality bed products. They are one of the best sellers because of their high-quality products are affordable prices.  With this quiet memory foam mattress, you can get all the different mattress sizes and different thicknesses from 6 inches all the way to 12 inches.
It's able to provide enough support and density to accommodate back sleepers and also has a soft level firmness which is best for stomach and side sleepers. Remember that the thicker the mattress is, the softer and comfortable it will feel.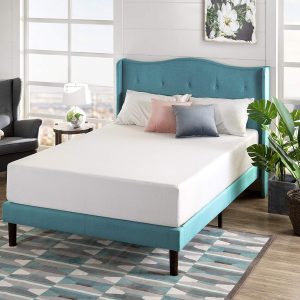 The Zinus mattress consists of four layers of memory foam for maximum comfort and support during sleep. The first layer is a gel-infused memory foam layer which will conform to your body thanks to the gel component. The gel layer also helps in heat regulation.
Beneath the gel is a 3 inches comfort foam layer. As the name suggests, the purpose of this layer is to add comfort. Underneath are two 3.5 inches thick air-flow dense foam mattress which contributes to the firmness to the mattress and contributes support.
Zinus offers a Worry-free 10-year limited warranty.  With regards to the weight, the twin mattress supports a maximum weight of 250 lbs, while all other sizes can support up to 500 lbs. All materials used to make this mattress are CertiPUR-US.
This model is made of materials that have been CertiPUR-US certified for performance and durability as well as for cleans from chemicals and toxic products.
---
5). TUFT & NEEDLE Adaptive Foam Mattress
The TUFT & NEEDLE mattress features the company proprietory T&N adaptive foam which makes the mattress universally comfortable for all sleeping positions.
The Tuft & Need is excellent for every sleep position and highly recommended for folks who rotate from one position to another in their sleep. However, it's not recommended for anyone weighing over 200 pounds.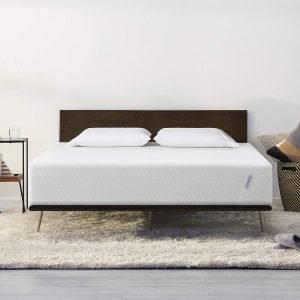 This mattress locks a memory foam top layer, making it easier to roll around and change sleep positions with ease. It's good for those who like changing sleep positions when sleeping. The open-cell structure provides a flexible sleep surface that adjusts to you as you move throughout the night
If you are not a memory foam mattress lover, then you will love the TUFT & NEEDLE mattress.
It is made of breathable materials and it's CertiPUR-US certified; making it meet the highest quality standards and free of toxins.
Note: Please allow up to 72 hours for the mattress to fully expand and for any potential odor to dissipate.
---
6). Sleep Innovations Shiloh 12 Inch Memory Foam Mattress
This Sleep Innovation Mattress is one of the best quiet mattresses made by Sleep Innovations. It designed and test to be one of the best mattresses for comfort and ergonomic support.
Furthermore, it has perfect motion isolation all thanks to the dense support foam that eliminates any motion transfer.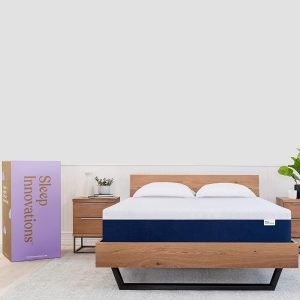 Its support foam is made of high-quality elastic polymer that is able to respond to kinetic energy and help disperse the vibrations.
It has a 2.5-inch memory foam top layer, 2.5-inch air channel foam and 7 inch support foam. All these layers provide the best sleeping temperature without foregoing the therapeutic aspects that Sleep Innovations is known for.
This mattress is available in different sizes; queen, king, full, twin, and California King size. There are also two thickness to select from; 12″ and 14″.
There are two firmness options: medium-firm to medium-soft feel making it ideal for back, stomach, and side sleepers.
The Shiloh comes with a 10-year warranty so you sleep secure for years to come.with a 10-year so you sleep secure for years to come.
---
7). Ghostbed 11 Inch  Cooling Gel Memory Foam Mattress
The Ghostedbed mattress is a high quality, lower-cost luxury latex and gel memory mattress is CertiPUR-US certified making it clear of any anything harmful.
If you are wondering what sizes are available, it is available in all sizes; queen, king, full, twin, twin xl, and California king.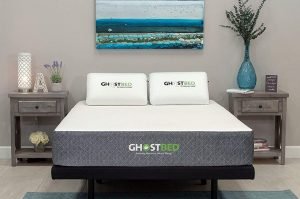 It is an excellent mattress that is recommended for side, back, and stomach sleepers, and the weight limit is 600 Ibs. With construction from a blend of latex and foam, this Ghostbed is a quiet mattress.
With foam mattresses been heat retainers, this latex foam is breathable and maintains cool temperatures even in summer. Its bounciness and responsiveness make it a great option for active couples as well.
Because latex and foam mattresses offer good motion isolation, GhostBed is no different. Its foam and latex layers will trap movement and prevent it from rippling across the bed.  This mattress comes with a 20-year warranty.
---
Quick Buyer's Guide on Silent Mattress
If you are purchasing a mattress for the first time, then you may want to have a look at these factors and considerations to help you make a good investment in your mattress.
Noise Level
I believe you are here because you are in search of a quiet mattress and hence noise level should be a concern to you. Luckily, the mattresses covered above are quiet. But as a role of thumb, you should avoid mattresses with coils, springs, and other metal components inside them as they are considered noisy compared to foam and latex mattresses.
Comfort And Durability
We all desire comfort when we sleep and it is the way it should be. Mattresses that always conform and target your pressure points like neck, shoulder, hips, and other sensitive areas are the best.
For durability, the average mattress should last at least six to seven years irrespective of sexual activity and weight.
Responsiveness And Bounciness
Responsiveness refers to how quickly or slowly a particular mattress adjusts or responds to your body. Less responsive mattresses create a sinking sensation while their responsive counterparts respond quickly to the sleeper.
Sexual active couples prefer bouncy mattresses because they produce a rebounding effect that's satisfying.
On the other hand, if your partner wakes up a lot in the night and you find it disturbing, then you can get a mattress that has isolation motion.
Temperature Neutrality
Some mattresses can retain a lot of heat and this can be uncomfortable especially during summer. It's better to get a mattress that has temperature neutrality to avoid excessive heat in the summer days.
Edge Support
It's important to note that some mattresses are constructed for minimum sinkage at the edges where people tend to sit or lay. Other features can improve edge support; they include low-gauge steel coils and foam encasements around the support core.
Why Does A Mattress Make Noise?
There are a few reasons why your squeaky bed keeps you wide awake at night. It could be because of the bed frames or its weight against your floorboards.
When it comes to mattress noise, it all boils down to its bed springs. Before you make a mistake in buying the wrong mattress, it's important to know what makes it so noisy.
Traditional mattresses come with hourglass coil components. When you get a new mattress, these freshly-coiled bed springs are there to guarantee a good night's sleep.
However, these springs can become worn-out and therefore make your mattress noisier than when it was new. Another reason also is that your bed springs may not also compress the way it used to be.
As a result of aging, the squeaking noise will begin to surface when you exert any weight on it or make a movement on its surface. An uncomfortable mattress could result in joints pains and not getting enough sleep.
It also reduces the quality of sleep you get, which is a sign for you to replace it with a new one.
With regards to mattress types, latex, memory foam, and hybrid mattresses are quieter compared to innerspring mattresses. This is because these types of mattresses dont rely on spring for comfort and support. That is why you will notice most of the mattresses I mentioned above are made of these mattress types.
Innerspring mattresses may be bouncy and look good in the beginning, but once they lose their tension, you cant coil them back into place. That is why is good to choose one that won't sag easily from continuous use. Luckily, all the mattresses in this guide are of high quality with at least 5 years warranty.
How to Make a Mattress Quieter
Is a noisy mattress disturbing your ZZZ's? While those squeaks and creaks are mighty annoying, don't assume there's nothing you can do about them. There are, in fact, quite a few quick and easy tricks worth trying.
1. If your mattress is not a pillow-top, turn it over. Any improvement? If not, then:
2. Rotate the mattress (so that the foot end becomes the head end and vice versa). A change in weight distribution on the springs can make all the difference. Regular rotation is recommended anyway by mattress manufacturers, just to ensure even wear.
3. Check to see if the mattress is exactly centered on the frame or box spring. This is to ensure there is a perfect weight balance at all times.
4. Place a flat, right object right underneath the offending mattress spring. A hardcover book or piece of plywood. This will reduce the pressure most like and even eliminate the squeaking.
5. Sometimes the noise is actually coming from the bed frame or box spring. So, try tightening all the bolts and screws holding the frame together. Also, lubricate all high friction areas to soothe them by using oil or wax.