Quietest Bed Frame:7 Quiet (Silent) Platform Bed Frames
Looking for the quietest bed frame that doesn't squeak?. Perfect, you've come to the right place. In this bed frame guide, you can expect to learn the following:
What bed frame is
Benefits of a bed frame
Our top-rated quietest bed frame picks
Buyer's guide on quiet bed frames
How to stop a bed frame from squeaking
And more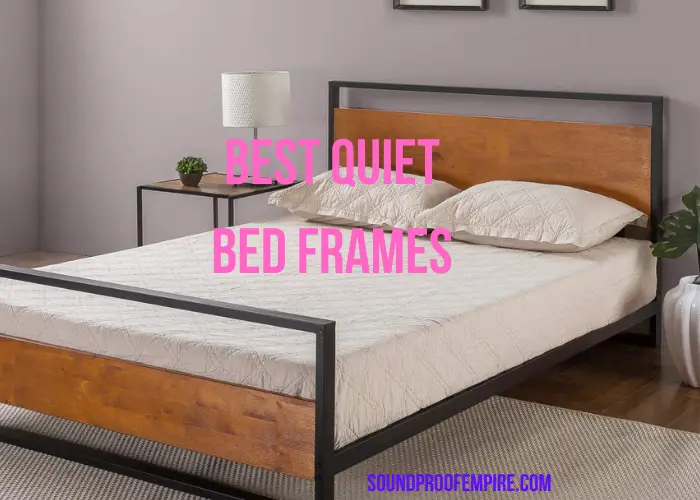 Quick Preview of the Quietest Bed Frames that Don't Squeak
In a hurry?. I understand. Here is a quick overview of the best quiet bed frames in the market.
You may have a mattress that you feel is perfect for you, so what next?. Maybe you are a young adult who just acquired your own place or your old bed frame is worn out and is already squeaking and making loud weird sounds.
Placing your mattress may seem like a norm, but nobody is truly happy with the situation for long. This is when you begin to wonder what sort of bed frame you may need that won't be making loud sounds anytime you turn on your bed.
Well, as you begin shopping for your new bed frame, it won't take long for you to realize that there are many, many bed frame options available in the market, and finding the perfect one that doesn't make may be challenging.
To help you save time and the frustration, I did the research already for you in this guide. A lot of time was spent doing deep research to find the best quietest bed frames that will help you make an informed decision.
What is a Bed Frame?
A bed frame also occasionally called bedstead is a part of a bed used to position the mattress. It is the base( mattress foundation) that the mattress rests upon.
For as long as people have created a comfortable sleep surface, there has to be some sort of bed framework that is involved in holding the bedding for a more comfortable rest.
Bed frames are typically made of wood, metal, leather, or fabric. A bed frame usually involves a head, foot, and side rails. It may also include slats to support the mattress.
Benefits of Bed Frame
You may be reading this guide and still be wondering if it is necessary for you to use a bed frame to support your mattress. Well, here are some good number of reasons why investing in a high-quality bed frame is a great thing to consider.
Support: Left all by itself, even the most expensive support matters won't give you the support you need to get a good night's rest. Hence the reason why most mattress manufacturers will suggest that their product be placed on top of a box spring. Check my recent guide on the quietest box springs here.  A good bed frame provides your box spring with secure housing, and won't scratch your floors.
Aesthetics: A good bed frame adds a level of sophistication and polish to the bedroom, and helps to boost the visual aesthetic of the space to a more appropriate level. The modest cost of a bed frame is a perfect way to add another layer of finish to your space.
Molds and Insects: Elevating the mattress with a bed frame eliminates that problem and reduces the dampness under the mattress, keeping the room fresh and airy.
Storage: If you host overnight guests fairly regularly and live in a cramped apartment, you may find that storing a spare blow-up mattress under your bed is the only place to keep it out of sight. Further, under the bed is a great space to store seasonal clothing, spare blankets, linens, towels, etc.
Best Quiet Bed Frames that Don't Squeak
After doing deep research and gathering users' experiences, Here are the top-rated quietest bed frames in the market.
1). Zinus  Suzanne Metal and Wood Platform Bed
Available in a range of sizes, this steel and wood platform bed could be what you and your partner have been looking for.
This attractively and solidly built Suzanne platform is the focal point you need to complete your industrial or contemporary aesthetic. It is made of wood and steel frame which blend seamlessly, giving your bedroom a visually appeal while creating a quiet bed for you.
The bed also features wooden inserts that you can use to support whatever kind of mattress. The sturdy wooden slats support and extend the life of any foam, latex, or spring mattress without the use of a box spring.
The slats are spaced 2.7 inches apart, the twin size supports a maximum weight capacity of 250 lbs, while all other sizes can support up to 500 lbs.
This bed frame comes with a 5-year warranty and its very easy to assemble.
---
2). Simple Houseware 14-Inch Platform Bed Frame
With the Simple Houseware bed frame, you have the option to choose from these available sizes; twin, queen, king, and full size. This bed foundation is capable of holding up to 500 pounds of weight, which is the average weight of people.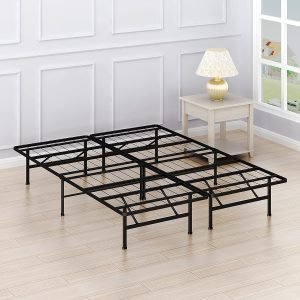 This quiet bed frame is made from back steel, making it durable for many years to come and it can support most mattress types from memory foam, latex, or spring mattress.
With this silent bed frame, you can easily fold it and store it away when not in use, this makes it perfect for use when you have a guest sleeping over.
This bed frame has a height of 14 inches and 13 inches of storage space under the frame. Plus, it features centralized support, a key feature that every non-squeaky bed frame should have. Very easy to assemble without any tools.
---
3). Olee Sleep 14 Inch Heavy Duty Steel Mattress Foundation
This Olee Sleep bed frame is available in twin, queen, king, and full sizes. You also have the option to choose the style; whether you want basic or a foldable version. This makes this Olee bed frame a perfect choice if you are a bit tied up on bedroom space.
It features a sturdy steel frame that is uniquely designed to complement and bedroom space.
The under-bed of the structure has some ample storage that you could use for linen or any other clothing items.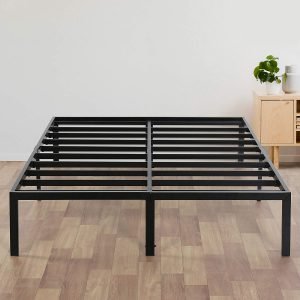 To prevent the mattress from slipping, the bed's unique design ensures that the mattress is fully encompassed in the frame. The steel slat measures 37.2 x 0.9 x 0.5 inches and can support up to 1200lbs.
According to Olee, the company incorporated six innovations to ensure their customers have the best experience with this platform bed. These are eco, foam, safety, fabric, steel, and comfort innovations.
The package comes with all the tools that you would need. Assembling the bed should, therefore, take you no more than a few minutes.
---
4). Zinus Arnav Platform Metal Bed Frame
This Zinus Arnav platform metal bed frame is available in queen, twin, king, and full sizes. You also have the option to choose only the bed frame only or bed frame with mattress.
The Zinus Arnv is a squeak-free bed frame with a low profile platform. If you don't like high profile beds such as the Olee Sleep above, then this is a great choice for you. It's only 10 inches high and provides 7 inches under bed clearance for storage purposes.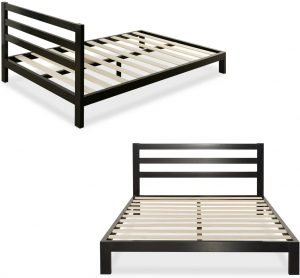 It equipped with 10 wooden slats for sturdier support that prevents the mattress from sagging hence increasing mattress life.
Additionally, the four metallic legs are plastic padded to prevent them from ruining the floor of your house. Assembly process is quite easy and will only take a few minutes of your time thanks to the detailed and easy to follow the instruction on the manual.
It has a weight capacity of 500 pounds excluding the mattress and it comes with 5-years worry-free limited warranty.
The steel frame is padded with foam making it one of the best non–squeaky bed frames while the wooden slats have a non-slip tape to prevent the mattress from slipping.
---
5). VECELO Metal Platform Bed Frame
This silent platform bed frame is also available in queen, king, and twin sizes and can support weight up to 440 pounds. it is only the queen bed frame that comes with a headboard and footboard, so you don't have to purchase them separately. There are also two colors to choose from; white and black colors.
This mattress foundation designed to be sturdy and silent, allowing it to handle 440 pounds of weight and is also durable.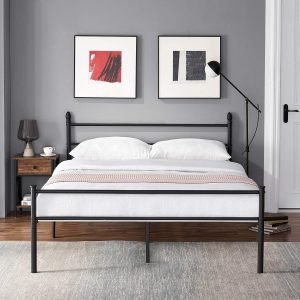 The enhanced structure of the VECELO metal bed frame gives it ultimate strength and stability, complete with sturdy legs and crossbars for enhanced durability.
When setting up the bed, you can embed the mattress into the frame to help reduce wobbling or sliding, especially during intense activity.
If you are a little short on space in your bedroom, you are going to love this frame. It allows for 11 inches of clearance space under the framework, which you can use to store whatever items you would like.
---
6). ZIYOO 3500 Ibs 14 Inch Silent Platform Bed Frame
This bed frame is available in twin, full, and queen sizes with durable reinforced thick steel that 20% sturdier than your average bed frame. It's one of the silent heavy duty platform bed frames.
The ZIYOO is one of the best sturdy bed frames for an active couple that doesn't squeak and wake your kids or next-door neighbors in the middle of the night.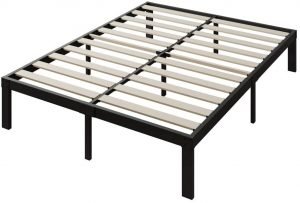 The wide wooden slats increase mattress life while the nine legs offer support and stability needed for heavier couples. The frame perfectly fits the traditional mattress and heavy memory foam mattress and also offers 11.5 inches under the mattress storage space.
To assemble this product is easy and simple, it comes with all the installation kit and takes less than an hour to put it together. Plus, this platform bed frame comes with a 5-year warranty.
---
7). KD Frames Fold Platform Bed Frame
This KD Frames fold platform bed frame is convenient and stylish. With it, you dont need a box spring. It is a perfect choice for guest rooms or transient college students.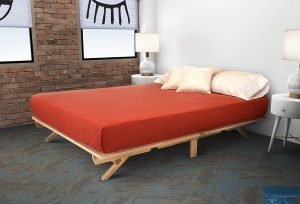 It is available in four sizes namely; twin, queen, king, and full. This mattress is built to be sturdy and quiet just like the others reviewed above.
If you like wooden bed frames, then this bed frame is a great option for you.  It's perfect for any space especially if you have limited space. it is easy to use and fold up when not in use.
This platform bed frame comes with a 5-years warranty.
---
Buyer's Guide on Silent Bed Frames to Prevent Squeaking
Buying a bed frame that lets you enjoy a good night's sleep without all the squeaking sound that is common to most bed frames can be challenging. Hence a compilation of this quietest bed frame guide to assist you to choose the perfect silent bed frame for your bedroom. Here are tips to help you in choosing your right quietest bed frame for your bedroom.
Noise
Noise is a major concern for some people especially if you share bedroom walls with others.  If you dont want your housemates or neighbors getting in on your bedroom affairs, then you need to have noise level in mind when picking a bed frame.
Squeaking sounds from bed frames can be as a result of poor engineering or lots of nuts and bolts losing up.
If your bed frame consists of a dozen parts, all of which are screwed or latched together, you're bound to have squeaks as you or your partner move around.
Look for a bed frame that features minimal assembly and little to no moving parts. This alone is one of the best ways to avoid bed frame related squeaks. Luckily, the bed frames covered here in this guide are designed to be quiet to prevent squeaking.
Mattress Size
The rule of thumb in choosing a bed frame is to have the bed frame size the same as the bed frame size. Otherwise, you will end up with a bed frame too small or too large for the mattress.
The same way mattresses have different sizes, so are bed frames to match them. Before purchasing a bed frame, you should know the size of your mattress. The different sizes of mattresses are; twin, full, queen, king, and California king.
You may already know your mattress size, but if you're not sure, you can measure the mattress to confirm. The standard mattress sizes are:
Twin: 38 x 75 inches
Full/Double: 53/54 x 75 inches
Queen: 60 x 80 inches
King: 76 x 80 inches
California King: 72 x 84 inches
If you're buying a new mattress/bed frame you should measure the space to ensure it can accommodate the sizes above.
Bed Frame Material
You will find bed frames made with a finite number of materials. Bed frames are designed to be durable and practical. Hence materials that meet those qualities are used. The popular materials used for bed frames are wood and metal.
There are a finite number of materials used for bed frames. This is because the material needs to be both durable and practical.
Your choices usually boil down to some form of either wood, leather, or metal.
Wood
Wood is the oldest building material in the world. Not only are they easy to get but also the also add and aesthetical appeal to the bed.
Some of the common woods used to make bed frames are pine, oak, poplar, and maple.  However, you can also find other forms of softwoods and hardwoods been used.
The wood is then finished with something like varnish. The varnish helps with durability because it's resistant to impact, heat, abrasion, water, and alcohol. Varnish applies clear but it will also darken the wood slightly.
To ensure you get a durable bed frame, avoid woods like chipboard, fibreboard, plywood, or particleboard.
Metal
Metal bed frames are more durable compared to wooden bed frames. If you desire a bed frame that can truly stand the test of time, environmental impact, etc, then a metal bed frame is better.
Often, steel angle iron or other forms of steel are used for bed frames. As you might expect these materials are extremely durable. It won't splinter or bend and they're fairly lightweight.
In order for the wood counterpart to match the same strength, you need more material which increases the weight.
Unlike wood, steel won't rot, warp, or splinter with age. Thanks to the nature of how metals can be molded, you can also create unique designs.
Leather Bed Frame
Fabric and leather, as well as faux leather, coverings to head and footboards, and even sideboards, have become more common to more closely match contemporary decor.
Fabric does require a more rigid base, which is often plywood to provide a durable frame and surface to attach the material to.
Types of Bed Frames
Today there are a number of bed frame styles available. However, as we noted, you should avoid moving parts if you dont want a lot of noise. Bed frames that feature storage compartments, a canopy, murphy, etc, all feature dozens of moving parts for structure-borne noise to travel through.
Keep your options limited to the following: platform and traditional/standard.
Platform Bed Frame
Platform bed frames are very similar to traditional bed frames. They also feature head, foot, and side rail supports. However, they also feature many support slats, where-as standard bed frames may not have any. They also usually discourage the use of box springs.
Platform bed frames usually come as a solid, flat surface that's made from wood, metal, or laminate.
Traditional Bed Frame
Just as their name suggests, they are usually as simple as they come. Traditional bed frames are designed to be used in combination with a box spring. They usually have only head, foot, and side rails as well as additional support slat/rail or two.
This is why a box spring is necessary because it provides support for the mattress needs. If you were to put the mattress on the bed frame without the box spring, it would likely sag because of a lack of support.
These bed frames are quite durable as they're usually made of steel and other metals. Although, they're aesthetic is somewhat lacking because of their utilitarian feel.
Weight Limit
Many of the bed frames available in the market come with a recommended weight limit from the manufacturer.
Weight Limit
Many of the bed frames available in the market come with a recommended weight limit from the manufacturer.
Whether or not you are going to be having some vigorous sex, you need to confirm your frame's weight limit before you purchase it.
Ideally, the limit should be a couple of pounds extra on you and your partner's weight combined.
Budget
Budget is something that limits us from getting the best things in life, and the same applies when it comes to picking the quietest bed frame.
These bed frames are available in a range of prices, from about $100 to thousands of dollars. There's something good for you even if you're on a budget. You can choose a wooden bed frame if you're on a budget because they'll still offer the convenience you'd get with a metallic frame.
How to Stop a Bed Frame from Squeaking
Unfortunately, as your quiet bed frame ages, it will become squeaky requiring you to do some tweaking here and there to reduce the sounds. Here some tips to help you reduce the noise.
Tighten Joints
Loose joints are a common cause of squeaky bed. Make sure to check all bolts on your bed frame to ensure they are not the source of the noise. If you find any loose bolt you can tighten it up with a wrench. If you can tighten the bolt securely, add a washer between the frame and the bolt.
Put a Sock or Soft Fabric in It
This little trick lets you make use of all those old socks in your house. First, lift the mattress off the bed frame, then line each slat with old socks. The additional fabric will serve as a buffer between the mattress and the wooden or metal bed frame. Thereby eliminating any friction points.
Wax On
If you know the exact spot the squeak is coming from, then you can easily soothe it with a little wax. An easy way to locate the noisy spot is to listen closely while you have someone slowing turn on the bed.