12 Best Quiet (Quietest) Hair Dryers for 2021
Looking for the best quiet hair dryers for your home or salon?. Perfect, then you've come to the right place. In this guide, you will discover some of the top quietest hair dryers.
Some compare the sound of a hairdryer to that of an afterburner fighter jet. Although that is a little scary, it's not far from reality.
Since customers need quicker hair drying, more robust fans are manufactured to meet the needs of hotter hair dryers, but this means increased noise. It can be a struggle to find a completely silent hairdryer.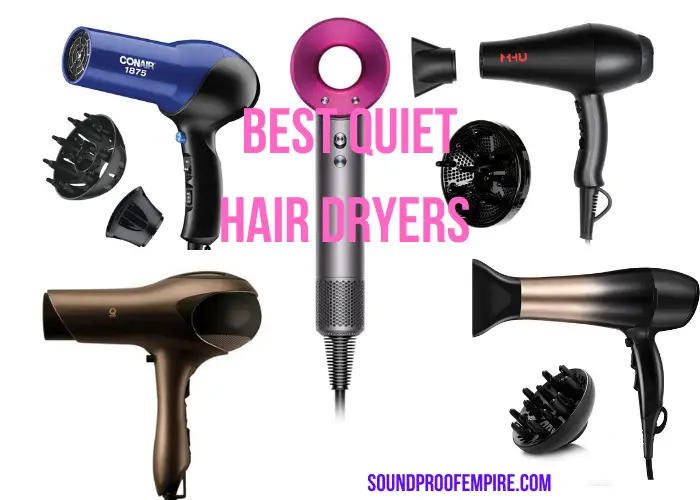 Luckily, this guide is intended to help you identify the features and elements of the best quiet hair dryers. We will evaluate some hair dryers that have a reputation as being quieter, so you can compare how these properties scale up in real use.
And you should be well-informed as soon as you finish reading our reviews and buyer's recommendations for a good purchase of a quiet hair dryer. 
Also Read:
How to make a noisy hair dryer quieter
12 Best Quiet Hair Dryers Reviews
Below are the top-rated silent hair dryers in the market.
1. Bio Ionic Whisper Light Pro-Dryer
Rated: 72 dB
BIO Ionic Whisper Light Pro-Dryer uses dual airflow, a low wattage of 1,400, and a removable filter that works together to make the device run in less hue and cry.
When you have mounted the diffuser or the concentrator, you will notice that the process would be quieter than, almost as silent as a whisper as the company would say. Sure indeed their 72-decibel ranking says it all.
It dries hair rapidly but also conditions hair profoundly. The infusion of synthetic volcanic minerals provides the hydration needed for the damaged hair. It also produces infrared heat to enclose the natural moisture, leaving hair with a visible glow and shine.
Pros
Detachable filter for easy cleaning

Quite lightweight and comes with a long cord 

1,400 watts and infrared heat dries hair quickly without harm 

Enhanced with Nano ionic mineral to make hair good-looking

Diffuser and concentrator available 

Smoothens freeze and nurture hair with every usage
Cons
Not the most robust 

Very costly
Verdict
High-tech quality hair dryer
---
 2. Dyson Supersonic Hair Dryer
Rated: 79 dB
This beauty machine stands out due to its not-so-typical style for a hairdryer. But the attractive technique is useful. The push-in handle – 3X lighter than the traditional hair dryers – can expel 13 liters of air per second for natural drying.
Furthermore, the dryer has its heat sensor technology, which regulates the temperature in order not to overheat.

It wouldn't be on our list without intelligent characteristics that make it one of the silent hairdryers, of course. To reduce the friction between the engine and the handle, the innovative device uses a rubber brace.
The machine has just 11 blades, instead of 13 that are usually in standard hairdryers; hence less noisy.
The extensions that can be connected with a magnet; the smoothing nozzle for even heat distribution and high-speed focus are also its unique features.
Better still, it allows you to enjoy four levels of heat and three airflow configurations.
Whereas the price may not surpass your target, it's the only super dryer made from the same material used in a police shield. It ensures that this dryer sustains you for a long time. 
Pros
Good airflow to dry hair instantly

With styling heat-proof fittings 

Solid and ergonomically built

Completely equipped with vibration control features 
Cons
High-end cost  

Fittings are always falling 
Verdict
The most advanced dryer that you would want to lay your hands on. 
---
 3. Elchim 3900 Healthy Ionic Hair Dryer
 Rated: (Unknown)
It provides more power than cheaper alternatives while simultaneously maintaining low noise.
The extra power is also helpful as this hairdryer is better for women with relatively long, curly hair. It's also a huge benefit that you get this power without the noise.
The iconic, ceramic hair dryer emits negative ions to avoid cold and flying hair. This hairdryer also demonstrates that even high-quality items have great designs.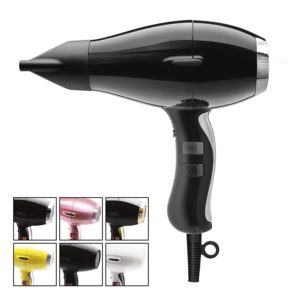 You will appreciate the button placements on your handle immediately when you hold this tool. You're on the side where you won't make any errors in adjusting the settings.
It has two-speed levels and three heat settings. However, the cold air button is on the front. The removable lint filter is another feature that makes this system friendly.
The cord of this device is 9 feet long. Besides, it is a tiny device that measures 7.1 x 8.5 x 3.5 inches. It is on the heavier side at the same time with a weight of 2 kilograms.
Since it weighs more and lacks a dual voltage, it means that this system is not so travel-friendly. A further small flaw is that a diffuser is not available. That implies that women with curly or dense hair need to spend separately on a diffuser.
Pros
Incredibly solid  

Ionic ceramic technology 

Single-sized heat and speed controls

Has two concentrators

Lightweight

Longer cords

Comes with detachable lint filters
Cons
Switches are prone to failure

Fails to work very early

May not have a diffuser 

No double voltage  
Verdict
This product by Elchim would appeal to you if all you need is a powerful yet quiet hair dryer and you are willing to pay for it.
---
4. Parlux 385 Power Light Ceramic Ionic Dryer
 Rated: (unknown)
The dryer fitted with a silencer is unique to other hair dryers featured here. Its massive 2,150 watts that generate an airflow of 79 cubic meters per hour will cut half of the time you would have spent drying your hair.
While this reliable dryer can be high in wattage, it is exceptionally lightweight and compact, rendering it travel-friendly.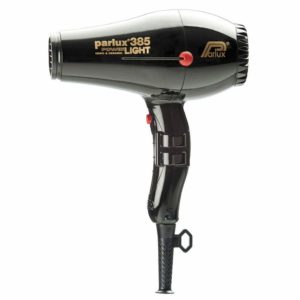 As the name implies, this hair dryer harnesses the advantages of mixing ceramic and ionic. This improves even more drying time while conditioning hair for a smooth, silky finish. Goodbye, cheeky eyes!
You will also appreciate the fact that this dryer is power-efficient, has no toxic gas emissions, and uses recyclable packaging. It is environmentally friendly, robust, silent, and portable.
Sadly this product does not provide any detail about the noise level. Nevertheless, for the human ear, it is much less noisy and more relaxed. 
Pros
Uses ceramic and ionic materials to minimize static hair

Fitted with a silencer

Has Concentrator and styling nozzle

Environmental and travel-friendly

Available in fashionable colors
 Cons
Verdict
The dryer has an in-built silencer.
---
5. Revlon RVDR5045 Quiet Pro Ionic Dryer
Rated: 80 dB
You don't want to skip this hairdryer from one of the world's largest beauty products firms, Revlon.
This 1,875 watts Quiet Pro-Ionic Dryer has ease of styling and control with three heat settings, two-speed modes, a cool shot button, while the axial fan design and curved blades make the noise less harsh. It is 20% quieter to be precise than standard dryers.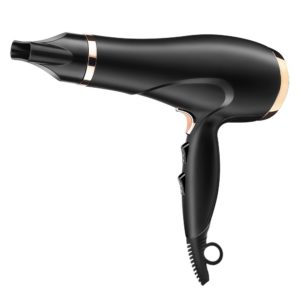 The majority of dryers leave the hair stiff, but Revlon ionic technology smoothens 30% of the hair. The fans are also pleased by the noticeable brightness.
Furthermore, there is a concentrator that lets you split your hair into precise styling.
You should not be afraid to throw the cord, catch or rip it off the wall (rings a bell eh) because Revlon was kind enough to provide an 8.2-foot cable with a hanging loop for secure, fast handling.
Pros
Modern ionic technology 30 percent more frizz

8.2 feet removable cords for quick handling 

1,875 watts with different settings for seamless styling.
Cons
The engine isn't the most powerful 

Not the most silent of the quiet hair dryer featured here
Verdict
Improved control, quiet than the normal hairdryer
---
6. Panasonic Low-Noise IONITY Hair Dryer
Rated: 49 dB
How did Panasonic achieve a low sound frequency reduction? The inner structure has double ventilation, a high-end ventilator, and sets the gap between the fan and the body, which adequately balances the noise.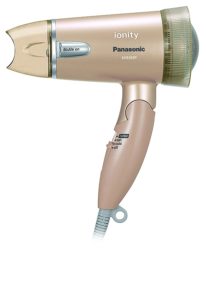 Besides the above, a small barrel is used to release a 1.1 cubic meter airflow per minute to dry hair quickly without any noise.
It's so quiet that you might even assume it doesn't work as a regular dryer. But do not be deceived by the sound, it also operates in 1,200 watts, and has a negative ion technology with two external ion outlets.
Have we stated that it is also cheap, but lightweight and small? Much you might like in a hairdryer of travel!
Pros
Lowest decibel hairdryer

Has 1,200 watts and ionic engineering

Three temperature controls are available

The majority of product reviews are favorable

Transportation-friendly
 Cons
Manual and product descriptions are in Japanese

No accessories

Not the most efficient dryer
Verdict
This compact dryer corresponds to the lowest level of noise.
---
7. Andis 1600-Watt Micro Turbo Dual Voltage Hair Dryer
Rated: (unknown)
Let's face it if you consider the innovation on noise reduction they put in, many hair dryers with a silent fan can cost a fortune.
But if you are looking for one that does the job only at a small expense, Andis Micro Turbo suits you.
It comes in a compact size with a comfortably fitting wall mounting unit, perfect for your vacation rental (and, without doubt, an upgrade for the hotel's noisy and messy driers).
With its lightweight design and dual voltage, you can carry this baby on all your trips abroad!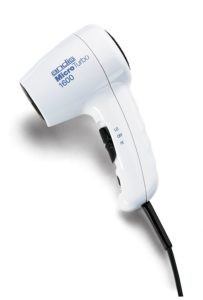 The 1,600-watt motor also doesn't disappoint as tiny as it seems, since a turbo airflow will dry your hair quickly and style it strongly enough.
A handy L.E.D. light supports it for illumination and lifetime health shock protection. It also has a two-stroke setting and cool shot to long-lasting hairstyles, like many standard hair dryers.
We do not know the exact number of decibels, but one user claims she "can still listen to T.V. in the next room without increasing the volume when using the machine." 
Pros
It has a 1,600 watt turbo engine 

Dual voltage for foreign trips 

Marginally more cost-effective

Secure storage components
Cons
Does not offer flexibility
Verdict
The cheapest and most compact silent dryer. It is also a quiet hair dryer for toddlers.
---
8. Conair 1875 Watt Turbo Hair Dryer
Rated: (Unknown)
It has a lot of influence, as its name indicates. This system blows air with power at an intensity of 1,875 watts. You would expect serious noise, but this hair dryer isn't noisy. It provides noise-free control.
The sound is similar to the quiet murmur in workplaces. It certainly doesn't make loud noises like a jet engine in the eardrums.
The unit, however, does not just blow power silently. It also has ionic treatment to ensure that the hair stays healthy. Ionic technology creates negative static ions. Static removal ensures that the frisk and flying hair are eliminated.
A second great feature of this hairdryer is the standalone heat and speed control switches. It has 2 modes, and you can get four different operating settings if you combine them correctly.
When you add fun shot features, you get more functionalities. The system has removable lint filters like all conventional hair dryers. It's necessary because the system fails sooner when these filters get blocked.
This system also contains a concentrator and a diffuser for women with curly hair. The blue-black combination is well balanced.
It is less than the average cord, which is the most significant fault on this unit. Some of its customers have been having difficulty lately, and you should be aware of where your power points are before you purchase this item.
The machine often appears to break down too early, raising concerns about the pricing. This can be relevant since the material components do not last long.
The hair dryer is not a double-voltage system so that you won't carry it with you everywhere.
Pros 
Strong and small size

Uses Ionic technology

Unique heat/speed controls 

Removable lint filters are present

Cheap components  
Cons
Prone to early mechanical failures.

Shorter cords

It has no double voltage feature
Verdict
It is the cheapest silent dryer with the most iconic features 
---
9. GAMMAPIÙ PIÙ Aria Hair Dryer
Rated: 68 dB
GAMMA PI hybrid has a high-performance engine and a unique, circular flux of air with 1,900 watts — working hand in hand to unleash a great 101 miles per hour to dry above the air surface.
It is also capable of speeding dryness up to 80% (that's a lot of saving time, you would otherwise spend on a more significant schedule!)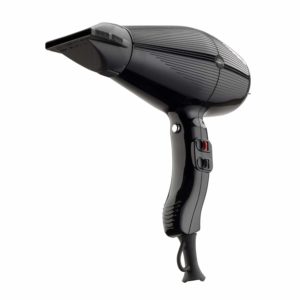 The low-noise and the hum-like process is also due to the efficient aerodynamic airflow. Be confident that your hair will be protected with the help of the tourmaline ion coating system.
There are also two snap-in nozzles at six temperatures to suit your styling needs. The ergonomic design of the hand and wrist to alleviate tension is a favorite amongst famous artists.
Pros
High-efficiency E.T.C. significantly decreases drying time 

It has 1,900 watts of ionic tourmaline 

Super-light and ergonomically built 

9-foot extension
Cons 
Quite Expensive

One user mentions excessive overheating 
Verdict
Quickest drying, silent hairdryer.
---
10. M.H.U. Professional Salon Grade
Rated: 75 dB
M.H.U. Professional Salon Grade will quickly get you out of the door, without the guilt of disrupting the quiet happiness of your roommate.
It has 1,875 watts, along with negative ions to speed drying in combination with gentle infrared heat to avoid too much heat for your hair and scalp. The in-built A.C. motor lowers the noise level. 
Who says that you can't get the full package? If you're looking for beautiful curls, check out the treat – the package includes a full range of styling touch-ups, hair care products, and a hairdryer kit.
Although it can only have two fan configurations, it has three heat settings to make up for everything.
Pros
Available in regular and mini-sized diameter

Small and compact 

Fairly priced 

Fitted with A.C. motor for fast drying

Infrared heat and ionic technology to keep off fizz 

Has a long heat proof cord 
Cons
It has only two-speed settings

It has conspicuously placed buttons

Some are prone to overheating 
Verdict
A top-notch powerful, cheap quiet hair dryer
---
11. Centrix Q-Zone Dryer
Rated: 72 dB
Centrix would call it their 'excessively quiet' beauty machine, a claim backed by Amazon's verified buyers, who believed they had found the calmest hairdryer on the market.
The secret lies in its unique fans design and 1,500 watts, which not only minimize noise but are highly performing thanks to its concentrator and motor.
Moreover, the concentrator allows styling control, and ceramic technology ensures that the hair is smooth for an easy blowout.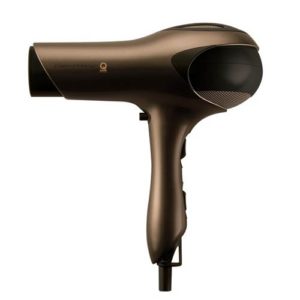 Lastly, the two cool buttons, two fan speed settings, and power switches are handy for you not to press this quiet dryer unintentionally — and one thing that's not popular with other dryers.
This dryer is easy to clean with easy access to the lock and filter. While it appears to be bigger than a standard dryer, it is ergonomically built to provide comfort and weighs just 1.5 pounds.
Pros
The concentrator and dual-shot function helps you to monitor the precision of the styling Ceramics technology

Ionic technology improves the drying process 

Gets the most favorable feedback 

Recommended for the delicate and thin hair 

Simple maintenance
Cons
Verdict
It's so silent that you can even converse when you're drying.
---
12. KIPOZI 1875W Hair Dryer
Rated: 78 dB
The KIPOZI hair dryer is one of the most powerful and affordable supersonic hair dryers on the market.
What is so unique about this dryer is its advanced ionic technology, which bathes the hair with very tiny particles of negative ions entering the hairpin to break down water molecules faster, resulting in shorter drying time and neutralized static freezing.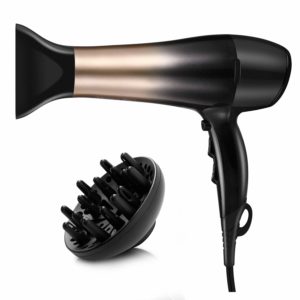 Similar to the first 1,875-watt hair dryer that we examined, it also comes with airflow concentrator and styling diffuser enveloped in two-speed and three-heat modes.
It releases far-infrared heat, which is pleasant in the hair, just like the previous dryer. The only drawback is that the M.H.U. Salon Grade Dryer is a little noisier. Nonetheless, it is still in a low hush range.
But then again, who's complaining when you get a hairdryer that's less noisy than your regular dryer at a fair price?
Pros 
Has Nano Ionic Engineering and 1,875 watts for faster drying

Far-infrared heat to protect hair from damage 

Pre-packaged with concentrator and diffuser

Compact and budget-friendly

ETL approved cord
Cons
Favorable reviews do not indicate its quietness 

Tiny cord
Verdict
Amazon's best-rated silent dryer
---
What to Look for When Buying the Quietest Hair Dryer
Why Do You Need a Silent Hair Dryer?
You might feel a little guilty about how much noise you make in your hairstyling while others try to sleep.
You could fool yourself if you have small kids or a baby that you hope is going to sleep through the noise. A quiet dryer will help relieve some of these issues and have some extra health benefits.
What Are the Advantages of a Quiet Hair Dryer?
The American Speech-Hearing-Language Association evaluates various sounds on a scale using decibels (dB). These range from quiet to very noisy and dangerous to the hearing process.
There are many hair dryers today that range from 80 to 100 dB that equates to holding something like a motorcycle motor above your head. To prevent harm to your ears, you need to decrease these dB levels.
What Features Would You Seek in a Silent Hair Dryer?
It's quite a struggle to choose a quiet hair dryer because everybody wants to attract customers to the assumption that their hairdryer is silent.
Levels between 60 and 80 dB are a significant improvement, although these scores may not be expressed in the product specifications.
Specific claims are valid, and others cannot be verified, but other features may show a hairdryer at a lower decibel point.
Dual Air Flow
Dual airflow is an invention that enhances the noise of hair dryers. Since the fan and the hair have a fixed space over the length of the tube, this feature can reduce noise during operations.
Check the decibel level of sound before you settle on a specific product. The higher the decibel rates, the more efficient the hairdryers are without this feature.
Heating Methods
Three heating techniques start from the same stage, a nichrome wire belt that resists electrical flux to get warm. Over this nichrome wire, some hair dryers often add tourmaline or ceramic cover.
Ceramic coating allows the heat to get even, keeping the hair from being scalded, and tourmaline provides negative ions to reduce static electricity. Ionizing breaks water molecules apart, and they dry more quickly.
Barrel Length
The barrel length of your hair dryer will help to dry your hair more silently. A machine with a shorter barrel does not need a powerful fan, thus quieter.
However, when it comes to wattages, fan strength, and barrel length, you need a balance since it can burn or damage your hair if it's too hot.
You can compare how these different characteristics have been integrated into different designs using the review above, and read the FAQs. 
Wattage Levels
Studies show that silent hair dryers range from 1,400 to 1,600 watts. The explanation for this is that a ventilator in a lower wattage hair dryer doesn't have to operate at an rpm level to release the more moderate temperature air.
The lower rpm rate means less noise. The downside is they won't dry so quickly.
Several dryers use 1,875 watts, but they still remain silent. These have a dual-air flow, an aerodynamic ventilator that pushes air faster or locates the ventilator in its handle instead of a barrel of a hairdryer.
These hair dryers are typically fitted with extra hardware and costs more.  
Hair Dryer Frequently Asked Questions (FAQs)
1. How Can I Reduce the Noise of My Hair Dryer?
You can't keep the hair dryer silent, but you can buy an appliance with a lower decibel level, which defines the sound volume. In contrast to one with high wattages, a low-power dryer seems to produce bearable noise.
Unlike traditional dryers, the silent dryers are equipped with state-of-the-art drying technology making them function silently. In short, it is not possible to avoid the dryer's sound unless the system is no longer in operation, but you can reduce it. 
2. Can a Hair Dryer Impair My Hearing?
Sure, your hearing could get damaged by a hairdryer. The decibel level in the ear varies from 60 to 80 dB per day. If you use the traditional dryer, however, your ear can easily harm your ear, since the decibels (dB) is higher than the ear will withstand. It is best not to use the dryer regularly. To solve this, please use the hairdryer three days a week at most.
3. Will Hair Loss Occur With a Hairdryer?
You should not suffer any hair loss if you are very careful and follow the instructions in the manual. However, if you forget and stay a little longer, you will suffer a hair loss due to the intense heat caused by the dryer.
4. How to Effectively Use a Hair Dryer?
If proper equipment is in place, the use of a hairdryer is straightforward and needs no prior experience. Particularly with no-style drying. This can be accomplished by switching the dryer on and fixing it on the moist hair spot.
Styling can be a little hard as it can take longer, and you will need prior experience if you want to do it correctly. To start styling, pick the hair strands as per the brush, wind them around the brush whiskers and mount the airfield from the dryer to the brush. The same brush starts to fall down the length of the hair as it begins to dry.
Final Thoughts on the Best Quiet Hair Dryers
The innovation of quiet dryers has made drying easier than before.  A quiet hair dryer prevents hair damage because it dries by blowing and produces less noise that is bearable, unlike a conventional dryer.
Hopefully, the buyer's guide will help you find the best quiet hair dryer and the reviews give you some extra information. 
Latest posts by Josephine
(see all)