10 Best Quiet (quietest) Fans for Sleeping Peacefully!
Looking for the best quiet fans for sleeping?. Great!. Then you've come to the right place. In this guide, you will discover some of the best silent fans for sleeping.
Having trouble sleeping because of noise and heat?. Well, if you answer yes, these best quiet fans for sleeping and office will come in handy to help solve your sleepless nights' problems.
Feeling hot when you actually need a sound sleep is not cool at all. Especially after a hard day's work, getting a good rest for the night is essential.
Good night's sleep is a necessity for everyone, not a luxury. Our bodies are programmed to rest at some point otherwise, health issues will begin to crip in our lives.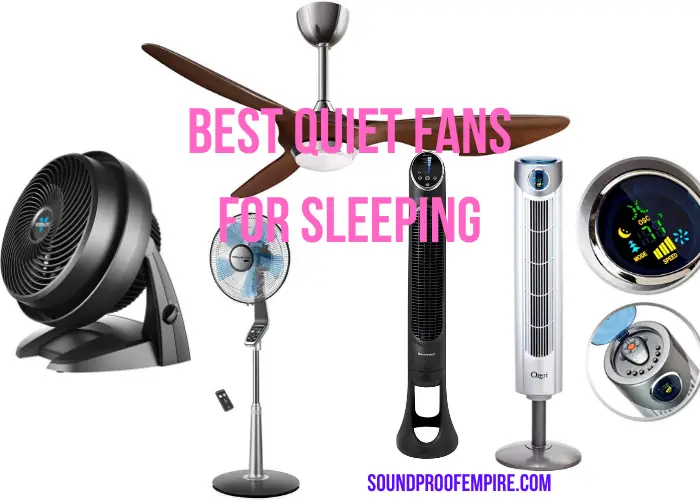 According to research, lack of sleep is causing health problems for millions of Americans.
A quiet fan for the bedroom is essential to provide the cooling you need to help drown you to sleep faster and comfortably.
but there are many fans in the market today, that is why I took it upon myself to gather the best quiet fans for sleeping in your bedroom to help you out.  It can be confusing with the overload of information out there. These fans were selected based on user experience, manufacturer information, and reviews.
They are some of the best silent fans for bedroom rest available. Without much I do, gets get into these quiet fans. I diligently selected different types of quiet fans for you to select the one that best suits your needs and space.
Also Read:
Quietest desk fans for your office
Best Quiet Fans for Sleeping
Here is the list of quiet bedroom fans for sleeping. You will find I have covered a wide range of different types of quiet fans in this guide. This is because bedrooms vary from home to home. You might have a small, medium, or large bedroom.
You alone will know which of these silent fans will be ideal for your needs. You can find large or small table fans. They are all covered here.
1. Pelonis Oscillating Pedestal Turbo Fan
If you need the best quiet pedestal fan for your bedroom, then this fan comes highly recommended for you.
It is a powerful fan that is uniquely designed with a digital DC motor to make the fan work at high speeds at reduced noise.
It is a simple five blades fan that has 26 speeds incorporated into its design gives you the ability to adjust it at different speeds for your comfort. Because individuals are different.
The fan speed that might be comfortable for you won't be the same for me.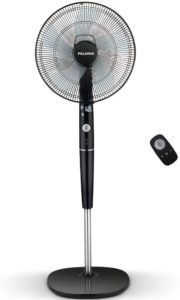 This Pedestal fan features different modes which include; Normal, natural, silent, comfort, and slumberous modes. This allows you to choose which mode is right for your situation.
This quiet fan height can easily be adjusted for flexibility and it has 12- hour On/Off programmed timer.
This fan is safe for the family because it has a self-locking cover of 128 mesh to prevent those little fingers from getting hurt. In other words, it is kids friendly. It also has a thick and stable base to prevent it from swinging up and down.
The power-off memory help avoids consumer repeat selection function operation, is more convenient, and keeps the habits of your favorite setting.
It is also energy efficient and can run for many hours without consuming a lot of currents that will increase your electricity bills.
---
2. Dyson Cool AM07 Air Multiplier Tower Fan
Need a bladeless quiet fan for sleeping?. This Dyson fan is one of the best quiet fans around. It uses Dyson patented Air multiplier technology to generate a powerful stream of uninterrupted airflow without any fast-spinning blades. This makes it safe for your kids, pets and also easy to clean.
This fan is quiet and powerful. It features a sleep timer that can be programmed to turn off after preset intervals ranging from 15 minutes to 9 hours.

It comes with a remote control that has 10 precision settings that make it possible to control it from anywhere at your convenience. Plus, it comes with a 2-year parts and labor warranty when purchased from an authorized dealer according to Dyson.
This tower fan is about 53 inches tall. The design makes it decor friendly and there are about three different colors to select from; white/silver, black/nickel, and iron blue colors.
It rotates at its base and has an LED display timer. With this fan, you can create the perfect cool environment in any room safely.
---
3. Rowenta Turbo Silence Stand Fan
This Rowenta Turbo fan is your ideal quiet fan for home or office. It delivers ultra-quiet performance at each speed selection.
With its powerful five-blade, you will experience exceptional airflow of up to 2436 Cu Ft/min. that oscillate for broad coverage.
This fan features 5-speed settings 3-speed settings, a turbo boost for extra power, and silent night mode for quiet operation.
The stand fan's user-friendly electronic control panel offers an eight-hour timer and energy-saving mode, which automatically decreases the airflow until the fan reaches its most energy-efficient setting.
For your convenience, a remote control is included which makes it easy to control the fan from your bed if you don't want to wake up.

This might not be the most attractive fan on the list but it is practical and functional for the purpose it serves.
The reason why it is quiet is that this fan has a motor that produces 35 dBA of noise making it a quiet fan to have.
---
4. Honeywell QuietSet Tower Stand Fan
The slim modern shape of this quiet and powerful whole room fan, paired with the QuietSet technology that allows users to control their sound and cooling options, makes it the perfect year-round fan for any home.
This Honeywell black quietest tower fan with remote control features 8-speed touch button controls that give you total control of your fan. You set it to your desired cooling temperature that you want for it to create the quiet cooling that you need.

The lower speeds of this Honeywell quietest stand fan are sleep, whisper, calm and white noise. But you can also set it to a power cool option or high speed for hot weather like summer.
This fan is an LED tower fan that you can easily control the brightness levels of up to 4 levels or even shut down. The shutdown timer can be set to 1,2,4 and 8 hours.
This tower fan help improve the air circulation of your home, bedroom, or office and help you save energy.
---
5. Vornado 630 Mid-Size Whole Room Air Circulator Fan
 With the Vornado 630 mid-size whole room air circulator fan unique signature grill and deep-pitched propeller, the 630 moves air up to 70 feet, while aerodynamically circulating all the air in a room.
This Vornado 630 mid-size fan has a 3-speed control that is located at the base of the fan circulator. You can choose the best speed that will cool the room for you to sleep comfortably.
This fan can be used as a quiet floor fan or a quiet desktop fan for the home or office. Plus, it is energy-saving, which means no exuberant bills.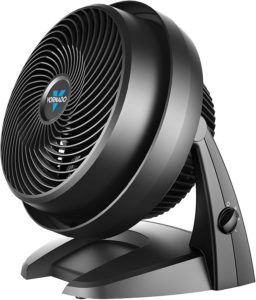 It is equipped with an adjustable tilt head that allows you to direct the air where you need it.
It comes with 5 years warranty and it's a product made in the USA, therefore, you can be sure of the quality.
This Vornado fan is just 13.6 inches tall with a base of 8.6 by 12 inches and only weighs under 6 pounds making it one of the best box fans to easily carry around from one room to another.
for easy cleaning, the Vornado 630 mid-size whole room air circulator fan comes with a removable grill that allows you to clean dust and dirt off the fan.
---
6. Reiga 52-in Ceiling Fan  with LED Light
Reiga had been in the fans' business for many years now and has created a name for itself. Their fan motors are meticulously tested to ensure they produce the quietest and longest-lasting fan motors.
There are two beautiful colors of this fan you can choose from, namely; bright white, silver, and hand-painted. This allows you to choose the best color that will compliment your room colors.
The 17 degrees pitched optimized ABS blades are moistureproofed and can withstand damp and moist conditions. That makes it suitable for other parts of the home as well such as the patio and other damp locations. You can also use it in the living room, dining room, kitchen, restaurants, office, etc.
All operations of this fan can be controlled by the remote control, adjust the lighting switch of the ceiling fan to either white light, warm light, and yellow light.
It has 6 wind speeds and supports timing (1/2/4/8 hours) sleep shutdown. The fan or illumination can be turned on separately.
This is one of the best quiet ceiling fans that can be used all year round. In summer, when you run the fan counter-clockwise, the airflow creates a cooling effect, while keeping your energy costs down.
And in winter, when you run the fan clockwise, the warm air that collects near the ceiling is forced down and is evenly distributed. This is one of the best quiet ceiling fans for sleeping.
---
7. Ozeri OZF1 Ultra Wind 42-inch Oscillating  tower Fan
This  Ozeri oscillating tower fan is one of the most sophisticated and stylish tower fans on this list. It can be used for even 5 stars resorts and is one of the Ozeri fans with very impressive features among tower fans.
It is a great addition to any room and its design will be an amazing complement and enhance your room decor.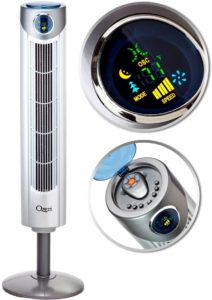 The Ozeri Ultra Wind Fan operates at 3 whisper-quiet speed settings and oscillates 90 degrees for timely relief on a sweltering summer day or for refreshing circulation all year long. There are also 3 selectable airflow patterns which include sleep, relaxation, and comfort.
The Ozeri Ultra Wind Fan also features a 12-hour timer that can be programmed in 1-hour increments with push-button ease, and for height adjustment, this product comes included with a removable extension column that adjusts the Fan's height from 32″ to 42″.
The LED display shows you the temperature of the room. The remote control comes in handy for easy control at any place within the room and you can also make use of the built-in control panel if you want to control the fan without the remote. This comes as one of the best quiet tower fans for sleeping.
---
8. GreenTech Environmental PureFlow QT7 Bladeless 90 Degree Oscillating Fan
This  Pureflow QT7 fan is super cool to have. It's one of the best safest quiet fans on this list because it has a bladeless cooling design that allows you to safely use it around children and pets without been concern for their little fingers.
It is a great alternative for blade fans if you have kids and pets in the room. It is a super quiet fan that operates at just 13 decibels. This creates calming white noise while also keeping your room cool for you to sleep comfortably.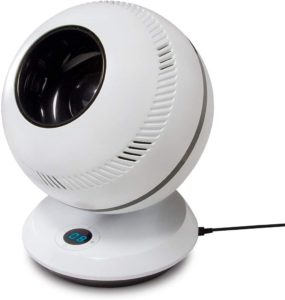 With its unique 90 degrees horizontal oscillation and 90-degree vertical tilt oscillation, you can be sure that it will move the air throughout the entire room. You can choose to also set the fan at any angle you wish and it will create multi-directional airflow.
This fan also features customizable 12 individual fan speed settings that allow you to set it to your preference.
It comes with remote control for speed and oscillation adjustments from across the room.
---
9. Lasko 2510 Oscillating Tower Fan
The Lasko tower fan features 3 quiet speeds and smooth, widespread oscillation, this tower fan will help keep you cool and comfortable throughout the year.
It is an easy-to-control fan that comes with a multifunction remote and electronic touch system to help you in selecting speed, power, and the programmed timer function.

It is designed to take little space as much as possible as it is a standing tower fan. Ideal for all sorts of spaces whether small or medium room. It won't take your space. However, due to its small nature, this fan might not be able to cool a big room. You may want to consider a bigger fan for large rooms.
With its elegant design, it can easily blend into your room decor, and it's a great option for home and office. You can easily move it around from one space to another because of its built-in carry handle. This makes it one of the top quiet fans for sleeping.
---
10. Fancil Small Personal Desk Quiet USB Fan
The Twin turbo Cyclone-Blade technology used in this fan design provides a powerful yet quiet flow of cooling air.  It is one of the best quiet desk fans that use a USB to power up.  There is a 3-foot cable attached at the bottom for the USB connection and it runs on only 5V of power.
Very portable and lightweight to carry with you whether you are going camping, office, at home, or traveling.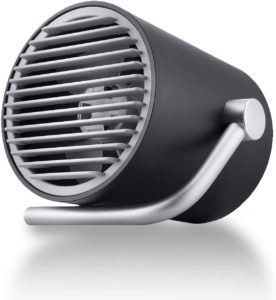 It provides a maximum airflow of 4.5m/s and is relatively more powerful than fans of a similar model. Plus,  it blows air at 180 degrees tilt rotation.
The 2-speed settings allow you to control it by touch for either low or high-speed settings. Aside from this fan been quiet, it is also energy efficient as it does not consume much electricity.
With this fan, you don't need the main power source to connect it. With just your laptop on you can easily power it with the USB cable.
---
Buying Guide for Quiet Fans for Bedroom
Here is a guide to help you in selecting which of these quiet fans for the bedroom will be best for your needs. Obviously, I am sure you already have an idea of what type of quiet fan you would like for your bedroom, however, all the details might not be very clear to you. Hence, this guide will help you to choose the right type of quiet fan for sleeping peacefully.
Below are some key considerations that will guide you.
Types of Bedroom Fans
There are different types of fans that can be used in the bedroom for sleeping. Below are some of the kinds of fans that can be used in the bedroom.
Oscillating Fans
These types of fans usually have a pivoting point that allows them to produce maximum airflow from one side of the room to the other side of the room.
The fan head rotates clockwise and anticlockwise to produce air. These kinds are usually quiet and don't make noise when they are in operation. Ideal for living rooms and bedrooms.
Ceiling Fans
These fans as the name suggest are usually installed on the ceiling of the room. You see them visibly hanging on the ceiling of the room. They can be used in either small or large rooms and are most energy-efficient because they don't consume lots of electricity.
When turned on, they circulate air to the entire room at once. They can be used in summer to circulate cool air and in winter to circulate warm air.
Table Fans
These categories of fans are miniature in size and have a  base that can comfortably sit on a desk or a bookshelf. These are usually not ideal for large rooms as they produce less air than other bedroom fans but mostly operate quietly.
Tower Fans
If you don't have enough space for a fan but need one, then a tower fan might be one of the best quiet fans for the bedroom that you will want to consider. They are usually quiet and effective for small spaces.
By their design, they don't take up much space in the room. Great for small spaces. Some of the fans may have air filters on them that will require you to replace them regularly.
Noise Level of the Fan
Nobody wants to sleep in a room with a lot of noise. Fans can be noisy sometimes. That is why you need to look at how quiet the fan is. Well, it is almost impossible to know the noise level of the fan without relying on the manufacturer's information about the set fan except you have used it.
another way to know whether the fan is quiet as the manufacturer claimed is to check for verified users' reviews about the product. This way, you will have unbiased information to make your decision on.
Luckily, all the fans I have listed above are labeled as quiet or silent according to the manufacturer's information and some users' reviews.
Design
How will you like your fan to look?. The design of the fan might be a personal choice. It is only cool any you want then the design might be all that important to you.
But some people were are much more concerned about how their products look might want to look at the material the fan is made of and how it looks. Most fans are made of plastics which makes them quite affordable. If you wish for much more quality material, then you have to be willing to invest money into it.
The way the fan designs will also affect how easy it will be to clean. If the design is completed, cleaning it will take time too.
Another thing you have to look at is if you have children in the house who move around. If the fan blades are exposed, that will be a hazard to kids. Kids won't know if they put their fingers, it will hurt them.
So, it is your responsibility to make sure that if you are going for a quiet bedroom fan with exposed blades, that you hide it well. Otherwise, it is best to choose a bladeless fan and have peace of mind.
Size
Your space will dictate the size of the fan you can use. The fans recommended are not necessary fans for the bedroom only but can be used in any room provided you deem it fit to circulate the necessary air for you.
The fans here are of different sizes and shapes and the one you will select will let you know how you can use them effectively. If your bedroom is big and you are sharing it with another person, you might want a fan that can circulate lots of air at once.
Some types of quiet fans such as ceiling fans are not mobile after installation. How many rooms do want to use your quiet fan for?. That will also help you with what type of fan you can purchase.
Warranty
The warranty of any product is important especially for a fan which you are most likely going to be using continuously for days and nights. That is why it should have some sort of warranty to ensure you are covered in case of malfunction or some problems that might arise.
Energy Efficiency
Fans need electricity to run and they can run for many hours and days non-stop. This means energy is been consumed. Energy-efficient fans are designed t ensure that the fan does not need a lot of current to run.
If your fan is not energy-efficient, you can skyrocket your bills and I am sure that is not what you want. So, it is important to choose a quiet fan that is energy-saving to avoid unnecessary bills.
---
Benefits of Using a quiet Fan for Sleep
A cool and airy room promotes better sleep. How can you enjoy being asleep in a hot room?. I am sure no one can. It is a fact that many people can only relax in a cool room and sleep is no exception.
Here are some reasons you might need to change your noisy fan to a quieter fan.
Help you in sleeping faster: As the cool air blow over you, your body will naturally tend to relax and this will help you in sleeping faster.
Increase metabolism and keep you healthy: It is believed that brisker temperatures help our bodies deal with sugar which also helps in decreasing your risk of getting diabetes. Plus, having enough sleep help your body recover from tiredness and keep you refresh for the next days' work. The hot bedroom will only keep you tossing all night.
Final Words on Quiet (Silent) Fans for Sleeping
When it comes to the best quiet fans for sleeping, the above-mentioned fans will do the work. However, it is up to you to first and foremost decide what features you want your fan to have before you make any selection.
Your room space might be different and therefore you need to consider that and if you are sharing the space with other people like your partner, you have to consider them as well.
Whether it is a quiet tower fan, a quiet ceiling fan, a quiet desk fan, or a quiet floor fan you want, I have got you covered above and you can decide which one suits your need.
Some of the fans are also bladeless fans which are best for homes with kids and pets to avoid any accidents.
If your home is generally noisy, soundproofing your home will also go a long way to keep the noise at bay.
Latest posts by Josephine
(see all)