12 Best Hearing Protection for Lawn Mowing
In the current digital world, machines are used in almost every aspect of life. Their ability to make work easier not only makes them essential components but also helpful. However, some of these machines can have negative hazards to the environment. One of the most common environmental hazards is noise. Some of these gadgets, such as lawnmowers, can be quite loud.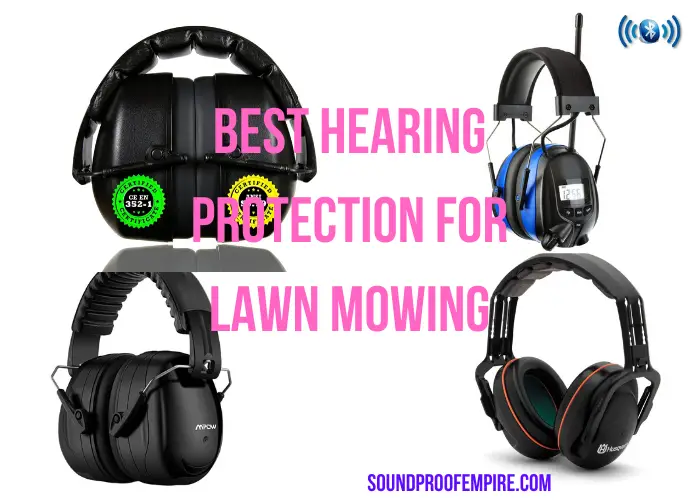 Lawnmowers can be annoyingly loud, especially when used indoors. And the best way to ensure you don't bust your eardrums when using these machines is to integrate the services of a good hearing protection kit. Even so, getting the best hearing protection for lawn mowing isn't a walk in the park either.
Luckily, we have prepared an insight into some of the top hearing protection for lawn mowing to help you make the best selection. Stick along as this guide will not only help you to learn about the best selection but also get an insight into their pros and cons as well as an unbiased verdict.
Buying Guide – What to Look for When Buying Lawnmower Hearing Protection
Different Types of Hearing Protection
Lawn mower hearing protection typically comes in two forms:
In-ear hearing protection
Over the ear hearing protection
In-Ear Hearing Protection
They're like earphones, except they don't produce sound. In-ear protection protects the inner ear from sweat and reduces the loud ringing of a lawnmower.
The types of in-ear protection vary according to the materials used in the design. Some of the most popular ear shields are:
Silicon Plugs: Silicon plugs take the form of your ear canal, making it convenient and useful in noise blocking.
Foam Plugs Noise Protection: These are generally extremely cheap and are made of PVC.
Custom Noise Protection: This typically costs more, but you get an in-plug with your unique configuration of the ear canal. It gives you the highest level of comfort and ensures your gadget fits.
Flanged Plugs: The flanged plugs contain a variety of spindly rings to secure it in the ear duct. They suit the ear canal better, which stops it from falling and is useful for noise blocking.
Over the Ear Hearing Protection
They resemble a headset wrapped around your ear, not creating any sound. If you don't like having foreign objects in your ear canal for a long time, you may prefer this type.
These are made of sound attenuating materials which prevent the outside sound from entering the ear. The crisp, soft ore pillows around the outer cover offer support for more extended use. It can also be modified via an adjustable headband. Usually, over-the-ear hearing protection is more bulky and complicated than in-ear hearing protection.
Things to Keep in Mind When Buying Hearing Protection for Lawn Mowing
You should invest in hearing protection that offers the convenience of noise blocking and the comfort of using it for a longer time to protect against hearing loss while mowing the lawn.
Here are some things to take into account when selecting hearing protection for your gardening needs.
Similar Read:
Top 7 Bluetooth hearing protection for mowing lawns
Noise Reduction Rating (NRR)
In-ear or overhead ear safety systems come with an NRR rating. The NRR tests the performance of the noise blocking system, and its ranking shows how much noise reduction can be achieved with it. The rate depends on the decibel (dB) noise level. The higher the rate, the better the noise protection. The hearing protection device should be tested and approved by the relevant health and labor authorities to improve quality control and to standardize hearing protection.
Please note, however, that NRR and dB do not correlate directly; the actual noise reduction is based on the noise level of the device, not the N RR level itself. As a result, higher NRA levels block more noise than lower NRAs. When choosing hearing safety, we recommend that you select an NRR rating above 20
Flexibility
You may need to strike a balance between avoiding external noise and interacting with people on the radio from behind. You should look for wireless earmuffs or earplugs to suppress noise in these situations. Hearing protection made of durable materials with smooth surfaces usually lasts longer, but is more flexible and usually costs more.
Using an electronic noise suppressor lets you hear what happens when your lawnmower is working. It works by electronically increasing the noise to a specific frequency level and allowing the normal conversation to happen. This makes you more aware of your surroundings when mowing the lawn and makes it easier for you to hear the sounds of other people around you and what happens when the lawnmower is working.
Comfortable Fitting
Comfortable fitting is essential to ensure that the hearing protection system does not cause any discomfort. Choose the hearing protection depending on your preference and select the one with a firmer padding and a smoother grip coating material.
Make sure the shield offers ventilation around the ear to avoid heat because it is unpleasant to wear due to too much sweating.
Durability
You need a durable hearing protection device since you can't afford to buy a new one every few months, or you need it for a few years. It is better to mow the lawn in summer when the weather is usually drier, but the protection should be robust and heat tolerant. A thick layer of sealing tape, such as a rubber band, enables a longer service life.
Best Hearing Protection for Lawn Mowing
These are the best ear protection for loud noise that will protect your ears from hearing damage. They are able to reduce very high noise to manageable levels for you to comfortably work without worrying you will lose your hearing. Whether you need ear protection for gardening or ear protection for leave blowing, these hearing protection devices have you covered.
1. Walker's Razor Slim Electronic Muff
If you want a model that is slim and easy-to-wear ear protector, then this model fits your preference. The ear cups are made of rubber and the headband has a soft pad to ensure that you are comfortable in them.
This ear protector has a noise reduction rating (NRR) of 23 decibels. It is powered with two 3A batteries. The good thing about this model is that it can pick up speech while reducing the sound of your mowing machines. This is achieved by the two Omni-directional. It also has a 3.5mm audio jack which you can plug in your device to play your favorite music.
Features
Rubber ear caps
Soft-padded headband
NRR of up to 23db
5mm audio jack
Pros
It is slim and can easily fit under the headband
It can activate automatically within 0.02 seconds
It has a volume control knob
Cons
The NRR of 23db is considered low, especially when using a loud lawnmower
Verdict
This ear protector is easy to wear and provides excellent protection from noise. It can be won for just any job involving loud noise. Since they can activate automatically, users don't need to adjust them all the time.
2. Peltor Sport Tactical 100 Electronic Hearing Protector
This model has an adjustable headband that you can adjust to your comfort. It has recessed microphones that can pick up speech and while at the same time blocking out noise, helping you focus on mowing.
The automatic two-hour shut-off system will switch off the electronic automatically in case you forget to switch it off, helping you save on batteries. This model has an NRR of 22dB, ensuring that the sound is significantly dampened but not entirely blocked out.
Features
Adjustable headband
Recessed microphones
2-hour automatic shut-off system
NRR OF 22db
Pros
The automatic shut-off system helps in saving batteries
Only lets in needed sound
Allows for adjustment
Cons
It does not entirely block out noise, meaning that the user can be destructed from time to time
Verdict
This is a good noise reduction device with the ability to deal with background noise and winds. It only lets in needed noise.
3. Mpow Noise Reduction Safety Ear Muffs
Mpow Noise Reduction Safety Ear Muff boasts an NRR of 28dB. Apart from mowing, it can also be used during shooting. This model has two layers of noise reduction foam with upper sealed solid cup and double-shell ear muff.
It also has an adjustable headband to offer you extra comfort. Additionally, the headbands have a pattern design that allows for free airflow around your head. You can easily fold this earmuff since the ear cups collapse into the headband, making it easy to store. The ear cups can rotate up to 360-degree, making it easy for you to fit them around your ears.
Features
Two layers of noise reduction foam
Adjustable and patterned headband
Rotatable ear cups
NRR of 28db
Pros
High level of noise reduction
Easily foldable
Double-layered ear cups offer extra comfort.
Cons
It cannot be used with other devices
Verdict
These earmuffs are comfortable to use, especially if you are using other protective gear alongside them. They significantly reduce background noise.
4. 3M WorkTunes Connect with Bluetooth Pairing
This hearing protector has a clear voice system that dampens noise but at the same time allows you to listen out for speech. The good thing about this model is that you can connect it to other devices via Bluetooth and stream audio. Its comfortable design has added ear protection and high-quality speakers. It comes with a rechargeable lithium battery, so you don't have to worry about running to the shop all the time to buy batteries. The model has simplified buttons, making it easier for you to operate without removing them from your ears.
Features
Bluetooth connectivity
High-quality speaker
Rechargeable battery
Simplified buttons
Pros
The automatic system helps in preserving the battery
Bluetooth connectivity makes it compatible with other devices
USB-rechargeable battery
Cons
May delay the work in case of a power blackout
Verdict
The fact this design can stream audio and at the same time block out noise makes it an excellent pick. It is also comfortable and user-friendly.
5. Fnova Safety Ear Muffs
If you are looking for earmuffs with high NRR, then you can consider Fnova safety earmuffs. This device has an NRR of 34db. This has been achieved by the use of high-quality sound drowning material and advanced manufacturing techniques.
It uses a double-shell technology to reduce sound as it passes through several layers of material. The earmuffs are made of soft foams which also act as sound barriers. The headband is adjustable and has contour design to allow for airflow around your head. You can easily fold the headband for storage.
Features
Foldable headband
NRR of up to 34db
Double-layered ear cup
Adjustable headband with contour design
Pros
Drowns out loud noise very well
Soft-foam headband offers extra comfort
Foldable headband makes it easy to store.
Cons
It does not offer other audio options
Verdict
This model has a high NRR which ensures that noise is properly drowsed. It provides extra comfort to the users, including allowing airflow around the head.
6. ClearArmor Hearing Protection Safety Ear Muffs
ClearArmor safety ear muffs use SonicSeal technology to block sound. This technology blocks the sound from leaking into the ear cup. It uses three layers of noise drowsing foam that absorb various bands of noise frequencies.
For your comfort, it has an adjustable and super-soft padded headband which also protects you during mowing. The headband is also foldable for easy storage and transportation. With this model, you do not need electric power or a constant supply of batteries.
Features
Non-powered design
Three-layered ear cup
Adjustable and soft-padded headband
Foldable headband
Pros
Does not need electric power or batteries to function
Foldable headband for easy storage
Soft headband for extra comfort
Cons
Cannot be used to play audio or music
Verdict
This earmuff is perfect for reducing surrounding noise and preventing hearing loss. It has a simple feature and is easy to use.
7. Howard Leight Impact Sport Earmuff
Although this model was originally designed for shooting, its ability to reduce noise levels makes it perfect for other loud jobs such as construction and mowing. The good thing about this design is that it can automatically track noise levels and shut off any sound above 82db.
The advantage of this is that it only offers noise protection when necessary. In a quiet environment, it works like your regular earmuffs by dampening background noises and amplifying voices to make it possible for you to hear only relevant sounds. It has a built-in AUX which makes it possible for you to plug in your device and play your music.
Features
Built-in AUX
Adjustable headband
Automatic shut-off feature
Automatic sound tracker
Pros
Automatically shuts off noise
NRR of 22
The long battery life of up to 350 hours
Cons
May automatically shut off even the needed sounds such as speech
Verdict
This model is perfect for those who use loud tools such as lawn mowers because it reduces the surrounding noise without completely cutting off the voices.
8. Mpow Foam Earplugs
If you only want to protect your ears without necessarily having to put on a headband, you may consider getting Mpow Foam earplugs. These earplugs have an NRR rating of 34db and are incredible at keeping away noise. You can quickly plug them into your years, especially for short notice lawn mowing.
The earplugs are made of foam which makes it easy for you to adjust them to your ear canal. With them, you are guaranteed maximum breathability and comfort. Mpow Foam earplugs come in a pair of 60 tubs. You can also use them while sleeping.
Features
NRR rating of 34db
Breathable foam
Compact earplug
60 pairs with aluminum case
Pros
Safe and easy to fit
Suitable for any loud job
The breathable foam ensures comfort
Cons
They can easily fall off if not properly fitted
Expensive to use in the long run because you have to keep buying
Verdict
Mpow Foam earplugs are ideal for users who need to have a hearing protector all the time or for those who do not need heavy devices.
9. Husqvarna 531300089 Professional Headband Hearing Protectors
These are simple earmuffs that do not offer anything extreme rather than offering protection and comfort from the sound of the lawnmower. This model has a simple construction which makes it perfect for different loud job situations. Whether our lawn mowing is intense or just a simple weekly routine, you can still use this hearing protector. The good thing about them is that they are designed to fit on just any head shape and size without much adjustment.
Features
NRR OF 25db
Lightweight
One size fits it all
Pressure adjustment
Pros
Easy to wear and fit
Excellent hearing protection
It is made for a wide range of loud jobs
Cons
It cannot be connected to other devices for audio streaming
Verdict
This model is for users who want a simple but effective hearing protector. It is also suitable for those who like wowing in peace.
10. PROTEAR Radio Earmuff
PROTEAR Radio Earmuff not only protects your ears from excess noise but also ensures that you are entertained as you mow your lawn. It has Bluetooth connectivity which makes it possible for you to connect to other devices. This means that you can listen to the radio, music, or audiobooks with ease.
The high-quality sound keeps the mower's noise away while at the same time enhancing quality audio. You can also hand your phone calls with this device so you don't have to worry about missing any call. The microphone allows you to speak without interrupting your work. It has a battery life of up to 20 hours.
Features
Radio and preset
Soft-padded headband
Microphone
High-quality sound
Bluetooth connectivity
Pros
It can work with other devices such as phones
The padded headband offers extra comfort
It can handle phone calls
It has a long battery life of up to 8 hours
Cons
Verdict
Although this device is expensive, it is a pretty much great product that offers extra features for the user. It is suitable for users who receive a lot of calls.
11. Decibel Defense Professional Safety Ear Muffs
This earmuff can provide up to 37db of protection, protecting you from ear damage and making your lawn mowing comfortable. This model is lightweight and has a soft headband, making it comfortable to wear for long hours. Decibel Defense has a simple construction, all you need to do is to put them on and they will start working. It is available in several different colors for your choice.
Features
Padded headband
NRR of 37db
Foldable headband
Sturdy frame
Pros
It offers up to 37db noise reduction
Lightweight, weighing only 11 ounces
It comes in different colors
Cons
It has no special features
Verdict
This device is simple and does not rely on any extra features to keep the user safe. It is comfortable for those who work in an environment with a lot of background noise.
12. Pro For Sho Safety Ear Protection
Pro For Sho offers excellent ear protection at excellent value. It features an impressive NRR of 34db and comes in 10 different colors. You can easily fold it for storage or transportation. It is lightweight but compact, making it great for both children and adults. The earmuffs are padded for maximum comfort.
Features
34db noise reduction
Padded body
Foldable headband
Up to 10 color options
Pros
Lightweight
Ten color options
Cons
The headband may be a bit tight
Verdict
This device is great for mowers who would want to share it with their children. It also comes in different colors, some of which are appealing to children.
Lawn Mower Hearing Protection FAQs
1. Do I Need Hearing Protection When Mowing?
Hearing protection should be used during mowing in the yard, since constant noise levels above 85dBA cause hearing harm. The use of hearing protection reduces noise, contributes to a healthy range of vibrations, and reduces the chance of hearing loss.
2. How Many Decibels (DB) Is a Lawnmower?
Depending on the age of the mower and the efficiency, gas-powered lawn mowers can range from 90-100 decibels (dB) to level. It is about the same as the sound of a high volume headphones. On the other hand, the electric mowers are much quieter because the combustion is not necessary, but an electrical current that is virtually silent. For an electric lawnmower, you might not need hearing protection.
3. Can I Listen to Music As I Mow the Lawn?
Sure, when mowing the lawn, there are two ways of listening to music.
Use a set of earmuffs with integrated headphones.
(Not Recommended) Place the earplugs in a noise-removal mode, then put a standard pair of headphones over the ear, turning the sound up to hit a comfortable volume. You should be able to listen to music and have sufficient hearing protection.
4. What Level of Hearing Protection Do I Need for Lawn Machinery?
You need a reasonable level of hearing protection, but not an intense one. Since the lawnmower sound is above 85 decibels (dB), you should use hearing protection. Aim for at least 25 NRR hearing safety ratings. An earplug generally brings the noise to a reasonable level.
5. Can I Use Headphones As Hearing Protection for Mowing the Lawn?
It is not advisable to use headphones for mowing since the correct quantities of NRR are not given; harmful sounds often penetrate your ear.
6. Can a Mower Cause Hearing Loss?
The average lawnmower is about 90 dB, and without hearing protection, you can lose your hearing. You may lose your hearing permanently after 2 hours of exposure to lawn mower noise without hearing protection.
Final Thoughts
Undoubtedly, lawn mowers are one of the most essential tools in our homesteads today. And the above selections are not only the best hearing protection for lawn mowing in the market but also offer exceptional results for anyone looking to conduct their mowing activities without worrying about the noise.
Note that before you make your selection, ensure you review its pros and cons to get your ideal match.