looking for the quietest straight-through muffler for your vehicle?. Perfect, you've come to the right place. In the guide, you can expect to learn:
What a straight through muffler is
How does a straight through muffler work?
Our top-rated quietest straight through muffler picks
How to choose a straight through muffler
Why you need a straight through muffler
And more…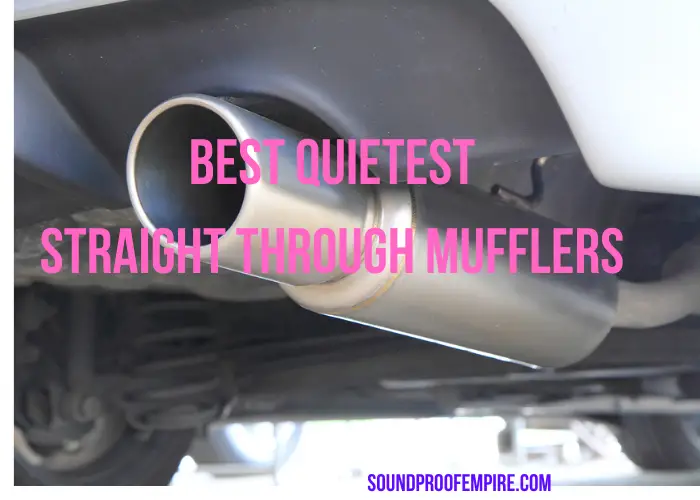 Quick Preview of the Quietest Straight Through Mufflers in the Market
In a hurry?. I understand. Here is a quick preview of the best quiet straight-through mufflers in the market.
Vibrant 1142 3 Inch Ultra Quiet Resonator muffler ( Best Overall Pick)
MagnaFlow 10416 Performance Muffler ( Most Value for the Money)

Supreme Performance Cherry Bomb 87522 Glass Pack Muffler( Most Affordable)
The muffler is a crucial part of the exhaust system that helps dampen noise produced by the engine. And this makes it more comfortable and tolerable to be both inside and outside the vehicle.
Moreover, a muffler facilitates the flow of gas produced by the engine, which in turn makes the engine run more efficiently. Better yet, it gives your vehicle some personality as it makes the exhaust sounds sportier.
If you are interested in changing your existing muffler to a quieter one. Then this guide is for you. Shopping for a quiet straight through muffler can be existing.
Hence the purpose of this is to help you choose the best straight through muffler that is quiet and high performance for your vehicle.
Also Read:
Our top-rated quietest performance mufflers 
What is a Straight Through (Glasspack) Muffler and How Does It Work?
Straight through mufflers are also known as glasspacks are designed to allow maximum flow and horsepower. This type of muffler usually features a straight, perforated pipe wrapped in a sound-absorbing material such as fiberglass packing.
These are a popular choice among street rodders and custom car builders because they are ideal for racing. The way they are set up allows the exhaust gas to flow through the pipe with very little restriction.
An added advantage of the straight-through mufflers is that they are pretty compact, hence are good for limited space situations.
The way glass packs work is simple. They have a simple design. The exhaust passes through the center of the pipe and the padding around the exhaust pipes muffles the sound and vibration of the engine.
Glasspack mufflers work on the simple principle that all the sound generated by the car engine is passed through a sound-absorbing material before it is released.
This means very little sound is allowed to escape the muffler, and the sound blanketing capacity of the muffler is excellent.
Several people commonly refer to the Glasspack Muffler as the Cherry Bomb Muffler due to its really great sound muffling abilities.
Best Quiet Straight Through Mufflers Reviews
Below are the top-rated quietest straight-through mufflers in the market reviewed for you to choose from.
1). Vibrant 1142 3 Inch Ultra Quiet Resonator
Best Overall Pick
Vibrant 3″ Ultra Quiet Resonator is designed to dampen exhaust noise and facilitate undisrupted exhaust flow.
If reducing exhaust noise while maintaining optimal performance is your concern, this Vibrant 1142 straight through muffler is recommended for you.
It is made of stainless steel base material which is the strongest and most durable material used for mufflers. This makes it long-lasting, be able to resist corrosion, rusting, and any harsh weather conditions.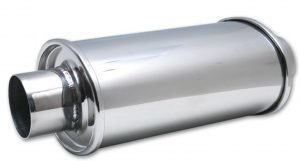 It features a True straight through perforated core which is surrounded by sound-absorbing materials.
For the sound quality, the muffler has a large sound chamber. This absorbs more sound and gives a silent performance. In fact, it is able to reduce up to 90% of the sound coming from your vehicle engine.
This product comes with a 5-year warranty.
Features
Withstands high exhaust temperature

Bigger sound chamber to absorb and reduce noise
 to Reduces 90% of noise
Durable muffler

Inlet Diameter: 3 inches / Outlet Diameter: 3 inches

Body Width: 6.5 inches x 4.75 inches / Body Length: 9.75 inches; Overall Length: 13.75″
---
2). Vibrant 1141 2.5 Inch Ultra Quiet Resonator
This Vibrant ultra quiet muffler is slightly smaller than the Vibrant 1142.  But that doesn't mean it isn't good at muffling engine sounds. It is also able to reduce engine noise by up to 80%.
This Vibrant ultra quiet muffler also delivers excellent performance just like the other Vibrant models that are straight through mufflers.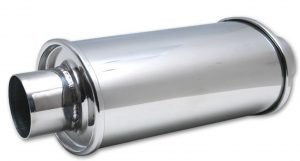 To keep it strong and durable, this model is also made of T304 stainless steel material that can without anything thrown at it and it won't rust or deteriorates in any way.
This product is designed to dampen exhaust noise while optimizing your engine performance. This highly durable resonator can withstand high exhaust temperature and is a Five-year limited warranty.
Designed to dampen exhaust noise up to 80%

Facilitates undisrupted exhaust flow

Constructed from t304 stainless steel.

Overall Length: 13.75 inch
---
3). MagnaFlow 10416 Performance Muffler
This MagnaFlow 10426 is a universal fit for almost all cars exhaust and you can configure it to meet your needs.
This high quality yet affordable muffler delivers great performance while keeping the noise at bay with its sound-absorbing material. It's a simple and effective muffler that gives a low pitch sports car sound.
It's built from 100% stainless steel material, which makes the muffler resistant to heat or oxidation. This muffler is strong enough to resist any weather conditions.

The quiet performance muffler comes with a unique and aesthetic polish to look good on your car. MagnaFlow universal mufflers are a great addition since they not only improve your vehicle performance but also give it that show-stopping look.
For extra durability, you may coat its body with rust-proof spray. The pipe is wide open, with a 2.5-inch inlet.
Features
Fit type: Universal fit for all vehicle types
Piping diameter-2.5 inch
Muffler body  dimension:14 x 4 x 4 inches
 Muffler inlet diameter/Muffler outlet diameter-2.5/2.5 inch
Muffler core size-2.5 inch
---
4).  MBRP M2220A 31 Inch Aluminized Quiet Tone Muffler
This is one of the best high-end mufflers that delivers quiet and optimal performance.  This quiet exhaust muffler is designed to maximize the exhaust flow so that your engine can keep its cool with lower exhaust temperatures.
This quiet flow muffler is made of aluminized steel which can deliver optimal performance for a very long time and withstand harsh weather conditions like rain and excessive heat.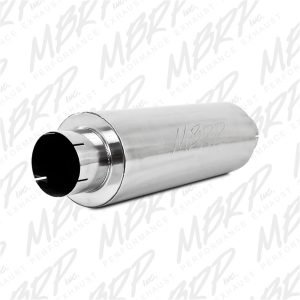 The MBRP muffler comes with a 31-inch length, 8-inch diameter, and an outer length of 5 inches.
Although this muffler is quite pricey, it works to reduce the unlying pressure of your exhaust system and the overall performance of your engine will improve immediately once you install it.
This superior straight through muffler will give you an excellent performance. It's perfect for diesel engines or trucks.
Quiet
Improves engine efficiency and power
Heat resistant
---
5). Supreme Performance Cherry Bomb 87772 Glass Pack Muffler
This is a budget-friendly and high-performance quiet glass pack muffler that will also keep noise at bay while you drive.
The Cherry Bomb 87552 is a muffler that comes with a durable fibreglass lining. The material makes it durable and effective in noise reduction.

The muffler is exceptionally affordable, making it perfect for anyone with a small budget.
It's an inlet, and outlet diameter is 2.5 inches which are standard to fit on most cars.
Features
Fully Aluminized Construction

High-Temperature Powder Coating

High Flow Straight Through Design

3.50″ Header Flange Inlet / 2.00″ Outlet

Length 27.50″

Affordable price
Durable fiberglass lining for noise reduction
5 inches standard diameter for fitting on most cars
---
Factors to Consider When Choosing a Straight Through Muffler
If you would wish to get a quiet straight through muffler that will meet your needs, there are certain factors you need to consider. The following are the key factors you need to consider before buying any muffler.
Noise Levels
Most mufflers are made to reduce the sounds coming from the engine through the exhaust. But not all mufflers have the same sound-absorbing capacity. If quietness is what you seek, then you need to pick the quietest straight-through muffler for your exhaust system. Luckily mufflers in this guide are among the quietest.
Muffler Size
Generally, straight-through mufflers usually come as a universal fit for different cars. However, depending on your car model, may want to consider these tips with regards to the size of the muffler: The diameter of the exhaust pipe; the exhaust diameter should be the same as the diameter of the inlet of the muffler you choose.
Also, check the type of exhaust system. There are two major exhaust systems- dual and single exhaust systems. For a single exhaust system, get a muffler with a single inlet. On the other hand, if you are using a dual system, get a silencer with a dual inlet for the muffler.
Another thing to look out for is the area to attach your muffler. Buy a muffler that fits on the exhaust system. This is important because you dont want to get a muffler that will be too big and be touching the ground for low clearance cars.
 Base Material
Mufflers are made with different materials. The most common materials used are aluminized steel and stainless steel. Depending on your budget, you can choose accordingly.
The most durable type is stainless steel. They can without any kind of weather and still stay strong.
The aluminized steel is also durable but if scratched, it could result in rusting. But they are less expensive and will steel last for some years.
Budget
Quiet straight-through mufflers come at different prices. If you wish to get the best muffler, buy the one within your budget.
Your choice of a muffler should also be because it has all the features you need and serves your purpose. Sometimes the most expensive is not always the best one for you. So, be sure to pick one that falls within your budget and still gives you the most value.
Why Do You Need a Straight Through Muffler
Wondering if you really need a quiet straight through muffler for your vehicle?. Well, then these benefits here hopefully, will give the motivation you need to purchase one for your car.
Noise Reduction
The main reason most people get a quiet straight through muffler is for its exhaust system noise reduction. Because of the fiberglass insulation, these mufflers are able to absorb the sounds in the exhaust pipe and reduce the overall exhaust system noise.
Fuel Efficiency
We all want a car that is fuel-efficient in order to save our money. Having a glass pack muffler is going to greatly reduce your cost of fuel consumption by increasing the airflow in your engine. This in turn reduces your overall fuel consumption.
Sound Variations
Sometimes you would wish your car to produce a specific pitch. A quiet straight through muffler will give you this. If you love driving with a classic and soft sound, you will find a muffler that will provide you with that.
Increased Horsepower
A straight-through muffler doesn't have air restrictions. As a result, the air flows smoothly. This improves the horsepower. In simple terms, the engine gains more power.
Latest posts by Josephine
(see all)