Looking for a quiet performance muffler to silence your car?. Well, then you've come to the right place. In this guide, you can expect to learn the following:
What a muffler is
How does performance muffler work?
Our top-rated quiet performance mufflers
Types of  mufflers
How to choose a quiet muffler
Benefits of a performance muffler
How to make a performance exhaust quieter?
and more…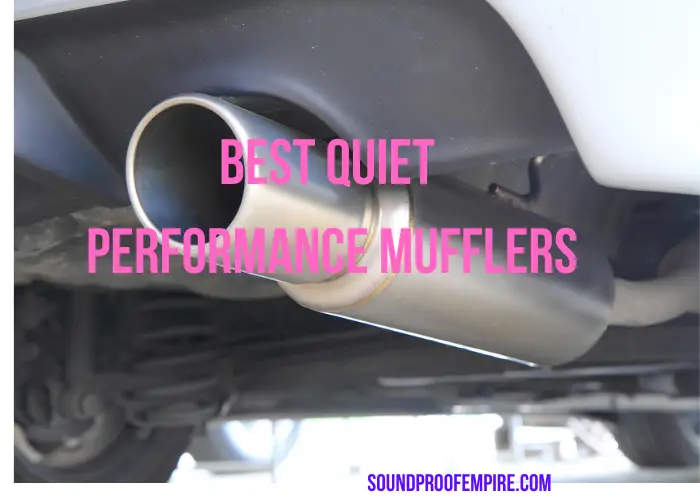 Quick Preview of the Best Quiet Performance Mufflers in the Market
In a hurry?. I understand. Here is a quick overview of the top-rated quiet performance mufflers in the market.
Dynomax Super Turbo Muffler (Most Budget-Friendly)

MagnaFlow Quiet 10416 Performance Exhaust Muffler (Best Value for Money and Universal Fit )
The muffler is one of the most integral parts of a car. It controls how much sound it emits from the engine through individual chambers existing within the muffler.
Choosing the right muffler will give your vehicle a fantastic sound and improve performance and fuel economy.
But it's not only about improving your engine performance but also delivering a quieter exhaust system. This will eliminate loud noise around you while you drive.
In this guide, I cover some of the best quiet mufflers that optimize your engine performance and deliver quieter operation. These were pick based on users' experiences and detailed research.
There is a muffler designed to fit every type of car, from hot rods to your Toyota Prius and everything in between. Here, You will find some of the quietest mufflers for your vehicle.
Also Read:
Our top-rated quiet garage door openers 
Best quietest straight through mufflers
What is a Muffler and How Does It Work?
A muffler is a device that is responsible for muffling the sound created by a vehicle's engine. Engines need to generate a ton of power and as a result, they create numerous pulsating sounds that reverberate through the exhaust valves.
These pulses are created every single minute. That is why you need a muffler. Without a muffler, a proper working muffler, your vehicle is going to be super noisy.
Mufflers are used mainly to dissipate the loud sounds created by the engine's pistons and valves.
The question then arises: how does the muffler cancel out these sounds?.
Well, if you open up a muffler, you would find a series of tubes, baffles, and chambers. All these components work together to cancel out the sound waves created by the vehicle engine.
The sound waves are reflected in a way that they actually cancel each other out. There are different types of mufflers and each muffler type create different noise. Some are designed to be silent while others are specifically designed to create what could be considered a growling sound.
Today, this guide is all about quiet mufflers.
The Best Quiet Performance Mufflers
Below are some of the best quiet performance mufflers in the market that will give you optimal engine and reduced noise performance.
1). Vibrant 3 Inch Ultra Quiet Resonator as Muffler
Best Overall
Vibrant 3″ Ultra Quiet Resonator is designed to dampen exhaust noise and facilitate undisrupted exhaust flow.
It is quiet and efficient by enhancing the overall performance of your exhaust system. This is one of the best quiet performance mufflers in the market.
It is constructed from T304 Stainless steel and features a "True Straight Through" perforated core surrounded by sound absorption materials.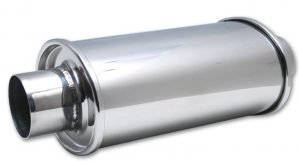 T304 stainless steel base material very good at resisting heat, corrosion, rusting, and deterioration. Making it a very durable quiet muffler.
With its aesthetical appeal, this muffler blends well with any car and gives your system a very classy look.
The reason why it has quiet operation is that it contains sound-dampening components that are able to reduce the exhaust noise up to 90%. Plus, it comes with a 5-year warranty from the manufacturer for any defects.
If you prefer a muffler that offers exceptional quietness and engine performance, this one is worth considering.
Features
Constructed from T304 stainless steel

Features a "true straight-through" perforated core

Withstands high exhaust temperature

Inlet Diameter: 3 inches / Outlet Diameter: 3 inches

Body Width: 6.5 inches x 4.75 inches 

Body Length: 9.75 inches; Overall Length: 13.75″
---
2). Dynomax Super Turbo Muffler
Best Budget Quiet Muffler
This Dynomax super performance muffler features a patented flow director design channels exhaust flow and also eliminates turbulence.
It contains large internal flow tubes that improve the exhaust flow and also reduces the back pressure from the engine.
This Dynomax super turbo muffler is one of the best budget-friendly quiet performance mufflers around.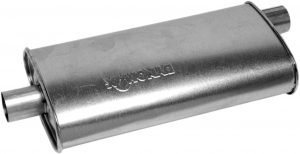 The Dynomax 17748 is popular for functionality and noise control among other mufflers. This muffler is commonly mostly used for heavy-duty engines.
Most users rate it as the best quiet performance muffler for its affordable price. Its functionality competes against other luxurious mufflers in the market.
The muffler is made of aluminized stainless steel material which gives it the ability to resist corrosion and rusting. Thereby, making it to last for many years.
The muffler comes with strong noise absorption materials. It has a fiberglass matting to absorb the noise and vibrations from your engine.
Additionally, the muffler's high airflow passage produces a sporty sound. This happens when an airflow as high as 700 SCFM enters the pipe.  It is a quiet-flow muffler that will do the work.
The 'Pure Unadulterated POWER' of DynoMax Super Turbo mufflers are backed by a Limited Lifetime Warranty. This is one of the quietest Dynomax Mufflers.
Features
Muffler Inlet Diameter: 2.5 Inches, Muffler Outlet Diameter: 2.5 Inches
Muffler Reversible: Yes

Dyno is proven to flow up to 700 SCFM

Product dimension of 27.2 x 11 x 5.5 inches
Uses fiberglass matting technology
3). MagnaFlow Quiet 10416 Performance Exhaust Muffler
This MagnaFlow 10416 exhaust muffler is one of the best quiet exhaust mufflers that is a universal fit for many applications in various sizes and configurations to fit your vehicle needs.
Whether you are looking for a quiet muffler for truck or car, it comes highly recommended by many verified customers.
Its pipe contains acoustical fiber and free-flowing materials that dampen noise. This creates a quiet and deep tone sound, which is smooth to hear on the road.

The Magnaflow 10416 Exhaust Muffler is one of the competitive performance mufflers in the market. Its brand is famous for manufacturing mufflers and other automobile parts.
It's built from 100% stainless steel material, which makes the muffler resistant to heat or oxidation. This muffler is strong enough to resist any weather conditions.
The quiet performance muffler comes with a unique and aesthetic polish to look good on your car. MagnaFlow universal mufflers are a great addition since they not only improve your vehicle performance but also give it that show-stopping look.
For extra durability, you may coat its body with rust-proof spray. The pipe is wide open, with a 2.5-inch inlet.
This is also one of the affordable brands that give great performance and quietness.
Features
Fit type: Universal fit for all vehicle types
Piping diameter-2.5 inch
Muffler body  dimension:14 x 4 x 4 inches
 Muffler inlet diameter/Muffler outlet diameter-2.5/2.5 inch
Muffler core size-2.5 inch
4). MBRP 31 Inch Aluminized Quiet Tone Muffler
This is one of the best high-end mufflers that delivers quiet and optimal performance.  This quiet exhaust muffler is designed to maximize the exhaust flow so that your engine can keep its cool with lower exhaust temperatures.
This in turn rewards you with greater fuel efficiency, more torque, more horsepower, and quiet operation.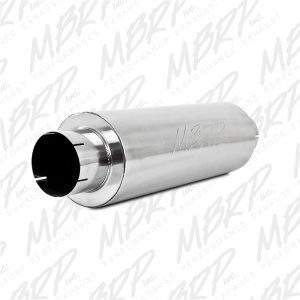 This quiet flow muffler is made of aluminized steel which can deliver optimal performance for a very long time and withstand harsh weather conditions like rain and excessive heat.
The MBRP muffler comes with a 31-inch length, 8-inch diameter, and an outer length of 5 inches.
Although this muffler is quite pricey, it works to reduce the unlying pressure of your exhaust system and the overall performance of your engine will improve immediately once you install it.
---
5). Borla 40842S S-Type Muffler
This Borla 40842S S-Type muffler comes with a multi-core technology that enhances the overall car engine performance.
Borla S-Type Mufflers are engineered to provide excellent exhaust emission and internal power generation.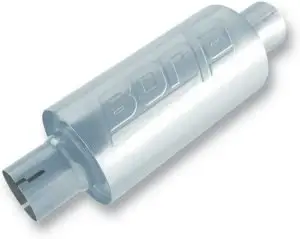 This muffler is made of a T304 stainless steel base material which offers long lasting durability.  It is equipped with ultra-smooth mandrel bends to ensure maximum flow and power.
With this muffler, your engine will be well taken care of and the cost of maintenance will be kept at minimal.
These mufflers provide brilliant fuel economy and increase horsepower efficiently. They are corrosion resistant and ensure easy installation.
Features
Features a multi-core technology

Manufactured from T-304 stainless steel

Provides brilliant fuel economy and increase horsepower efficiently.

Easy installation

Case diameter:10″ x 5″ diameter round;Overall Length:15 inches. Tubing size-2.5 inch
---
6). SLP Loud Mouth Bullet Type Resonator
This quiet performance muffler is expensive, but it also comes with 2 resonators. If this product is what suits your preferred functionality and taste, this is an excellent muffler to get.
The SLP 31062 Loud Mouth Bullet Type Resonator comes with a bullet design that muffles vibrations and noises. It's capable of converting these noises into a quieter sound.
Its base material is also made of stainless steel material which is resistant to corrosion, rusting and heat. Stainless steel material also has great visual appeal that will make a great addition and well blend to your vehicle.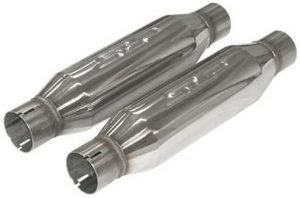 Its inlet measures 2.5 inches, while its outer diameter is 4 inches. It also has a thick build, which allows its walls to trap the noise inside. The muffler has a high volume to dampen sound because of its dimension.
This muffler is not a universal fit for all cars. Therefore, you will have to cross-check to see if it fits your car model.
Features
Pair of two resonators

Fits any 2.5″ cat-back exhaust system

18-3/16″ overall length

2.5″ inlet/outlet diameter; 4″ body diameter
---
7). Walker 17886 Economy Pro-Fit Universal Muffler
The Walker 17886 Economy Pro-Fit universal muffler is another quiet and affordable muffler for your vehicle. It is a universal fit for all vehicles. Whether it is a truck or a car, it will fit and deliver its performance.
The construction of the muffler is made of quality aluminum material. It's durable and resistant to heat, corrosion, rust, and oxidation. It's a muffler that will give you excellent results for a long period.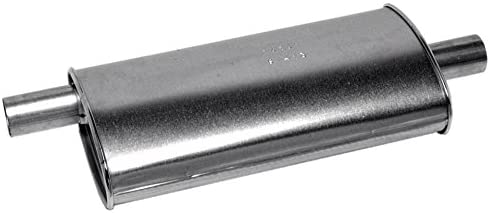 Even when you drive at the highest speed, the muffler works perfectly to reduce the noises from your car. It's one of the best mufflers manufactured by Walker.
The muffler reduces engine noises by changing air escaping through the exhaust system. The chambers and pipes in the internal system of your muffler modify the air sound and make it ultra-quiet. At its price, you will get better results than you have paid for.
This muffler is easy to install by yourself and you dont need a professional or prior experience to install it.
Features
Unique pipes and chambers to muffle the noise from your engine
Strong aluminized steel construction for durability
Ease of installation
---
Types of Mufflers
As you may already know, mufflers come in different types. Below are the different types of mufflers you will find in the market.
Multiple Baffle Silencers
These types of mufflers use multiple baffle silencers and are the factory models that come pre-installed on a vehicle. They are restrictive and aim for a quiet sound instead of more airflow, which is why vehicle owners switch these out for aftermarket replacements.
Straight-Through Silencers
The straight-through silencers are also known as glass pack mufflers or the cherry bomb in the car community. These have been around for decades now, and gained their popularity in the 70s with the lowrider scene and has since become the go-to muffler choice for those who want an affordable unique car sound.
Turbo Silencers
These types of mufflers have a poor gas flow, but their sounds are quiet and are more suitable for the average driver who wants a modest upgrade from their factory exhaust system.
The turbo silencer is a restrictive muffler that allows the air to flow through in a direct path.
Performance Silencers
The performance silencer offers a deeper, more aggressive exhaust tone by using the resonating chamber in the muffler. These are typically for improving the overall performance and sound of your vehicle.
Silence Inlets
These mufflers have become popular in the past decade and are also known as the "coffee can" exhaust pipe because of its distant sound. The silencer inlets increase the horsepower rating thanks to the air passing straight through the tube, instead of going through the traditional chambers as in other muffler designs.
How to Choose a Quiet Performance Muffler
Choosing the most suitable option could be a tough decision to make, especially when they're all competitive. Here are some of the qualities to look into when choosing a good quiet muffler:
Sound Effectiveness
The main reason for you been here is to choose the quietest performance muffler for your vehicle. Therefore, it is important to consider how effective it will be at reducing the exhaust noise.  Choosing an effective muffler will boil down to how it controls noise.
The size and capacity are a good way to determine how your muffler will sound when the engine air flows through it.
As already established above, mufflers consist of chambers, baffles and the more these are present in the muffler, the more it will allow passage of the exhaust air from your engine. These components work together to reduce noise levels. Thereby, creating a quiet sound quality.
The best mufflers dampen exhaust noise, enhance engine power, and lessen fuel consumption. Luckily, there are mufflers that can achieve the perfect balance between all.
Muffler Size
Even though most mufflers are for universal effectiveness, it is important to know the size of the exhaust before you spend any money on a muffler. Factors like the pipe diameter, the fitting area, and the type of exhaust all play a role.
Different cars use different mufflers. There different muffler options for different types of cars.
If your car comes with a single exhaust system, it should be easy for you to choose a muffler similar in design. For dual exhaust systems, your options should be tailor-fitted to their specs.
Where the muffler will be attached to the car is important as well. you need to determine how much space it needs, the muffler's diameter also needs to match the inlet pipe's diameter for full effectiveness.
Base Material
The base material is essential in determining the durability of the muffler. Using your vehicle daily will expose the muffle to all sorts of weather conditions such as rain or heat and the muffler base material need to be able to resist them in order to last longer.
If you are concerned about corrosion, rusting, deterioration, and oxidation, your muffler base material should be a concern to you then. It is the base material that will determine how long it will last.
Here are the different types of base materials used for mufflers.
Stainless steel
Stainless steel is a very popular material used for many appliances, especially in the kitchen. It is durable and has an aesthetically appeal. It is able to resist corrosion and rusting, which makes it suitable for any type of weather material.
It is lightweight but may not be the ideal base material for those who are interested in customizing their muffler because it is difficult to bend for weld it.
There are two different types of stainless steel grades used for mufflers. The type you will use will depend on your use and preference. For the best quality and durability, stainless 304 is a marine-grade material. It's capable of resisting elements and salts. Additionally, its lifespan could also be up to 20 years.
For universal or industry purposes, stainless 409 is a more affordable option. It's often used for vehicle mufflers and it contains less chromium. It is also aesthetically pleasing and will last you up to 8 years.
Aluminized Steel
This type of material has a high heat resistance, which is good to use for hot weather conditions. Because it's a good thermal conductor, it works well for areas with dry climates.
Although it comes with an aluminized coating to resist corrosion and rusting, if the coating gets scratched, it will expose it to oxidation.
It is easier to customize because it can easily be welded. This type of material is durable and also last up to 10 years. It is more affordable compared to stainless steel. This is a great option for those who are on a tight budget.
Titanium
Titanium mufflers are strong and rigid materials. Because it's much stronger than stainless steel, it also comes at an expensive cost.
This type of material is the lightest, so you don't have to worry about adding weight to your car. It's also more capable of resisting heat, rusting, and stains compared to other materials.
It's known to balance airflow and engine power, without compromising the performance of your exhaust. This light-density muffler also creates a more metallic sound.
Price
Factors like the base material and the type of mufflers all have an impact on the price of the muffler. The amount you would wish to invest in the best quiet muffler will all depend on your budget.
If you can get a great quiet muffler at a reasonable price that will still be effective in terms of engine power and quietness. The most expensive doesn't necessarily translate to the best performance.
Benefits of Using a Quiet Muffler
Almost all cars come with a muffler. This is the factory built-in muffler but with time, the parts deteriorate. This could cause unnecessary sounds from the exhaust that could be disturbing.
The performance and condition of your exhaust system would be affected. Therefore, there are many reasons why getting a new quiet performance muffler is the best option. Below are some of the reasons that may motivate you to change your muffler.
Sound. The main advantage of a muffler is a much quieter ride. The engine without a muffler is loud; it's the muffler's job to control the outgoing sound through chambers inside the design.
Fuel economy. You might not realize it at first, but adding an aftermarket exhaust can make a difference in your fuel economy numbers. The engine can circulate more air through, which makes for more efficient operation. Using the right quiet performance muffler allows for efficient fuel usage. This could save you more costs on fuel consumption
Horsepower. An aftermarket muffler will allow more airflow and decrease the back pressure to the engine. Airflow gives the car an increased amount of power and throttle response. The straight-through muffler type would be most ideal for refining your engine power. If you're looking to boost your car engine power, many quiet mufflers provide this function.
Is a muffler and exhaust the same thing?
So to put it simply, the exhaust controls the output of gas while the muffler controls the noise level of doing so. It might help to remember that another word for 'muffler' is 'silencer'. Let's explore the differences between a muffler and an exhaust in a little more detail.
Final Words on the Quietest Performance Mufflers
With a good and quiet performance muffler, you won't have to worry about noises when you are driving. At any speed, you will enjoy your cabin silence or stereo music.
Besides, you won't feel tired as a result of driving under a noisy exhaust system.
You can save the cost when you understand the simple installation of a quiet performance muffler. The time to acquire a new muffler is now. Enjoy your shopping.
Latest posts by Josephine
(see all)