Quiet Garage Door Opener:7 Best Quietest Models in the Market
Looking for a quiet garage door opener for your garage?. Well, then you've come to the right place. In this guide, you can expect to learn the following:
What a garage door opener is
How does garage door opener work?
Our top-rated quietest garage door opener picks
Types of garage door openers
Factors to consider when choosing a garage door opener
And more…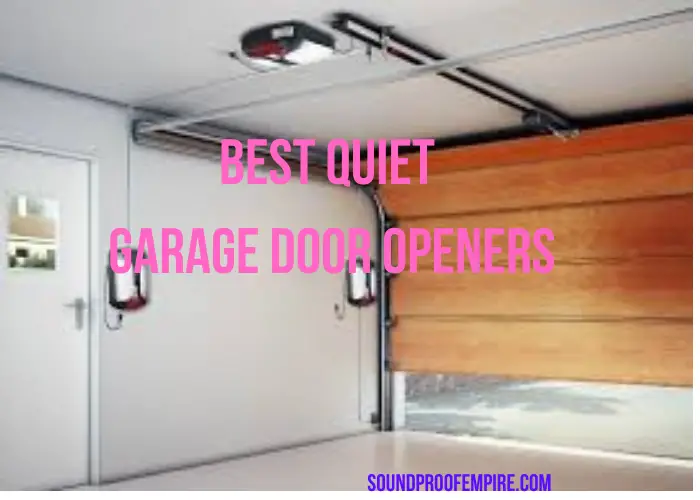 Quick Preview of Our Top-Rated Quiet Garage Door Openers
In a hurry?. I understand. Here is a quick overview of our top-rated quiet garage door opener picks.
Genie Chain Drive 500 Garage Door Opener (Most Budget-Friendly)
Garage door openers are one of those products that you don't notice much until they're broken. Some people think they can live without an automatic garage opener. Because they dont want extra expenses. They may convince themselves that opening and closing the garage door is even an exercise.
Then it happens that they drove in, in the middle of a storm or heavy rain, then it dawns on them that someone will have to step out in the rain to open the garage door.
Well, after one or two rain soaks, they are ready to change that door to an automatic one.
Whether you live in a small or a big house, having a  garage door opener that enables you to roll your garage door up and down from the comfort of your car or a distance feels quite good.
With the different types of garage door openers in the market, today, I bring you some of the best quiet garage door openers that will give you convenience and peace of mind.
Also Read:
The best quietest motorcycle helmets here
What is a Garage Door Opener and How Does It Work?
A garage door opener is basically a motorized device that enables you to open and close garage doors automatically. They mostly come with a handheld radio remote control that the owner carries with them, which can be used to open and close the door from a short distance.
Even though a garage door system may seem complicated, it is just really a radio transmission system. When you push the button on your garage door opener remote or inside your garage, the transmitter sends a code to the receiver, which is tuned to the same frequency as the transmitter.
Garage door systems have evolved over the years. Some of the security measures put in place by modern operating systems include a controller chip that can create a hopping code or rolling code.  What this means is that the code used is different each time the door opens or closes.
The chips used have the memory capacity to hold up to one trillion possible codes. Depending on the system used.
Basically, if the code sent from your remote does not match the receiver on the door, the garage door will not open. This is a security measure to prevent thieves from breaking in by hacking your garage door opener system.
Best Top-Rated Quietest Garage Door Opener Reviews
Below are some of the best quiet garage door openers in the market.
1). Chamberlain Group B1381 Ultra-Quiet Belt Drive Garage Door Opener
Best Overall
This Chamberlain B1381 belt drive garage opener is rated the quietest garage door opener in the market. This ultra-quiet garage door opener comes with a lot of safety features and quietness in operation to make sure your household has their peace of mind.
When the garage is opened, it lights up all corners of the garage, and the easy to install safety sensors detect any instructions and automatically reverse the garage door before it causes any damage.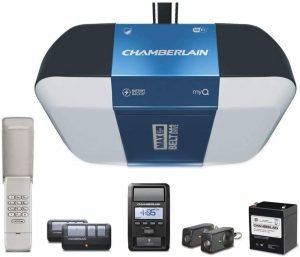 With myQ, you can open and close your garage door from anywhere, receive real-time notifications when it's left open, and securely invite up to three people to control your door. The built-in Wi-Fi and the NyQ App gives you this additional security feature.
This garage door opener has a 1. 25 HPS motor that delivers the highest lifting force in the industry for effortless lifting and reliable performance. It is super strong, reliable, work in excessive heat, cold, humidity, and it also has an anti-vibration technology.
It also features two 3-button triband frequency remote that can boast of a range up to 1,500 feet for a quicker entrance and exit. Security+2.0, the highest level of encryption, prevents hacking, and provides peace of mind. Control up to three garage door openers each.
The device works on both AC/DC. It contains 2 – remote controls and a keypad. There is a lifetime warranty for the motor and belt and a 5-year warranty for the parts.
Additionally, it works when there is a power outage because it comes with a built-in back-up battery.
---
2). Genie Chain Drive 500 Garage Door Opener
This Genie chain drive 500 garage door opener is the most affordable and budget-friendly quiet garage door opener on this guide. There are two styles available to choose from; there are the 500 chain style and the 750 chain+backup battery.
The chain drive on the Genie Chain Drive 500 garage door opener, is heavy-duty making it strong, and durable. It is equipped with a powerful 1/2 DC motor and a heavy-duty chain that allows this chain drive 500 garage opener to open residential sectional garage doors up to 8 ft in height and up to 350 Lbs in weight.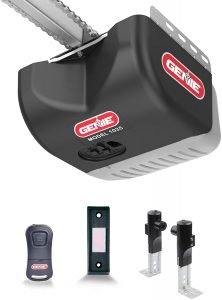 This maintenance-free has a quiet performance and has proper safety put in place for you and your family. The Self-diagnostic Safe-T Beam helps prevent accidents via an invisible infrared beam across the door opening that reverses the door if an object crosses the LED beam of light.
This unit is also fully compatible with HomeLink and Car2U without the need for repeaters or hubs. Plus, it comes with a single 1-button pre-programmed garage door opener remote and a lighted push button wall control.
The Genie Chain Drive 500 garage door opener is also equipped with intelligent rolling code technology that prevents unauthorized persons from opening your garage door by automatically changing the access code every time you use it.
Overall, this unit offers peace of mind and convenience at a lower cost.
---
3). Chamberlain B970 Belt Drive Garage Door Opener
The Chamberlain B970 Belt Drive Garage Door Opener is the second-best rated on this list. If you are unable to get the number above, this is a great option. It's one of the most powerful openers on the market.
This unit is equipped with a 1.25 HP motor that can easily lift residential and garage doors without causing any wear and tear. It has a strong belt and has an ultra-quiet operation.
The Chamberlain brand is no stranger when it comes to high-quality products. They kept this dignity over the years because of their rigorous product research and testing.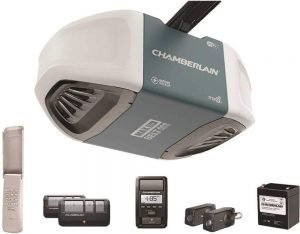 This garage door opener also comes with a built-in myQ technology that enables you to open, close, and know that status of your garage door anywhere you are in the world with your smartphone and the myQ App.
It comes with 2 3-button remote controls that let you control up to 3 openers. Exclusive Triband technology boosts remote range up to 1,500 feet for a quicker entrance and exit.
Plus, with the built-in backup battery that comes with this opener, you dont have to worry about having trouble opening or closing your garage door when the power goes off.
With this opener, you are eligible for In-Garage deliveries from Amazon.
For safety and security, the Chamberlain B970 comes with a full function wall control system, wireless keypad, and safety sensors.
It has over 100 Billion code encryptions for protection against hacking. A posi-lock anti-theft protection system automatically stops the garage door and alerts the owner.
An extra feature in this model is its anti-vibration technology. This system helps it to withstand extreme conditions. It also features a precision engineering system for a smooth, reliable performance.
---
4). LiftMaster 8500 Elite Series 8500
The LiftMaster Elite 8500 is sleek and a powerful door opener. Even though it is a bit expensive but it is a long-lasting quiet garage door opener that will last you a lifetime. So, the high price is justifiable.
This unit is wall-mounted, thereby freeing you your ceiling space. It can be mounted beside your garage door which will save you tons of space than any regular garage door opener will do.
This elite series model comes fully equipped with security 2.0, myQ to keep you and your family safe and secure against intruders.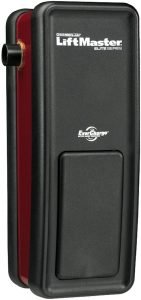 Liftmaster 8500 Elite comes with a very powerful and durable P3 motor. This P3 motor is can provide really high power and performance so it doesn't matter how heavy or tall your garage door is this one can handle it for sure.
However, you should note that this garage door opener is not compatible with Roll Up garage doors, Low Headroom track, and the Wayne Dalton Torquemaster.
The Liftmaster 8500 Elite is not only powerful enough to lift and close any garage door, but it is very quiet and also has a low vibration.
---
5). Chamberlain B550 Ultra-Quiet Belt Drive Garage Door Opener
This Chamberlain B550 ultra-quiet steel-reinforced belt drive is constructed with high-grade materials to deliver years of reliability and quiet, smooth performance—it is perfect for attached garages.
You can open and close your garage door from any place with just your smartphone using the MyQ Application from Chamberlain. It is smartphone controlled and you can securely invite three people to open your door.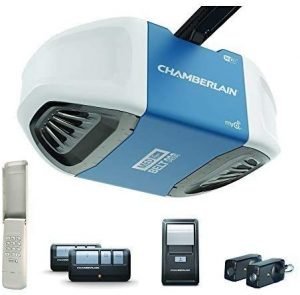 Just like the other Chamberlain garage openers above, this model also includes two 3-button TriBand frequency remotes. The Exclusive TriBand technology boosts remote range up to 1,500 feet for a quicker entrance and exit. Security+2.0, the highest level of encryption, prevents hacking, and provides peace of mind. Control up to three garage door openers each.
This garage door opener can boast of a 1/2 horsepower motor capacity. This 1/2 horsepower powerful enough to lift almost most garage doors.
The easy to install Safety Sensors detect for obstructions and automatically reverse the garage door before causing any damage.
The Chamberlain B550 has a 100 billion code encryption with upgraded specifications. So you don't have to worry about getting hacked. This garage door opener also has Posi-lock anti-theft protection which prevents and stops attempts such as forced entry or brute-force attack.
---
6). Decko Chain Drive Garage Door Opener
Mostly chain drive garage door openers are known to be the loudest, yet this chain drive opener manages to be ultra-quiet. This product comes as it is advertised – delivers a powerful pull with almost zero noise despite being chain driven.
This opener has a powerful 3/4 horsepower motor that is designed to handle heavy-duty lifting of garage doors up to 18 feet wide with its powerful DC motor.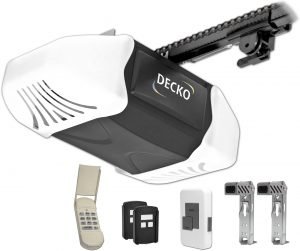 Noise and vibration from the motor are almost non-existent. Your car's engine or the garage door will probably make a louder sound.
The Decko 24300 can detect the weight of your door. It slows down and speeds up to compensate, which leads to gradual soft stops and starts. There's no loud banging, no jerking or sudden movements that often come with chain-driven garage doors.
This quiet garage door opener also features a strong and reliable chain drive with auto-reverse safety system, emergency safety release, and non-polarized wiring for easy installation. This opener is used for sectional garage doors up to 7′ tall and up to 18′ wide.
The auto-reverse system also works pretty well. They are sensitive enough to react immediately and roll back in case of any obstruction.
The only thing that sets the Decko 24300 back a bit is the lack of any modern connectivity features. It's not WiFi-compatible, nor does it have smartphone support. At its higher price range, WiFi is something other models offer. On the flip side, it comes with 3-button remote and a wireless key.
Overall, this Decko 24300 is an affordable and quiet garage door opener that comes with a Lifetime limited motor warranty and 1 year on the parts. 3/4 Hp – Chain Drive.
---
7). Genie StealthDrive Connect Ultra-Quiet Belt Drive Garage Door Opener
The Stealth Drive Connect smart belt drive garage door opener with battery backup is an ultra-quiet garage door opener with a steel-reinforced belt, making it the ideal choice for homeowners where sound could be an issue.
The integrated Aladdin Connect Wi-Fi smartphone technology allows your garage door to be part of your smart home, while app alerts keep you in control and your garage secure. This technology enables you to open and close your garage door from anywhere with your smartphone.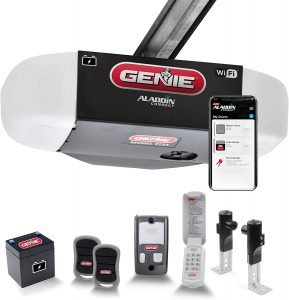 The Stealth Drive Connect smart garage door opener has a 1 1/4 HPC DC Motor that is paired with a steel-reinforced belt drive making this garage door opener perfect for garages that are attached to bedrooms and/or nurseries.
This smart garage system is compatible with ALEXA & GOOGLE HOME. The system is lightweight, easy to install, and comes with pre-programmed garage door opener remotes that are ready to use straight out of the box without additional programming.
This product is equipped with a battery backup that allows for the garage door opener to be used when the primary power is out. This feature provides up to 50 cycles from the initial power failure.
---
Types of Garage Door Openers
Before you purchase any garage door opener, it is important to familiarize yourself with the different types of garage door openers in the market in order to know which one will work well for you.
Chain-Drive Opener
Chain-drive openers have a chain that connects the trolley to the motor. These systems are loud and clunky due to the metal-to-metal contact and vibration, but they are the least expensive form of garage door operating system available.
Installing one on your own might be too much of a challenge. So we recommend you get a professional to install for you.
They are reliable and have maintenance. You just have to keep the chain clean and lubricated. The only downside to this type of door opener is that it is much louder than other types.
As you are already looking for a quiet garage door opener, this type may be destructive especially if your bedroom is close to the garage. If you still insist on a chain drive opener, then this Chamberlin B970 comes highly recommended for this variety.
Belt-Drive Opener
Belt-drive openers use a rubber belt rather than a chain, which makes them quiet in operation. They are smooth motion alternatives to chain-drive.
These are a lot quieter and if a quiet garage door opener is what you seek, then this is a very good option to consider. This belt drive garage door opener is one of the quietest on the market. This is considered quieter than the chain drive and the screw drive openers.
It has the same mechanism as the chain-driven door opener but instead, uses a rubber belt. This way, there are no banging metal parts. The smoother and quieter operation also means there is no jumping off the door and fewer vibrations.
Also, this type is easier to install and maintain. You can always replace the broken rubber belt.
If you truly seek quietness, this is a great choice especially if your bedroom is close to the garage. Though they are quite pricey, the benefits far outweigh the expense.
Screw Drive Garage Door Opener
Screw-drive systems mean that a trolley rides on a threaded-steel rod as a motor rotates the rod. It is the noisiest of opening a garage door. Due to the lack of parts, it is easy to maintain.
This type of garage door opener works slightly differently than the two types above. It lifts doors with a threaded steel rod. As the rod rotates, it drives the trolley along the track to lower or raise the door.
Due to the construction of this opener, it's ideal for heavy, double, or wide doors. It is able to operate quicker, gives the strength required to open and close the garage door safely. Also, this type of garage door requires little to no maintenance.
The noise levels, it's between the belt and chain-drive systems. It serves as a middle ground between having a strong and faster door opener.
Direct Garage Door Opener
It is the lesser-known types of door opener model. However, a direct-drive opener perhaps is the quietest and smoothest among all garage door openers.
This garage door opener has a stationary chain that operates in a steel rail.  Its approach has the motor moving up and down the rail, by pulling itself along a chain with the door in tow. Since the motor moves instead, these models are quiet.
The cost of this door system is the same as the belt drive openers and mostly they come with a lifetime warranty since the only real moving part is the motor. They also have a very clean appearance and are less likely to break and easy to maintain.
Factors to Consider When Choosing a Quiet Garage Door Opener
While performance is one of the key things to factor in when choosing the best garage door opener, it is essential to factor in the amount of noise the door system will be making. Generally, some garage door openers more noise than others when opening and closing them. Below are some factors to consider when shopping for a garage door opener to pick the right one.
Noise Levels
If you live in the same house with others or you have the bedroom and living space very close to the garage, it is important that you factor in the noise level of the garage door opener you intend to use.
This will prevent you from disturbing others' sleep or quiet time anytime you open and close the garage. Luckily, all the garage door openers here in this guide are quiet in operation.
Weight and Size of the Door
Even though you already know that your door system should be quiet, you need to first determine the weight and size of the door. This will enable you to choose which the horsepower (HP) of the garage door opener.
The horsepower is the force required to move the door up and down or slide it open. Typically the horsepower of most door openers in the market range from 1/3 on smaller and cheaper models to 1 1/2 on high-end systems.
If your garage door is made of wood and weighs around 500 pounds, then it is better to choose a horsepower of 3/4 and above. These are great for wider garage doors too. It's also preferred that you get a higher horsepower door opener if you frequently use the garage door multiple times a day.
On the other hand, most standard garage doors are made of aluminum and require less power to open and close. They are also slower too. If you have a  garage door that is around 10 feet wide and 8 feet tall, which is about the size of a single-car, then choose lower horsepower like the 1/3 HP.
Remote Control Technology
There are a couple of remote control technologies available such as using your smartphone, HomeLink, and Car2U. These all provide in-car alternatives to the basic remote that open and close the garage doors.
Even more, there is also another technology called the Tri-Band remote control technology that can operate on three separate frequencies. This allows you to open your garage door from a long distance like over a thousand feet.
Battery Backup
Having a battery backup is essential in case of a power outage. We may not always anticipate it, but heavy storm or rain can cause a power outage, making it impossible to open your garage with the power mains.
This because all garage door openers should be connected to your mains. This is where they will drive their power.
Having something like a 12-volt battery for the backup will ensure you dont get locked out or inside in times of power cut. The backup system will ensure continuous operation.
Motor Type (AC or DC)
There are two types of motors for garage door openers. These are alternating current (AC) or direct current (DC). For a lot of good reasons, DC powered garage door openers have been the standard motor in the market.
This because the DC motor is quieter, faster, smaller, and smoother in operation compared to the AC motor. This is meant for people who are noise conscious.
AC powered garage door opener is ideal for those who open their garage door every day and do not mind about the noise.
The DC motor also allows additional features on the door openers like a soft-start and soft-stop. This technology reduces wear and tear on the motor and the garage door.
The DC motor even offers a battery backup system. For less electricity consumption, lower noise levels, and prevention of accidents, a DC motor is your bet.
Safety and Security
There are a lot of safety and security measures been put in place these days to ensure the safety and security of the users. Some have a light beam that projects across the door when opening and it will stop the door from closing when the beam gets interrupted.
Some door opener systems also sense when the door has touched an object or a person on its path towards the ground. It won't allow the door to close, or reverses the process of closing.
These safety measures are put in place to prevent accidents
With regards to security, some of us keep valuable items in our garages and some homes even have doors leading into other parts of the house.
Even if none of the above is true for you, a robber can still hide inside your garage for you to come and they rob you. So, it's important to keep high security at all times.
Luckily, modern garage door systems have proper security systems in places like openers that allow you to vary the codes sent between the opener remote and the receiver.
This will prevent thieves from replicating your codes. Even some garage door openers come with vacation mode settings. In case you are on vacation, you can have peace of mind.
Price
You will find different garage door openers with different price ranges. There are some that are cheaper and others a lot more expensive. It will all depend on your budget and how much you are willing to invest in the door system. The price will also determine the features that you get.
If you dont want to be changing your garage door every now and then, you should invest in a high-quality door opener that will last you for years.
FAQs
Why is My Garage Door Noisy?
If you are wondering what could be causing your garage door to make the noise, here are possible reasons why it is noisy.
The Garage Door is Old
As the door ages, it makes more noise. These sounds are usually due to old rollers that may need extra lubricant.
The Garage Door has fallen Off-Balance
If the garage door has fallen off track, it will be louder than normal as it opens and closes. This usually a door alignment issue. You will need to call a professional to fix it for you
The Rollers have Signs of Wear and Tear
As metal garage door openers get older, they'll get rusty and start to make noise. Nylon rollers make less noise than steel rollers over time.
The Nuts and Bolts have Come Loose
Loose nuts and bolts will produce a screeching sound when your garage door opens and closes.
The Garage Door Opener needs Repair or Replacement
Hearing sounds like rattling sounds may be an indicator that there is a problem with the door.
How Do I Make My Garage Door Opener Quieter?
As already established above, there are a couple of reasons why your garage door may be noisy. Here are some possible ways to fix the noise problems.
Lubricate the Metal Components
Metalic parts of the garage door like the rollers, hinges, tracks, and springs may be rusty and need some lubricant. Only use lubricant intended for use on metal such as 10W-30 motor oil.
Tighten All Nuts and Bolts
Loose nuts and bolts can create noise. Make sure to tighten all these nuts and bolts to eliminate such noise.
Lubricate the Garage Door Opener Chain
Apply oil sparingly to the chain and the pinions at each end. However, if your opener is belt‑driven, do not apply anything to the rubber belt. Also, make sure that the chain or belt is taut.
Add Noise Insulation
You can install noise insulators between the motor block and the slotted metal brace used to attach the motor to the ceiling. These are cylindrical pieces of rubber fitted with two independent screws, which buffer vibration between adjoining parts. You can get them from your local garage door specialist. You can purchase noise insulators from your local garage door specialist.
Lubricate the Garage Door Chain
Apply oil sparingly to the chain and the pinions at each end. However, if your opener is belt‑driven, do not apply anything to the rubber belt. Also, make sure that the chain or belt is taut.
What is the Quietest Garage Door Opener?
All the above are all quiet garage door openers, but I am sure you want to know the quietest among them all. Well, the Chamberlain B1381 model is the smartest quietest garage door opener among them all.
However, the model you would choose will depend partly on the type of garage door you have because some garage door openers do not work with some types of garage doors.
Latest posts by Josephine
(see all)