Looking for the quietest 2080 Ti graphics card for gaming?. Perfect, then you've come to the right place. In this guide, you can expect to learn the following:
Our top-rated quietest 2080 Ti graphic cards
What to consider when choosing a quiet 2080 Ti
And more…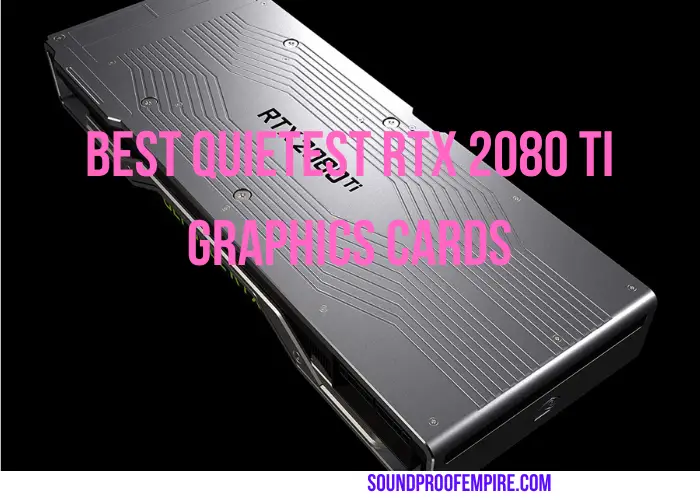 Quick Preview of the Quietest 2080 Ti Graphics Cards
In a hurry?. I understand. Here is an overview of the top-rated quietest  RTX 2080 Ti gaming cards in the market.
When it comes to GPUs, the 2080 Ti has no rival yet at the time of writing this guide. It can boast of unrivaled gaming performance and power over any other GPU in the consumer bracket.
However, with the many brands popping up in the market, there seem to be so many unanswered questions about the quietest RTX 2080 Ti gaming graphics cards in the market.
To answer these questions, today, I will be talking about the best silent 2080 Ti graphic cards in the market and factors to consider when choosing one. With the many brands in the market today and the different price tags, it can be confusing when picking the best 2080 Ti for your gaming activities.
Hence the reason I created this guide to help you choose the best quiet RTX 2080 Ti gaming graphics card for your needs.
Best Quietest RTX 2080 Ti Gaming Graphic Cards
Here are some of the best RTX 2080 Ti cards in the market that has a quiet operation with the best performance.
1). ASUS ROG Strix GeForce RTX 2080 Ti
The ASUS ROG Strix GeForce RTX 2080 Ti is my top pick and is one of the popular 2080 Ti cards on this list. It comes equipped with an impressive clock speed of 1650MHz, which has been boosted straight out the box. It can, however, be boosted to 1665MHz when in gaming OC mode.
It also comes with features like a dual BIOS setup allowing users to have two different fan/clock speed configurations, which you can flick between when wanting more cooling or a much quieter experience.
Other features of this card include MaxContact technology, Asus' FanConnect II, and Super Alloy Power II components.
Its cooling is provided by a triple axial-tech fan setup, which can boast the highest levels of efficiency on this list.
Overall, it's one of the top recommended graphic cards on this list because of its incredible performance and stylish design making it come highly recommended by many if you have the budget.
Specs
Clock Speed:1650 MHz Boost Clock

VRAM:11GB GDDR6

Memory Bus Width: 352 bit
---
2). NVIDIA GEFORCE RTX 2080 Ti Founders Edition
This NVIDIA  GEFORCE RTX 2080 Ti Founders Edition graphic card features a next-gen 13-phase power supply for maximum overclocking and dual-axial 13-blade fans which are coupled with a new vapor chamber for ultra-cool and quiet performance.
This product is the newest flagship graphic card of NVIDIA at the time of writing this article and it's a revolution in gaming performance and realism.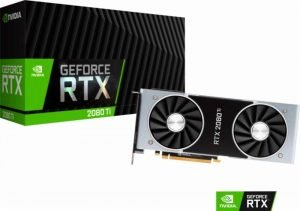 It's a powerful gaming graphics card that features a powerful NVIDIA Turing™ GPU architecture, breakthrough technologies, and 11 GB of next-gen and ultra-fast GDDR6 memory.
The downside of this product is that it is quite pricey and even though many are now leaning towards the RTX 3070  which costs much cheaper than the RTX 2080 Ti, for those who still cherish amazing performance, this product is still worth the investment.
Specs
11GB GDDR6

CUDA Cores: 4352

Display Connectors: DisplayPort, HDMI, USB Type-C

Maximum Digital Resolution: 7680×4320
---
3). PNY GeForce RTX 20280 Ti 11 GB Blower Graphic Card
This graphic card is an excellent video card upgrade and it's super fast all games run on full max with no problems at all.
With this card, you get the latest NVIDIA GameWorks technologies for smooth gameplay, cinematic experiences, and a revolutionary 360-degree image capture-even in virtual reality.
In addition, you get the best performance to drive the latest displays, including virtual reality, ultra- high resolution, and multiple monitors.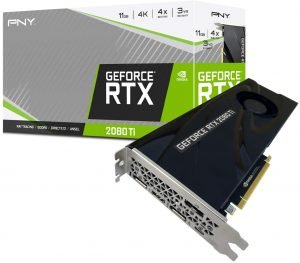 The card also lets you experience the highest level of performance and the smoothest experience possible from the moment you start playing. Plus, it is compatible with the leading headsets in the market given you the feel of every moment.
All been said, if you're looking for a superior graphics performance boost for your current rig and you're not on a budget, this is the card for you.
Specs
NVIDIA GeForce RTX 2080 Ti 11GB

NVIDIA CUDA cores 4352, clock speeds of 1350 MHz core and 1545 MHz boost

24/7 U.S. Based technical support

Blower edition
---
4). MSI Gaming GeForce GDRR6 RTX 2080 Ti
MSI is a well-respected brand when it comes to high-quality hardware components and this GPU is no different. IT comes with ll sporting features and benefits you would expect from a premium-tier GPU.
This GPU comes equipped with the joint highest clock speed of 1755MHz in this list. It comes with MSI's signature TRI-FROZR thermal design that offers a highly efficient cooling solution with very little noise output.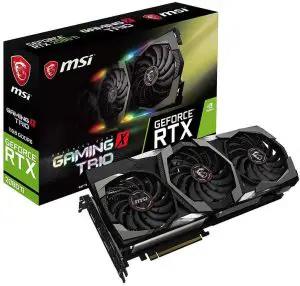 RGB can be found in a number of zones across the GPU and can be fully customized inside MSI's intuitive user software.
The only downside of this card is that its design makes it bulk making it take up three output slots and measuring about 328 mm. This makes it the largest on this list. I would recommend you check your case and build to ensure it can accommodate a GPU of this size before making any purchase.
Other than the size, it is one of the best quietest 2080 Ti gaming cards with excellent in-game performance.
Specs
Clock Speed:1755 MHz

VRAM: 11GB GDDR6

Memory Bus Width: 352 bit
5). Gigabyte Aorus GeForce RTX 2080 ti Xtreme Waterforce 11G Graphic Card
This RTX 2080 Ti Xtreme by Gigabyte is also one of the popular GPUs on this list that can boast of a clock speed of 1770MHz making it one of the quietest 2080 Ti cards with the highest clock speed.
This GPU features a triple-fan WINDFORCE set up to give the maximum amount of cooling potential when it's operating under maximum strain. Another cool feature that makes this GPU fan setup standout is its alternate spinning center fan.
This allows the center fan to be able to spin in the opposite direction of the two and thereby increase the smoothness of the airflow and allow for better overall cooling.
The AORUS Extreme comes with its "extreme overclocking" 16+3 power phases. This is one of the main reasons why the AORUS has the highest off-the-shelf boosted clock speed.
Overall, this card has the best aesthetics and offers extreme performance with its impressive 7 outputs.
Specs
Clock Speed: 1770 MHz

VRAM: 11GB GDDR6

Memory Bus Width: 352 bit
---
Factors to Consider  When Choosing a  Quiet 2080 Ti Graphic Card
If you are considering choosing a silent 2080 Ti graphic card, then you ought to consider some factors to help you choose the best RTX 2080 Ti card to give you the best performance.
To help you with that, here are some features to guide you in your selection.
Performance
Performance is one of the most important factors to consider when choosing your gaming hardware. We all want the best performance at an affordable price, however, there is a connection between price and performance.
The 2080 Ti, for example, is at a premium price and that is because it is the most powerful gaming graphics card in the market at the moment and it's a good value for your money if you cherish sterlist performance.
The performance comes down to resolution, in-game FPS, multi-tasking, and other graphically demanding work tasks such as mining.
Make sure your build lives up to your card's performance output before buying to ensure you aren't going to be bottlenecked by other components. There is nothing worse than a build that isn't in perfect sync
Price
As already established, the 2080Ti is a high-end product that can set you back in the region of more than a thousand dollars. The price difference between different brands can only differ in a couple of hundred dollars.
This means that your budget can be stretched massively if you dont choose the right one. So, it is important that you factor this in when you are planning on making a purchase.
Cooling
All GPUs come with their own cooling solution which means their ability to dissipate the cards rated TDP. There are ways to increase the GPU's cooling such as using water-cooling and better case fan CFM.
Whichever option you choose, it is important to know that cooling is a crucial area to consider when purchasing a GPU. First, check out what heat your card is producing before you start investing in the most expensive radiator.
The size here refers to the GPUs physical dimensions. Generally, a 2080 Ti is much bigger than a generic GPU. This is because they are more powerful, meaning they need a much bigger cooling setup and heatsink.
Always check to make sure your case can accommodate your GPU so you don't end up with a hugely expensive GPU that can't be used.
VRAM
Understanding product specs is an essential aspect of any product purchase. This will help you understand the performance of the product better. Here we will talk about the VRAM.
VRAM stands for the GPUs video random access memory. It is has a direct impact on how well your graphics card performs and how much data it can read at any given time.
This spec can be likened in the same way to the computer RAM. It is able to store data if immediate access by the GPU at any given time in any order.
The more VRAM you have the faster and more access you can get data without directly accessing the CPU.
Higher-resolution game formats require more VRAM as they do tasks like anti-aliasing. Luckily, every 2080Ti comes with 11GB of GDDR6 VRAM, which is the most you will find on a consumer card in today's market.
Clock Speeds
Another spec that you should look at is the clock speeds. The clock speed or clock rate is the speed at which your microprocessor which in this case is the GPU runs. The clock rate refers to has fast the GPU performs instructions. Each GPU is clocked at a different speed, which means each one can perform tasks at different rates.
However, the clock speed does not have a direct correlation with game performance. There are several other factors that contribute to game performance.
Latest posts by Josephine
(see all)