Top 5 Quietest Inline Fan Picks
Looking for the best quietest inline fan to  Help you to boost airflow in HVAC units to remove exhausts and odors from bathrooms & workshops and ventilate basements & attics, etc.?. Perfect, then you've come to the right place. In this guide, you can expect to learn the following:
What an inline fan is
How does an inline fan work
our top-rated quiet inline fan picks
How to choose a quiet inline fan
How to silence an inline fan
And more…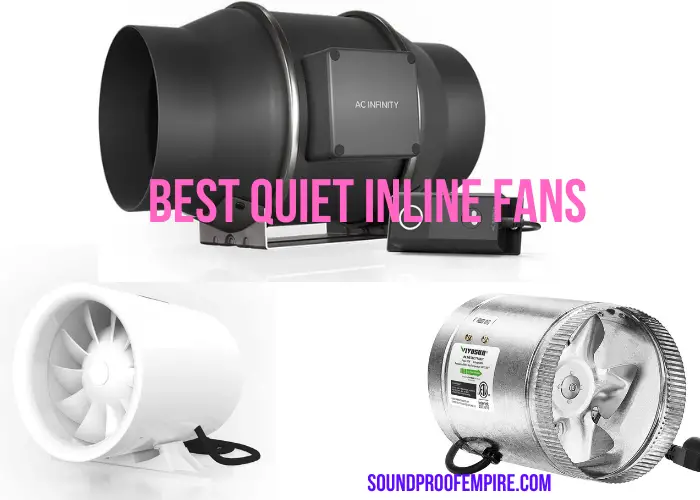 Quick Preview of the Quietest Inline Fans
In a hurry?. I understand. Here is a quick preview of the best quiet inline fans to remove exhausts and odors from your workshops, attics, ventilate basements, etc.
If you wondering how to choose a quiet inline fan for cooling your AV equipment rooms, closets, ventilate various air circulation and exhaust projects, you are not alone. Anyone who has been to a hydroponics shop can tell you that purchasing the right inline fan can be a tedious process.
You might have a general idea of what you're looking for, but you'll also be bombarded with tons of variations of essentially the same product and this can be confusing for a first-time shopper.
That's why I have done deep research and curated the best quiet inline fans for your consideration. So keep reading to find out more…
Also Read:
What is An Inline Fan and How Does It Work?
An inline exhaust fan is defined as a fan that is mounted inline( inside or connected to ducting) that is used for extraction purposes.
An inline fan does not sit directly on the plasterboard or ceiling, instead, it is typically located inside the attic or roof space a little further away from the room.
Inline fans present an attractive option for homeowners who want to place the fan away from the room or rooms that need exhausting.
Inline fans are usually mounted inline with the ductwork, bringing air from the inside and to the outside of the home. This type of fan may also be described as a remote-mounted fan.
Inline fans come in many different configurations, sizes, and capabilities to meet a wide variety of ventilation needs. You can find them as simple-port versions or versatile multiple versions.
The single-port inline fans have one incoming supply duct and one outgoing exhaust duct. While on the other hand, the multiple-port version has multiple ducts with a minimum of one inlet and one exhaust.
A single-port inline fan can be used to manage the air movement to or from multiple locations. The multiple-port inline fan offers a ventilation capacity that is appropriate for larger-scale single-family, multifamily, and commercial buildings.
Generally, inline fans are available in a range of airflow capacities from about 100 CFM, suitable for many housing needs, to 2000 CFM for commercial applications.
Inline fans are useful for applications that include:
Ventilation of wet spaces such as bathrooms, kitchens, and laundries
Remote fans for kitchen range hoods
Duct boosters for ventilation systems and clothes dryers
Supply or exhaust fans for continuous whole-house ventilation
Radon mitigation systems.
The Best Quiet Inline Fans
1). AC Infinity CLOUDLINE S6 6″ Inline Duct Fan with Speed Controller
This inline fan is engineered to contain a cutting-edge electronically commutated (EC) motor, controlled using precise electronic pulses and smart programming.
This enables the inline fan to operate considerably quieter and reach low speeds without generating noise or heat.
This fan motor is also energy-efficient and can help you save up to 40% in energy costs, though the fan is quite pricey, this helps in paying for itself in the long run.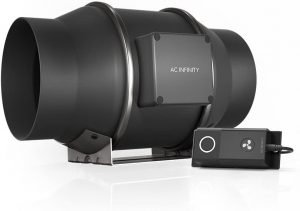 It is suitable for quietly cooling AV equipment rooms, closets, ventilate various air circulation and exhaust projects.
This inline fan a fantastic solution and can be classified as a "best overall" product for quiet inline fans. As long as you don't mind the price tag, you really can't get much better in terms of a well-rounded product than this Cloudline range.
The intelligent controller ensures the right temperature for your space which is great for peace of mind.
This quiet inline fan is an ideal product, backed up with 2-year warranty.
2). TerraBloom  Silent Inline Booster Fan
The TerraBloom inline fan is available in two 4 inch and 6-inch sizes to choose from.
4-inch silent mode inline fan is one of the quietest with a noise level of just 25 dBA at its maximum sound pressure level at full speed and the 6-inch size also on the other hand has a noise level of 39 dBA only.
The quiet 4-inch inline fan is a light-duty inline fan that can generate 47 CFM  and it's not suitable for Carbon Filter Applications.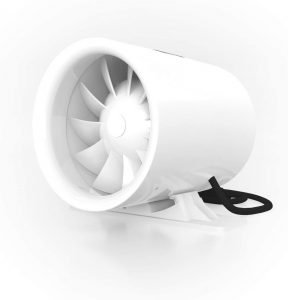 For Carbon filter applications, you may want to consider the silent 6-inch inline fan which generates about 188 CFM, which greater than 150 CFM airflow.
These fans can be used as intake fans to bring fresh air to Grow Rooms. They can also be used as exhaust fans in small Grow areas setups with LEDs or Lights under 600W.
Just a side note, these fans are not suitable for fireplace or furnace applications. They come with a 2-year warranty.
---
3). iPower 6 Inch Inline Duct Ventilation Fan
iPower is the leading manufacturer of grow light systems; supplying gardeners, worldwide, for over a decade.
The iPower line of fans is a good mid-range series of inline fans. It doesn't come with all of the bells and whistles in one neat package, so if you're looking for more than just a fan, this may disappoint.  Extremely bare-bones, you're likely to get a corded fan in this box and little else.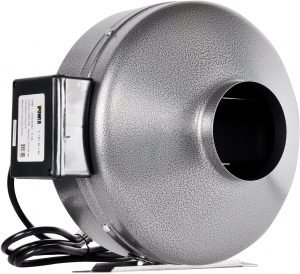 But having said that, the fan tends to have a reasonably decent lifespan and maybe slightly easier for a beginner to install.
It is noisier than most of the others on the list with a noise level of 65 dBA and 442 CFM, but that may not be a drawback if you're venting an outdoor greenhouse.
This inline fan is suitable for industrial, household, and horticulture ventilation applications for air clean and temperature control.
---
4). VIVOSUN 6" Inline Duct Fan
This energy-efficient and the low product is designed for enhanced boost and minimum noise. The special motor uses a permanently lubricated bearing. This is an exhaust intake fan with an extra-long 5.5' grounded Power Cord.
Moreover, it operates peacefully without requiring maintenance. This makes it a hassle-free choice. Sounds cool, eh?  The system sorts out the issues of air delivery without putting a burden on your pocket.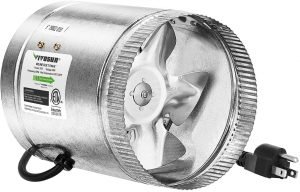 It is suitable to boost airflow in HVAC units to remove exhausts and odors from bathrooms, workshops and ventilate basements, attics, etc. It is also used as an intake fan to bring fresh air into grow rooms.
The fan is fluted on both ends to receive ducting. The metallic blades are balanced for efficient air supply and exhausting air. You can install it at any location including bathrooms, attics, grow tents, greenhouses, and many more.
---
How to Choose a Quiet Inline Exhaust Fan
If you have never bought a Silent inline fan before, you maybe be confused as to what to look out for. There are a few important factors to consider when you are thinking of purchasing an inline fan for your room.  Keep in mind how each of these factors applies to your space.
Airflow
The airflow is measured in CFM ( cubic feet per minute). This should be equal to the cubic feet of your space, plus 10% more if you are cooling a room that has direct sunlight or hot summers or heating a room that is quite drafty, etc.
For example, imagine you have an 8' x 4' x 12' room. This is 384 cubic feet of space (4 x 4 x 8). Let's now imagine you wanted to exchange all of the air inside that room with fresh air once per minute. You might think you need a fan rated at 384 CFM, but you'd be wrong.
According to experts, it is always a good idea to multiply the cubic feet of your available space by at least 1.33 to account for any airflow drop to any filters that may be attached to your ventilation system.
Noise Level
The noise levels of fans are often indicated using a decibel or sone unit of measurement. Just how quiet does it need to be? If so, be prepared to not only get one of these super-quiet models but also use the tips in the introduction to help reduce noise further.
Placement
Is the fan going to be visible? If so, it might be worth getting one that looks good. If not, focus on function not form. Is it going to be easy to reach the controls? Do you need remote control or can you easily change dials that will be on the fan?
Benefits of Using An Inline Fan
Reduced Noise
The further a noise source is from you, the quieter it gets. So as the fan location is further away from the roofspace and not directly above you, the noise levels within the room you are extracting from will be less. Additionally, if you purchase a quiet inline fan, it will give quiet ventilation.
High Power
You can get some really powerful motor inline fans that are not often available in a standard ceiling mounted or wall mounted extraction fan.
Length of Duct Run
Inline fans are designed to work with ducting. This makes them useful if you have a long distance from the extraction point to the outlet.
For example, if you want to extract your bathroom to a roof vent and the distance is relatively long (6m or more). This makes the fans useful for other applications such as heat transfer and sub-floor ventilation.
More than One intake Point
With multiple-ports inline fans, it is possible to create multiple inlets or outlets. This makes them particularly useful if you have a large bathroom and wish to have more than one intake point or you cant to connect to more than one room. Instead of buying more than one fan, you can use the multiple-port version.
Final Thoughts on the Quietest Inline Fan
After searching through a vast amount of quiet inline fans, I found that the AC Infinity Cloudline S6 high-output model outdid its competitors in every regard.
This fan is capable of pushing out speeds that are comparable to 10" models of other brands. It's uncommon to find an inline fan that's incredibly powerful, well-built, and overall quiet.
The AC Infinity Cloudline S6 high-output model fits the bill in every respect.
However, if you are on a tight budget, you can choose the TerraBloom models, they are affordable and also come in different sizes to meet your ventilation and exhaust needs.