Quietest Pedestal Fan: 5 Best Quiet Standing Fans for Cool Breeze
Looking for the quietest pedestal fan to blow away the heat?. Perfect, then you've come to the right place. In this guide, you will learn the following:
What a pedestal fan is
How a pedestal fan works
Our top-rated quiet pedestal fan picks
How to choose a quiet pedestal fan
And more…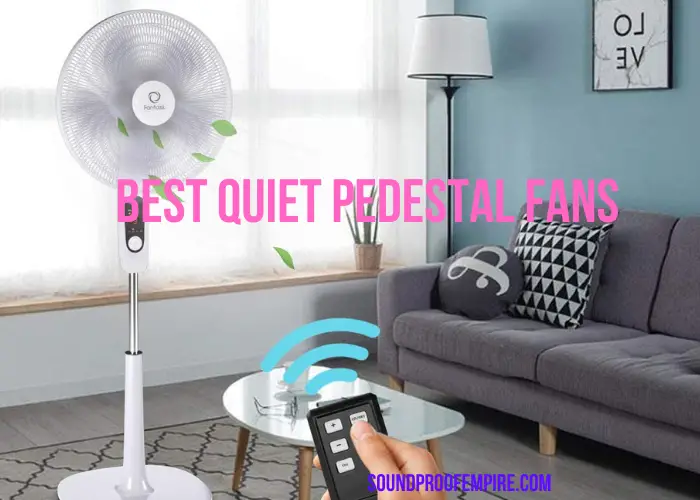 Quick Preview of the Quietest Pedestal Fan Picks
In a hurry?. I understand. Here is an overview of the best quiet pedestal fans in this guide that will blow away the heat and cool you down without noise.
To many of us, you buying a pedestal is one of the last items on our list of exciting home purchases. But when temps start climbing north of 80 degrees and when you at your electric bill, it causes heart palpations, this will make you really appreciate turning off the AC in favor of an energy-saving appliance that does a solid job of cooling off the heat in the room.
Investing in a quiet pedestal fan in the summertime is a lifesaver to cool off without the AC and prevent you from sweating off your electric bills.
If you want a model that is practical, quiet, reliable, and affordable, there's no shortage of options on the market. Some are even more aesthetically pleasing for those who are design-obsessed.
Today, I have done deep research and curated some of the best quiet standing fans that will help you make an informed decision. Keep reading to find out more…
Also Read:
What is Pedestal Fan and How Does It Work?
Pedestal fans are electrical-powered devices that may be used to circulate a cool breeze around the room. 
Pedestal fans are also referred to as oscillating fans. They have an adjustable metal stand so the head of the fan can be set anywhere from 2 to 4 feet off the ground. The head is connected to the pedestal on a platform which can be angled up or down.
The fan head contains the electronics that cause the fan to move to consist of an AC electric motor with its secondary output connected to a worm gear at the base of the platform.
There are single-speed pedestal fans and multi-speed pedestal fans which are a little more complex than their single-speed counterparts. Single-speed pedestal fans use a single-phase AC induction motor which multi-speed pedestal fans use a voltage regulator connected to a single-phase AC synchronous motor.
There is the complexity involved in how the fan blades are attached to the spindle which extends into the motor.
1).  Vornado VFAN Sr. Pedestal Vintage Air Circulator Fan
The Vornado VFAN Sr pedestal vintage air circulator fan is one of the most versatile fans and it is very quiet at low speed and makes a nice white noise at higher speeds.
At the low speed, it has 348 CFM with a noise level of 41 decibels and the high speed has 613 CFM with a noise level of 53 decibels. Which is considered a very quiet pedestal fan.

It has an authentic, classic design, durable metal constructions that provide you a comfortable, whole room air circulation via the company signature Vortex action. It has a timeless design that will make it fit into any room easily and make a good blend with the decor.
This fan has three-speed settings that you can change from low, medium to high. It also features a full action pivot head for multidirectional airflow and stands that you can adjust its height from 42 " to 55 ".
This fan comes with a 5-year warranty, which illustrates the trust the manufacturer has in this product quality.
---
2). TaoTronics Pedestal Oscillating Standing Fan
This TaoTronics pedestal oscillating standing fan features a brushless DC motor and 7 blades that quietly produce a steady airflow and its super quiet with a noise level of 38 dB.
It has a great air circulation performance, it works in a tandem with air conditioning to quickly circulate cool air to the room with a 90-degree tiltable head and up to a 3.93 ft adjustable height.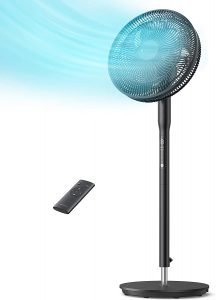 It also features personalized cooling settings: 3 modes including normal for home, nature
for office, and Sleep for the night. 9-speed levels under Normal mode to precisely control the airflow, or press the turbo button to generate a much faster wind to refresh the air in no time.
You also have the option to choose either 60-degree or 90-degree, or 120-degree oscillation angles to cover everyone in the room.
This quiet standing fan comes with remote control, so you can take charge of all the functions without leaving your sofa or bed.
---
3). PELONIS Silent Turbo Standing Adjustable Fan
This PELONIS silent turbo standing fan is can boast of 12-speed settings/ 3 wind modes. It has auto-dimming display LED lights that provide readings where you can control the settings with a modern remote control panel.
The 12 speed DC motor fan allows for ultra-quiet operation as low as 35 dB, ensuring a peaceful environment in any room, makes you fall asleep without disturb.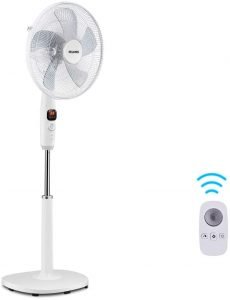 It is equipped with a brushless DC motor, and air blades that are quiet and also powerful at producing strong airflow.  The quiet operation offers ultimate silence at each level of speed making it ideal for home or office.
This fan requires minimal assembling and it comes with a 1-year manufacturer warranty.
---
4). Aikoper Pedestal Fan
This pedestal fan is available in two colors; white and black piano colors to choose from. It is equipped with a DC motor to reduce the noise, which will not interfere with your sleep or conversations. This 5- bladed fan produces powerful airspeed and circulation.
The fan features 12 oscillating speeds with power-off memory that allows you to customize your breeze preference.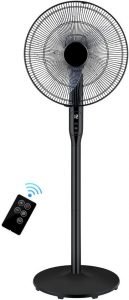 With the 85 degrees oscillation and tilt head, you can share the breeze with your entire family and save energy.
Therefore, if you need a fan to beat the heat, but also want an aesthetically designed unit for modern indoor spaces, this pedestal is a good option. It has an elegant design and a classic look that makes it fit into any decorative style.
The remote control and a 12-hour automatic turn-off automatically allow you to fall asleep without worry.
Overall, this fan is quiet and easy to assembly out of the box.
---
5). COSTWAY Pedestal Fan
You wouldn't think COSTWAY would be a fantastic fan manufacturer, but they've really nailed it with this one!
Though not the most well-known, this fan has one of the best customer satisfaction rates on the market.
Why? I believe it's because it's such a great all-rounder.
5 large blades, self-timer, adjustable height, quiet operation, and a remote – all for a very, very fair price.
When you give people everything they want for a great price you get happy customers. And that's what COSTWAY has here.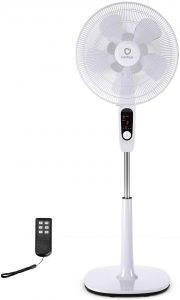 The model does fall short in terms of overall quality feel and only 3-speed settings, but in terms of delivery, it's just as good as the top models.
Featuring a concise and modern pedestal fan, it can be adjusted vertically from 44" to 53" in order to meet your different needs. No matter lower or higher you want to set, you can just use the positioning knob to keep the exact height.
It comes up with a remote control that enables you to set your speed, fix your time or adjust your wind power from distance. And it is also equipped with a LED display which presents clearly to you the wind mode and the fixed time.
---
Factors to Consider When Choosing a Quiet Pedestal Fan
Pedestal fans have become a part of most household cooling systems especially those looking to cut down their electrical bills. These fast oscillating, portable fans can cool down any space in your home. Here are some factors to consider when choosing a quiet pedestal fan.
Portability
Most pedestal fans are portable and are usually light and can easily be moved around. This makes them a perfect home device for families, who wish to move the fan between different rooms throughout the day and night. You can even take it with you when traveling.
Noise Level
High-end pedestal fans are super quiet- which means you no longer have the battle of deciding whether it's the heat or the noise that is disturbing you during the night!. Also with many consumers now been cautious of noise, manufacturers are also making affordable fans that have low noise.
Luckily, all the pedestal fans in this guide are all quiet in operation.
Airflow
Pedestal fans are known for their powerful air delivery which is measured in cubic meters per minute (CMM). This stands for the volume of air pushed out per minute. The more air that the fan pushes out, the stronger the breeze will be. The CMM is also independent of the space the fan is placed. For indoor fans, you can choose CMM range from about 60-100 CMM. But for the outdoors, you can go for higher CMM.
Speed
In the market, you will find different pedestal fans with different speed settings. The fan speed is measured by rotation per minute. So, the faster the fan spins, the faster is the cooling. A pedestal fan with an RPM of 1300 will be considered a normal pedestal fan while those with around 2100 RPM would be considered high speed. For indoors use at homes, anywhere between 1300-1400 RPM is good.
Durability
Another factor to consider when choosing a pedestal fan is the type of material that the fan is made with. It could be metal or plastic. The metal pedestal fans are more durable and sturdier while the ones made with plastic are lighter which makes it easier to move from one place to another. You may also want to consider the chances of rusting, maintenance needs, and hours of usage before making a purchase.
Convenience
With the innovative technology, pedestal fans are no longer viewed as generic household appliances. With the likes of Crompton has introduced fans like Hi Flo Aveia, SilentPro PentaFlow, etc which makes pedestal fans with remote control function, this helps you control your fan with the click of a button from a convenient place.
Affordability
The prices of pedestal fans vary depending on the features and size. The high-end models have high price tags. But that doesn't mean if you want to get something affordable is impossible. There are quiet pedestal fans at affordable prices with minimal features for those on a tight budget
Final Thoughts on the Quietest Pedestal Fans
With the numerous pedestal fans in the market, it can be confusing deciding on which one you should purchase. With the above-mentioned quiet pedestal fans, you will be able to make an informed decision. Hopefully, this was helpful to you.