Quietest Desk Fan:5 Best Quiet Desktop Fans for Office and Home
Looking for the best quietest desk fan for your office or bedroom?. Perfect, then you've come to the right place. In this guide, you can expect to learn the following:
What is a desk fan is
How desktop fans work
Our top-rated quietest desk fan picks
Factors to consider when choosing a quiet desk fan
Benefits of using a desk fan
And more…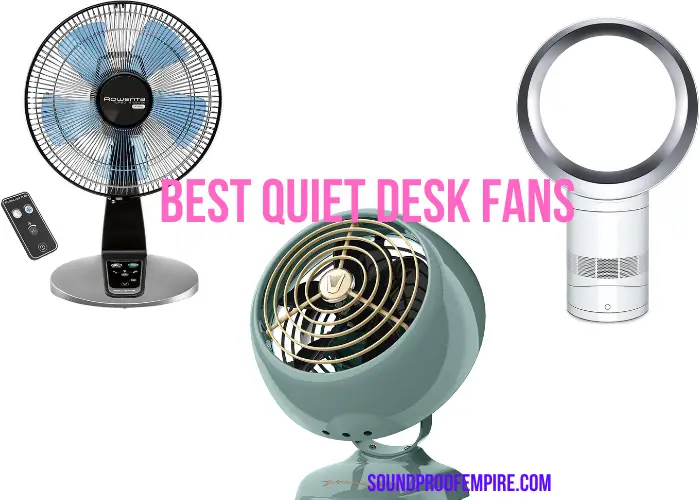 Quick Preview of the Best Quietest Desk Fans for Office or Home
In a hurry?. I understand. Here is a quick overview of the best quiet desk fan picks in this guide that will help in cooling you down in your own personal space.
Dyson Air Multiplier AM06 10 Inch Table Fan (Best Overall)
Rowenta Turbo Silence Table Fan with Remote Control (Best Value for Money)
Honeywell Quiet Set Personal Table Fan ( Best Budget )
Whether you are struggling to keep cool at your workspace in an office with not-so-great airflow or your bedroom fan isn't cooling you down enough, a desk fan is an excellent and cost-effective way to keep cool as temperatures rise.
The right desk fan can transform a stuffy office into a climate personalized to your needs.
When it comes to options, there's a wide variety: from fans that cost more than an in-window AC unit to grab-and-go battery-powered options. While some come with remotes, others are designed to plug into your computer's USB port.
Using a fan in an office space especially in a shared office space requires careful noise consideration so as to not disturb others' concentration.
With the many desk fans on the market, it can be difficult to ascertain which brands or models are quiet and powerful enough to cool you down with little to no noise when on.
That's why I have done deep research and curated the best quiet desktop fans that are suitable for office and home, in order for you to make an informed decision. So, keep reading to find out more…
Also Read:
What is a Desk Fan and How Does It Work?
A desk fan is a type of fan that is small in size and is usually very portable so that it can easily be moved around and placed on a desktop without being unwieldy or taking up too much space.
Generally, desk fans are used in offices, bedrooms, and schools during the hot months,  by providing an easy cooling source without the expense of air conditioning.
Some desk fans are stationary while others have swiveling heads or a rotating grille that creates an oscillating effect that is similar to that of most larger floor fans but in a much smaller package.
The variation in the sizes, power source, and functionality of a typical desktop fan makes it a feasible cooling option for most offices and schools.
Typically, desk fans are made of plastic, which makes them much lighter than some of the heavier metal floor fans. Also, desk fans are often outfitted with a handle, cord, or even bag that makes the fan easier to carry.
A desktop fan is made with a single-phase induction motor which is the main part of it. When the fan is switched on, the current reaches the fan motor, the coils that are wrapped around the motor are induced, then the electric current generates and the fan blades begin to rotate.
This is a simplified explanation of how the desk fan work.
The Best Quiet Desk Fans
1). Dyson Air Multiplier AM06 10 Inch Table Fan
This quiet desk fan is something most homeowners and office workers dream of owning. This because they said it's one of the best quiet bladeless desk fans in the market. The only downside to it is the price.
It has a noise level of 50 dB at its maximum speed.
This desk fan has a unique innovative design, it is bladeless and can fit well into any modern room decor and also makes it safe to use around both children and pets.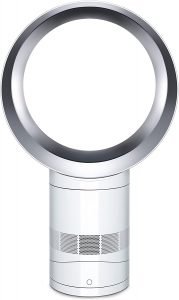 It's energy-efficient, has a built-in timer that ranges from 15 minutes to 9 hours. It's also remote-controlled for when you want to adjust its setting from afar.
With its Air Multiplier Technology, you'll be amazed at the consistency of the air it blows. You'll be able to feel uninterrupted, high-velocity, cooling airflow.
The only downside of this fan is its price. It is quite expensive but it's well worth the investment also.
This fan comes with a 2-year limited warranty when purchased from Dyson or an authorized reseller and includes triple-A batteries.
---
2). Honeywell Quiet Set Personal Table Fan
Honeywell is another reputable brand that makes cooling systems like fans, air conditioners, etc.
This HTF210B personal table fan model stands at 13 inches, is quiet, and is powered by a DC brushless motor to ensure total silence.

The Honeywell QuietSet Slim Mini Tower Fan has an oscillating feature and also lets you adjust the cooling power by offering 4 levels of quiet operation.
It features revolutionary QuietSet technology and a sleek design that won't take up too much space in your home or office.
The desk fan also comes with a timer to add convenience, especially if you're the type who usually turns off the fan in the middle of the night because it gets too cold.
---
With this quiet table fan, there are three available colors to choose from; rose pink, white, and green.
It is also an innovative bladeless fan with a safe air inlet grille, reference fluid dynamic design that increases air volume while blowing out soft air and that ensures safety for children and pets.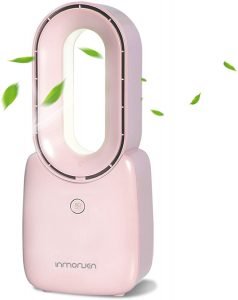 This fan is versatile that is battery powered. It is charged with a USB cord and when fully charged, it can last up to 3-6 hours depending on the different wind speeds.
It is also very lightweight, only weighing 580g, has a portable design, no matter where you are, it can meet your needs at any time.
The colorful gradient LED lights create a warm atmosphere with light. It is also very easy to clean. Simply get a wet rug and wipe it down.
---
4). Vornado VFAN Mini Classic Personal Vintage Air Circulator Fan
Those of us in love with green color will be interested in a beauty like this fan. It is stylish and vintage at the same time.
This VFAN Mini Classic brings together sturdy metal construction with authentic Vornado VFAN styling.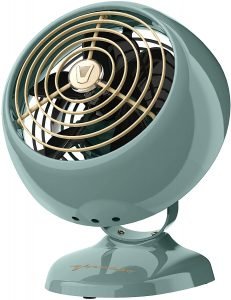 You get personal comfort in the form of our signature Vortex Action, 2-speed settings, and a full action pivot head for multi-directional airflow.
This desk fan will make a great addition to any office or room. It comes with a 5-year  hassle-free guarantee from the company.
---
5). Rowenta Turbo Silence Table Fan with Remote Control
The VU26600U2 Turbo Silence Extreme 12" Table Fan is one of the most powerful, quietest desk fans by Rowenta.  It has a high-end design with black color and a metallic-silver finish for sleek, modern appeal.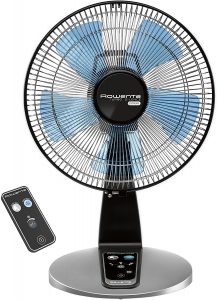 It delivers silent performance at each speed with a noise level of 35dBA.This whisper-quiet desk fan is high quality in performance and is perfect for home or office use.
This fan moves a lot of air at any speed!" Several folks acknowledge that the price is relatively high, especially for a desk fan, but, as one explains, "Super-expensive and worth every dang penny.
It also comes with remote control with onboard storage for convenience.
Factors to Consider When Choosing a Silent Desk Fan
In recent years, fans have undergone some tremendous innovation and development.
This makes it possible to be able to get a near-silent desk fan that comes with some impressive features that any other fan has.
But when it comes to choosing a quiet desk fan,  there are other considerations to consider in order to choose the right desk fan that meets your needs.
Here are some factors to guide you especially if you are purchasing one for the first time.
Airflow Capacity
Airflow which is measured in cubic feet per minute(CFM) is the unit of measurement that determines the amount of air a fan can move at it maximum speed. Most good desk fans have a CFM of between 150 to 200.
Noise Level
To be in search of a quiet fan means you are actually concerned about the amount of noise that the fan should make.
Well, desk fans are amount some of the quietest room fans available. The noise level of desk fans is measured in decibels (dB).
The low this number is the quieter the fan will be. The good news is that most desk fans have a noise level between 30 – 50 dB, which is below the average noise most households make.
Oscillation
Fan oscillation refers to the direction of airflow as the fan spins during its operation. Whether you have a tower fan or a standard axial flow fan, the oscillation capacity determines the volume of air circulation in a given space.
Oscillating fans provide more efficient cooling as they rotate, which allows for better airflow around the room.
The higher the oscillation, the more airflow the fan delivers, and the wider area it cools.
Fan oscillation varies from model to model; some fans have no oscillation at all while others feature 180 to 360-degree oscillation.
Power Source
Just like most fans need a power source to operate,  desk fans do also. Most quiet desk fans are powered by a power cord that you can connect to the socket or a  USB cord that you can connect to the computer.
Some are also using rechargeable batteries as their power source. This power source is versatile and comes with such desk fans ideal for remote areas like campgrounds and among others.
Design
Desktop fans come in different designs. Some are bladeless, tower fans, and others are miniature pedestal fans which makes them fit into modern room decors easily.
Depending on your office setup and design, you can easily get one that will move effectively o suit your position.
Size
Most desk fans are small. However, you should still consider a fan's size to ensure that it fits the space intended for its use.
The ideal desk fan should be compact, slim, flat, and lightweight to avoid taking up unnecessary space or distracting you as you work.
Durability
Metallic fans are more durable than plastic fans. But plastic fans are much quieter. Ensure that your fan is sturdy and durable to meet your needs. Usually, a desk fan gets placed on an elevated surface and there's a risk of falling.
A durable desk fan will save you money in the long run as it will most likely last longer through the wear and tear of daily use than a flimsier fan.
Functionality
A typical desk fan uses either of these technologies below to move the air around for the cooling effect to take place:
Bladeless technology
Horizontal axial flow technology (pedestal fans)
Vertical airflow technology (tower fans)
Bladeless fans use hidden blades in their base to dispel air thereby creating a directed breeze.
Desktop fans that use horizontal axial flow technology have an impeller shaft at the center, which typically rotates parallel to the spoke and blows air through a safety grill.
The impeller shaft in tower fans which uses vertical airflow technology has a vertical orientation that pushes air both up and down.
Of all three types of fans, the safest one is the bladeless desk fan because the blades are hidden from the eyes and are generally safe for kids and pets.
Budget
Depending on your budget, you will get a desk fan according. There are some you can get for less than $20, while on the other hand, desk fans with more features and better design, can go for a couple of hundred dollars.
Unless your budget is unlimited, you'll probably have to compromise on the features or the cost. However, the Fancii Small Personal USB Desk Fan is a high-quality fan at an affordable price.
Benefits of Using a  Quiet Desk Fan
If you are in an office or any room that lacks air circulation or poor air quality is getting you down, then it might be time to invest in a small, compact desktop fan. Here are some motivations for you.
Improve Air Circulation
If you find yourself at your desk whether in the office or at home and the breeze just doesn't find its way to you, then it will benefit you greatly to get a quiet desk fan. It will improve the air circulation and the air quality in your personal space.
Takes Up Less Space
Table fans are very portable because of their small nature. They come in different varieties, sizes, and styles.
You can place it at the edge of the table, nightstand, or desk, or any elevated surface that is high enough to get the airflow to you.
You can also take them outdoors to remote areas if they are battery-powered.
Desktop Fans are Versatile
One of the greatest things about desktop fans is that they can be used for so many things.
You can use them in the kitchen to stay cool during the hot days, you can use them to help you dry your next batch of handmade pasta, use them to improve air quality in any room, or even dry wet paint, etc.
Energy Saving
No need to blast out your AC if you can easily cool down with a desk fan which is far more energy-efficient.
Desk fans use a small amount of current to power up or they are even powered by a battery. This makes them very economical and budget-friendly.
Final Thoughts on the Quietest Desk Fans
Desktop fans are some of the quietest, portable, and most affordable fans in the industry. They are versatile to uses and provide the needed cool breeze that any area that is air stuffed would need.
The above quiet desk fans are some of the best desk fans for office, school, or home space. They have unique designs that will enable them to fit into any space seamlessly.
I hope you found this guide helpful.
Latest posts by Josephine
(see all)