Wondering what is the quietest gas pressure washer?. Then you've come to the right place. In this guide, you can expect to learn the following:
Benefits of gas pressure washer
What can you clean with a gas pressure washer
Our top-rated gas pressure washer
Gas pressure washer buying guide
Final Thoughts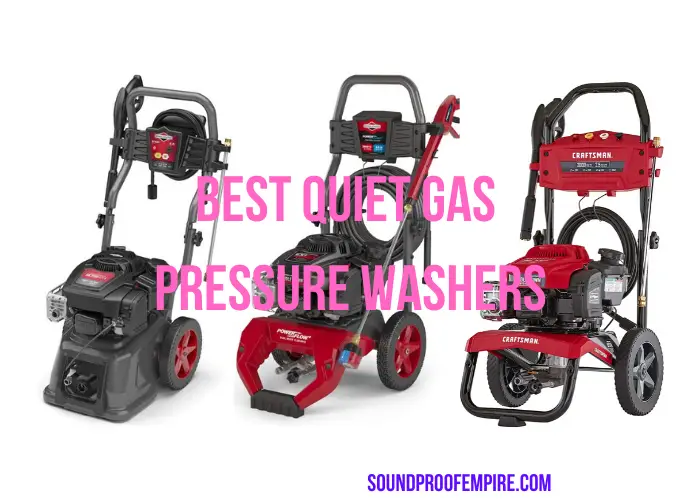 In a HURRY?, Here is a quick table preview of our best quiet gas pressure washer picks. If you want to learn more about silent gas pressure washers, then keep reading this guide.
There are two ways a pressure washer can be powered. It can be powered by either a gas engine or an electric motor. There is a clear difference between the two types of pressure washers.
In this guide, I will be talking about quiet gas pressure washers that allow you to remove grime, dirt, the nasty oil spills, and more with less noise and vibrations.
Gas pressure washers are not the quietest pressure washers you will find. But there are some manufacturers that have put in the extra effort to make sure they produce powerful, reliable, and quieter gas pressure washers for those of us you are noise averse or don't want to annoy our neighbors with the loud noise that pressure washers make when in operation.
Here in this guide, you will find some of the best quiet gas pressure washers that deliver powerful washing with less noise.
Benefits of Gas Pressure Washer
Typically, gas pressure washers are common in rural areas, where there is a lot of terrain and no power source. They are useful in instances where there is no source of electricity available for any connection.
Gas pressure washers are also good for construction sites so that workers don't trip on the wires that come with electric pressure washers.
Another strength of a gas power washer is that they have larger PSI output which makes them more powerful and stronger than their electric counterparts.
Gas pressure washers are more suitable for heavy-duty work because the stronger the motor, the larger the electricity bills, and if you want to cut down on energy usage, then gas pressure washer is a better option.
Related reads:
Best quiet electric pressure washers
Best Quiet Gas Pressure Washer Reviews
Below are reviews of some of the best quiet pressure washers you can find in the market that are powerful and reliable for your residential cleaning.
1). CRAFTSMAN 3000 PSI Gas Pressure Washer
This CRAFTSMAN gas pressure washer delivers a  maximum of 3000 PSI and has 2.5 GPM. It features an Idle down technology that reduces noise by up to 40 percent more than the standard pressure washer engine when the spray gun trigger is released and it is also designed to reduce fuel consumption.
Unlike some pressure washers which are hard to start, this power washer has an axial cam pump with an easy-to-start technology that is able to provide high-pressure output with its reliable pressure pump.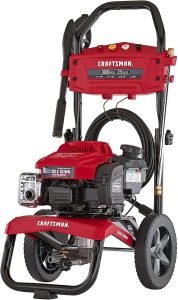 This product also comes with 4 easy to-connect nozzles (0°, 15°, 40°, and soap) which makes it easy to power wash a wide variety of surfaces. 
The 25-foot flexible hose makes for fewer kinks while cleaning and easier storage. You can easily maneuver while cleaning with it.
With this gas pressure washer, you can easily insert your preferred 32-ounce concentrate in direct from the soap concentrate system or put the detergent into the water stream through the siphon hose for more thorough cleaning.
This washer has an easy-to-maintain engine that doesn't prime nor chokes and you don't need to change oils too with the Briggs & Stratton 190cc Engine featuring Ready Start and just check & add technology.
This product is proudly made in the USA, so you can trust its quality. Plus, the power washer is backed by a three-year limited frame warranty and two-year limited engine and equipment warranty.
---
2). Briggs & Stratton 3100 PSI Pressure Washer
This Briggs & Stratton pressure gas pressure washer features a Powerflow and Technology Dual Mode Cleaning with one easy twist and 7 ways of cleaning. Its Idle down technology helps you achieve a 40% quieter operation making it one of the quietest gas pressure washers.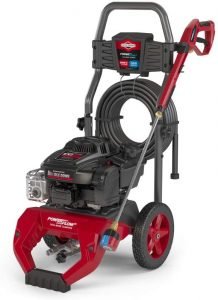 Powered by a reliable Briggs & Stratton EXi875 Series engine, this pressure washer allows you to switch between High Pressure and High Flow modes to accomplish your toughest cleaning jobs in no time. With the High pressure 3100 MAX PSI at 2. 1 GPM* / High flow 4. 5 MAX GPM at 150 PSI*.
The high flow setting can also allow you to clean the hard to reach areas such as second-story windows, RVs, or more. While the high-pressure settings are great for cleaning things and places like patio furniture, pavement, and single-story homes.
This other cool feature is the Just Check & Add technology which means that you never have to change the oil for the life of the engine.
3). YARD FORCE YF3100ES-R 3100 PSI Pressure Washer
The YF3100ES-R Remote Electric Start Gas Pressure Washer has set a new benchmark in gas-powered pressure washers.
This is because this gas pressure washer is powered by a compact 20 V lithium-ion battery which can work up to 100 ' away from the pressure washer. The charged battery can give you up to 100 starts with the start and stop press button.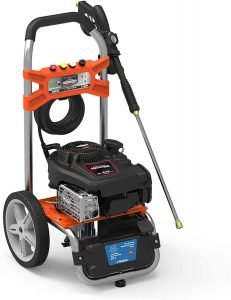 The one-gallon super soap tank provides a longer time between fill-ups while cleaning and the 12" PVC-wrapped wheels roll over all-terrain, over curbs and upstairs.
This pressure washer delivers 3100 PSI @ 2. 4 GPM and comes with 4 quick connect nozzles ( 0°, 25°, 40°, and soap), a spray gun with metal, 25-foot non-marrying horse, and a 1. 5 Ah 20v lithium-ion battery and charger. The engine and pump are backed by 2-year.
4).  Champion 3200 PSI 2.4 GPM Pressure Washer
Whether your outdoor cleaning project involves your deck, outdoor furniture, siding, fence, driveway, car, truck, boat, RV, farm equipment, or something else, Champion's dolly-style pressure washer is designed for performance with a
trigger gun, wand and five nozzles

(0˚, 15˚, 25˚,40˚, soap), 25-foot high-pressure hose, 4-foot detergent hose, and two ½-gallon onboard detergent tanks.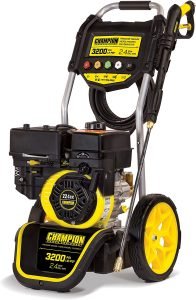 This Champion Gas Pressure Washer delivers 3200 PSI with 2.4 GPM which is backed by a 224cc single-cylinder OHV engine. This makes it powerful for heavy-duty work that requires more power to get done.
The Annovi Reverberi axial cam pump is designed for high performance and long pump life and will ensure steady nozzle pressure for consistent cleaning performance.
For quality assurance, this pressure washer is EPA-certified and CARB-compliant. It is also backed by 2-year limited warranty and FREE lifetime technical support.
---
5). Briggs & Stratton 3100 PSI  2.5GPM Gas Pressure Washer
This powerful quietest powered gas pressure washer by Briggs and & Stratton has more cleaning power compared to the one I reviewed above.
The Briggs & Stratton 3100 MAX PSI with Quiet Sense technology, help you keep the peace in your neighborhood with an engine that idles 40% quieter than competing pressure washers.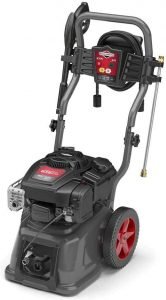 It delivers 3100 PSI  and 2.5 MAX GPM of cleaning power – enough water pressure to take on almost any job. The washer comes 4 quick-connect tips (0°, 15°, 40°, soap) that provide predefined spray patterns & allow you to easily switch between a variety of cleaning tasks.
This product is certified by the Pressure Washer Manufacturers' Association (PWMA).
---
How to Choose a Gas Pressure Washer
Finding the best gas pressure washer can be a hassle. knowing what to look for doesn't come easily to someone who has never owned a gas pressure washer before. Luckily, with this guide, you can save yourself a lot of time by using these factors here to guide you.
The PSI And GPM Output
The pressure on square inch(PSI) and the gallons per minute(GPM). These numbers multiple together tell you how powerful the pressure washer is. The PSI tells you how strong the water pressure is and the GPM number also tells you how many gallons of water flow through the pressure washer per minute.
Cleaning Power Units (CPU)
The ability of the pressure washer to clean deeply and effectively is determined by the multiplication of the gallons per minute (GPM)  x Pound per square inch (PSI), which is equal to the cleaning power unit(CPU). The greater this number, the more powerful the washer is.
Terrain
Where are you going to be using your pressure washer and how accessible is the terrain?. If the terrain is rough, some pressure washers are built low and can climb. You will need a welded frame that will protect the engine and the pump.
Budget
The price of gas power washers varies a lot. Gas-powered residential pressure washers range from a couple of hundred to thousands of dollars. If you need a powerful and reliable washer with larger pressure output, then you need to invest more money
What Can You Clean with Gas Pressure Washer?
Cleaning with a gas pressure washer is very helpful. They can be used for all sorts of cleaning jobs. Whether it is for residential purposes or commercial. However, if you want to use the gas washer for commercial use, it is advisable to choose the one that is more powerful and heavy-duty.
Below are some cleaning jobs you can do with a gas pressure washer.
Windows
Pressure washers are magnificent for window washing. You just need to ensure that the pressure output is not too high such that you can break your windows. You can check this in the user manual.
Driveways
The driveway can get dirty with all the truck marks, dirt, fallen leaves, and grass leftovers after mowing or hedge trimming or pine cones. A couple of water sprays can save you hours of broom cleaning and mopping.
Sliding
With the appropriate pressure power output, you can clean all the wear and tear marks on your siding. With a pressure washer, anything is possible. You can clean the dirt and stains off with it.
Patios
You can easily remove the built-up moss on the patio with heavier pressure and a tighter nozzle. If you require simple cleaning, then any regular PSI will do well.
Furniture
Garden furniture is usually built to withstand all sorts of weather conditions. Whether it is the rain, wind, or sunshine. Using a pressure washer to clean them is easier and much quicker. Even the strongest nozzle will not dent them.
  Paint Removal
You can even remove layers of paint with a heavy-duty power washer. Make sure to check the PSI output and GPM, as well as the engine power. You can't remove paint with regular residential cleaners.
Vehicles
One of the main uses of an electric pressure washer is washing your autos and trucks. With an electric power washer, you need not more than 25 minutes to finish your auto wash. With a couple of triggers of a spray gun and your car can be as good as new. You can even clean the car mats with ease.
Decks
A pressure cleaner can do wonders to your deck by removing all the mess and hard-to-clean creases between boards that you cant easily get rid of with your regular cleaning.
Final Thoughts
The right quiet powered gas pressure washer can perform extremely well with the cleaning. When choosing, you need to determine the type of job you need the gas pressure washer for, then choose the power level accordingly.
With these quietest gas pressure washer devices above, you can accomplish any residential task with them at a reduced noise level that won't annoy your neighbors. They are designed to be durable, reliable, and powerful for dirty and stains removal.
Latest posts by Josephine
(see all)