Quietest Pressure Washer:7 Best Silent Pressure Washers
Looking for the quietest pressure washer?. Well, then you have come to the right place. In this guide, you will learn the following:
How a pressure washer works
Electric vs gas pressure washer
Our top-rated quiet pressure washer picks
Uses of pressure washers
Final Thoughts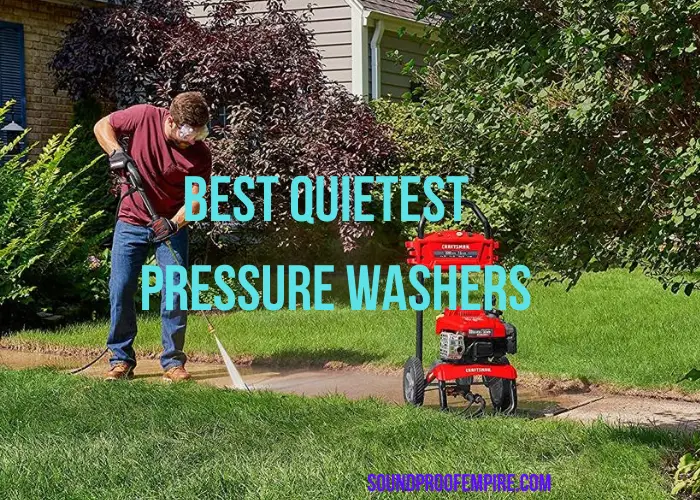 In a HURRY?, Here is a quick table preview of our best quiet gas pressure washer picks. If you want to learn more about silent gas pressure washers, then keep reading this guide.
Pressure washers are found in many households today. They are used for different purposes. Some use them for cleaning cars, passage, for cleaning walls, furniture, and more.
The two common types of pressure washers are the gas and electric pressure washers.  The most portable ones are the electric types and can easily handle light-duty jobs without problems.
However, if you want a medium to heavy-duty task done, then gas pressure washers are more powerful and cheaper on energy consumptions. They are also suitable for remote tasks where electricity may be limited or not present at all.
One common problem many people don't like about pressure washers is the noise they make when running. For this reason, many seek quieter operating pressure washers and hence the purpose of this guide.
After doing deep research and gathering user experiences, I came up with some of the best quiet electric pressure washers and the best quiet gas pressure washers. Among these quiet pressure washers, you will find one that will best suit your needs.
Quick List of the Quietest Pressure Washers
Short on time? We understand. Check out this quick overview of our favorite silent pressure washers.
How Does a Pressure Washer Work?
Pressure washers consist of two main parts – a garden hose and part air compressor. A typical pressure washer engine or motor is either fueled by gas or electricity which then powers the pump. The pump function as the water or liquid accelerator which is supplied through the garden hose to produce the high pressure that is able to remove the dirt and stains.
The washer is hooked to the high-pressure water hose. Then are the end of the hose is a water gun that remembers a pressure gun that is used at car washes. When the trigger is pulled, the water mixes with the air and comes out of the nozzles.
Pressure washers work by aggressively blasting things clean with a pressure that is similar to water jets at pressure 75 times that of a garden hose. They can also do delicate cleaning with a lower pressure by gently spraying.
Pressure washers are often rated by PSI and GPM ratings. Where the PSI and GPM stand for:
PSI( pounds per square inch): It is the Water pressure measured at the output which gives you the power to penetrate the dirt and grime.
GPM( Gallons per minute): This is the water flow delivered to the spray gun. It gives you the power to break down dirt and wash it away.
Electric vs Gas Pressure Washer: What's the Difference?
Electric pressure washers are mostly compact, quiet, and easy to move around with. They are mostly light-duty pressure washers because you don't want the pressure washer to run down your electricity supply and hick your bills.
Whereas more powerful, medium and heavy-duty models are powered by gas engines. Gas pressure washers are great for outdoors and also in areas where electricity supply is limited or not available at all. They are also great in situations like construction where stringing a cord together would be dangerous or inconvenient.
Best Quiet Pressure Washers
Pressure washers come in varying sizes and cleaning power. Many of them have a lot of noise when in operation. It can be challenging to find a powerful pressure washer that has reduced noise. Here are some of the quietest pressure washers.
1). CRAFTSMAN 3000 Max PSI at 2.1 GPM Gas Pressure Washer
This CRAFTSMAN gas pressure washer is made in the USA and is proudly powered by Briggs & Stratton engine with Idle Down Technology that makes it versatile for everyday residential cleaning tasks and it's up to 40% quieter than a standard pressure washer.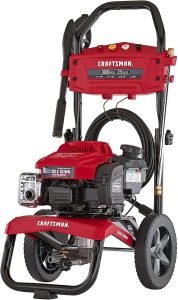 This quiet gas pressure washer is equipped with a ready start engine starting system. It starts only within two pulls. It also comes with four quick-connect spray tips or nozzles((0°, 15°, 40°, and soap) that allow you to quickly adjust the spray pattern to suit your cleaning tasks at hand.
You can boost your cleaning effectiveness by inserting your favorite concentrate in direct from the concentrate soap system or Kinect the detergent into the water stream through the siphon hose.
The 25-foot flexible hose makes for easy maneuvering and storage. The power washer is backed by a three-year limited frame warranty and two-year limited engine and equipment warranty.
---
2). Greenworks GPW2005 2000 PSI Pressure Washer
This one of the quietest electric pressure washer that can generate 2000 PSI at 1.2 GPM. This provides it with the power it needs to do light to medium-duty tasks such as cleaning cars, decks, windows, and other residential tasks. This electric pressure washer offers you good value for the money. Plus, it operates at reduced noise compared to other similar brands in the market.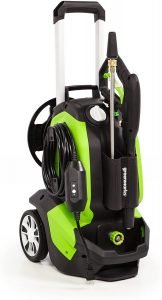 The Greenworks pressure washer comes with four metal quick connect nozzles which include; 25°, 40°, turbo nozzle, and high-pressure soap applicator. The 5″ Rear wheels allow easy mobility and make your cleaning jobs easier.
With the 35" Power cord, it is able to provide a GFCI for safety and its design makes it convenient to easily plug into your wall outlet.
---
3). Champion 3200 PSI 2.4 GPM Gas Pressure Washer
This is another gas pressure washer which can provide 3200 PSI and 2.4 GPM and its is backed by a Champion's 224cc single-cylinder OHV engine.  It comes with a trigger gun, wand, five nozzles ( (0˚, 15˚, 25˚,40˚, soap).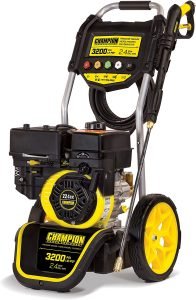 The 25-foot high-pressure hose makes it possible to reach distant areas and corners without moving the pressure washer with you. The 4-foot detergent hose and two ½-gallon onboard detergent tanks can handle a variety of jobs such as medium to heavy-duty tasks.
This 3200-PSI pressure washer performs well under pressure no matter what the job. Whether your outdoor cleaning project involves your deck, outdoor furniture, siding, fence, driveway, car, truck, boat, RV, farm equipment, or something else, Champion's dolly-style pressure washer is designed for performance.
It comes with a 2-year limited warranty with FREE lifetime technical support from dedicated experts
---
4). Sun Joe SPX3000-BLK 2030 PSI 1.76 GPM Electric Pressure Washer
This Sun Joe SPX3000-BLK model with 14.5/1800 watt motor generates up to 2030 PSI with 1,78 GPM maximum for cleaning your home and other tasks. It can be used for cleaning tasks such as RV's, buildings, homes, cars, trucks, boats, decks, driveways, patios, lawns equipment, and many more.
With 5 quick-connect spray tips(
(0º, 15º, 25º, 40º, and soap), you can tackle light, medium, and heavy-duty cleaning tasks with ease.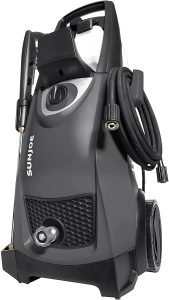 This pressure washer features a total stop system(TSS) that automatically shuts off the pump when the trigger is not engaged to help you save energy and prolong your pump life.
The dual detergent tanks with capacities of 0.9 liters each onboard which are also removable give you the option to have different types of detergent to simultaneously handle different cleaning projects.
---
5). Briggs & Stratton 3100 PSI 2.1 GPM Gas Pressure Washer
Briggs & Straton is a well-respected brand in the power equipment sector. This gas pressure washer is one of their products that features PowerFlow and Technology Dual Mode Cleaning powered by a reliable Briggs & Stratton engine. With this pressure washer, you can achieve up to 40% quieter operation with the Idle Down Technology.
This pressure washer allows you to switch between high pressure and high flow modes to be able to accomplish the toughest cleaning tasks faster.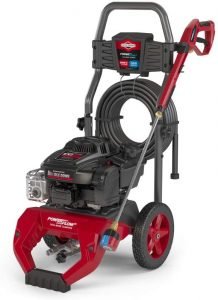 The high-pressure settings are great for cleaning jobs like pavement, patio furniture, and single-story home while the High Flow settings to clean hard-to-reach areas including second-story windows and RVs, or apply soap for your dirtiest jobs.
The Just Check & Add Technology feature means you'll never have to change the oil for the life of the engine. This washer is easy to store with its fold-down handle feature. It doesn't occupy much space.
When you're finished with the day's task, conveniently store your S3100P in small spaces with its fold-down handle.
6). AR ANNOVR REVERBERI AR390SS Electric Pressure Washer
This pressure washer is durable and powerful with 2000 PSI and 1.4 GPM. It uses 80% less water with 40% more power than the standard garden hose. It is also quieter in operation than most models.
Ideal for cleaning decks, patios, sidings, driveways, outdoor furniture, cars, trucks, RVs, ATVs, and more with one of the top-rated pressure washers motor.
It is equipped with a professional-style pressure washer gun, pressure washer wand, a 30-foot high-pressure hose, a 48 oz detergent tank, and 4 different quick-change pressure washer spray tips with each nozzle perfect different cleaning tasks.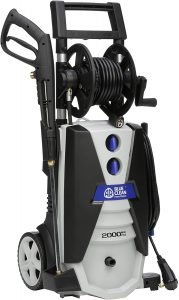 For normal high-pressure cleaning, attach the 25 degrees (Green) nozzle tip for a "fan" spray or the 0 degrees (Red) nozzle tip for a concentrated "pencil-point" high-pressure spray.
This pressure washer is certified by CSA International for safety. The AR Blue Clean 390SS-2000 PSI electric power washer is perfect for medium to heavy-duty residential cleaning projects with superior results.
For tough jobs, attach the Rotary/Turbo nozzle to increase the effective pressure spray up to 50%. The low-pressure spray Soap (Black) nozzle tip automatically activates the detergent tank for easy detergent application with the spray gun.
---
7). Powerhouse International 3000 PSI 2.2 GPM Electric Pressure Washer
This pressure washer is one of the silent pressure washers around which can deliver 3000 PSI at 2.2 GPM. This makes it the most powerful electric pressure washer on this list. It can operate even better than some gas pressure washer because of its quiet motor which stops when you release the spray gun trigger.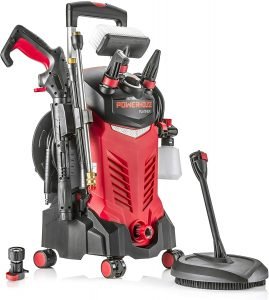 It comes with a turbo and angle nozzles, patio surface cleaner, soap foam sprayer, brush, and other accessories that make your cleaning task easy. This pressure washer has 5 quick-connect spray tips ( (0º, 15º, 25º, 40º, and watering) for car washing, gutters, and heavy-duty hydro jet power washing.
The 30-foot flexible hose makes it easier to maneuver around.
This high powered washer is equipped with the Total Stop System (TSS) trigger gun which has a trigger safety switch and our brush motor shuts off automatically when the trigger is released. This prolongs the motor life of your washer.
---
Silent Pressure Washers Buyer's Guide
Pressure washers help you clean your places and things and a pressure washer can restore a dirty or stained surface to brand new one. Therefore, when choosing a pressure washer, you ought to consider certain factors.
Here are factors to guide you in your selection.
Gas vs Electric
If your task is a light-duty one, then electric pressure washer might just do the job. The majority of them don't have much cleaning power and if you happen to get one with high cleaning power, the electrical consumption not be higher.
For medium to heavy-duty cleaning, a gas pressure washer is more powerful and efficient to get the job done. Plus, you will save on your electricity bills.
You may also want to check out the quietest gas pressure washers here.
Cleaning Power
The cleaning power of any pressure washer is determined by the pounds per square inch(PSI) and the gallons per minute(GPM). The PSI refers to how much force a pressure washer is capable of producing to propel the water stream at the cleaning surface. The GPM also refers to the amount of water the pressure washer uses to clear the dirt and grime from the surface.
The combination of the PSI and GPM determines the pressure washer performance. This is useful when you are comparing pressure washers. To calculate CP, multiply a pressure washer's maximum PSI rating by its GPM flow (CP = PSI X GPM). The higher this number is, the more powerful the pressure washer is able to clean deeply and efficiently.
There are three main types of pressure washer nozzles.
There are three main types of pressure washer nozzles. Adjustable spray nozzles allow for an easy change of the spray pattern from pinpoint to wide fan spray. Quick connect spray tips have predefined spray patterns for precise control. The Briggs & Stratton ProjectPro™ nozzle system is a unique set of nozzles with preset pressure and flow settings for different projects.
Durability
When selecting a pressure washer, make sure to consider how often you plan to use it. If you plan to use your pressure washer frequently/daily, consider a model with an OHV engine and a commercial-grade triplex pump for added performance and reliability.
Nozzles
There are three main types of pressure washer nozzles. Adjustable spray nozzles allow for an easy change of the spray pattern from pinpoint to wide fan spray. Quick connect spray tips have predefined spray patterns for precise control. The Briggs & Stratton ProjectPro™ nozzle system is a unique set of nozzles with preset pressure and flow settings for different projects.
Cleaning Systems
Pressure washers equipped with a detergent injection system automatically siphon and mix cleaning detergents into the water stream for even more effective cleaning. For added convenience, some models come with onboard detergent storage tanks.
---
Uses of a Pressure Washer
There are many uses of pressure washers. These units can save you hours of the time doing work manually. They are able to use pressure to do deep cleaning efficiently.
If you are wondering about which other tasks your pressure washer can do, here are some uses of pressure washers that you might find helpful and help you save your time on some of these activities.
Wash Vehicles
Pressure washers are commonly used to clean cars and trucks. Many people actually confirmed that using a pressure washer definitely help. But it still needs a good solid sponge or brush to get it clean.
Others also swore by using a pressure washer and an attachment brush,  you don't need any sponge finish the cleaning off. Plus, it takes you about 25 minutes to get it done. Saving you a lot of time.
Outdoor Furniture
Another popular use of pressure washer is cleaning plastic, vinyl, or wooden outdoor patio furniture. Furniture outside the room can gather a lot of dust and dirt that you need to clean off once in a while. Using a pressure washer, it is easy to clean that fast.
Driveways and Garage Floors
Cleaning driveways and garage floors seem to be the number one reason many people purchase a pressure washer. This makes sense because the driveways are the front and center of your home and need to be kept clean and that large flat surface can be a place of fun for the kids too.
Concrete and Tiles Patios
Patios are a very popular entertaining space in the summer. It's a place to put the BBQ grill and a place to hang out and have fun in the nice summer weather. That is the reason why many people use their pressure washer for cleaning there regularly.
Front Entrance Stairs and Walkways
Realtors know the importance of curb appeal when trying to sell a house and there is almost nothing as important as a clean front entrance. And a pressure washer can do the job in 10 minutes making it seem effortless. This makes your home look much better.
Home Exteriors Like Windows, Vinyl or Brick
Many users also mentioned they use the washer for keeping their brick and hiding houses. A clean house looks better visually. Also, cleaning exterior windows is another common use of these pressure washers.
Cleaning Fences
You will probably agree with me that a cleaning fence can be a lot of work if you don't have a pressure washer. You might spend hours if not days doing the cleaning manually, A pressure washer is a great unit to use to clean your home fence and it makes the work a lot easier and faster.
 Various Gear Like Lawn Mowers, Mountain Bikes, Trailers and Boats
Products like lawnmowers, mountain bikes, trailers, boats, and more can gather a lot of mud and other dirt that makes it necessary to clean them for proper functioning. These happen to be one of the common uses of pressure washers.
Grills
Pressure cleaning your BBQ grill is often thought of as taboo. But if done correctly you will not damage the electrics or make your food taste like soap.
It will only take you 10 minutes. Be sure to detach the propane and any electrical before getting started.
Tons of people own pressure washers and use them for various things. Cleaning different surfaces and things are the main use of the pressure washer and should be used accordingly but with all cautioned exercised.
Final Thoughts on the Quietest Pressure Washer
As you can see above pressure washers can in different types(electric and gas). Each type has its own pros and cons. The type of cleaning tasks you want to use the pressure washer for will determine which one you choose.
Some are designed for light-duty tasks especially the electric pressure washers while others are also designed for medium to heavy-duty jobs. So, depending on your conditions, you will choose accordingly.
Noise is one thing that many pressure washer also make and hence your search for the quietest pressure washer. Luckily, all the above-reviewed pressure washers have a quieter operation than the standard pressure washers.
You can choose between electric and gas models for your cleaning needs. If you want to save on electricity and do heavy-duty jobs, then a silent gas pressure washer is the way to go. On the other hand, if you want a washer for your everyday house cleaning that doesn't involve hard to clean tasks, then a light to medium duty pressure washer will be a great option to choose.
I hope you found this guide helpful in your search for a silent pressure washer.
Latest posts by Josephine
(see all)