Top 3 Quietest 5000 Watt Generators
Looking for the quietest 5000 watt generator for your power needs?.  Great, then you've come to the right place. In this guide, you can expect to learn the following:
Uses of 5000 watt generator
Our top-rated quietest 5000 watt generator picks
Factors to consider when choosing a quiet 5000 watt generator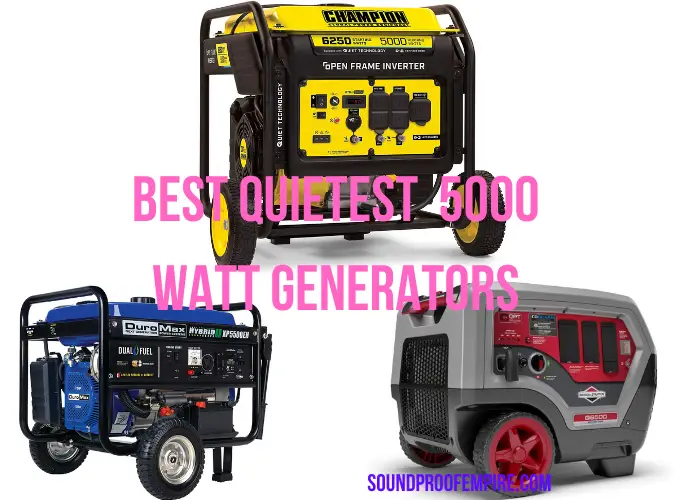 Quick Preview of the Quietest 5000 Watt Generators
In a hurry?. I understand. Here is a quick preview of the best quiet 5000 watt generator picks in this guide.
Champion 6250-Watt Open  Frame Inverter Generator with Technology (Best Value for Money)
DuroMax Dual Fuel Portable Generator ( Best Budget-Friendly )
If you live in an area prone to power outages or spend a lot of time working with tools with no dedicated power source nearby, then you ought to seek one of these 5000 watt generators available.
Versatility is probably the very reason that you're thinking of buying a 5000 watt generator. With this generator size, you get the best of both worlds. You get portability and good power both in one generator.
When it comes to finding the best 5000 watt generator, the choice can be a bit overwhelming, to say the least. The marketplace is packed with many models, and all have very different features.
In this case, we are looking for a quiet 5000 watt generator that will meet your needs without the noise. But not every 5000 watt generator is quiet.
That is why I have done deep research and have curated some of the best quiet 5000-watt generators to save you time and for you to make an informed decision.
Is 5000 Watt the Right Size for You?
5000 watts is a lot of power or depending on how you plan to use it, it may not be enough.  But when you have a serious need for power, a 5,000-watt generator has a lot to offer.
This powerful class of generators is designed to meet the basic needs of most households during a power outage. Plus, 5,000-watt generators can help you run tools at a work site or keep a large RV electrified.
A 5000 watt generator can help you power the essentials in your house during a power outage, or it can provide more than enough power to run any common heavy-duty power tools at a worksite. For RVing, a 5000 watt generator provides peace of mind that you'll never run up against an overload.
If a 5,000-watt generator is more power than you need, consider a 3,500-watt generator. Alternatively, if 5,000 watts won't meet your power demands, see what a 7,500-watt generator can do for you.
Also Read:
Top quietest 3500 watt generators
Best quietest 7500 watt generators
Best Quiet 5000 Watt Generators
5000 watt generator is the most common generator for home and domestic purposes. Here are some of the best quiet 5000-watt generators in the market.
1). Champion 6250-Watt Open  Frame Inverter Generator with Technology
This Champion Power Equipment 6250 watt open frame inverter generator is 50% quieter and is 20% lighter than a traditional 5000-watt portable generator.
With the 301cc engine, it produces 6250 starting watts, 5000 running watts and runs for 13.5 hours at a 25% load when the 4.2-gallon fuel tank is full.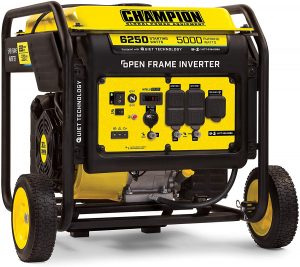 From 23 feet away, the inverter operates at a noise level of 69 dBA which is as loud as that compared to a vacuum cleaner. The noise reduction was made possible by integrating quiet technology digital inverter components in the design of this generator.
Making it a quiet, lightweight, and cost-effective solution for households, workshops, and other adventures.
It also features a low oil shut-off sensor and a quick drain oil tube for easy changes. The control panel is easy to control with a touch screen.
The foldaway handle and never-flat tires make transport and storage convenient. This fully assembled EPA-certified and CARB compliant inverter generator comes recommended for those looking for a lightweight, cost-efficient, low noise inverter generator.
Features
Starting Wattage: 6250W

Running Wattage: 5000W

Engine: 4-stroke 301cc OHV

Fuel Tank: 4.2 Gallon

Run Time: Up to 13.5 hr.

Noise Level: 69 dBA

Assembly Required: Yes

Product Dimensions: 26.6″ x 25.6″ x 23.7″
Pros
Highly fuel-efficient
Reasonable price tag
Advanced quiet technology
Lightweight frame
Cons
May decrease efficiency if not handled with care
---
2). Briggs & Stratton Q6500 Quiet Power Series Inverter Generator
This quiet inverter generator is designed to give you quiet confidence during power outages. This unit is more than 60% quieter than standard generators and it can deliver 6500 starting watts with a noise level of 66 dBA.
You can power a wide variety of electronics and devices at the same time with 120V-20A outlets (4), USB outlets (2), and a 120V-240V locking outlet.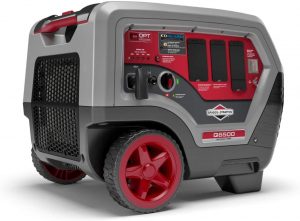 The 306cc integrated/alternator is able to provide up to 14 hours of run time. This generator is also able to deliver consistent power for essential home appliances including sensitive electronics.
It is compact, lightweight, and can be moved around without a hassle all thanks to its suitcase-style design and telescoping handle.
Features
Starting Wattage: 6250W

Running Wattage:5000W

Engine: 4-stroke 306cc OHV

Fuel Tank: 5.0 Gallon

Run Time: Up to 14 hr.

Noise level: 66 dBA

Product Dimensions: 25.5 x 21.1 x 21.4 inches
Pros
Highly fuel-efficient
Powerful engine for high wattage
Affordable price tag
Cons
It has lesser time compared to other models
---
3). DuroMax Dual Fuel Portable Generator
The DuroMax XP5500EH is designed as a user-friendly unit that provides 5,500 starting watts and 4,500 running watts of POWER.
The Dual Fuel Technology allows you to operate your generator on gas or liquid propane, giving you the freedom and flexibility of fuel choice.
This durable unit is perfect on the Jobsite and is easy to transport for tailgating or camping. The XP5500EH packs a punch and will keep you powered at home, on an RV trip, or at work.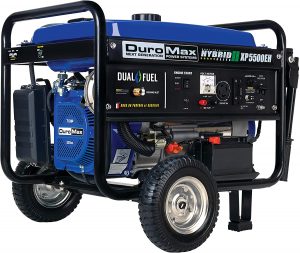 It can power heavy loads, lights, refrigerator, home air conditioner, and high amperage tools.
This generator runs on gasoline or propane, allowing you the flexibility of fuel choice and freedom.  The engine size is 224cc OHV engine and can handle multiple loads.
You also get the option to choose between operating the Generator at both 120V and 240V simultaneously, or at 120V only with full power. Ideal for usage with RVs.
Features
Starting Wattage: 5500W

Running Wattage:4500W

Engine: 4-stroke 224 cc OHV

Fuel Tank: 4.0 Gallon

Run Time: Up to 8 hr.

Noise level: 69 dBA

Product Dimensions: 25″L x 22″W x 22″H
Pros
Advanced MX7 technology
Lower noise levels
Full-metal sturdy frame
Cons
No air valves on the wheels
---
Factors to Consider When Choosing a Quiet 5000 Watt Generator
Purchasing a 5000 watt generator is a substantial investment. Therefore, you need to consider some factors that before. Here is a quick buyer's guide to help you decide which one is best for your needs.
Noise Level
There are many 5000 watt generators in the market. But not all of them are quiet in operation. The first thing to check for when looking for the quietest 5000-watt generator is the noise rating.
Manufacturers usually indicate this figure in the user manual. A general guide is to keep in mind that any generator that generates noise of over 74 dB at 23 meters is too noisy.
Conventional vs Inverter Generator
Inverter generators have become common over the years. This is because they provide clean and stable power that enable you to power your sensitive electronics.
They are also less noisy and than their conventional generators counterparts. However, they are more expensive and produce lower output power.
Engine and Output Power
The engine is the essential thing in a generator. So it is good to make sure you are purchasing a generator with a powerful and reliable engine.
Now, as we are talking about 5000-watt generators, so you are aware of the power output. But still, you need to do some work at home. Make a list of those things that you will run on your generator. And then calculate the total watts to make sure it is not above 5000 watts.
Fuel Options
Even though this may not be a very important factor to consider if you are only using the generator once in a while. But its important to consider the fuel if you are going to be using the generator on regular basis. The fuel you choose can affect your overall cost in the long run.
Generally, dual fuel generators come with gasoline and propane fuel options. This makes it easy to easily switch to any fuel source that is available and cost-effective in your area.
Portability
If the generator is mainly for use at home, then you may not be too concerned with portability. But if it is to be used at a worksite or RVing, then portability is important to help facilitate moving it around.
If you will need to move your generator from floor to floor, then you need a lifting hook. Some too come with heavy-duty tires and handles to easily move it.
Safety Features
Your generator must-have safety features like voltage surge protection, protection from overloading and overheating. Some latest models also come with low oil indications and auto shutdown in case of low oil. Such features enhance the life of the generator and keep your appliances safe from short circuits.
Paralleling Capabilities
Parallel connections allow you to power heavy equipment that can be powered with less power. With this capability, you are able to connect the same model inverters to double the output power. You can do a parallel connection with the same models.
If you decide to parallel connect different models, then you need the necessary alterations.
Warranty and Certifications
Warranty on a generator comes useful at the times of repairs during the warranty period. Hence, you must look for a generator with a warranty cover.
The industry standard for generator warranty is 1-3 years. Some brands also offer warranties up to 5 years. You must read all the terms and conditions related to the warranty agreement.
Certifications from EPA or CARB (for Californians) ensure that the exhaust of your generator and running sound is according to the government guidelines.
Price
The last thing to consider is the price. 5000 watts generators don't come cheap. We suggest that you consider all the features before deciding your budget. A generator is not something you buy every 6-8 months.
How to Make a Generator More Quiet
Generally, generators are known to be noisy the more powerful they are the more noise they produce.  This doesn't mean that you can't get a generator that is quieter and you can even reduce the noise more by implementing these tricks and tips outlined below here.
Replace the Muffler
To reduce the noise level of your 5000 watt generator, you need to change the muffler that the generator came with to a larger and efficient one.
The purpose of the muffler is to work to silence or muffle the sound that is been produced through the generator's exhaust pipe.
A muffler with perforated tubes inside will work properly to deflect sound waves from the engine through the exhaust. This will intend to reduce the noise that is leaving the exhaust. Get a muffler that has full performance and delivers the best results.
Use a Sound Deflector
Using a sound deflector correctly can effectively deflect the noise of the generator down to earth.
To build a deflector, you need 3 sheets of plywood and one sheet of non-inflammable material. The measurement of the sheets of wood should be about 4 inches wide and 3 inches tall.
Place the sheets of wood against the generator at about 45 angles, while placing the non-flammable material on the exhaust area.
By so doing, the sheets of wood at that angle allow the airflow while reducing the noise significantly.
Use a Muffler Box
Building a generator muffler box is one of the best ways to contain sound within a space. This way, you simply reduce the generator noise by placing it inside the muffler box.
To build a generator muffler box, you will need wood to do so with sound deflectors. There should be holes in the box to allow airflow and heat dissipation. Otherwise, the heat will damage the generator.
Place it on Anti-vibration Mat
Anti-vibration mats are another way to further reduce noise. You can get some at your local home improvement store or online.
They are designed to absorb and reduce shock from heavy equipment like generators, washing machines, dishwashers, etc.
 Move the Generator Away from You
The further away you are from the source of the noise the less noisy it becomes. Putting the generator at a distance away from you will help reduce its noise. The distance will depend on the available space and length of your extension cords.
If space isn't a problem, then take your generator away by about 20'. This distance is enough to drastically reduce the noise levels of your generator.
Face the Exhaust Pipes Away from You
By facing the generator exhaust pipes away from you, you would have reduced the noise by a significant level. Some generator models allow you to point the exhaust pipes to the sky.
You can use this Camco Gen-Turi RV generator exhaust venting system to reduce the generator fumes and noise, especially in your RV. It is easy to install and disconnect.
If this is possible with yours, do the same. It directs the noise in an opposite direction so it disturbs you less.
Use Water as a Muffler
Instead of replacing the exhaust muffler on the generator, you can use water as the muffler. This technique requires care to prevent the water from entering the exhaust.
To do this, use a 5-gallon bucket filled with water, a hose, and a clamp to secure the hose to the generator's exhaust pipe.
To prevent the backflow of water into the exhaust, keep the water lower than the generator.
Use Water as A Muffler
You can use water instead of replacing the exhaust mufflers on your generator. To do this, you will need a 5-gallon bucket filled with water, a hose, and a clamp to secure the hose to the generator's exhaust pipe.
To prevent the backflow of water into the exhaust, keep the water lower than the generator.
Connect one end of the hose to the exhaust and clamp it. Then place the other end inside the water. This method helps to reduce the noise level by about 5 dB.
What are the Advantages of an Inverter Generator?
Inverter generators offer a number of advantages.
Fuel efficiency: Compared to conventional generators, inverters generally have more fuel efficiency.  They consume less fuel while extending the runtime
Quiet operation: Most inverter generators offer a low noise level. In this list, the highest noise level is only 66 dBA.
The inverter technology produces line power, and clean electricity to handle sensitive electronic devices regardless of their sizes
Final Thoughts on the Quietest 5000 Watt Generator
All the above-mentioned quiet 5000 watt generators bring something slightly different to the table. It all boils down to the user's plan for it.
Some people prefer portability above everything else because they will need to move the generator to different locations.
Others also want to make sure that they are spending the least amount of money. So they will go for the most budget-friendly option on the list.
Finally, there are also some 5000 watt generators that always come in handy to save fuel and get the most out of a few gallons of fuel.
The only downside to these generators is the size. That is why is important to do your homework properly before purchase. That way, you don't have to return it.
A good way to find the perfect option is to simply go with suggestions from people who use their generator for the same things.
Latest posts by Josephine
(see all)