Best 3 Quietest 7500 Watt Generator Models in the Market
Looking for the quietest 7500 watt generator for your power problems?. Perfect, then you've come to the right place. Here you will discover the top best 7500 watt generators that have a quieter operation.
A 7500 watt generator is one of the best solutions for your power outage. With many natural disasters always happening every now and then, it's best to always have backup power in case the unexpected happens.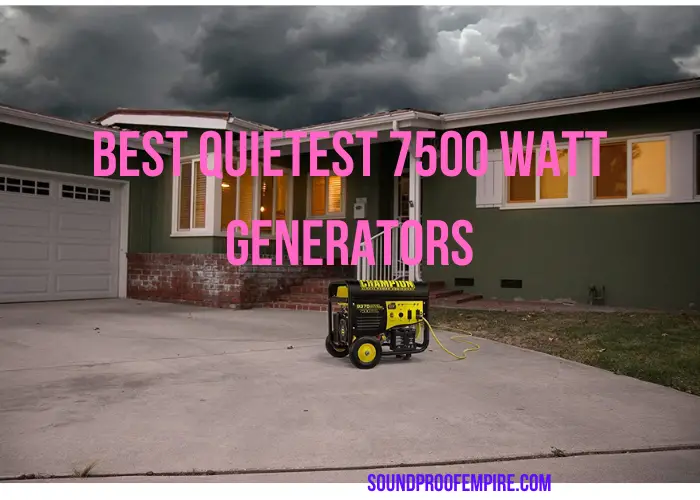 With a 5700 watt generator, you can comfortably power a medium-sized house with various appliances.  This type of generator can power both homes, construction sites, and RVs.
It's powerful enough to power your heaters, kitchen appliances, air conditioners, fridges, and others at home. With regards to using it at the construction sites, it can power many medium power tools and equipment.
Also Read:
Best quietest 1000 watt generators
Quick Preview of the Quietest 7500 Watt  Generator Models
In a hurry?.  understand. Here is a quick preview of the best quiet 7500 watt generator models in the market.
Best Quiet 7500 Watt Generators
A 7500 watt generator is quite pricey but it is able to deliver enough power to power up your home, RV, or construction site. Here are the top 3 best 7500 watt generators that are quieter in operation.
Finding a 7500 watt generator that is very quiet, is not easy. However, with these models here, their noise levels are between 70 dBA to 74 dBA which is somewhat quiet but not extremely quiet.
1). Cat RP7500E Gas Powered Portable Generator
The Cat RP7500E gas powered portable generator has an engine that can run continuously for 11 hours at 50% load on a full 7.9 gallon tank.
It's enclosed with a solid steel low vibration frame that not only adds durability to the machine but also keeps the noise levels low. With a noise rating of between 70-75 dBA,
This Cat generator features two starting systems; you can either start it manually or do an electric start. Both are supported by this unit.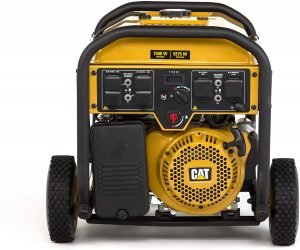 It also has a safety feature that will keep your machine safe from damage such as an automatic voltage regulator and automatic low oil shutdown. Also, there is automatic tip-over fuel shutoff protection and manual fuel shutoff that help to keep the generator safe.
With regards to mobility, It has a U-shaped long handle with a comfortable grip to pull the unit easily. Also, its big never-flat tires allow you to move the generator on any surface.
Features
7500 Running Watts, 9375 Starting Watts

Powers You For Up To 11 Hours

6 Outlets, Including 120v and 240v 30a Twist-Lock Receptacles

Electric Start and LED-Lit Control Panel

3-Year Limited Warranty for Parts and Service for Full Term

EPA Compliant
---
2). Champion Power Equipment 7500 Watt Dual Fuel Portable Generator
The unit is powered by a 439cc Champion engine that produces 9375 watts of peak power and 7500 watts of continuous power when operated on gasoline. But on propane, it generates 8400 peak watts and 6750 running watts. You can easily switch between these two fuels with a patented fuel selector switch.
It has a noise level of 74 dBA from 23 feet, which makes it slightly noisy but manageable.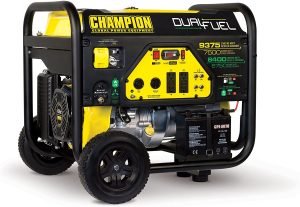 If you are interested in a dual fuel 7500 watt generator, then this Champion generator comes recommended. It is backed with a 3-year limited warranty and comes with free lifetime technical support.
With regards to safety, it has a low-oil shutdown sensor that turns the engine off at lower oil levels and the voltage guard also keeps the electric and electronic components safe again surge in voltage or current.
The unit is also easy to move around, its foldable U-shaped handle and never-flat tires make it easy to transport from one place to another.
The generator features both a recoil and electric start system which comes with an included battery.  Plus, it can also work in cold weather because of its cold start technology.
Features
Dual Fuel – Runs on GAS or PROPANE straight out of the box
Safety Fuel Selector Switch
Gasoline Fuel Tank and Propane Inlet
Gasoline Fuel Tank – 6 Gallon (22.9 L)
120/240V operation
GFCI protected outlets
Touch Start – Battery included for push-button electric start
Oil Included (recommended 10W-30)
---
3). Westinghouse WGen7500DF Dual Fuel Portable Generator
The premium WGen7500DF Dual Fuel Portable Generator by Westinghouse was engineered to provide you ease and comfort that every portable power solution should have. This versatile generator can operate on both gasoline or propane when you need to switch it up on the occasion.  It has a noise level of about 72 dBA.
This generator can run for a long time. At 25% peak output, it will run for up to sixteen hours on its massive 6.6-gallon tank of gas. A twenty-pound propane tank will run the generator for up to eleven hours also at 25% load.
Altogether, with both fuels combined, you could expect to get up to 27 hours of runtime. That makes it ideal as an emergency source of home backup power during long power outages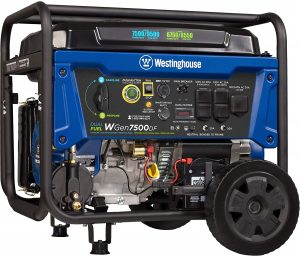 This generator has safety features that ensure it lasts a long time such as low oil shutoff and surge protection mechanism that helps protect against over current.
The fuel shutoff, however, is manual. When an engine shuts off without burning all of the fuel left in the line, it will corrode the carburetor.
Westinghouse WGen7500DF is also very easy to start. You can easily turn on this generator without much effort such as push button electric start and with the key fob remote.
There is no pulling or yanking, just one simple button push. The remote start is an even more convenient solution and something that makes this generator stand out. This generator starts right up with no need to go out in the middle of a storm.
Features
7,500 running watts and 9,500 peak watts (gasoline); 8,550 peak watts and 6,750 running watts (propane)
Runs for up to 11 hours on a 6.6 gal. fuel tank with built-in fuel gauge; up to 8 hours on a 20 lb. propane tank
Powered by a high-performance 420cc 4-Stroke OHV Westinghouse Engine constructed with a durable cast iron sleeve
Push-Button Electric Start pairs with a key fob for distance ignition and is backed by an emergency recoil start
Dual fuel operation easily switches from gas to propane without shutting off the unit
Weighing 192 lb. with as low as 72 dBA operating volume
---
A Quick Buying Guide on the Quietest 7500 Watt Generators
If you are new to generators, it may be daunting to pick the right one for your needs. There are a couple of factors to consider when choosing the best 7500 watt generator.
Here are some factors to guide you in your selection process.
Types of Generators
There are two types of generators to select from. These are conventional and inverter generators. The conventional generators are slightly noisier compared to inverter generators. Inverter generators are ideal for more sensitive electronics and are a little quieter as well.
You can also choose whether you want a single fuel or dual fuel unit. Dual fuel generators give you the option to choose between two fuel sources(gas and propane). They are slightly expensive though.
There are some dual-fuel generators that even offer you the option to choose between gas and propane without the need to shut down the generator.
Fuel Tank Size and Runtime
At least a generator must have a fuel tank that can give 8 hours of runtime so that you can easily sleep at night without the need to wake up and refuel in the middle of the night.
The bigger the fuel tank, the more runtime it will have. So if possible you can always opt for a larger 7500 watt generator. But the runtime is also influenced by also the fuel efficiency of the engine and the load applied.
Engine
The engine is the most important part of the generator. Buy a generator with an engine that is powerful, reliable, and fuel-efficient. It must also have protection over bad weather conditions.
Starting System
Both the recoil and electric start systems must be part of your selected generator. If there is also a remote control option, then it will be a plus.
Portability
Make sure your selected generator is easy to move. It must have a convenient handle and two durable tires for easy transportation.
Final Thoughts on the Quietest 7500 Watt Generators
Most 7500 watt generators are not silent generator types. They are slightly noisy with most having a noise rating of about 70 dBA and above. With these above-mentioned generators, you dont only get low noise levels but also efficiency, and reliability.
They all have the capacity to power your appliances, RVs, and a medium-sized house. If it's for a construction site, you also get to power your medium-power tools and equipment.