Quietest 3500 Watt Generator:Top 3 Quiet Models
Looking for the quietest 3500 watt generator?. Perfect, then you've come to the right place. In this guide, you can expect to learn and discover the top rates quietest 3500 watt generators that can provide you with the needed power without unnecessary noise.
With more power outages now than ever in the USA, having a generator can be a relief to many of us. Whether you already have a generator or a couple of them but seek to upgrade to a quieter one, then you will find this guide helpful.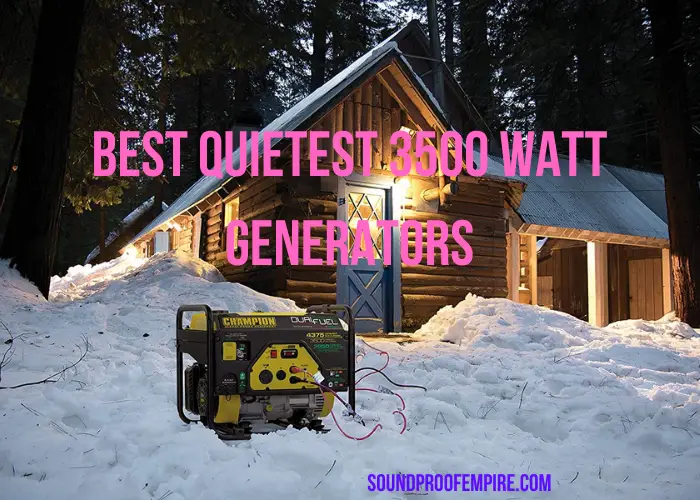 Quiet generators have become very common these days and they help generate the needed power without ensuring high costs.
Today, we will look at the best quiet 3500 watt generators in the market to help you meet your power needs without for work or recreational purposes.
Quick Preview of the Quietest 3500 Watt Generator Models in the Market
In a hurry?. I understand. Here is a quick overview of the top-rated quietest 3500 watt generator models in this guide.
Champion Power Equipment 4375/3500 Watt Dual Fuel Inverter Generator(Best Budget-Friendly)
 Best Quietest 3500 Watt Generator Picks
Knowing how difficult it can be to find a quiet 3500 watt generator among the different brands and models in the market, I did deep research and was able to come up with the top 3 rated quietest 3500 watt generators to help you make an informed decision.
1). Generac iQ3500-3500 Watt Portable Inverter Generator Review
Best Overall
The Generac iQ3500 watt portable inverter generator is one of the new line of quiet portable inverter generators and it has up to 3500 watts starting power.
The Generac iQ3500 is well constructed, super quiet, and is backed with a nice three-year warranty. It is actually quieter up to 40% than the competition and it worth the price tag. This unit is very portable and can power your job site, campsite, or tailgate. It's great for most portable applications.
The IQ3500 has two 20 amp 5-20R outlets, 2 USB plugs, 1 30 amp L5-30R outlet, and a 25 amp connection point for paralleling two Generac's together for power outputs.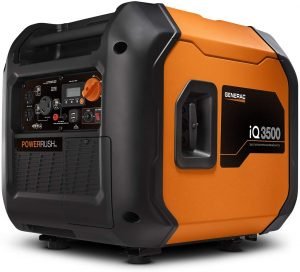 Also, being an inverter generator you also get nice clean power out of it. The iq3500 also has Powerrush technology which provides the unit with 50% more starting power for starting up your equipment.
Starting the IQ3500 is easy. Two options, either pull the recoil cord which does not take a huge effort. Or push the electric start button, which is pretty cool.
Overall, this Generac iQ3500 inverter generator is so quiet and it's the quietest on this list and you can even engage the eco-mode which ramps the engine down and it gets quieter.
Key Features:
3,000 running watts – 3,500 starting watts
212cc OHV 4 stroke engine
120 Volts at 25 amps
Push button electric start
Pull cord recoil start
2.6 gallon fuel tank
8.9 hour run time (50% electrical load), 14.1 at 25% load
Quiet! Measured 55 decibels at 23 feet away
Parallel Capability (kit sold separately)
---
2). Predator 3500 Watt Super Quiet Inverter Generator
The predator 3500 watt super quiet inverter generator has 3000 watts continuous power and 3500 watt surge power. One of the impressive features of the Predator 3500 watt inverter generator is how little difference there is between the surge wattage and continuous power.
It is a versatile and relatively quiet inverter generator that is both suitable for light loads and mid-sized loads when connecting two units with a parallel kit.
This unit is portable and for the price tag given, it is a good value for the money.  It is able to work well in almost every setting including tailgating, RVing, camping, and even functions well for an independent contractor.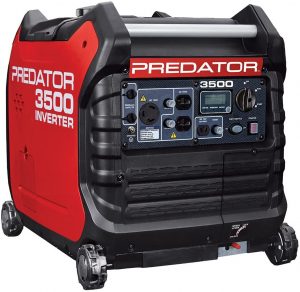 It's a good choice for keeping essentials on like lighting or a small space heater. It can run up to 11 hours with a full 2.6-gallon fuel tank.
With this amount of power combined with the inverter technology, this generator is perfect as an off-grid power source for RVs, tailgating, and camping. It also runs super quietly at just 57 decibels so that you won't disturb your neighbors or the peace and quiet of nature.
This portable generator comes with a digital display with a warning light for low oil and overloading directly underneath it. It also has a button for changing to eco mode, an indicator light for output, and a switch for the electric start.
So, if you are looking for a reasonably priced inverter with decent power, the Predator 3500 is a good choice. Its specs and features are good value for money giving you portability, ease of use, and safety.
Key Features:
3,000 continuous power watts – 3,500 surge power watts
120 Volts
Switch button electric start
Pull cord recoil start
2.6 gallon fuel tank
11 hour run time  at 25% capacity
Quiet! Measured 57 decibels
Parallel Capability (kit sold separately)
---
3). Champion Power Equipment 4375/3500 Watt Dual Fuel Inverter Generator
Champion's 3500-watt RV Ready generator features Dual Fuel, allowing the 224cc engine to run on either gasoline or propane. Featuring Intelligauge, Volt Guard, and Cold Start Technology, this unit includes a propane hose and provides up to 9 hours of run time on gasoline or 10.5 hours on propane.
This generator is a perfect combination of versatility and convenience. It can power up your home or RV, making it versatile.
With enough power to start and run a 15,000 BTU RV air conditioner, this unit can also power the essential items you need in a power outage, while Champion's Cold Start Technology ensures a quick start in cold weather.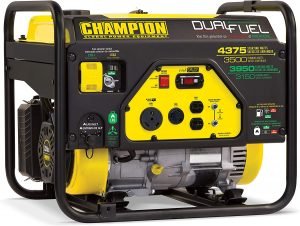 Using gasoline, the 224cc Champion engine is able to produce 4375 starting watts and 3500 running watts and will run for 9 hours at 50% load when the 3.4-gallon fuel tank is full. It will also produce 3950 starting watts and 3150 running watts and will run for 10.5 hours at 50% load when using a 20-pound propane tank.
With a noise level of 68 dBA from 23 feet, which is about as loud as a vacuum, this unit features Volt Guard built-in surge protector which prevents overloads and keeps your equipment safe.
Key Features:
Gasoline produces 4375 starting watts and 3500 running watts
Propane produces 3950 starting watts and 3150 running watts
Gasoline 9 hours at 50% load
Propane 10.5 hours at 50% load
Quiet! Measured 68 dBa from 23 feet
---
Final Thoughts on the Quietest 3500 Watt Generator
A 3500 watt generator will be able to cater to your recreational and Jobsite activities comfortably. That been said these quiet 3500 watt generators reviewed above are all quiet in operation and portable enough to move from place to place.
No matter the situation, these models will likely fulfill the purpose. They can be taken on your camping trip, or tailgating party
Independent contractors and handymen will value their portability while still delivering enough output for their power tools when adding a parallel kit to the purchase.