Top 3 Quietest 1000 Watt Generator Models in the Market
Looking for the quietest 1000 watt generator for your camping activities?. Perfect, then you've come to the right place.
Today, I will be covering some of the best 1000 watt generators that are quiet in operation. These small inverter generators though they won't be able to power up a full-size RV, but they are great for the off-grid camping enthusiasts.
Small and quiet, most 1000 watt inverter generators are well suited to power lights and small appliances as well as charging your electronics when you are in the backcountry.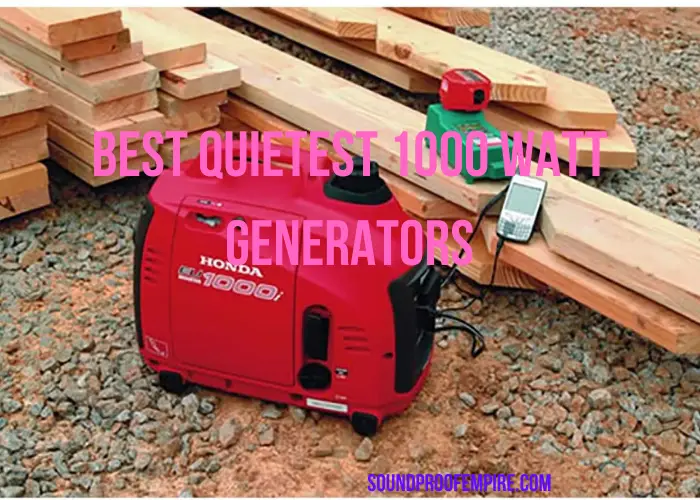 With many 1000W generators in the market, it can be time-consuming to look for the quietest generator among them. Many of them are quiet already, but since you also have to consider other factors like price and reliability also, that is why I put this guide together to help you choose the best.
So, in this guide, you will get to discover our top 3 best quiet 1000 watt inverter generators for your camping and other activities. Keep reading.
Also Read:
Best Quietest 3500 Watt Generators
Quick Preview of the Quietest 1000 Watt Generator Models
In a hurry?. Here is a quick overview of the best quiet 1000 watt generator in the market that I have covered in this guide.
Honda EU1000i Inverter Generator( Best Overall)

Westinghouse IGen1200 Super Quiet Portable Inverter Generator( Most Budget-Friendly)
Best Quietest 1000 Watt Generators
Below are some of the best 1000 watt generators that are quiet, reliable and their price points are good for your consideration.
1). Honda EU1000i Inverter Generator
The Honda EU1000i inverter generator is one of the most reliable, quietest inverter generators for camping on the market. Actually, Honda a w well-respected brand that has established itself as a quality and reliable brand. Their generators are equally quiet and powerful.
This generator is lightweight and very portable making it perfect for wilderness camping or travel trailer.
Reliability is also a notable feature of the Honda 1000 watt inverter generator, which is why so many campers and outdoorsman won't mind spending the extra money on this super quiet inverter genset.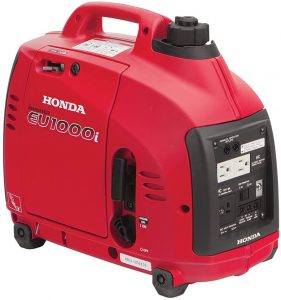 It can power appliances like coffee maker, RV fridge, and lights can also be powered through it. Other devices like smartphones and laptops can also be powered but you just need to keep in mind that the unit can only support up to 1000 watt load.
It is a very quiet generator that generates noise levels of about 53 dBA, which is less than the normal conversation, making it ideal for activities that require a quiet operation.
Overall, this Honda 1000 watt generator is fuel-efficient, reliable, stable and it's protected by an oil alert that protects the generator by shutting the engine off when low oil pressure is detected.
Features
Noise: 53 dB
Fuel Efficiency: 8.3 Hrs/tank at 25% load
Weight: 29 lbs
Warranty: 2 Year Limited Warranty (Residential), 1 Year Commercial
 Eco-Throttle System
Parallel Capability, 2x 120V outlets, Low Oil Alert, 12V – 8.0A Output
---
2). Westinghouse IGen1200 Super Quiet Portable Inverter Generator
The IGen1200 super quiet portable inverter generator is also one of the quietest inverter generators for camping, it's reliable and efficient as well.
Whether you need a power supply for home backup or for recreation, the Westinghouse iGen1200 Inverter Generator is a compact and dependable portable power solution. It's versatile and easy-to-use, offering 1, 200 peak watts and 1, 000 running watts.
The built-in USB outlets and two 120V household power outlets make it easy to power any of your appliances or equipment for up to 9 hours on a 0.8 gallon (0.3 L) gas tank.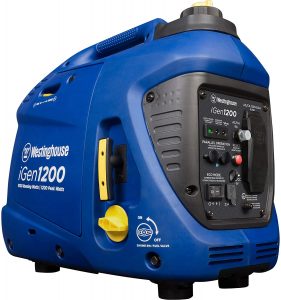 The iGen1200 is neighborhood and community-friendly operating as low as 52 dBA, making it quieter than a normal conversation.  It comes with a 3-year warranty and free lifetime technical support in case you experience any issues you may need to fix.
This iGen1200 is parral capable. In case you want more power, you can pair it with another Westinghouse inverter generator using the Westinghouse WHPC parallel cord which is sold separately. The unit also has built-in safety features including low oil shutdown and overload protection.
The iGen1200 is easily capable of powering up most of your appliances and will safely charge up your sensitive electronics.
Features
Noise: 52 dB (1/4 load at 22 feet)
Fuel Efficiency: 0.8 Gallon at 1/4 load for 10 hours.
Weight: 35 lbs
Warranty: 3 Year Limited Warranty
Other Features: Efficiency mode, 2 x 120v 20 amp outlets, 1200 peak watt
3). Yamaha EF1000iS Gas Powered Portable Inverter Generator
This is another best 1000 watt inverter generator that has a lightweight design, fuel-efficient, and very portable for outdoor activities like camping, RVing, and more.
This unit can run up to 12 hours on a single tank of fuel and it's one of the quietest inverter generators on the market. It is very fuel-efficient with a smart throttle load feature. This generator is able to dynamically adjust engine speed depending on the output, resulting from greater overall fuel efficiency.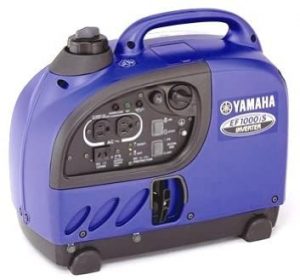 Weighing only 27.6 pounds, it is very portable and has an easy to carry design. This allows you to carry it with you to outdoor activities for power. For added convenience, the EF1000iS is even able to recharge 12-volt batteries with its 12-volt DC output, making it ideal for RV, auto, and boat owners.
Features
Noise: 47 dBa
Fuel Efficiency: 12 hrs at ¼ load on a full tank.
Weight: 27.9 lbs
Warranty: 3 Year Limited Warranty (Residential)
Smart throttle
Voltage Stability +/-1% (Clean Power),
Auto Warm Up Feature for Engine Protection in Cold Weather, Increased Sound Insulation
---
Final Words on the Quietest 1000 Watt Generator
Though there are many quiet 1000 watt generators, there can only be a few top performers that can make the list. Those are the ones I mentioned above.
They are portable, efficient, reliable, quiet, and have good price points. They can also be used for camping, RVing, lighting, and powering electronic appliances.
 Even though all are quiet, but the Yamaha is the quietest at a noise level of 47 dBA. The Honda and Westinghouse are equally quiet with noise levels below normal conversations.