Quietest Baby Monitor:5 Best Silent (Quiet) Baby Monitors
Looking for the quietest baby monitor for your baby?. Well, you're in the right place!. In this guide you can expect to learn the following:
What exactly are baby monitors?
Differences between video/audio?
How to choose a baby monitor/alarm
Do you really NEED a monitor?
Our top 5 favorite silent baby monitors
Final thought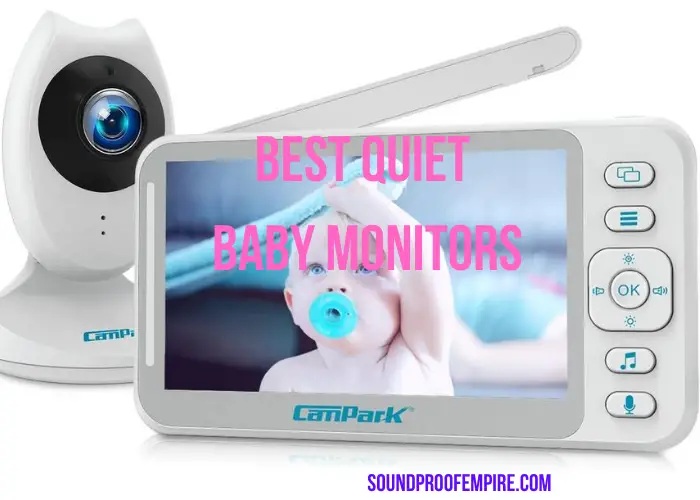 In a HURRY?, Here is a quick table preview of our top-rated most quiet baby monitor picks. If you want to learn more about silent baby monitors, then keep reading this guide.
I used to be that mom who will be running up and down checking to see if my baby was alright. I had to do the house choice and I work from home as well. Every mom knows it's not easy juggling all these things and taking care of an infant.
You can lose your head if you don't take care. I eventually got a baby monitor for myself and it definitely helped.
Baby monitors are a great way to keep an eye on your peacefully sleeping angel, without constantly running up and down. There are many different types of baby monitors in the market. Some are audio baby monitors and some are video baby monitors.
Depending on your budget and preference, this guide covers different aspects of baby monitors and some of the best baby monitors that you can choose from. So keep reading below!.
What Are Baby Monitors?
A baby monitor is a device that can also refer to an alarm for parents to use remotely to monitor the movements and sounds of their baby. They are used by many busy moms who may have their kids in one room while they are also busy in another room.
When baby monitors first came to the scene, the technology used was only able to record sound and could record videos. But with time, as they evolved, they are now able to provide a live feed and even provide additional information like the temperature of the room and other features.
Baby monitors can even be connected wirelessly to the parent or caretaker's mobile device so they to see what is happening with the baby in the room.
There are two types of baby monitors and these include; audio and video monitors. Let's look at what each type of monitor is.
Audio Monitors
Audio monitors usually consist of a transmitter and receiver. The transmitter unit is placed with the microphone near the baby while the receiver unit is with the parent. Any sound the baby makes is transmitted to the receiver as an alert of what is happening in the baby room.
Many audio baby monitors allow back and forth communication and some even have music you can play to the child. Generally, audio baby monitors are more affordable than video baby monitors.
Video Baby Monitors
Video baby monitors are quite pricy but they are worth the price. The peace of mind that comes with being able to see your baby and hear him is much greater than the extra money.
They also come with a transmitter which has a camera on it. You leave the transmitter in the baby room and the receiver on you to monitor their activities.
The latest WiFi versions offer a live video feed, streamed directly to your smartphone, tablet, or computer through a downloaded app. Some even have motion sensor pads that can be placed under the baby's mattress.
Related reads:
Best Quiet Baby Monitor Reviews
I know how challenging it can be for many parents looking to get the quietest baby monitor on the market for their little one. There are a lot of baby monitors today with varying features.
That can be overwhelming to many people. Hence I decided to do deep research and gather the best silent baby monitors for you to select from and save yourself a lot of time and stress.
1). Nanit Plus Smart Baby Monitor and Stand
The Nanit Plus baby monitor and stand is one of the best baby monitors today. There are many features that will help you keep an eye on your baby even when you are not in the same room.
This unit gives a crystal clear HD bird's view of your baby whether day or night from anywhere on your smart device such as iOS, android, kindle, or Echo Show device.
It allows you to not only view your baby's activities in the room but also hear or speak to your baby with the two-way audio feature. You can also listen to your little one even when your device screen is turned off with the background audio.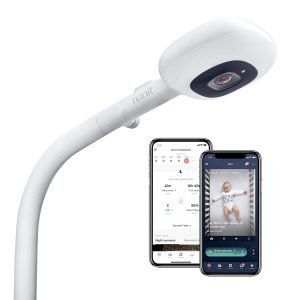 This device is equipped with features like real-time sound and motion notifications with adjustable sensitivity, temperature, and humidity monitoring. sleep tracking and guidance, and also help in capturing the beautiful moments of your baby and send them to your device. These all help you keep memories of your little one.
With this smart baby monitor, your information and data are safe and encrypted. This award-winning quiet video baby monitor is safe and approved by HSA/FSA. Plus, this Nanit comes with a 1-year limited manufacturer's warranty.
---
2). Infant Optics DXR-8 Video Baby Monitor
This Infant Optics DXr-8 video baby monitor is another award-winning product that is designed to that offers a balance between size, weight, video, and audio performance. Plug and play – no setup required, perfect for travel. Features interchangeable lens technology.
If you are looking for a baby monitor with a camera and audio that gives you a perfect balance between performance and versatility, then this is one of the best for you.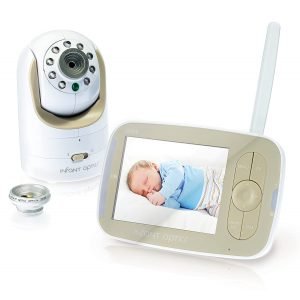 This unit also has features such as a sound-activated  LED bar for better situational awareness in the dark or when the screen is OFF, alarm function, two-way talk, a remote thermometer, invisible IR night vision, and more.
This device battery can last 12 hours on audio-only mode and 8 hours with live screen mode.
Unlike internet cameras, the DXR-8 offers zero load time delay-free playback on a dedicated monitor screen without hogging your smartphone. 100% digital privacy, safe from hackers.
---
3). VTech VM901 WiFi Video Monitor
The VTech VM901 Wi-Fi Remote Access Video Baby Monitor with 1080p Full HD Pan & Tilt Camera allows you to check in on your little one from virtually anywhere.
You can monitor your little one at home or from anywhere on your smart device in real-time. The way it works is that it captures the movements and sounds using your home's Wi-Fi connection. So you if need this unit, and don't have home wifi, then you may need to get one first.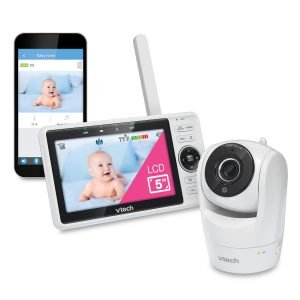 The camera pans up to 270 degrees to achieve 360 degrees viewing, tilts up to 152 degrees up and down, and zooms up to 10 times.
The two-way talkback feature also allows you to comfort your baby from the parent unit or your smartphone. It also features a built-in temperature sensor, automatic infrared night vision, soothing sounds, and lullabies for your baby to sleep.
---
4). VAVA Baby Monitor with Camera and Audio
Turn on the VAVA monitor in a snap second to instantly check what's happening when your baby murmurs and it features 2X, 4X zoom, and an auto-pilot panoramic mode to scan your baby's nursery.
This unit also has an LED noise indicator and an external thermostat to keep you accurately updated on your baby's welfare.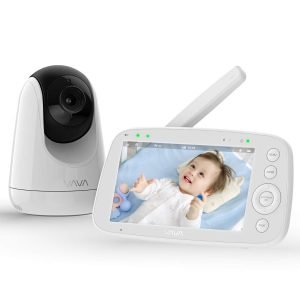 The VAVA baby monitor delivers smooth video from anywhere in your house within a 480ft – 900ft range, to always keep your little one in sight no matter you're if you're in the study room or the kitchen.
With this monitor, you can receive crisp and clear real-time images. The built-in rechargeable battery can last up to 12 hours in display mode, 24hrs with the display turned off for full-day monitoring of your baby.
---
5). Philips Avent Dect Audio Baby Monitor SCD720/86
The Philips Avent Dect Baby monitor is an affordable and good quality unit. It provides clear sound and a variety of features to monitor your baby. With its zero interference and private connection, you can use the talkback baby feature to remotely talk to your baby.
It also has features like monitoring the temperature in the room, night light and lullabies, and energy-saving mode. It has a  coverage area of up to 1000 feet.
How to Choose a Silent Baby Monitor
Choosing the best quiet baby monitor is not straightforward for everyone. You will have to consider a couple of factors before you settle for your silent alert baby monitor.
Basic functions
The basic function of a monitor is to give feedback to parents about the activities of their baby in the room. So, basic features like an alarm clock microphone and if possible camera for videos are supposed to be present on the baby monitor.
If you have extra money to spare, a quiet video baby monitor is much better than a quiet audio baby monitor. Simply because visuals tell a lot than voice alone. Seeing the live video of your infant is more calming. Get a video baby monitor with a good quality camera that will give quality visuals.
The microphone connected to the camera should also be sensitive to be able to detect the slightest sound made by the baby or anybody in the room.
The Alarm clock feature also comes in handy when you want to set an alarm on how to feed the baby.
Choose a baby monitor whose battery is rechargeable and has a long standby time, so it can work the whole day, and you can also easily recharge it even if the battery is running low.
Coverage Range
The average range tells you how far you can be away from the child and still be able to monitor the activities in the baby room. This is an important spec and should be considered when purchasing a  baby monitor.
A baby monitor with a long coverage area will allow you to view your child's activities when you leave him for long-distance. If unless you have a very tiny home where the distance between things is very short and you don't need to go far for anything.
Adjustable Camera
Some baby monitors enable you to remotely control your monitor camera. You can remotely adjust the camera lens according to your needs.  The last thing you want is to leave home and only to realize the monitor camera is not in a good position. Having a baby monitor with an adjustable camera will enable you to control it remotely to your desired position.
Communication Function
Most modern baby monitors have a communication function on them. This enables you to not only see your little one but also communicate with the baby.
The communication function on baby monitors is usually achieved via speaker or microphone. So both you and your babies can enjoy real-time two-way communication.
Interchangeable Camera Lens
The interchangeable camera lens can make the monitor adapt to different cases. For instance, let's say you place the monitor camera near the baby's crib, you can change the camera lens with an angle camera lens.
On the other hand, if you wish to place the monitor camera on a shelf or other places further away from the baby, you can change the camera lens to a narrow-angle one.
Do You Really Need a Baby Monitor?
Having a baby can be very expensive. There are items that are a must-have for your baby and some that are purely a choice. If you are on a budget, it is important to separate what is a "must-have" from "I wish I had".
Any item that concerns your baby's safety and life is a must-have item.  As parents, there is soo much to do in a day besides just holding your little one.
Doing the laundry, cleaning the house, cooking, and probably working as well. All these cant be done in one place and you cant do them in your baby's room.
That is why baby monitors are important and in my humble opinion, baby monitors are a must-have item on the babies' essential items.
Even if you hire a nanny to look after them, it's not all the time the nanny will be beside them. You will still want to monitor what is going on with your baby.
Final Thoughts on the Quietest Baby Monitor
A quiet baby monitor is a great way to keep noise at bay while effectively monitoring your baby wellbeing.
Baby monitors have evolved a lot since they were invented. a lot of features are now added to baby monitors and they are still affordable to all.
Some are made to be audio-based baby monitors that only deliver audio alerts to parents. On the other hand, there are also some that have cameras and operate remotely.
This enables you to monitor your baby from anywhere you like.
That is the beauty of technology. Some also place white noise sounds to help your little one to sleep, monitor temperature, humidity, give talk-back features, and many more.
The more features the baby monitor has, the more expensive it is. If you have the budget, you can invest in a high-quality baby monitor once and for all. If you are on a low budget too, there are certainly decent baby monitors that you can get for your price range.
Latest posts by Josephine
(see all)