Soundproof Wallpaper: Our Top 6 Brands 2022 Picks
Soundproof wallpaper is this possible?. Well, soundproofing wallpapers do exist today. There are many brands in the market to choose from.
These wallpapers are not the old wallpapers you need for decorating your home or you probably saw at your friend's home.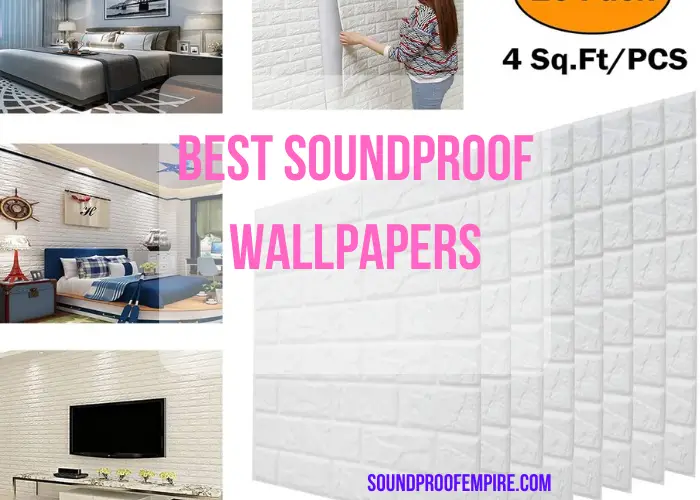 These wallpapers are made with soundproof materials and are designed to block noise from coming into your home.
Soundproof wallpapers not only reduce noise levels in your room but also add visual appeal to your room walls. plus you can easily remove them anytime and they are easy to clean and maintain. You can find soundproofing wallpapers in different designs, colors, and thicknesses.
If you are interested in getting a soundproof wallpaper for yourself and you are confused about which one to choose because of the large number of these products on the market, don't worry because I have done the research and found the best soundproof wallpapers for you to make your choice from.
Below are some of the top soundproofing wallpapers for soundproofing walls.
Best Soundproof Wallpapers
Here are my top picks of soundproof wallpapers to keep your home cozy and reduce noise.
1). DeElf 3D Brick Wallpaper
The DeElf 3D brick wallpaper is one of the best 3D soundproof wallpapers on the market. These wallpapers come in a pack of 20 pieces and are very easy to install.
Just like most wallpapers, you simply peel and stick this wallpaper to the wall. The 20-piece pack is good enough to cover about 80 square feet of wall. You can use it for the noisiest wall in your room.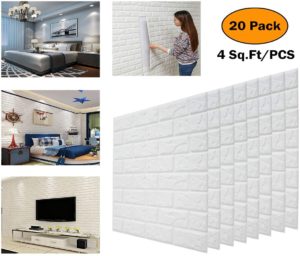 If you are concerned about how it will fit around corners and outlets, you simply use a knife or a pair of scissors and cut it to fit perfectly the space you want it to cover.
The brick design used on it is beautiful to behold. If you like brick walls, then this acoustic wallpaper is a great option. It is 1/2 inches thick with soft foam material.
They can be applied to any wall and any room of your choice such as the kitchen, living room, bedroom, etc.
2). Masione 3D Faux Foam Wallpaper
This Masione acoustic wallpaper is made of PE soft foam and it's 1/3 inches thick. With just 10 pieces of this wallpaper, you can cover about 58.13sqft with each covering a space of 5.813 square feet.
These artificial brick wall panels are made to appear as realistic as possible. Adding them to your home or office wall will give it an urban loft style. Simply peel and stick it anywhere you like.
The foam material and thickness, help in reducing low background noise.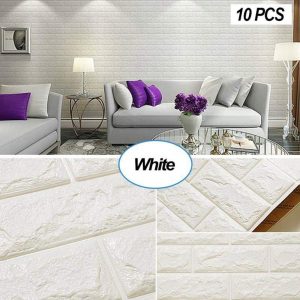 It can be applied to places like TV walls, sofa background, bedroom walls, kids' room, home office, and any wall of your choice you want to reduce noise and at the same time decorate with wallpaper.
The Masione wallpaper is designed to be anti-collision, lightweight, durable, waterproof, and easy to clean.
Just like most wallpapers, this one too is non-invasive. This means you can easily remove it anytime if you don't want it again or you are relocating.
3). NuWallpaper Peel and Stick 3D Brick Wallpaper
This peel-and-stick 3D brick wallpaper looks like your ordinary unplated large brick wall.  Each piece measures 20.5 inches down and 18 feet long and covers an area of 30.75 square feet.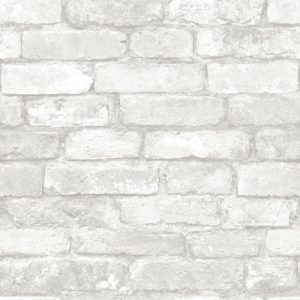 This vinyl soundproof wallpaper can easily be removed and the cleaning is super simple. It is safe for pets and children as its anti-collision wallpaper. It can be used for all types of walls.
Create an amazing brick wall with this soundproof wallpaper.
The only issue some customers complained about was that it shrinks during winter.
4). Stone Tan Faux Wood Foam Wall Panels
There is no place like home. But if your rooms are too dull, you can enjoy it been home. With these faux wood wall panels, you can rejuvenate your boring walls and give them a more vibrant and classy look.
The Stone Tan faux woof foam wall panels come in 18 different colors for you to choose from. You can choose the color that fits your home decor or just your favorite color.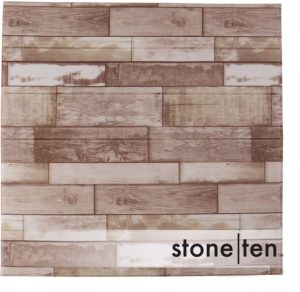 Each Stone Ten wall panel is approximately 27.5″ x 30.25″ (70cm x 77cm) and features an adhesive sticker backing that is easy to apply on a variety of sues.
I know most people believe wood is for the floor. However, this soundproof wallpaper is breaking the traditional belief system by giving you the opportunity to decorate your walls with fake wood walls that actually look real.
Ideal for use in bedrooms, living rooms, kitchens, bathrooms, hallways, foyers and entryways, laundry, and mudrooms.
These wallpaper can be painted with traditional or soundproof latex paint. For better soundproofing, you can actually paint these wood panels with soundproof paint. This will increase the noise reduction rating of the wall.
These foam wood panels are easy to install and clean. To install, you peel the adhesive side and stick it to the wall.
The other good thing about them is that they are children friendly. They can be installed in the kid's room, the classroom, living room, kitchen, etc.
5). Generic 3D Wall Panels
This soundproofing wallpaper will add a cool finishing to any wall. Great for the TV room, bedroom, and others.
Each panel measures 20 x 20 inches, Each panel covering 2.7 square feet. With these panels, you have three different colors to choose from. Plus, you can choose to paint them with whatever color you choose.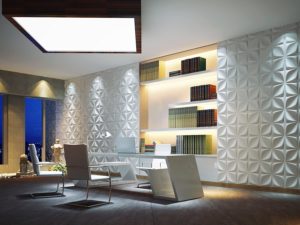 The material used in making them is of high quality and these are beautiful to put up on any wall of your choice. They are flexible and can be bent over curved walls. You can cut them with scissors or knives to fit any place.
These panels can be used for damaged walls, decorative walls, or even ceilings.
6). YTATT Self-Adhesive 3D Brick Soundproof Wallpaper
The Ytatt wallpaper is one of the best soundproof wallpapers. it is also made of strong and thick PE foam which is soundproofing and eco-friendly to use.
Not only are these 3D soundproof wallpaper reducing noise but they also are realistic, modern-style, and simple. The installation is easy. You just peel and stick because they are self-adhesive.
They come in tiles or stickers. These stickers come in packs of 1, 5, 10, or 20 and have a dimension of 23.62 x 23.62 x 0.29 inches.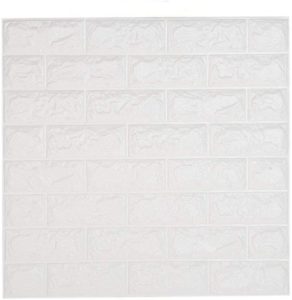 These are safe to use in the children's room because even if the child runs into the wall, they won't hurt the kid because of their anti-collision nature. Ideal for all types of walls and room design.
What is Sound
Does Soundproofing Wallpaper Really Work?
The answer is YES. Soundproof wallpapers do work. I know you might be wondering can a wallpaper reduce noise. That is understandable if you are concerned.
Soundproof wallpaper is not just any wallpaper for decorating the walls, but it is usually made of foam material that is also sound-absorbing and blocking.
Therefore you get the best of both worlds of decorations and styling plus noise reduction. Soundproof wallpapers are effective at mild to low noise control. But not for your highway traffic noise that is entering your home through the walls and certainly not for the loud music your neighbor is blasting out.
They surely do reduce noise in your home. Soundproof wallpaper is effective at blocking and dampening sounds of mid-frequency range that aren't that loud.
If it is the television noise in the other room, the conversations of your neighbors, and other mild background noise you want to muffle out, then you install these soundproof wallpapers to reduce the noise for your quietness and peace of mind.
To soundproof loud noise, I will suggest you combine the soundproof wallpaper with other soundproof techniques such as the ones I outlined in this article on soundproofing apartment walls.
If you buy a decent soundproof wallpaper then yes, it will work. However, as with all things soundproofing, it will work only to a certain extent.
Benefits of Using Acoustic Wallpaper
If you are still wondering why you should use soundproof wallpaper for your walls, then you might want to have a look at the other additional benefits you will get from using acoustic wallpaper.
It Adds Style to Your Home
Wallpapers at the heart of it are for decoration. But the good thing about soundproof wallpaper is that they come in different beautiful colors and designs. You choose the design and color you like that will decorate your wall nicely and at the same time dampen noise.
Even though you want to block unwanted sounds in your space, you might also want to do so at a cheap price. Luckily, there are a lot of soundproof wallpapers in the market that you can get on a budget.
They might not be the top-notch soundproofing wallpaper, not you can get pretty decent ones that you can afford.
Watching movies, sports, games, music or basically, any form of stereo media just got better. It can help your lounge feel more like the local Odeon when you dim the lights and get a good film on.
Sound-resistant wallpapers not only help quite a bit in providing a barrier from sounds entering your home but also from them leaving as well.
Quick & Easy Installation
Hanging an acoustic wallpaper up is easy. You clean the surface you are supposed to install it. Then you simply peel and stick the paper to the wall. It is the way wallpapers are installed whether it is soundproof or not.
You can use a pair of scissors to cut around outlets and ends off and the installation should take minutes or a few hours depending on how large the area is.
Quick & Easy Installation
Installation is quick and simple, paste your wall and stick the paper to it (making sure it is hanging straight), it's the same method you would use for any wallpaper whether it is acoustic or not.
Cut the ends off and you're done! It shouldn't take more than a couple of hours, providing you're not papering a mansion!
Smoke and Fire Resistance
Soundproofing wallpaper is designed to meet the requirements of smoke and fire for the interior of homes. So, if your concern is about fire hazards, it shouldn't be a problem.
Soundproofing Wallpaper Cost
Soundproofing wallpaper costs anything from about $29.99 to about $400. It will depend on your pocket size and how much you are willing to spend. The good thing is that you can get a good soundproof wallpaper for under 100 dollars.
Final Thoughts on Soundproof Wallpapers
I believe with these soundproof wallpaper reviews above, you will be able to choose the one that will fit your style and taste. Soundproof wallpapers are great at reducing mid-frequency sounds and mild noise but not for loud noise.
Soundproofing a room or an apartment can happen in many ways. Some soundproofing methods are more effective than others. Depending on the level of noise and the type of noise you will choose the technique accordingly.
Soundproof wallpaper is one of the simplest ways of soundproofing walls. Plus, it adds style to your room.
These acoustic wallpapers are also easy to install and don't require the services of any professional to do it. It's a simple do-it-yourself peel and stick to your desired wall.
The thicker the foam of the soundproof wallpaper, the more effective the soundproof wallpaper will be. The thickness of the foam will absorb sounds and noises that come in contact with the foam wallpaper.
These 3D soundproof wallpapers are some of the best soundproofing wallpapers on the market. So, they will help in reducing the noise in your home as well as an esthetical appeal to the room.
If you are dealing with a loud noise, it is better to combine the soundproof wallpaper with other soundproofing methods like a mass-loaded vinyl mat, acoustic foam panels, soundproof drywall, soundproof paint, and other more effective ways of dealing with a loud noise.
Latest posts by Josephine
(see all)