A White noise machine for office is not a luxury but a necessity in the work environment today. Considering the many distractions that are around us you can't afford to have a sound masking machine around.
Many businesses suffer from the side effects of noisy workplaces. The side effects of the day-to-day chatter not only affect productivity but also put clients are risks.
A distracted employee has a high chance of making a mistake than a concentrated one. Mistakes can be costly especially in highly regulated sectors like medical and financial sectors.
The other concerning factor with a work environment that is not soundproof for confidentiality is clients' confidential information been heard by a third party that can cause compromise security.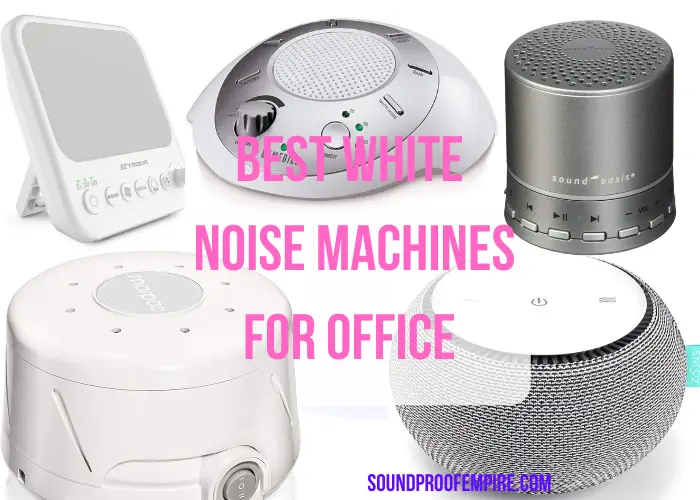 Especially now that we are in the era of information. Both good and bad information can circulate very fast using the internet. It's now more than ever to have a sound masking machine in the office, cubicles and work environment in general.
If you are facing distractions in the office that is making it difficult to concentrate, then getting a white noise generator is a very good option to help you focus on what is really important.
These white noise sound machines are able to play different soothing sounds to mask the noise around the office to help you either protect clients or for you to concentrate at work without distractions.
There are many of these devices in the market. However, you need a device that is looking professional and provides you with the right volume and tones to mask unwanted conversations or distractions in the office.
Below, I have done the research and came up with the best sound masking machines for office privacy.
Best Sound Masking Machines for Office Privacy
Below are the best sound masking machines for your office privacy and concentration.
1.Snooz White Noise Sound Machine
The Snooz white noise machine has what it takes to get to create the right ambient environment for you to focus on what is really important in the office.
It is one of the best white noise machines for office that creates peaceful non-looping white noise from a real fan without cold air.
Equipped with 10 adjustable tones and volumes to help you in combating your office noise and it travel-friendly because it is portable to easily pack into your traveling bag.
Other uses also include; tinnitus, snoring, barking dogs and noisy hotel rooms. It can be used by kids, adults and even pets.
Use the free companion app to turn up the volume without getting out of bed or set an automatic shutoff so it turns off before your way-too-early wake up call. You can remotely control this white noise machine.
2. Marpac Dohm Classic White Noise Machine
The Marpac Dohm Classic white noise machine generates white noise in your office, study, or classroom to minimize outside distractions so you can focus on the task at hand.
Distractions from others can affect anyone's concentration and it is important to meet deadlines in order to build a good reputation with your company.
This white noise generator features the Dohm classic signature fan-based natural white noise producing the famous Marpac sound.
The way it works is that you simply plug in the 8-foot 120V AC plug into your socket. Then choose the desired by either turning it high for noisy environments or aggressive for more sound masking and low for low sound masking.
You can now adjust the tone to your preference and let it and let it do its work.
This sound masking generator is compact and has a basic design that fits anywhere and blends unobtrusively into surroundings. You can use it in the office, at home, or anywhere you desire.
3. Lectrofan High Fidelity White Noise Machine
The Lectrofan High Fidelity white noise machine is of the best white noise machines for office privacy and deep concentration.
This sound masking device has 10 fan sounds and 10 white, pink and brown noises that create ambient noise variations for your needs in the office or at home.
You can power it with either AC or a USB to let it generate unique, non-repeating sounds. The device also allows you to have a precise volume control that allows you to set the perfect volume level to cater to your personal environmental needs.
The Lectrofan white noise machine is designed to be portable and compact. So that it can fit in your bag for you to even travel with it.
With a lot of sound variety to choose from,  from a whisper to many times louder than mechanical fan based conditioners.
4. Vanzon White Noise Machine
The Vanzon white noise machine is obviously one of the best white noise machines around.
It has 36 soothing sounds which include; 7 white noise sounds, 11 fan sounds and 18 relaxing sounds like ocean waves, birds, lullaby, stream, thunder and many more soothing sounds to help keep the environmental noise at bay to help you focus on your office work.
It is a portable white noise machine that you can carry in your handbag with you to the office each day and it also support 3.5 mm earphones which enable you to listen to your soothing sounds without annoying those around you.
It also features 3 timer options which are; 30, 60 and  90 min respectively. There is also an auto- off timer function that automatically turns off the device after the time duration you have set.
This is especially great if you intend to also use the device as a white noise machine for sleeping. This way, you don't have to wake up and manually turn off the device.  It can be used for that function either for babies or adults alike.
5.  Douni Sound Masking Machine
This esthetically appealing stylish wood finished Douni sound masking machine also has 24 soothing sounds which include; 7 white noise sounds, 7 fan sounds, and 10 classic nature sounds. These sounds are perfect for a work concentration, studying, meditation or even sleep.
This gives you a variety to select from without getting tired of it playing only one song. It has three timer options for you to choose from which includes 30 min, 60 min, and 90 min timer.
It is suitable for the office, bedroom, kid's room, hotels and other places that you might want to use it. The wooden finish gives it a classic feel that it fits in any environment perfectly without making you feel akward.
Weighing only 9.7 ounces and 2.3 inches high, it easily fits into your handbag or suitcase to travel with to use in the office.
The Douni supports a 3.5 mm earphone that allows you to lesson to the sounds privately if you don't want others to hear them. It also offers several different volumes- over 32 volume levels in 85dB increments. You can fine tune the perfect level of sound for space.
6. adaptive Sound Technologies Noise Masking Dive
Adaptive Sound Technologiesclaims that have carefully recorded only environmental and nature sounds that are carefully mastered to sound wonderful on a high fidelity speaker.
I personally have not used this white sound device yet. But from what I have gathered from thousands of users, they claimed it a great white noise machine and it's worth every penny spent n it.
It features 10 distinct sound profiles. Each sound profile has three levels and in total, this amount to 30  different sound profiles.
This device can give you high definitions sounds of up to 30 mins without repeating itself. All sounds are natural real-world environmental sounds.
Just like the other devices above, this sound masking machine supports a 3.5 mm earphone or speaker to help you maintain your office privacy. There are about 3 colors of classic colors to choose from which include; black, classic black and white/silver colors. each color is able to blend well in your office settings.
7. HoMedics White Sound Machine
HoMedics was founded in 1987 and it's one of the world's trusted leaders in health and wellness. The products they manufacture include; home massage products, air filters, humidifiers, white noise machines, fitness monitors and many more.
Their products are geared towards creating a healthy environment for relaxing, de-stress minds in the home and in the office.
This white sound machine features 6 soothing sounds which include; white noise, thunders, ocean, rain, summer night and brook which mimic a natural environment in the workplace or at home for you to relax or concentrate on the relevant things.
This sound device is flat, compact and portable to take with you anywhere you go. Take it to the office to help you mask unwanted sounds or leave it in the house to help you sleep peacefully after a hard day's work.
This product has a Timer which Features 3 Options: 15, 30, or 60 minutes. It can be plugged into a wall outlet with the adapter (Included) or Powered by 4 'AA' batteries (Not Included).
You can choose to play the sounds continuously or choose from the auto timer that comes with it.
8. AVANTEK White Noise Machine
This non-looping sound machine comes equipped with 20 soothing sounds; 6 white noise, 6 fan sounds, 8 natural sounds. You can set the timer function to place these soothing sounds for 1 to 7 hours continuously.
Maybe at work, you don't want to manually be setting this device up every time, you can set it to play for the 7 hours non stop to help you focus.
When the set time you give the device is up, the volume will subtly fade away without disturbing you. The device will automatically adjust to the preset settings the next time you power the device up.
The sounds are crisp, natural, realistic and scratch-free. This enables you to concentrate or relax in a calming environment.
The AVAENTEK sound masking generator is lightweight and compact. It is portable to be carried with you anywhere.
9. X-Sense Sound Non-Looping Machine
This X-Sense sound machine has a whooping 40 distinct sounds namely; 6 white noise, brown noise, and pink noise, 6 fan sounds, 6 types of rains, 3 types of ocean waves and 19 other nature and ambient sounds.
This is a lot of sound variety that you cant ever get tired of listening to. Great for the office, office cubicle, hotel, and the house.
The timer can be set from 1 hour and all the way to 7 hours. It all depends on you how long you want the sounds to play for.
Just like the number of sounds, it also offers you 40 volume levels to enable you to set the right volume to control unwanted sounds that might be distracting or irritating.
It is also designed in a way that its able to remember the previous settings. This enables you to automatically play your sounds without having to reset the device again.
10. HoMedics Ultra-Portable Rechargeable White Noise Machine
The rechargeable white noise machine uses a Lithium-Ion battery that you can always recharge anytime it's down. This is ideal for also outdoors where you might not have electricity at your convenience.
The battery gets up to 12 hours of life on just one charging.
This ultra-portable sound machine has 12 soothing sounds.  each sound is digitally recorded ensuring the audio is very clear and crisp.
It can play sounds like rainforest, white noise, zen, brook, campfire, ocean and many more to neutralize the noise in your workspace.
Since you don't really have control over the noise your colleagues make, you can use these white sounds to create your own conducive environment for concentration.
There is also an integrated auto-off timer that can be set for 15, 30, or 60 minutes to keep your mind relax while you work or study or even sleep.
It very portable and compact to carry with you anywhere and people wouldn't even notice it because of its smallish nature.
11. Sound Oasis BST-100 Bluetooth Sound  Therapy System
Sound Oasis is a world leader in developing innovative Sleep Sound Therapy Systems. We are passionate about helping you sleep better, relax easier, or just enjoy more privacy.
This white sound machine comes with a built-in micro SD card that is fully-equipped with 20 Sound Oasis sleep sounds and can also be loaded with pre-made playlists from Sound Oasis extensive library.
This device is not only a sound masking machine but it can also act as a Bluetooth speaker allowing you to play from your phone as well.
This dual-purpose product is very lightweight and also has a USB port and 3.5 mm earphone plug for you to use this device privately.
With its simple control system, you can get all the focus and concentration that you need at work.
12. Lectrofan Eva White Sound Machine
Using LectroFan EVO in your office or study area can help you focus, so you can get to work and get things done.
It's also a simple solution for improving privacy and helping make sure that your conversations don't distract others.
This Lectrofan Evo sound machine has 22 non-looping sounds which include; 10 fan based sounds, 10 white, pink and brown sound variations and 2 varieties of ocean sounds.
These sounds help in masking the disruptive environmental noises so that you can work properly in the office or fall asleep at home.
It's powered by either AC or USB and has very precise controls, an optional timer and a 3.5 mm connector for headphones or a portable speaker.
Highly recommended for anxious people who are extremely noise sensitive and vulnerable to sensory overload. This will calm their nerves and allow them to concentrate on whatever they are doing.
13. Sztrokia White Noise Machine
This is one of the cheapest white noise machines for office privacy around. Priced under $20 at the time of writing this article.
It has 10 soothing sounds with high quality speaker. These sounds include; 2 white noise, 2 fan noise, 2 ocean wave sounds, 2 thunderstorm sounds, and 2 summer night sounds.
Even though this sound machine doesn't have plenty of sounds like the others I discussed above, it is stylish and has an exotic look for your office setting.
These sounds are enough to provide you with the high quality sound masking that you need in the office for more productivity.
This sound machine operates via USB cable and a small A/C adapter. It has USB charging ports for charging smartphones, etc.
Controls are simple to operate and easy to understand. It can be on all the time or in timer(15, 30, 60minutes). Set the perfect level for your environment anytime, anywhere.
Related Reads:
Quiet Mechanical keyboards for office and gaming
Top White noise fans for home and office
Best quiet central air conditioning systems
How to make a portable air conditioner quiet DIY ideas
Buyer Guide for Best White Noise Machine for Office Privacy
When you are looking for how to use a white noise machine for office privacy, it is easy to get your attention diverted into getting a white noise machine that might not much your needs.
Given that there are many white noise machine manufacturers available, it is easy to get any machine that you think might meet your needs and appeal, when I actual fact it won't.
Therefore, if you are considering getting a sound masking machine for office privacy, then you need to take into consideration these factors to help you get the best white noise machine for therapy office.
Get High Quality Office Privacy Machine
The best white noise machine for office will produce high quality sound masking and not give irritating or chaotic noise. That been said, you might want to select a machine that is producing acoustic sound masking or sound conditioning instead of an electric sound masking machine.
The electric sound machines are great if you get a good quality speaker and non-looping white noise sound with sound variations.
I believe the last thing you want is for your office privacy machine to be adding you chaotic noise.
If you are in corporate  America, you already know that the appearance is always formal. So if you need to get a white noise machine for office staples or privacy, it is important to remember that you are in a professional environment and hence all things need to appear so.
This is especially essential if you are dealing directly with office clients or customers. You want your clients to take you seriously when you are dealing with them.
So, it will be best to have the best white noise generator that is having a professional appeal for them to take you seriously.
If you are not directly dealing with clients but I am sure you want your office colleagues to see you as a professional. A sound masking machine that is having a formal appeal will also be of quality.
Noise Masking Capabilities
What kind of noise levels are you dealing with in the office?. This will let you know what kind of office privacy machine you will need.
These white noise machines generate pink noise, brown noise or even red noise. Get a sound masking machine that will be able to mask the unwanted noise around you to help you concentrate well at work.
Adjustable Volume and Sound Settings
Been able to change the volume and sound settings of your office white noise machine is important. You don't want to have your device stuck in one setting that might be annoying to you or your colleagues.
the best white noise generator for office is supposed to have settings that can be adjusted to suit the situation all the time.
A sound masking machine that is too loud or quiet will not serve its purpose in the office. If the machine is only producing only one sound.
You will easily get fed up with it and it will start irritating you. That is why it is good to have a device that produces varying sounds and adjustable volume to make it suit your needs and want.
White noise machines for office privacy come in different kinds. Depending on your budget, you will certainly get one for yourself. Bt you have to remember that the cheapest white noise machine won't get you the best quality sound masking machine.
It is equally important for you to understand your requirements, and then invest in a product.
For example, if you're looking for the best white noise machine for a small office or apartment, then there is no reason that you should invest in a costly and bulky machine, right?
Nonetheless, if you're a businessman and searching for the best white noise machine for open office, then I would suggest, you should pay a premium price and buy a high-end white noise machine.
In short, pay the premium price only if your requirement is a high-end product.
What are White Noise Machines and How Do They Work?
In recent years, we have seen a lot of white noise machines in the market. The question many people's minds is, what are white noise machines and do they work?.
White noise machines are devices that are designed to produce noise that is soothing and calming to the listener and therefore are able to help the listener mask other unwanted sounds around them.
A White noise machine can produce many different soothing sounds. Calming sounds like a rushing waterfall or wind blowing through trees and many other serene or nature-like sounds.
A white noise machine for the office can be used for different functions such s sleep-aid or power napping.
Some of these white noise devices have a fan designed into them. This way, if you are using it as a sleep-aid or power-napping, you can turn the fan on to gentle blow some cool air on you.
Another use of a white noise generator is, it can be used by people with tinnitus to mask their symptoms.
The way these white noise machines work is that prerecorded audio-tracks are recorded and input into the white noise generator and it's programmed to play these audio-tracks continuously and at the end, it repeats itself at the end of the track.
Simple mechanical white noise machines consist of very basic setup, involving an enclosed fan and, optionally, a speed switch. This fan drives air through small slots in the machine's casing, producing the desired sound.
Manufacturers of sound-masking devices recommend that the volume of white noise machines be initially set at a comfortable level, even if it does not provide the desired level of privacy. Also, check out my recent article on how to use a white noise machine for privacy.
. As the ear becomes accustomed to the new sound and learns to tune it out, the volume can be gradually increased to increase privacy.
Where to Place White Noise Machine in Office
So now you have got your white noise machine and you are wondering where to place your white noise machine in the office for privacy.
It is important to know where to place the sound masking device to help soundproof your office for better productivity.
If Deadlines are looming on you, you can afford to let the noise of others around you distract your day.
For the white noise machine for office to work effectively, your white noise generator will have to be placed close to wherever the unwelcome listeners might be located. So in this case, you can place it close to you. Since you don't want to hear other people's conversations in your office.
You will have to adjust the sound masking device to be louder than the conversation for that is coming to you for it to mask the unwanted sounds.
It's better to place the device close to where the listener of the unwanted noise is located. If you are the one having the conversation in your office, and you don't want others to listen in on you, you can place the white noise device outside your door or somewhere between.
This way, you will be able to use the noise machine for privacy.
Benefits of Using White Noise Machine
there are many benefits of using a white noise machine in the office that both employees and employers can benefit from.
Every day, many businesses suffer from high productivity because of a lot of distractions that are going on in the office.
If it is not the conversations of colleagues, it is the telephone ringing. All these and other unwanted sounds are a source of distraction to workers that can affect their productivity in a negative way.
soundproofing an office is a basic necessity in our today's world if you want high outputs from employees. If you can provide a completely soundproof office, then getting a white noise machine for the workplace is another option.
Below are some benefits of using a sound masking machine for the office.
Distraction Reduction: Sound masking can cover up the annoying sounds of ticking clocks, clicking keyboards, and other distractions, as well as conversations that may sidetrack employees. Using the stapler and other activities.
Increased Privacy: Clients expect conversations to stay between them and the intended employee(s). When your company uses sound masking, they are more reassured that this is the case. This very important especially in hospitals and other high confidential work environments.
Increased Productivity: Fewer distractions lead to higher productivity levels. This is will also increase your chance of promotions and indirectly impact your personal life positively.
Higher Client/Customer Satisfaction: When clients know that their information is kept private, and when there are fewer mistakes involving their information, they tend to be more satisfied with your services. This will, in turn, keep them coming back for your service.
Increased Accuracy: When employees aren't overhearing conversations they aren't a part of, they are less likely to make mistakes and slip up when typing or handling important information.
Stress Reduction: When there are fewer distractions, fewer mistakes, and happier clients, employees tend to be less stressed. When employees are less stressed, productivity stays up and there are lower rates of absenteeism and employee turnover.
On White Noise Machines for Office
In a nutshell, producing white sounds to mask noisy workplaces is important. These above mentioned best white sound generators for office privacy are easy to use, have many different sounds that you can play all day long without repeating.
If you have a low budget or high budget, you will find one that fits your needs. Some are battery-powered while others use electricity to power up.
Either way, you have to look at your unique needs and what you really want in order to choose the best sound machine for you.
All these devices above have received massive positive reviews from verified customers and many are pleased with their purchase.
Latest posts by Josephine
(see all)