If you have ever lived with someone who constantly sings and makes humming noises, you will probably know how frustrating and infuriating it can be. Well, you might not know there is a device called a ceiling vibrator that you can easily use to silence those pesky voices.
You may be wondering what a ceiling vibrator is, how it works and what it does. To get answers to all these questions, keep reading and stick around. As we take through everything you need to know about the ceiling vibrator.
The ceiling vibrator is a device that can be attached to your ceiling, that vibrates or beat noise to your upstairs neighbors to warn them of their noisy menace.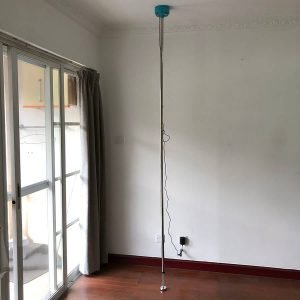 What is a Ceiling vibrator?
A ceiling vibrator is a device that connects to your ceiling and creates a vibration that moves through the floor above to alert neighbors upstairs of their noisy menace. This serves to warn your neighbors upstairs that they are being noisy.
However, if your upstairs neighbors don't stop being noisy you can increase the vibrations allowing you to even the score. The vibrator is connected to the ceiling and once is turned on, it transmits vibrations that can be felt by your neighbors upstairs. 
How Does a Ceiling Vibrator Work?
The vibrator works by using a motor to revolve the eccentric weight. This weight moves back and forth quickly hence making a vibration that moves through the floor. The ceiling vibrator is mostly used in nightclubs and other places where loud music is usually played. The vibrations will help create an even more energetic atmosphere. The vibrator usually comes along with a wireless remote control device that you can easily turn on at the first sign of any disturbance. 
Here are a few different types and versions of the vibrator. 
The beat thumpers, this works by simply hitting the surface of your ceiling rhythmically.

The shock vibrators; work by sending vibrations through the floor. 

The shock and beat machine; combines functions of both the beat thumpers and shock vibrators. 
How to Setup a Ceiling Vibrator Against Your Home or Office Ceiling
Here are a few ways to help you install a ceiling vibrator in your home or office building. 
Screw Your vibrator into the ceiling 
The first thing to do to install your ceiling vibrator is to simply screw your vibrator into the ceiling. To do this you need a  drill to help you create the holes. Ensure the screws are long enough to go through the thickness of your vibrator and into the ceiling joists to make it firm.
Use a Construction Adhesive 
Another way to set up your vibrator on the ceiling is to use a construction adhesive. This approach is permanent and can be difficult to remove in case there is a need to do so.
Use Velcro Strips
Velcro strips can also be used to help attach your vibrator to the ceiling. Even though this is the easiest approach it may be as stable as the two options above. Once you have chosen a suitable method to install your ceiling vibrator. All you need to do is to plug in your vibrator and switch it on. This device absorbs the noise by turning it into harmless vibrations that you can hardly hear.
Also Read:
Ways to stop stairs from creaking above
How to Install a Ceiling Vibrator
After the ceiling vibrator meets your needs carry out the few steps below to get you going 
First, you need to arrange and connect the separated parts as it is supposed to.

Next, connect the power supply cable to a socket to test your device.

Put a rod to the bottom section of your machine after testing your device to verify there is nothing wrong with your device.

Add a small piece of paper or towel before placing it on the ceiling to prevent it from damaging your ceiling.

Adjust the height of the rod if it is too long by simply screwing the foot of your ceiling vibrator.
Things to Consider When Using When Using a Ceiling Vibrator 
Here are a few important things to keep in mind when using a ceiling vibrator. 
Ensure that your room is not too small as it can intensify the vibrations and it could become devastating. 
The vibrations can cause your hardwood floors, carpets, or tiles to crack or break.
If you have very sensitive hearing, the vibrations from your ceiling vibrator can make you feel uncomfortable.
Ensure your ceiling vibrator is properly attached to your ceiling, so it doesn't come crashing down.
Bear in mind that some building codes don't allow the use of ceiling vibrators. Make sure to check out your local code enforcement before installing a ceiling vibrator in your room.
How to Choose the Right Ceiling Vibrator for Your Home or Office Building
Here are a few tips to help you choose the right ceiling vibrator for your specific needs.
One way to make the right choice of a ceiling vibrator is to simply research online and look at the various models that might be a good fit. You can also speak to professionals to help assess the different models and make recommendations based on your needs.
Finally, ask your friends or family members who have bought this device for advice and feedback. Ultimately it is very essential to analyze these suggestions carefully and choose a device that best fits your needs in terms of price, noise level, and function. 
How to Make a DIY Ceiling Stomper
If you choose to use the fruits of your labor to annoy your neighbors, you can easily make your ceiling vibrator. All you need is a motorized box and a rod to support it against your ceiling. You can also attach the device permanently against your ceiling by screwing it in at the sides. However, we recommend you take out the moving parts if you are not experienced.
Alternatively, you can use a long rod or broomstick to pad one end to prevent your ceiling from cracking. With this in mind, you can consider using anti-vibration pads and duct tape to keep it steady. Once you are done you can discipline your noisy neighbors whenever you want, by just manually slamming a rod against the ceiling. 
Benefits of using a ceiling vibrator 
Reduce the Overall Noise Levels in Your Room
The vibrator is very effective at reducing overall noise levels. This is because it creates a vibration that cancels out others in the environment.
It Decreases Echoing 
The ceiling vibrator is very good at cutting down the echoing and reverberations in your room. The vibrations from your vibrator help disperse the sound waves, hence decreasing their impact on surfaces inside your room.
Improves Your Room Speech quality
Your ceiling vibrator will improve your room's speech quality as it reduces the background noise levels. As a result, it covers up other sounds making it easier for people to hear each other talk.
Create an Energetic Atmosphere in Your Room
The ceiling vibrator creates an energetic atmosphere in your room due to its vibrations. The vibrations help stimulate your brain and body hence making you feel more awake and active. 
Easy to Install 
The ceiling vibrators are very easy to install and use. They are also relatively less costly and can be found at almost all home improvement stores. Additionally, they don't demand any special installation procedures or maintenance. 
Other Ways You Can Warn Your Neighbors When They are Being Noisy 
If you are not enthused by the idea of using a ceiling vibrator, here are a few ways you can annoy or alert your upstairs neighbors that they are being noisy. 
You can simply knock on your neighbor's door or play doorbell ditch. However, singing random mail or spam calls to your neighbors can be a good way to annoy them. 
But in case you want to focus your efforts on the ceiling you can try this out.
Simply place your speakers up against your ceiling and blast music through it.

You can also tap on the radiator pipes that pass through your neighbor's apartment with a metal spoon. When doing this bear in mind that your downstairs neighbors might also hear the noise. 

Bounce a ball against your ceiling. 

You can try speaking to them about the noisy nuisance they make.

You can ultimately report them to the police if all the above methods fail.
The downside is that most of these tricks will make it obnoxious that you are tormenting your neighbors. So make sure they don't retaliate by making your life difficult.
Conclusion 
The ceiling vibrator helps reduce the noise levels in your room by canceling out the noise coming from other sources. Even there has been a lot of research that confirms the effectiveness of the device in noise level reduction. Installing a ceiling vibrator is a peaceful way to exercise your anger on your noisy upstairs neighbors.
Latest posts by Josephine
(see all)