12 Best Silent(Quiet) Keyboards for Gaming
When it comes to gaming keyboards, most gamers prefer quality over price because they need something that will give them a thrilling gaming experience. Because you want to play your game anytime you want, you may inconvenience other people with the noise coming from your keyboard as you play.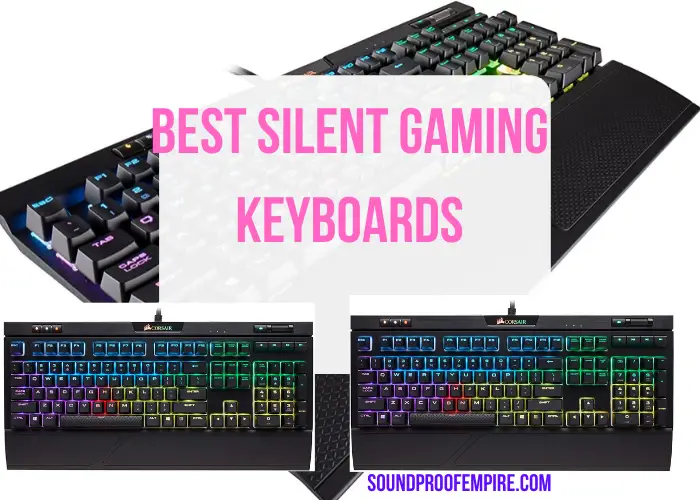 However, the market is flooded with brands of silent keyboards for gaming that you can choose from. Getting a quiet keyboard is not an ill, some of the keyboards take time to respond, making you lose a game that you would easily have won.
Quick Preview of the Best Quiet Gaming Keyboards
Before you buy any quiet gaming keyboard, you should look at the type of switch. There are several types of switches, including green, red, black, blue, and brown among others. For noise control, choose a keyboard with a red switch. Apart from the switch, consider the weight and size of the keyboard.
This will save you from buying a board that is too big for your desk. Silent gaming keyboards come with RGB backlighting that displays a variety of colors. So choose one with colors that you like. Other features you may consider are anti-ghosting keys, macro programming, and multimedia keys.
Read over our in-depth review of the best gaming keyboards available in 2020, to make sure you buy the best you can get for your money. Then, check out our buying guide at the end to learn all the different features to look for in a great gaming board.
 Silent Gaming Keyboard Reviews
Some of the silent gaming keyboards come with inbuilt features to improve your gaming experience. You will find that most of these keyboards have anti-ghosting features which will enable you to press several keys together and each keypress will be registered.
Some also come with multimedia control keys for audio and video control purposes while others have RGB backlighting features that ensure the keyboard is illuminated even in darkness.
You will also find programmable macro keys in some of these models that you can personalize to your preference. These features and some more that are unique to the individual keyboard will definitely improve your gaming experience.
Here is a detailed review of the 12 best silent gaming keyword reviews.
1. CORSAIR Strafe RGB 
If you want a silent gaming keyboard with additional multimedia controls and can assign macros to any key, then Corsair Strafe RGB is the one to pick. This keyboard enables you to have complete control of your machine.
The model RGB lighting can easily be customized. It also possesses anti-ghosting features with complete key-rollover. Because of these features, you cannot miss out on any keystroke. You can press the keys simultaneously without losing any of the keypresses since every command is recorded. The keypresses will be transmitted one after the other with just a little delay.
The gaming keyboard has silent keys to ensure that you play your game silently without disturbing anyone in the room. These keys are 104 in number. This silent gaming keyboard has a USB connectivity that enables you to connect it to any operating system seamlessly.
If you're looking for a silent gaming keyboard that allows you to customize not just the light but also keys and record macros, you can go with this option. With this keyboard, you can customize the lighting to the level that you want. You can also set the macro to any key. The keycaps of this model offer an excellent grip that you do not need to worry about any slip up when gaming.
Key Features
RGB backlighting
Volume controls
USB port
104 keys
Anti-ghosting features
Pros
You can control sounds when playing
You can customize lighting to your preference
You can press keys simultaneously without missing out on keystrokes
It has keycaps that offer excellent grip while gaming
It has many keys that offer great options
Cons
The gaming keyboard is not suitable for office work.
Verdict
Corsair Strafe RGB is a user-friendly gaming keyboard because it allows users to customize keys and light as well as has many keys.
2. Razer BlackWidow Elite Mechanical Gaming Keyboard
The gaming keyboard is one of the best keyboards not only because it is noiseless but also because it has a 10-key anti-ghosting feature that enables you to press up to 10 keys together. Each command for the key pressed is transmitted and processed accurately and in sequence, enabling you to improve your response time. This feature together with the programmable macro support makes it a popular model among gamers.
Another feature that makes this silent gaming keyboard a top pick is its durability. It has a lifespan of up to 80 million clicks, once you buy it you can use it for years before going back to the shop. Also, each keypress guarantees minimum to no noise, which is a key feature when using the gaming keyboard in a room with other people. With this model, lighting is not a problem as it offers chrome RGB lighting that provides enough light even for the dark surrounding.
This silent gaming keyboard also comes with programmable macro support, which will enable you to program the sequence of keys with ease. Thus, do not have to frequently press multiple keys. With this feature, you can input your combinations, making you easily beat your opponents. If you are the type who enjoys their gaming in an organized environment, this model comes with a cable management system, which ensures that your gaming desk is well organized. It is the combination of these features that makes Razer BlackWidow a top pick for most gamers.
Features
10-key anti-ghosting features
Chrome RGB lighting
Cable management system
Pros
It has a programmable macro that enables for easy programming of key sequence
The cable management assist in organizing gaming desk
Anti-ghosting to-key support
It has chrome RGB lighting
Highly durable
Cons
Verdict
This gaming keyboard is good because every command is transmitted and processed accurately. It is also durable with up to 80 million clicks.
3. Corsair K55 RGB
Although this K55 model keyboard is a membrane keyboard it still functions efficiently and has most of the features common in the higher end models mechanical gaming keyboards. However, the only drawback is that this model is not the sturdiest gaming keyboard in the market. This K55 model is made using light plastic material that makes it slightly lighter than most gaming keyboards. Some users have complained that this model tends to bend or flex if the keys are pressed down with moderate force.
It also has standard key controls, which may be less superior compared to other Corsair's higher-end models such as the popular K70 MK. However, Corsair K55 RGB Keyboard comes with several backlighting options including green, blue, and red. It also has dedicated function keys. What makes this model particularly user friendly is the wide detachable wrist rest similar, which supports your hand and makes you more comfortable during gaming. Overall, the model has a simple design that makes it easier to use. It is one of the best quiet wired keyboards.
Additionally, the Corsair K55 RGB gaming keyboard closely resembles Corsair's higher-end keyboard models and ensures that you have a similar experience. It may not be the best silent gaming keyboard in the market today, but it will certainly meet your gaming needs. With this K55 model, Corsair may have aimed at cutting the cost of production but at the same time provide a quality product to the market by incorporating other features such as the LED lighting and keystroke performance.
Features
RGB lighting
USB port
Media control key
Pros
Quality lighting
The keyboard is light and portable
Cons
It can easily break because of the plastic material
Verdict
This is a membrane keyboard that functions just like most of the mechanical keyboard. It is not recommended for rough gamers because it can easily break.
4. CORSAIR K70 RGB MK
If you want Corsair's high-end silent gaming keyboard as an alternative to the K55 model, then Corsair K70 Mk is one to consider. This model has slightly wider key spacing than most other silent gaming keyboards. Depending on the size of your hand, the wide key spacing may make this model uncomfortable for you to use when playing or typing. However, it ensures that you do not erroneously press on other keys.
Although you may want to purchase this keyboard for your gaming experience, you must know that there is no significant difference between this model and the original K70 keyboard. If you already have the original keyboard and it is serving you well, then you can stick with it as there are no really major extra features that you will get from the Mk.2 version that will give you extra gaming experience. But if you want a gaming keyboard that will last long, then you can upgrade to Corsair K70 Mk.2. This model is constructed using an aluminum frame making it a sturdy keyboard and a stable one to use. Unlike keyboards made of plastics, you need not worry even with your toddler around.
The LED backlighting of green, red, and blue gives it an added esthetic value. It also can distribute the colors to individual keys. You can also choose and change keycap designs that fit your preference. This keyboard is smaller and compact and comes with detachable wrist support that you can use at your convenience. One of the most outstanding features of K70 Mk.2 is the volume control features. The rolling volume control wheel makes it easier for you to conveniently and quickly control the volume to the level that you want.
Features
RGB lighting
Volume control wheel
Detachable wrist support
Wide key spacing
Pros
It has an adjustable wrist rest, which increases comfort during gaming
The RGB lighting can automatically change
It has nice touch keys
It has a USB port
Cons
This model is not suitable for office work
Verdict
Though this gaming keyboard has wider key spacing that may be a disadvantage to users with small hands, it is durable and has a detachable wrist rest.
5. Logitech G613 LIGHTSPEED Wireless Mechanical Gaming Keyboard
Apart from being noiseless, the other reason that makes Logitech G613 an excellent gaming keyboard is the fact that it is wireless. It can be connected via Bluetooth, making it compatible with most machines including Chrome OS, Android, and Mac OS.  All you have to do is to ensure that your operating system supports Bluetooth. So, you don't have to worry about having cables all over your gaming desk.
Another feature that makes it an excellent keyboard is the 1 ms report rate, which means that you will not experience any gaming delays. You can also lower the noise when using this gaming keyboard by simply using the mechanical switches on the lower side. If you are worried about durability, good news because this model has a lifespan of up to 70 million clicks. You can use it for years before replacing it. This G613 model has 6 programmable keys, which will help you customize the operation of the keyboard.
Also, you can input custom macro sequences, meaning that you can customize your keyboard to the game you are playing. This gaming keyboard is energy efficient and can work with 2 AA batteries for up to 18 months. So, you don't have to worry about replacing the batteries now and then. Another important feature of this model is the wrist rest, which provides extra support while gaming.  If you are looking for a wireless silent gaming keyboard, this is a model you would want to consider.
Features
Bluetooth connectivity
1 ms report rate
6 programmable keys
Wrist rest
Battery compartment
Pros
Wireless operation
Compatible with most machines
Highly durable with a lifespan of 70 million clicks
Cons
It has no backlights
It is not compatible with machines without Bluetooth
Verdict
Logitech G613 is wireless and can use just any operating system as long as it supports Bluetooth connectivity.
6. Redragon K552 RGB Silent Keyboard for Gaming
Redragon K552 is an option for anyone looking to buy a USB wired gaming keyboard. This model comes in four different backlight variants, offering you a range of RGB backlight color choices. The K552 model is one of the most durable and responsive silent gaming keyboards in the market today. It comes with double-shot injection keycaps that protect the keys from scratches or extensive wear and tear.
The beauty of this model is that it offers five different lighting modes as well as programmable RGB backlighting. You can customize the lighting to your requirements. Additionally, the keypress noise has been reduced, making it quieter than most variants. Another impressive feature is the 12 multimedia keys. This model is ergonomically designed that it cannot easily slip even if you use it at a rapid pace. The USB connector is gold-plated to improve its durability. It is heavy-duty construction, utilizing ABS casing, meaning that you will not replace it anytime soon. ABS material is highly durable and can withstand high pressure.
The K552 model is also compatible with Windows 7 and 8 as well as Mac OS. So, you do not have to worry about the operating system to use. Therefore, this is one of the few gaming keyboards, which is not only quiet but also offers you different lighting options.
Features
USB wired
Double-shot injection keycaps
Different backlight variants
Five different lighting modes
12 multimedia keys
Gold-plated USB connector
Pros
You can customize lighting to your preference
It produces low to no noise
It is highly durable
Cons
This model has a different keyboard font
Verdict
Redragon K552 has many features for its price. With the RGB backlight feature, it can be used in darkness as its light can illuminate the surrounding.
7. Redragon K502 RGB Gaming Keyboard
One of the things you will like about this gaming keyboard is the fact that it has 104 keys including numeric keypads. Also, you can still enjoy your gaming in a room with other people who are doing other things without disturbing them because of the silence in operation. You also don't have to worry about its responsiveness and durability since these two are on the higher side as well. You can use the RGB backlighting to operate this keyboard in darkness. For your comfort, this model is ergonomically designed and includes a wrist rest that will make you comfortable and reduce hand fatigue.
Also, it has 25 key anti-ghosting, meaning that you can defeat your opponents easily using this keyboard. The 12 multimedia keys will enable you to have complete control over your computer while playing. The K502 model is also compatible with various operating systems including Mac OS, Windows 7, 8 and 10, Windows Vista, and Windows XP. You don't need to install a software or separate driver to use this keyboard.
Additionally, the keyboard has a corrosion-free USB connector to ensure durability. You also don't have to move your hand a lot while gaming The design enables you to use it for gaming in either your office or at home. With these features, it is easy to understand why this silent gaming keyboard is a reliable option for home or office use.
Features
104 keys
RGB backlighting
25 anti-ghosting keys
12 multimedia keys
USB connector
Numeric keypad
Pros
You can use RGB backlighting to illuminate in darkness
Heavily-constructed and durable
Excellently compatible
It has wrist rest for hand comfort.
You can use it anywhere including in the office
You don't have to install software to use it
Cons
Verdict
Redragon K502 is compatible with many operating systems and the user does not need to install any software to use it.
8. Razer DeathStalker Essential Gaming Keyboard
One of the many features that you will notice about this silent gaming keyboard is the wrist-rest where you can comfortably rest your hand and reduce fatigue, especially if you spend hours playing. Also, another functional feature of this keyboard is that it registers every keystroke, meaning that even if you press multiple keys together, it will recognize all of them. Aside from registering every keystroke, this model has anti-ghosting features consisting of 10 anti-ghosting keys. This means that when you simultaneously press the ten keys, every keypress will be registered. You can use this feature to overpower your opponent.
This silent gaming keyboard also consists of fully programmable keys, which allows you to easily customize the operations of the keyboard to better your gaming skills. Another added advantage of this gaming keyboard is that it supports macro recording. With macro recording features, you can program the keys you want to press and trigger them with a single keypress. You can also control videos and audios using multimedia keys.
Low-profile keys are used to reduce sound, making this model undoubtedly one of the best silent gaming keyboards. As for durability and protection, the keyboard comes with 2m rubber insulation. With these features, your gaming experience will be one to look forward to.
Features
Wrist rest
10 anti-ghosting keys
Fully programmed keys
Macro recording features
Low-profile keys
Rubber insulation
Pros
It has anti-ghosting features that allow for simultaneous press
Multimedia controls for controlling audio and video
Ergonomically designed
It has programmable keys
Cons
Keys are a bit sticky sometimes
Verdict
This keyboard is good for those who spend hours gaming because it comes with a wrist rest. Its keys are customizable and it supports macros.
9. Corsair K68 RGB Mechanical Gaming Keyboard
Corsair is a world's famous company that delivers budget-friendly but high-quality computer accessories including gaming keyboards. Ensuring that you play your video game hassle-free and conveniently is their top priority while making these gaming keyboards. One of their quality brands is the Corsair K68 RGB mechanical gaming keyboard.
This is a top-notch affordable option if you are looking for a responsive and quiet gaming keyboard. This model comes in two varieties; the standard model or spill and dust resistant model. Whatever choice you make, you will still have a gaming experience of a kind. However, with the latter, you can play without minding about the little spill.
One of the most outstanding features of this silent keyboard is the Chery MX red mechanical key switches, which add to its competitive edge. Another important feature is the anti-ghosting features that ensure that you get accurate with every key you press. With this feature, you can press more than one key simultaneously and all the keys will be registered. This model also has customized options for both RGB backlighting and keys that enable you to customize this keyboard to your needs.
A unique thing about the K68 model is that for its lighting customization and macro programming, it uses Corsair Utility Engine (CUE). With the macro programming features, nothing can slow down your gaming nor can your opponent overpower you. This keyboard also provides Windows key lock mode that prevents the wrong keypress from getting registered. It also has multimedia control features for audios.
Features
Multimedia control
Anti-ghosting keys
Cherry MX red keys
RGB backlight
Macro programming
Pros
Comes with macro key functions
It has multimedia controls
It has a Windows key lock mode that prevents the wrong keypress from registering
Friendly to use
Cons
It may not work on some operating systems
Verdict
Corsair K68 is a great keyboard because it is spill and dust resistant. The Chery MX Red feature also adds to its competitiveness.
10. HyperX Alloy Core RGB Quiet Gaming Keyboard
HyperX has some of the sophisticated computer accessories in the market today including gaming keyboards. One of its popular products in the market is the HyperX Alloy Core RGB membrane gaming keyboard. For many people, this model from HyperX makes their top choice when shopping for a silent gaming keyboard. If you want a simple yet comfortably constructed keyboard that is good for your gaming experience, you can also consider picking it. It is constructed with an alloy core to make it durable. Besides, it also has a spill-resistant feature.
So, if you accidentally spill water on it, the water will not get in or damage any component. Interestingly, it can prevent up to 120 milliliters of liquid from absorbing. It also fitted with RGB backlighting, which you can customize to your own choice. You can customize the effects with 6 different color variants. HyperX Allor Core RGB Membrane Gaming Keyboard comes with the anti-ghosting feature. With this feature, you can register all of the keys pressed at the same time when you click.
If you are concerned about weight, this gaming keyboard is lightweight compared to most gaming keyboards, weighing only 2.5 pounds. However, you may take up a lot of space on your desk.
Features
An alloy core
Spill-resistant feature
RGB backlighting
Anti-ghosting keys
Pros
It has a spill-resistant feature that prevents liquid from being absorbed into the keyboard
The radiant RGB lighting has a personalized feature enabling you to customize to your choice
It is lightweight
Cons
It has few colors presets
It occupies much space on the desk
Verdict
Although the HyperX Alloy Core membrane keyboard is a simple gaming keyboard, it is a good pick for those who are looking for a comfortable gaming keyboard. It is also durable and spill-resistant,
11. LANGTU Membrane Gaming Keyboard
If you want a gaming keyboard with super soft keys that will not leave your fingers feeling hot after hours of gaming, then you can consider the LANGTU membrane gaming keyboard. All the keys on this keyboard are soft to touch, providing you with a smooth and sensitive response. You are guaranteed little to no noise while playing, so you don't have to worry about disturbing other people. This means that you can enjoy your gaming even in a library.
The gaming keyboard is designed using an aluminum alloy panel that is well brushed to enhance the texture and durability of the keyboard. It has a double-colored injection keycap, which offers you clear backlighting during gaming and ensures that the color does not fade away easily. The stair-step key design ensures that your fingers easily reach all the keys, making your hands comfortable when playing. It has 25 anti-ghosting keys that allow you to simultaneously press several keys and release the keypress with a single click.
The keyboard also has 12 multimedia keys that will help you improve your gaming experience. If you love colors, this model has seven LED backlight colors that illuminate all the keys so that you can comfortably play even in darkness without any difficulty.
Features
Metal panel keyboard
104 keys
25 anti-ghosting keys
12 multimedia keys
Double-colored injection keycap
Soft and responsive keys
USB connector
LED backlight
Pros
It has up to 104 keys
Anti-ghosting keys enable you to select several keys simultaneously
It has a lot of colors
The keys are soft and smooth
Strong and durable
Cons
The backlights can be very bright if not well controlled
Verdict
LANGTU Membrane Gaming Keyboard is a good keyboard because it has super soft and sensitive keys. It is also a colorful keyboard with up to 7 led backlighting colors.
12. SteelSeries Apex M750 RGB
With Apex M750 RGB you will not only get a quiet gaming experience but you will also achieve a high game performance. This is because the third generation SteelSeries mechanical switches in this keyboard give you quick gameplay and guarantee noiseless gaming. Another feature that makes this model a people's favorite is the anti-ghosting technology that allows you to press multiple keys and ensures the accuracy of keystrokes.
Not only does this keyboard offer you quiet gaming but you can also personalize it to your gaming needs. You can customize the RGB backlight to fit your gaming preferences. This keyboard also comes with programmable macros that will enable you to program the key sequence. This keyboard can provide notifications for the game using illumination. It can also provide chat alerts.
Another top feature that makes this keyboard a popular brand is the strong and aluminum metal-alloy frame. The strong frame ensures that you use your keyboard for a long time before you can replace it. Additionally, it has a sleek look with a matte finish, especially when the backlights are on.
Features
Anti-ghosting key
RGB backlight
Macro programming feature
Metal alloy frame
Pros
It has a sleek and dazzling look
Good lighting
Strong and durable
Anti-ghosting keys that make multiple keypresses possible
Cons
It has a few color variations.
Verdict
This gaming keyboard offers quick gameplay. The user can also customize some of its features to meet their gaming needs. Besides, it is strong and durable.
Related Reads:
Top Silent Mechanical keyboards
Top Silent ergonomic keyboards
Buying Guide – What to Look For When Buying a Quiet Gaming Keyboard
If you are an experienced gamer, you probably know what makes a good board. You know you can do more with it than just type. It acts as a controller and interface to the world of gaming. There are a lot of items on the market, though, so it can be hard to choose the one that's ideal for you. Here, we are going to cover several things to consider when purchasing a gaming board.
Switch Type: Mechanical, Scissor, or Dome?
You'll need a different switch depending on your budget, the types of games that you play, or what else you use your computer for. Understand the various kinds of switches that come with gaming keyboards:
Mechanical Switches
Nowadays, the most common type of switches used in gaming boards is mechanical switches. Every key is paired to its spring-loaded switch in these keyboards. They have visual feedback, as well as excellent audio quality.
Many of these switches use Cherry's "MX" mechanisms, a pioneer in key switch technology. They are available in different colors such as MX Black, MX Red, MX Brown, MX Blue, etc. Every color has a distinctly different design to provide a sensory experience unique to the player.
For instance, users who want succinct keystrokes should choose Cherry MX Black switches, because they have a high activation power. If you have to press several buttons in a row, you should opt for the cherry red switches.
Scissor Switches
Scissor switches are a dome switch type with slight variations. They have a smaller frame, and underneath each key is a stabilizing X-shaped mechanism.
Dome Switches
Dome switches are used in cheaper game boards. The rubber switches use small bubbles in a membrane made of silicone. You can find it harder to press keys fast, which can slow down keying in commas.
Interface: Wireless or Wired?
Some gamers can initially opt for a wireless keyboard for gaming. A wireless keyboard seems to be preferable because it can offer more freedom while playing.
However, most pro players tend to steer clear of mechanical wireless keyboards. Upon pressing a key, users should anticipate a pause between pressing a key and recording this movement by the device. Just a small stop in heavy-stakes competitions may be troublesome. Skilled gamers settle for USB wired keyboards, which provide reliable signal transmission minimizing delay.
Light-Up and Customization Options
For a majority of gamers, backlighting is a significant feature. While a standard keyboard can seem unnecessary, it does make a difference when playing in a dark room. Many RGB keyboards allow you to change arrow color and WASD key, which is great to highlight some of the most frequently used keys.
Computer keyboards often have full rows of additional buttons and functions. They range from clear and pragmatic to sprawling and powerful. You can attach other features on these keys, or take multiple successive actions through macros. Some gaming keyboards allow you to swap the tops of the keys which serve specific purposes, such as enhanced touch control.
Many items provide a more customizable experience. You can:
Create special shortcut keys
Monitor gaming statistics
Devote key to media components such as audio.
Keyboard Illumination
Gamers usually have three options when it comes to backlighting in keyboards: one color, full RGB, or none. Overall, backlighting is not as useful as it may sound. If you're not an excellent gamer, you can still figure out where to put your fingers for game commands. On the other side, when you have a blue computer case on your display, a blue mouse, and a blue power indicator, a bright red keyboard would look pretty ridiculous.
Price Points
By and large, gaming keyboards do not fit into tidy price points. In our experience, companies have a good idea of what is worthwhile and charge you accordingly. There are some general guidelines that you should follow when choosing a keyboard, but these can differ significantly based on the manufacturer, pricing, and whether there is a new model.
Software
Some of the game keyboards worth buying have sophisticated features attached to them. Their software allows you to customize the lighting, allocate shortcut keys to functions, and build game-specific profiles. The available software differs in appearance but serves the same practical purpose: to improve your gaming experience. Some examples of the software used in top gaming keyboards are:
Logitech G- Hub
Cougar's UIX
Synapse
Steel Series' Engine
Swarm
Keyboard Material
The quality of the keyboard material is critical because you would like a gaming keyboard that is robust and can withstand a few hits now and again. Some gaming keyboards have a metal back-plate coating that reduces the possibility of bending or cracking during games, in the worst cases. Consider keyboards covered in plastic casings when you buy one. Manufacturers use two types of plastics when producing a keyboard:
ABS Plastic–It is the kind of material gaming enthusiasts favor because it is robust and can withstand firm keystrokes. Mechanical switch keyboards are typically made from ABS plastic to ensure optimum resilience.
PVC Plastic–It is a cheap material that's typical to most generic keyboards. It's quite light but can easily crack. It can be perfect for casual players. Rubber membrane boards are usually made of PVC plastic.
Choosing a great gaming keyboard is probably easier than choosing a great gaming mouse, but there are still a few important things to keep in mind. Get a mechanical model, be sure it has the right number of extra keys (bearing in mind the right number might be "zero") and consider whether you really need to spend a lot of extra money for colorful illumination.
It's worth noting that a mechanical keyboard is not just a great gaming tool; it's a fantastic addition to any productivity setup as well. You may find a keyboard that costs more than $100 much easier to justify if you can state with confidence that it will come in handy every time you type something.
Shop For A New Best Quiet Gaming Keyboard Today!
While a fancy monitor, headset, and mouse will enhance your PC gaming experience, the right keyboard will arguably have the most positive impact.
The right gaming board should be aesthetically pleasing and able to keep up with your active gameplay. It's time to ditch your standard board that wasn't designed with gaming in mind. Check out one of these 12 gaming keyboards today!