Silent Heater for Baby Room- 10 Best overnight Nursery Heaters
When the air is chilly at the nursery, you want to make sure that the baby is tucked in into a cozy and warm place and you can do so with a silent heater for baby room.
Good and warm temperature ensures that the baby will have quality sleep. Using the right temperature is safe and healthy for the little one. Keeping the baby warm also means that the little one will be comfortable.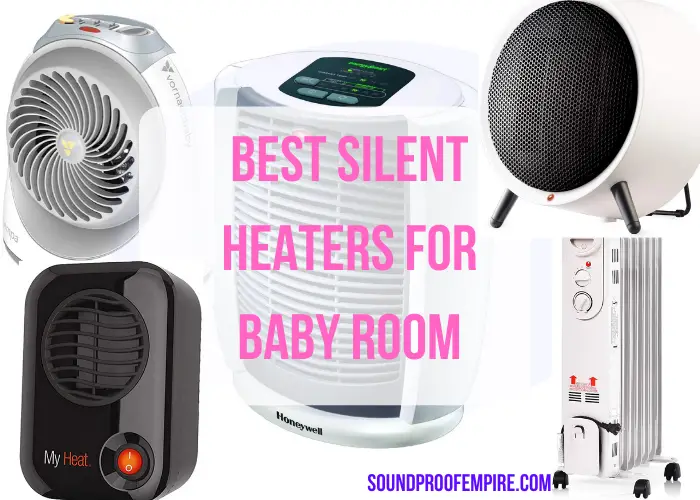 Babies usually have a physical limitation that forces the parents to keep the nursery or baby room warm. They do not have the ability to regulate their body temperature as well as adults, and this often causes heat loss. Pre-matures do not have much insulating fat.
Therefore, ensuring that you have invested in a good heater is very prudent. It will facilitate quality sleep and the baby will be healthy. Also, ensure that the heater is also safe to minimize cases of accidents and injuries.
A Quick Buying Guide on Silent Heaters for Baby Room
Safety Features
This is one of the most critical features if you are using a heater for the baby's room. Ensure that the type of heater you use is recognized and validated by testing labs, such as Intertek (ETL) or Underwriters Laboratory (UL). This will guarantee that the product purchased meets voluntary safety standards.
Technology
There are different heaters in the market. Convection heaters are commonly used for single rooms, which include ceramic heaters. Radiant heaters, such as infrared heaters, are known for spot heating while convection heaters take time to heat your space.
Infrared heaters use infrared quartz bulbs as heating agents. There is hybrid model that combines both radiant heating and convection heating, they are known as micathermic heaters.
Design
Space heaters come in a variety of styles that aim to save space, installing easily, noise reduction, and to achieve the specified purpose. Floor heaters have a vertical design that saves space, are portable and compact.
Personal heaters are effective for small spaces in a focused manner and are meant for specific needs. Ensure that you acquire a heater that will not tip over.
Size and Heating Capacity
The size of the heater is directly related to the heating capacity. Ensure that you have checked for efficiency in heater designs as this will help you to save on utility bills.
About 10W of heating is utilized for each square foot. You can expect a 1500W heater to be enough for a 150 square foot space.
The levels of Noise produced
Heaters that have fans tend to be noisier compared to those with no fans. The later more than often have a silent operation. The quietest heaters are the Micathermic heaters.
Price
The safety and comfort of your baby ought to be your top priorities. However, when you compare the competitive options you will understand that the price is a factor to be considered.
Do not only consider the price, but also look at the life expectancy, how much fuel or electricity it will consume, and installation charges.
10 Quiet Heaters for Baby Room
Below are reviews of some of the best quiet nursery heaters for baby room to keep them warm in the cold days. These baby room heaters are children friendly. This is because they are designed with babies in mind. All safety measures have been taken into consideration for the child's safety while the heater is in use.
Vornadobaby Tempa Nursery Heater
Space heaters are known to be dangerous but you can gravitate towards space heaters that are designed specifically for that purpose. This particular item is made to be used in the nursery for your baby.
The design of the product is suitable for houses where there are children who are running around. It has more safety features compared to other heaters on the market.
These features include lack of sharp edges or sharp pointers, tip over protection, does not have dangling cords, safety shut off when it becomes hot, the touch exterior is cool, and it has a non-skid gripped rubber bottom.
Additionally, it has closed grate in that the kids won't access the moving or hot areas.
One of the interesting features of the product is child safety control locks. It has a childproof switch that you may place over the power controls.
Toddlers are very curious and Vornadobaby Tempa Nursery Heater will only give the parent the ability to decide when the heater will be turned on. It is a highly recommended nursery heater and best room heater for newborn baby.
Specs
This silent heater for baby room has two different heat settings in addition to a thermostat, which measures between 1 and 7, the highest number being the hottest. The thermostat will enable you to operate the heat and the fan controls independently. The thermostat is adjustable.
It has a covered cord storage
The dimension is 10.1 by 7.5 by 10.85
It weighs 4.94 pounds
It uses 900W or 120V
Pros
The circulation is gentle and it is very quiet
It has a dual heat settings and fan settings making it an all year round product
Toddlers are kept safe from pulling the plug out of the wall
The safety features are excellent
It has a 5-year warranty
Designed for nurseries
Child lock on switch
Cons
Be careful as the child can change the temperature
It only works at 900W
Only works for small spaces
It is pricier compared to other units
2. Honeywell HCE200W UberHeat Ceramic Heater
It is a small appliance but it works very well and has the ability to heat the baby's room fast. It does not have fancy features compared to other units but it will heat the nursery very well, keeping your baby warm.
The design of the product is appealing since it looks like a vintage alarm clock and it is small. The heater measures about 9" wide and 10" tall, and thus you can place it on the dresser, and this is also an advantage since your toddler will not be able to reach it.
It does not have any light other than the power indicator, therefore, your baby will have quality sleep. The lowest setting of the unit has the ability to warm the entire nursery while the highest setting can heat the entire room. It has a thermostat dial that enables you to pick the temperature range that you want. Reaching the temperature will make the unit shut down and thus it will not overheat.
It has a safety feature that turns it off once it has tipped over. This is important as it prevents any hazards to your home. In the event of overheating, the heater will automatically shut off. The exterior is safe to touch and thus in case your toddler comes into contact with it they will not be burned.
Specs
Motor uses 1500W
Has an adjustable thermostat dial
It measures 9 by 6.5 by 10.2 inches
It weighs 3.8lb
Has two heat settings
Pros
Comes with a 3-year warranty
Has the ability of heating an entire nursery because of the 1500W motor
It is small
The price is reasonable
It shuts off when tipped over or when it overheats
Cons
It is loud and this might disturb your baby
It produces too much heat
3. DeLonghi EW7707CM Safe Heat 1500W Comfort Temp Heater
It is one of the popular units preferred by parents since it is one of the best heater overnight in baby room on the market.
This gives you comfort when using the heater in the baby's room because it has good reviews. It is an oil-filled heater with the inner oil working is permanently sealed to prevent any leaks.
The motor uses 1500W and has three different settings to ensure that it can heat a larger room., that is, the minimum heating is on 700W, the medium is 800W, and maximum at 1500W. It comes with a wheel for easy moving from one room to the next. It is very quiet.
It has a Comfort Temp button used to make the heater run until it reaches the highest temperature. The unit will then shut off to ensure that energy and utility bills are saved.
It also has overheating protection to prevent any hazards in your home. A thermostat is used to increase its efficiency.
It can be used constantly and it comes with safety features. It has the ability to automatically shut off when it has reached maximum temperatures.
Additionally, it has an anti-freeze feature that ensures that the pipes are not freezing when it is not in use.
Specs
It measures 5.9 by 13.8 by 24.9 inches
It weighs 23.1lb
It is very quiet and the baby will be able to sleep soundly
It is available in light gray and white
Has an adjustable thermostat
Has 3 heat settings
It is an oil-filled radiator space heater
Motor uses 1500W
It has an anti-freeze feature
Pros
It is sealed to ensure that there are no leaks
It is very quiet and thus the baby will have quality sleep
It uses 1500W
It has three heat settings
It has when for ease of portability
It comes with safety features
It has a Comfort Temp button
Cons
It is hot when touched
It will take longer to heat your room
4. Tangkula Oil Radiator, 1500W Portable Compact Electric Space Heater
It is a heater that is designed for baby room. It is a silent heat for baby room that ensures the baby is warm in cold days.
It has the capability of fulfilling all your needs as it is a good choice during winter seasons. It can be used if the nursery room is large and requires constant heat during cold seasons.
Its ability to heat small rooms is impeccable. It has security features that ensure that it will automatically shut off when it overheats. It offers quiet operations and thus the baby will sleep soundly.
It is portable and it has four heavy duty caster wheels that facilitate efficiency when it comes to labor and you can easily move it.
It is made of rust-resistant metallic structures that increases its durability.
Specs
It has an adjustable thermostat
Its dimension is 14 by 10 by 25.6 inches
It is an oil heater
It has three heat settings, that is low at 600W, medium at 900W, and high heat setting at 1500W
It weighs 18lbs
Pros
It comes with caster wheels for easy movement
It has excellent controls for the temperature
It has an automatic shut off feature
It is energy efficient
The motor uses 1500W on the high heat settings
Cons
It gets hotter when handling
It has a short cord that hinders movement
5. Instant Plug-in Ceramic Space Heater
It can easily heat small rooms. It has powerful Thermal Flow technologies that ensure that there is an effective circulation of warmth in the baby's room.
The heating of the entire room will take a matter of minutes. It also has in-built safety features like a stay-cool plastic as well as a shut off feature when it overheats.
There are no wires that can cause any accidents. It has 600W power with an automatic shut off and an efficient Thermal Flow technology.
Specs
Has an adjustable thermostat
It has powerful Thermal Flow technologies
The motor runs using 600W
The outer covering does not get hot
Has safety features
Pros
Takes a single plug of the outlet without covering the next one
It is portable and can heat small rooms
Cons
None of its settings remain intact when the heater shuts off
6. PureGuardian HTR410B Oscillating Whole Room Space Heater Tower
It comes with a remote control and thus you can regulate your warmth when you are far. You can use the only fan to get a cool breeze on warmer days.
It is 27 inches long and can quickly warm the entire room using the 1500W maximum heat output that offers a quick and soothing heat, and allows you to program your perfect room temperature from the heat mode.
Specs
It has 2 heat settings that use 1500W
It has a programmable heater thermostat
It has a 2 speed fan to help in cooling the nursery
It has a tip over switch
It is safe since it switches off after overheating
It comes with a remote control
Pros
Uses 1500W
It is power efficient
Has 2 fan settings that can be used independently
It is quiet
Cons
7. Ceramic Space Heater Fan 1200W Electric PTC Heaters
It has three modes of heating, that is, hot, warm and natural wind at 1200W, 600W, AND 5W respectively. With this unit, you can regulate the temperature to what you want.
You can keep a constant temperature because of the thermostat. Therefore, it is energy efficient and comfortable to help the child sleep soundly.
Specs
It uses 1200W. Has 3 modes of wind, that is, 1200W for hot wind, 600W for warm wind, and 5W for natural wind
It has a 70 degrees Oscillation adjustable temperature heating fan
Has an LED display screen
It weighs 9.2 by 7 by 6.7 inches and weighs 2.89lb
It is ETL certified
Has an automatic power off button that shuts it off when it overheats
Pros
Has the ability to heat the nursery fast and evenly
It is portable
Has 36 months guarantee
It is ETL certified with an auto power off that will turn it off when it has overheated or when it has tipped over
It is very quiet
8. Lasko Model 100 MyHeat Personal Space Heater
It provides concentrated private warmth for the baby's room. It offers safe ceramic heat for a very affordable price. It has a fan as well as automated overheating protection.
Lasko Model 100 MyHeat Personal Space Heater can also be found on Amazon using the following link:
Specs
It measures 3.8 by 4.3 by 6.1 inches and weighs 1 pound
Uses 682 BTU to produce 200W
It is ETL certified
Has an automated overheat protection
Pros
It is very easy to use
It is safe for the nursery
It is energy efficient
It is affordable
Cons
It can only heat small rooms
9. Honeywell HZ-7304U Deluxe Energy Smart Cool Touch Heater
The nursery room can be chilly and chances are the power bills can increase. However, the Honeywell HZ-7304 Deluxe Energy Smart Cool Touch Heater  is a silent heat for baby room that often give parents what they want. That is, it will warm the nursery and will not increase the electricity bill.
The product claims to save up to 35% of the energy bill when compared to other products. This is owed to its ability to regulate the amount of energy when used in thermostat mode.
The digital screen displays the amount of energy that is utilized on a low to high scale. You can easily adjust the energy when you feel it is too much or too little.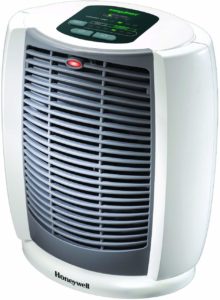 The product also has safety features. It comes equipped with tip-over protection, overheating protection, an extra-wide base for stability, and a cool housing exterior.
The safety features are the best on the market and thus you are comfortable when you leave your child around the unit.
It is very easy to use. It has an LED display that glows in the dark. The buttons are easy to use and you will be able to choose the temperature that you want. Also, you can adjust the heat to low or high. It can oscillate to ensure that the entire room is hot enough.
Specs
The dimension is 28.8 by 20.7 by 32.8 cm
It weighs 4.54g
It uses 1500W
Pros
It is energy efficient
It has a tip-over and overheat protection
It is easy to control
It has the ability of heating an entire room
Cons
It is a bit noisy and might disturb babies who do not enjoy white noise
The fingers of the toddlers can fit into grate even though the fan is far away
It might trip a breaker
There are cases of melted coils
Similar Reads:
Best White noise fans for home and office
10. Keynice Electric Table Heater
The Keynice Electric table heater is one of the best heater for child's room.  It is designed for personal use. It is small to ensure that it saves on space and at the same gets the heating job done. Also, it can be used as a fan only.
It has three modes giving you an opportunity to choose what you want. The high setting uses 950W for heating, the low setting uses 450W for heating, and it has a natural wind mode that offers a light breeze.
It has a fan that oscillates allowing it to rotate at 90 degrees angle in each direction. It is very quiet as it produces noise levels of 30 A-weighted decibels maximally.
It is small in size making it a great option for your baby's room. It has safety features such as tip over protection as well as overheating protection. The heater shuts off if it senses something might not be right, and this is comforting since you are sure that it is safe.
Specs
It weighs 2.7lb
Its dimension is 5 by 5 by 8 inches
Has two heating modes, that is 950W on high heating and 450W on low heating mode
Pros
It has three modes
It has an oscillating fan
It is small in size
It has overheating and tip over protection
Has 1-year warranty
Does not produce too much noise
Cons
It only uses 950W
It is not certified by any testing labs such as UL and ETL