Silent Fans for Bedroom-10 Best Quiet Fans for Home
In the hot days, excessive heat can be uncomfortable for anyone. It's even worst when after a hard day's work you retire to bed in the heat. Silent fans for the bedroom can help solve this problem.
Of course, there are other alternatives like air conditioners. But not everyone can afford an air conditioner plus they consume more electricity than fans.
But you may ask, why will you need to get a quiet fan rather than any fan?. Well, quiet fans are ideal for especially light sleepers and everyone actually because you don't want to sleep in a noisy room.
Noisy fans are a pain when it comes to sleep. It's difficult to sleep in a noisy room. You need quiet and soothing sounds to help you sleep soundly but not a loud peaky noisy fan.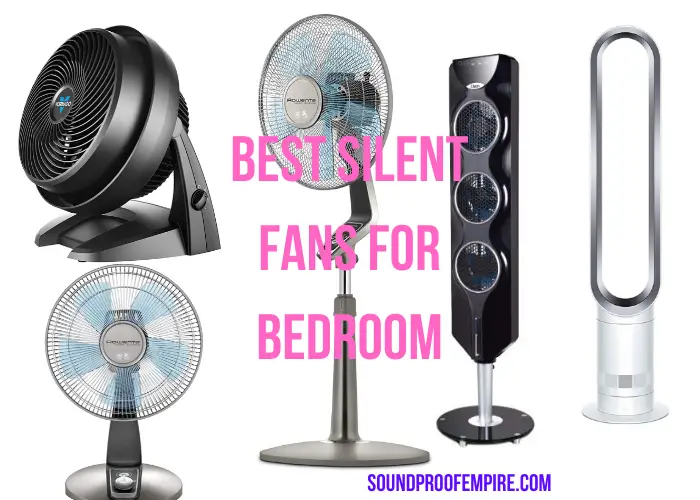 I remember the first fan I bought when I rented my first apartment. The fan was so busy that when it is on. I literally couldn't hear anyone talking around me.
I went back to the shop and changed it for a quieter fan. That shows the level of noise it was making.
Well, if you were to be looking for a fan that will drown out outside noise, then you could out for a fan like that. It was able to block any external conversation or noise from the room.
Today we are looking at quiet fans for sleeping that won't be too noisy.
Buyer Guide to Quiet  Fans  for sleeping
These are features to look out for when you are choosing quiet fans for sleeping.
Sound energy is measure mostly in decibel(dB). Therefore the noise level of the fan is measured using dB. The is the decibel range for the fan functioning at its highest and lowest speed settings to give you an idea of the amount of sound produced.
Manufacturers may either provide the range of decibels while others will specify the decibel at the fan maximum settings. Very high dB means the fan maybe loud when in operation.
The maximum volume of air that a fan can move per minute is termed cubic feet per minute (CFM). a high CFM means that the fan can move good amount of air per minute but it also means the fan will produce more noise in the process.
Since you are looking for a silent fan for bedroom, you will need a compromise between low noise level(dB) and good CFM. This will ensure you get good airflow and quiet fans.
For the best noise and airflow level of the fan, the fan should have enough speed selections for you to select the optimal speed setting for your sleep. Having more speed selection means you will be able to choose the best setting.
Where do you intend to place the fan in your room?. There are different types of fans that can be used in a bedroom. Are you looking to place it on the floor, desk or wall?. With this in mind, you will be able to determine the type of fan you want for your room.
Fans are now featuring different convenient features. Some of the new fan designs now come with remotes. The convenience of being able to control your fan without getting up from bed is a luxury. If you wish to have a remote-controlled fan, you will be able to find one. Some fans also have built-in ionizers that basically freshen up the air by removing very small particles as the air flows through.
Best Quiet Fans for Sleeping
Below are some of the best quiet fans for sleeping that will enable you to sleep soundly without too much fan noise around you.
1.Dyson Cool AM06 Air Multiplier Tower Fan
The Dyson cool air multiplier tower fan does not have any fast moving blades. It uses the air multiplier technology to ensure that you get stream flow of air uninterrupted. It is one of the best quiet fans for sleeping.
It is designed in a way that, it does not consume much electricity and plus, it can produce high velocity airflow while remaining quiet in operation that you won't even notice.
The Dyson tower fan is safe to use with the little ones around because of its bladeless design, you won't have to worry about the children hurting their fingers.
This quiet oscillating tower fan has a sleep timer that is programmable. You can set the Dyson oscillating tower fan to turn off after a preset interval ranging from 15 minutes and to as long as 9 hours. when the set time is up it will go off.
The fan is also has a remote control that allows you to be able to change airflow settings of up to 10 precision settings, sleep timer, on/off and oscillating control.
2. Vornado 630 Mid-Size Air Circulator Fan
 The  Vornado 630 mid-size fan is well equipped with an adjustable tilt head that allows you to direct the air anywhere you want in the room or space.
This is one of the best quiet fans for the small rooms and especially if you are looking for a quiet fan for baby's room. This fan won't disappoint you. It is one of the most purchased quiet fans on Amazon right now. With great reviews from verified customers.
This shows how pleased customers are with the Vornado air circulator fan. As the name even suggests, this is not just a fan, but an air circulator that ensures the air gets to everyone.
It has a 3- speed manual control which allows you to select the right speed to enable you to sleep soundly through the night.
the Vornado air circulator fan is backed with a 5-year warranty and its certified and safety tested in the US.
3. Dyson Air Multiplier AM06 Table Fan
The Dyson AM06 table fan is even quieter than the Dyson AM07 model. It sounds 75% quieter. This best quiet table fan also uses air multiplier technology instead of using fan blades to create a powerful stream of uninterrupted airflow without any fast-spinning blades.
This makes it safe for children, pets and during cleaning. The Dyson AM06 remote control allows you to choose the airflow settings of up to 10 precisions, there is a sleep timer that the fan can be programmed to turn off after pre-set intervals ranging from 15 minutes to 9 hours.
This fan can easily be cleaned, unlike the blade fans that you have to open up before you can clean, with this fan, you simply wipe it with a clean cloth.
The Dyson AM06 fan comes with a 2-year warranty.
4. Rowenta Quiet Oscillating Fan
Looking for a quiet standing fan?. Then this Rowenta quiet fan is one of the best quiet standing fans you can have for the bedroom.
This Oscillating standing fan produces exceptionally intense fresh air that keeps you cool throughout the night.
It features 4 silent speeds of airflow which include; 3 mid-to-high speeds and a turbo boost speed which is the highest.
The noise level is low and ranks from 40 to 57 dB. This gives you the ability to select which speed level will work best for you while you are in bed.
This standing fan height is adjustable. You can decrease or increase its height which is adjustable from  42″ to 54″. The carry handle also comes in handy for easy carry and transport.
This Rowenta quiet 16″ oscillating fan head can be set to stationary or pivot up to 90 degrees in all directions which include; light right, down and up.
Additionally, you can manually control the fan from the fan itself or use the remote that comes with it to control it from a distance at your convenience.
5. Honeywell Gresh Breeze Tower Fan
Honeywell is a well-known brand in the home appliance space. They produce some of the best quiet appliances such as air conditioners, white noise machines, heaters, fans, etc.
Therefore I am not surprised that their fans made it to this list od best silent fans for sleeping.
The Honeywell digital tower fan features  3 speeds settings, time shut off function, an electronic LCD display, and programmable thermostat. Plus, it comes with a remote control to allow you to control it at your favorite spot.
This fan is cost-effective and very quality for air circulation in your home to help increase your comfort either at home or at work. The air filter is washable and this enables you to remove dust easily.
6. Lasko Wind Curve Portable Tower Fan
Lasko has been making quality household products for over 100 years and is a respected brand worldwide.
The Lasko portable tower fan is very quiet even if it is operating at the highest. It is an oscillating fan which has 3 speed settings namely low, medium and high modes.
The Lasko is perfectly designed with the bed height also in mind such that it can circulate air across the room perfectly to cool you while you sleep.
Nighttime Setting automatically dims the controlled display and sets the fan on (H) for an hour, then (M) for an hour, and then stays on (L) until you interact with the fan again.
This tower fan is one of the best tower fans for small spaces. standing 43" tall with a small 13" x 13" footprint, the sleek, vertical design optimizes floor space letting you put the fan in places where pedestal & box fans won't fit. This fan comes with a 1-year warranty.
7.  Ozeri 3x Tower Fan
The Ozeri 3x tower fan is one of a kind. This innovative fan is designed with your decor in mind. It is stylish and visually appealing to the eyes with the slim structure and elegant glass base stand in mind.
The Ozeri tower fan is one of the thinnest fans around and it can boast of three independently controllable fans with each fan having 3 speed settings. This gives you 9 levels of cooling to set your fan to.
The 3x Tower Fan's passive noise reduction technology utilizes the physics of blade curvature to generate mitigating sound waves that reduce blade noise and help isolate the soothing sounds of the airflow itself
It also features 3 preprogrammed airflow patterns designed to foster sleep, relaxation, and comfort with 90 degree whisper-quiet oscillation for optimal air circulation/
The Ozeri 3x Tower Fan also features a 7.5-hour timer that can be programmed in 30-minute increments with ease.
With its remote control, you are able to control it from anywhere.
8. Lasko Portable electric 48″ Oscillating Tower Fan
This fan has a multifunctional remote control that also lights up for operating at nighttime. There are three varying speeds and the 
Lasko
also oscillates to spread over a greater amount of space.
It also features a built-in carry handle and optional oscillation for easy handling when transporting and if you which to air to circulate from one side of the room to the other.
The built-in Ionizer disperses millions of negative ions into the air that bond with positively charged ions which includes things like dust, bacteria, pollen, smoke, and other allergens. This creates the ideal breeze for you to relax and to prevent you from getting sick.
If you need white noise to sleep, this fan is also perfectly sized to aim over a high bed and creates a soothing purr that drowns out bedroom noises making it easy to fall asleep. An energy-efficient timer can be set up to 7 hours.
9. Vornado 133 Compact Air Circulator Fan
Vornado has a range of air circulator fans in the market. I already review the mid-size fan in my earlier reviews. This Vornado 133 compact air circulator fan is a miniature version of the Vornado AM06.
This compact best quiet desk fan has a 2 speed manual control which makes it easy to use and set up for your comfort.
It features multi-directional airflow because of its adjustable tilt head that allows you to control the direction of the air.
Vornado company believes in their products that they tend to give long warranty periods. This Vornado air circulator is not an exception. It comes with a 5-year warranty. All its technical requirements are built with the US market in mind.
10. Rowenta Turbo Quiet Table Fan
For a best quiet oscillating table fan, this Rowenta turbo silence 4 speed oscillating 12″ fan is ideal for home or office.
The fan's five-blade oscillating head pivots up to 90 degrees in all directions (left, right, up, and down) and can be set to stationary for targeted airflow—perfect for personal or medium-size room cooling.
The oscillating head can pivot up to 90 degrees in all directions including left, right, up and down. If you want, you can also set the fan to stationary operation.
Depending on how much cool air you need, you can choose from the three mid to high speed settings and if you really need powerful air, you can set it to a turbo boost setting to supercharge the room.
Similar Reads:
Top-rated quiet fans for sleeping
Quiet portable air conditioning units
There are different types of fans that are quiet and can be used for both home and office. Depending on your space for the fan or where you want to place it, you will get the type that will fit perfectly for you. Below are the different types of fans you will find in the market.
As the name of the type of fan suggests, quiet table fans are miniature in size and they have a small base enough to fit on a desk or bookshelf. They usually have less airflow and therefore operate quietly.
Oscillating fans are pivoting fans that are able to produce maximum airflow from one side of the room to the other side of the room by pivoting itself round. These types of fans are very quiet and you would barely notice them. Oscillating fans are best used in closed spaces like bedrooms or living room areas.
These are fans that you would often find hanging on the ceiling. They can be used in a small room or a large room. These types of fans don't use a lot of electricity and therefore are energy saving. They help in circulating warm air in winter and cool air in summer. When they are on, they are able to circulate air throughout the whole room at once.
Tower fans are very quiet and effective in a small space. Their design in nature ensures that they don't take a lot of space in the room. Very ideal for bedroom and living rooms. Some tower fans may contain air filters that should be replaced regularly.
Room fans work in directing the air into a concentrated space and they come in a variety of shapes and sizes. These types of fans are mostly portable electric fans that are convenient for many types of rooms such as bedrooms, office spaces, and dormitories.
Shop fans are typically used in areas you need a lot of air and wish to keep dust away. They are rugged blower style fans that can circulate a lot of air at once. They are used in areas such as ventilate workshops, work areas and to help in drying up wet surfaces fast.
On Silent Fans for Bedroom
Fans are great in the summer days when the weather is hot and we need to cool our body's temperature down.
having a quiet fan for sleeping is important to you getting a sound sleep. That is why I researched and came up with these silent fans for bedroom to help you make an informed decision.
You will have to determine the type of fan you want for your room and the space in your room will also determine the size of the fan and the type.
 You can select the quiet fan that suits your needs and space.