Top 5 Quietest Wall Mounted Fans for Quiet Efficient Cooling
Looking for the quietest wall mounted fan for your room or outdoor space?. Perfect, then you've come to the right place. In this guide, you can expect to learn the following:
What a wall mounted fan is
How does a wall mounted fan works
Our top-rated quiet wall mounted fan picks
How to choose a quiet wall mount fan
Can you mount a wall fan on the ceiling?
And more…
Quick Preview of the Quietest Wall Mounted Fan Picks
In a hurry?. I understand. Here is a quick overview of the best quiet wall-mounted fans for both indoors and outdoors.
When it comes to blast-you-in-the-face ventilation, there is no better fan than the humble wall-mounted fan. Though it's not the best type of fan for the living room, it's mostly perfect for workshops, basements, warehouses, outdoors, and more.
The best quiet wall-mounted fan will deliver serious power with minimal fuss and less noise, helping you to cool your space down quickly and economically.
Unlike their ceiling mount counterparts, which push air downwards, wall fans push air through space. This makes them great for moving cool air throughout the space they are placed. wall mounted fans are much more affordable and because they are mounted on the wall, they don't take up any space.
If you are concerned about the noise that wall-mounted fans make, then you will find this guide very helpful in choosing a quiet wall-mounted fan for your space.
I have done deep research and curated the best quietest wall-mounted fans for your consideration. Keep reading to find out more…
Also Read:
Best Quiet Outdoor fans for cooling
What is a Wall Mounted Fan and How Does It Work?
A wall-mounted fan is a type of fan that is mounted on the wall of the space that the fan is intended to cool. A wall-mounted fan is mostly like the head of a pedestal fan that is detached from its stand.
Wall-mounted fans tend to work in a different fashion than other fans. while fans circulate air, wall-mounted fans push air horizontally throughout the space and not down like ceiling fans. While they don't necessarily change the temperature of the room, they do create a cooling effect.
Because wall mounted fans are oscillating fans that are fixed to the wall and they work by pushing air through space rather than circulating it down, they are more effective when installed in close proximity. Therefore, depending on their placement and size, you may or may not feel their cooling effect.
Best Quiet Wall Mounted Fans Reviews
Below are some of the best wall mount fans that are quiet in operation. There are different sizes to cater for both large and small areas.
1). HydroMist 18 inch Shrouded  Outdoor Wall Mount Oscillating Fan
This HydroMist shrouded outdoor wall mount oscillating fan comes in different sizes. The 18 inches size the largest that can provide cooling for large spaces such as warehouses, outdoor kitchens, and living spaces, garages, restaurants, etc.
It has 3-speed fan settings that include 3500, 4200, and 5100 CFM. This allows you to choose the best airflow that works best for you. The lowest and medium airflow speeds will be less noisy than the highest speed.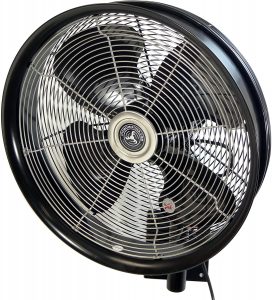 This fan is great outdoors because of the weather-resistant electrolysis nickel plating.  It also has an integrated chrome fan guard with the capacity to be easily retrofitted for misting. If you want to change the fan head to a different direction, you can easily tilt the ratcheting fan head and it's UL 507 rated for outdoor use.
---
2). iLIVING Wall Mounted 18 Inches Speed Indoor/Outdoor Weatherproof Fan
The iLIVING wall mount outdoor fan comes in two sizes: 14 inches and 18 inches. This fan is designed for use both indoors and outdoors. It is a powerful quiet wall mount fan that is easier to install than a ceiling fan.
This wall-mounted moisture-resistant outdoor misting fan is perfect for cooling down your home, warehouse, coffee shop, loading dock, greenhouse, amusement park, livestock building, or sporting event.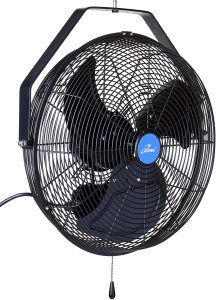 It features three speeds that are adjustable with a pull chain control. The airflow is at 6360 CFM. Also, the fan is made of durable materials that are industrial grade, the motor is sealed and permanently lubricated for wet locations, hot and harsh weathers.
This indoor/outdoor fan is OSHA-approved.
---
3). Air King  Quiet 18 Inch Industrial Grade Wall Mount Fan
This 18-inch industrial grade wall mount fan is one of the other numerous quality products from Air King. Air King offers a full line of industrial grade and commercial grade air circulating fan solutions to meet almost any need you might have.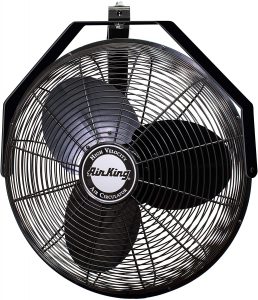 This Air King quiet wall mount fan is ideal for plants, large offices, warehouses, and other industrial spaces that require powerful air circulation. The fan has three blades that are constructed of powder-coated steel for long-lasting durability.
This fan is ETL and OSHA approved making it is ideal for almost all outdoor uses. It features 3-speed, 1/6 HP, 120V, 1 phase, totally enclosed, ball bearing, and it's permanently lubricated,
---
4).  Hurricane 12 Inch Wall Mount Fan
This Hurricane wall-mount 12-inch fan is the most affordable quiet fan on this list. It's a white fan that can easily blend into any space decor. It's great for homes, greenhouses, garages, workshops, gyms, and other areas with limited floor space.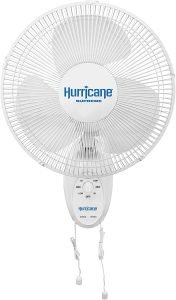 You can easily control this 3-speed optional setting with its low-hanging pull cords or with the turn dial. If you are looking for an affordable fan with a quiet motor, then this fan is recommended for you.
This fan can oscillate 90 degrees side by side and it can also be locked into a non-oscillating position. It output 1450 RPM and has an airflow of 1412 CFM when it's on high.
---
5) Global Industrial Deluxe 24 Inch Oscillating Wall Mount Fan
This Global Industrial Deluxe wall fan is the biggest on this guide with an airflow of up to 8650 CFM, very powerful, and features a very highly efficient 3-speeds open air over PSC-type ball bearing motor.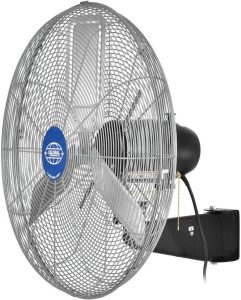 It has a Pivot-action fan head that allows tilt angle adjustments and a 90-degree oscillation. Due to its large blades, this is for wider open spaces that need a lot of cool air to be moved at once.
Though it has bigger blades, they are quiet metal blades and they balance well for optimal air distribution, and has enclosed in steel wire guards for safety.
---
How to Choose a Quiet Wall Mounted Fan
There are a few things to consider when selecting a wall mounted fan for your space. Here are basic features to consider when looking for the best wall mount fan.
Noise Level
Wall-mounted fans arent known for being perfectly silent when on.  That being said you still have to look for a model that doesn't sound like a constant engine.
Noise levels are using the measure in decibels (dB) or sones. Whichever one the manufacturer uses, both are referring to the level of sound the device makes when in maximum operation.  Be sure to choose a model that is low in noise rating as much as possible if you don't want noise. Because the higher these numbers are the louder the device gets.
Size
The size of the fan you choose does affect how much air it can blast out. This doesn't mean that bigger is always better. However, the size of the room needs to be taken into consideration when choosing the fan. Even though wall fans don't necessarily take up floor space, but if it is too big for the room, it may end up getting in the way of people's movement.
Speed
Different fans come with different speed settings. The most common speed settings are three. However, you can find some kinds with more speed settings especially those with advanced technology. It is recommended to choose a fan large enough to adequately circulate air through the room. Then run it at a low to medium speed to reduce noise.
Installation Difficulty
Depending on your power tool comfort level, installation can be a significant deciding factor. Even if the fan comes with some kind of installation kit, many people find themselves finagling their own custom mounts to various degrees of success.
Versatility
Some wall mount fans are built to be versatile that they can also be used on the tabletop or on the floor as well. They usually come with a handy hook built-in for hanging them on the wall. But they can also be removed from the wall from the hook and place on the tabletop or on the floor.
Other Features
Additional features to consider when picking a quiet wall mounted fan are; the number of blades; this affects the noise level because the higher the number of fan blades, the quieter the fan is, the color, finish and the control type( remote, wall, dial or rotary).
Can You Mount a Wall Fan on the Ceiling?
When you need a fan for a low ceiling room or other places ceiling fans just won't work, wall mount fans are the answer. … If you have a 7 foot or even 8-foot ceiling, you may not be able to fit a ceiling fan in because of law.   Wall-mount ceiling fans are a great alternative.
Final Thoughts on the Quietest Wall Mounted Fan
Wall-mounted fans are great for both outdoors and indoors. They come in different sizes, and speeds; allowing you to choose the one that best suits your needs. These quiet wall mount fans are some of the best wall mount fans that you can consider.
Latest posts by Josephine
(see all)