Top 5 Quietest Tower Fan Picks for Home Feel Cooling
Looking for the quietest tower fan for cooling your room?. Perfect, then you've come to the right place. In this guide, you can expect to learn the following:
What tower fan is
Do tower fans make noise?
Our top-rated quietest tower fan picks
How to choose a quiet tower fan
Are tower fans quieter than pedestal fans?
And more …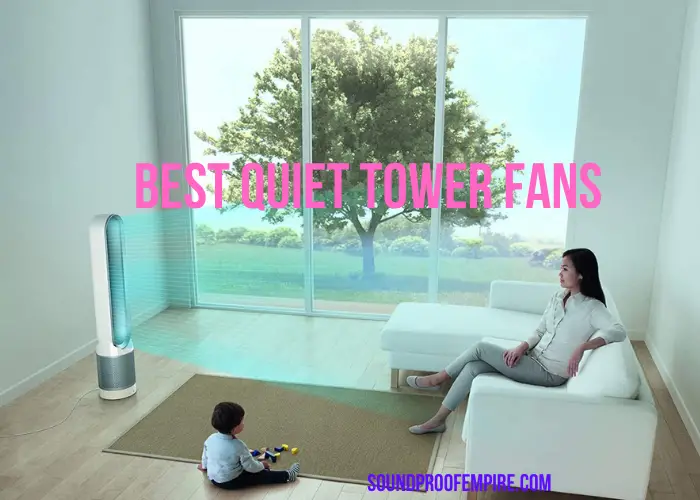 Quick Preview of the Best Quietest Tower Fans for Home Feel Cooling
In a hurry?. I understand. Here is a quick overview of the best quiet tower fans for cooling your room in the home days.
Honeywell QuietSet Whole Room Tower Fan(Best Budget-Friendly)

Dyson Pure Cool TP01 HEPA Air Purifier & Fan( Best Overall )
When the hot days arrive in summer, there isn't much you can do other than to stay cool by laying right in front of a powerful fan. Tower fans are particularly popular on hot days, as they take up less space and their tall design helps to move air around more efficiently, making them the perfect home feel cooler.
But not all tower fans are made the same and on a hot day, the last thing you want is annoying noise from a fan. Some tower fans are quieter than others. In order to have your peace of mind, when shopping, you ought to choose the best quiet tower fan that will move more air, cool your body and without noise.
To help save you hours of research, I have curated and reviewed the quietest tower fans for you to choose from. Keep reading to find out more!.
Also Read:
The best quiet bathroom exhaust fans
What is a Tower Fan?
A tower fan is a type of cooling appliance that is narrow and tall. This device is able to oscillate from left to right and it can push hot air outward. A tower fan is mostly easy to maneuver, it's lightweight and portable. A tower fan has an advantage over normal electric fans because it's a space-saver. It can easily fit into the corner of any room, taking up very little space.
It is different from an air conditioner since it does not cool air instead, it just creates airflow. Because of their energy- efficiency, they are great energy savers.
Do Tower Fans Make Noise?
The level of noise a fan makes vary from brand to brand. Some manufacturers design their fans to be specifically quieter than others. So, if you are asking yourself whether tower fans do make noise, the answer is that generally speaking, tower fans are designed to be as quiet as possible.
They are usually designed to eliminate any unnecessary noise while still distributing the maximum amount of air. In fact, most tower fans you see tower are quiet in operation.
Best Quiet Tower Fans
Below are detailed reviews of the best quietest tower fans in the market for you to choose from.
1). Honeywell QuietSet Whole Room Tower Fan
Honeywell is a household name that has been trusted by many Americas over the years. This QuietSet provides more bang for your buck than other quiet fans. Its dimming feature and multiple speeds make it ideal for use in any room in your home and customers found it quiet and easy to use without any complication.
This  Honeywell QuietSet houWhole Room Tower Fan is slim, has a modern design, and is a powerful fan that features oscillation motion for a whole room cooling. It features 8-speed touch button controls and comes with a remote control that is nested at the back of the fan housing for easy storage.
The speed settings range from a calm, whisper, and sleep to power cool, which is the high mode. Its also equipped with a white noise option. So, if you want a quiet fan with a white noise feature, then this fan is an option to consider.
The noise level is rated between 35 to 55 decibels from the lowest setting to the highest.
Honeywell designed this 32" tower fan to be light at around 6 pounds, and it will take up a minimal amount of space considering measuring 10" x 8" x 32".
It also features an auto-shutoff feature along with an 8-hour timer which can be set at 1,2,4 or 8 hours and not in one-hour increments.
Pros
Has eight speeds, including a sleep mode
Five levels of dimming and touch controls
Excellent price point
Cons
---
2). Dyson Pure Cool TP01 HEPA Air Purifier & Fan
Dyson pure cool TP01 air purifier and fan feature an air multiplier technology that projects air through a room at a speed of  77 gallons per second. What this means is that, it can move a lot of air with its unique impressive design.
This Dyson tower fan is undeniably the best tower fan when you have a wide-open budget. Not only is it quiet, but also, it has some very impressive features.

It comes with 10-speed settings and this makes it convenient for everyone. Plus, the remote control allows you to control it from your couch or bedroom.
Furthermore, the Dyson pure cool purifying fan removes 99.97 percent of allergens and pollutants as small as 0.3 microns from your home including pollen, bacteria, and pet dander.
The Dyson pure cool purifier is wrapped with a 360 degree, vacuum-sealed glass HEPA filter. A layer of activated carbon granules captures odors and harmful toxins like paint fumes. It has year-round purification and smooth, long-range airflow to cool you in summer. Instead of washing a filter every month, just replace it after a year of using it for 12 hours every day.
It is certified asthma and allergy-friendly and awarded the quiet Mark accreditation. This makes it the best overall quiet fan on this guide.
Pros
10 speeds with 70-degree oscillation
Sleek, cutting-edge design
HEPA filtration and it's certified as asthma and allergy-friendly
Cons
3). Ozeri
3x  44 InchTower Fan with Passive Noise Reduction Technology
This Ozeri 3x Tower Fan's passive noise reduction technology utilizes the physics of blade curvature to generate mitigating sound waves that reduce blade noise and help isolate the soothing sounds of the airflow itself. It has a noise level of less than 50 dB, making a very quiet tower fan.
The 3x Tower fan is engineered with 3 independently controllable fans and 3 fan speeds, offering up to 9 levels of cooling and the ultimate in customized airflow.
With its outstanding design, it's a perfect addition to any home decor because of its visually stunning design, slim form factor, and elegant glass base stand.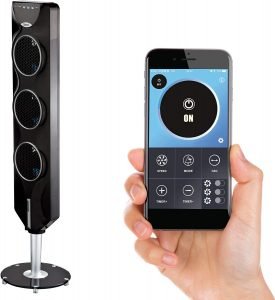 The 3x Tower fan also features 3 independently controllable fans and 3 fan speeds, offering up to 9 levels of cooling and the ultimate in customized airflow.
It is also equipped with 3 preprogrammed airflow patterns designed to foster sleep, relaxation, and comfort with 90-degree whisper-quiet oscillation for optimal air circulation for timely relief on a sweltering summer day or for refreshing circulation all year long.
The Ozeri 3x Tower Fan also features a 7.5-hour timer that can be programmed in 30-minute increments with ease.
This 3x bluetooth and passive noise reduction 44 oscillating tower fan can easily be controlled by your smartphone without using a remote or your hand. The 3X weighs 13 pounds and is 8" wide and around 3" thick. It comes with a 1-year warranty from the manufacturer.
Pros
Passive noise-canceling tech with decibel levels under 50dB
Bluetooth connectivity
90 degrees of oscillation and nine levels of control between the three fans
Cons
Design won't be for everyone
Only three speeds
---
4). TaoTronics Oscillating Cooling Tower Fan
TaoTronics is not a brand that will be familiar to most homeowners when compared to Honeywell or Dyson. They have produced an array of reliable products over the years, however, including a well-received tower fan that's built for quiet cooling.
This tower fan is equipped with 3 breeze modes (Normal, Natural, Sleep) and 3 fan speeds (High, Medium, Low), offering 9 cooling options to meet all your home cooling needs.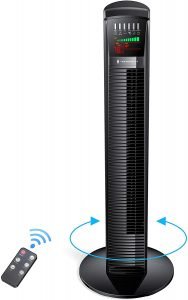 This sleek fan from TaoTronics has a modern design and won't take up much space in a room. It measures 11.8" x 11.8" x 35.4" with a weight of only 6.9 pounds, which makes it easy to move around your home or store when not in use. It comes with a standard remote and is one of the quietest tower fans to make our list with a decibel rating of 44dB.
With 3 fan speeds and 3 wind modes, the 65° oscillating Stand up fan can enhance air circulation through your space, alternatively, you can direct the airflow anywhere you want to quickly address various comfortable needs.
The fan is also an ETL-certified bladeless tower fan that is designed with a narrow fence to not endanger children and also has a fused safety plug to prevent damage from purge power.
Pros
Modern, compact design that's lightweight and easy on the eyes.
Quiet with a decibel level of only 44dB
12-hour timer and useful modes that aren't gimmicky
Cons
---
5). Homech Quiet Tower Fan with Remote
This tower fan features
3 speeds (Low-Medium-High), 3 modes (Normal, Natural, or Sleep), and a 65° oscillation angle to customize your breeze to stay cool on hot summer days in the bedroom, study, or office.
It delivers quality cooling at an ultra-low noise of 45 dB, giving you the comfort and silence you need.
Just like the above tower fans, it also comes with remote control for you to conveniently control it from your comfort zone without getting up.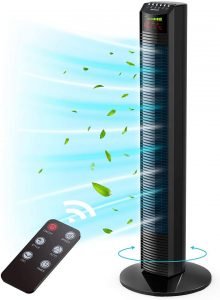 With an ETL certification, the tower fan is safe for you and your family to use as a narrow fence to protect the children and pets. The oscillating tower fan also automatically turns off for your health when the ambient temperature is lower than
24°C / 75.2°F.
Also, the compact and portable design makes it fit into any room corner all thanks to the small base and body.
Pros
3-speed settings and 3 styles
safe for children and pets
compact and portable
Lower noise at 45 dB.
Cons
Some customers compliant of its cheap quality feel
 How to Choose a  Quiet Tower Fan
When choosing a quiet tower fan, there a couple of factors to consider especially the noise levels since every manufacture claims their tower fan is quiet but don't really state how many decibels the noise levels. There are also other factors that need to be considered besides the noise level.
Noise level
The noise level is one of the most important factors to consider when choosing a quiet tower fan. This is measured in decibels or sones. Unfortunately, manufacturers don't sometimes include this information, especially with fans. You can still get an idea of how quiet the fan is from reviews.
Quiet Oscillation 
Oscillation is another feature found on 90% of tower fans produced today. When a fan oscillates, it rotates on its base. This allows the tower fan to provide even coverage across an area, instead of sending air in only one direction.
The oscillation factor varies from manufacturer to manufacturer. Most tower fans oscillate and rotate between 60 and 90 degrees. However, you can also find some models that rotate 360 degrees.
The unfortunate thing is that as the fan rotates, it makes noise, that's why it's good to also read the reviews to help you understand the level of noise it makes when it's oscillating.
Build Quality
The quality of the fan goes hand in hand with the build quality and they also have a direct correlation with how quiet the fan is. You need to choose a tower fan that is made of quality materials so that it will last.
Speed Settings
The fan speed settings are also known as modes, one of the settings you will see on any fan. The more settings you have, the more control you will have over the strength of the airflow. At least, the minimum speed settings you will see are high, medium, and low.
After that, there are plenty of fans with between 6 to 10-speed settings or more. This is also where more settings come in and those extra modes make the fan more expensive and give you more control.
Quiet and Night-Time Modes
Some of the quiet tower fan models come with silent r nighttime mode. though a complete silent fan does not exist, there is a number of techniques that manufacturers use to reduce the noise levels as much as possible.
Night-time mode can vary depending on the manufacturer, but it generally dials down the speed of the fan, which reduces the noise while you sleep. It usually dims the display to a more manageable level as well, although that's only a problem if a tower fan has an overpowering display, to begin with.
Some manufacturers have settings that will mimic a gentle breeze, while others have modes geared towards bedtime. It's also important to remember that some of those special modes are more gimmicky than useful.
Silent or quiet mode essentially serves the same purpose, aside from a few tweaks on certain models. Some fans may automatically adjust the power level based on a timer, while others have modes that are designed to mimic a gentle, natural breeze.
Advantages and Disadvantages of Tower Fans
Tower fans are a great way to supplement your existing home cooling system. In as much as these fans have their advantages, they are not without faults. Here are some pros and cons of tower fans.
Advantages of Tower Fans
Below are  some advantages of owning and using a tower fan:
The Design: Unlike a box fan, tower fans are designed to blend easily into any room while leaving a minimal footprint behind.
Budget-friendly: Tower fans are more affordable compared to similar cooling systems like air conditioners unless you need a tower fan with a lot of features that you will need to spend a bit more extra.
If you do want a fan that can sync up to your smartphone, connected tower fans are still more affordable than connected AC units.
Variety: When you're looking for a central system or window air conditioner, most units look and perform the same. With tower fans, you can find manufacturers that use wild designs and technology not found in other types of household fans.
Disadvantages of Tower Fans
Tower fans are quite capable and the best models can cool mid-sized rooms quickly.  With all the pros that tower fans come with, however, their cooling capacity can be pretty limited compared to larger cooling systems like air conditioning units or box fans.
Are Tower Fans Quieter than Pedestal Fans?
The amount of sound from your fan makes all the difference. Instead of "this is so cooling and relaxing", you can find yourself saying "yeah the air is nice, but why won't it shut up!"
Generally speaking, any high-quality modern fan will be mostly silent. But unfortunately for tower fans, the way they push air around makes them noisier than pedestal fans.
This is because, instead of 3 to 5 sim[;e fan blades spinning around a quiet axis, the egonomics of a tower fan makes them have entire turbine-shaped blades being spun around inside a cylinder. This design makes them be louder than pedestal fans.
Even on the highest setting, you can barely hear the blades spinning. The only noise is the strong airflow coming from the fan blades.
Final Thoughts on the Quietest Tower Fan
Tower fans are generally quiet, energy-efficient, and space savers. Great for apartments, bedrooms, and can also supplement other air cooling units in the home or office. But since not all tower fans are made the same, if noise is a bother to you, then any of the above reviewed quiet fans is going to help cool your space while keeping noise at bay.
I hope you found this article helpful.
Latest posts by Josephine
(see all)