Top 7 Quietest Outdoor Fans
Looking for the quietest outdoor fan for your outdoor cooling?. Perfect, then you've come to the right place. In this guide, you can expect to learn the following:
What an outdoor fan is
Do outdoor fans work?
Our top-rated quiet outdoor fan picks
What to look for in an outdoor fan
And more…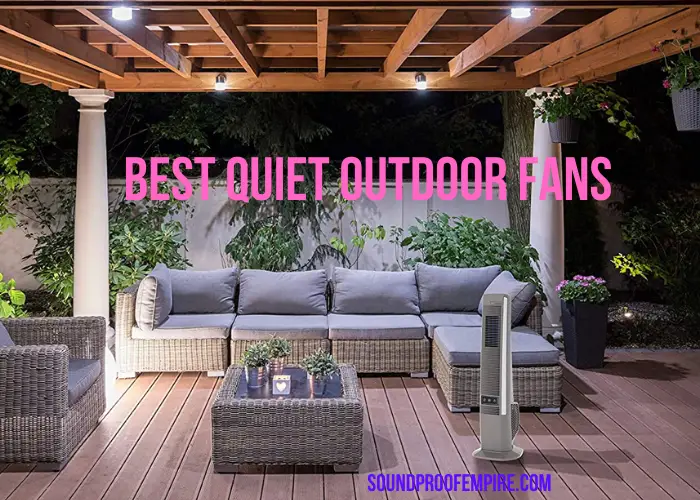 Quick Preview of the Quietest Outdoor Fans in the Market
In a hurry?. I understand. Here is a quick overview of the best quiet outdoor fans that will keep you cool while outdoor.
Outdoor fans are essential to surviving the hot and sticky weather in summer. Gone are the days you have to endure all the excessive heat during those unbearable summer days.
Fortunately, these days, modern outdoor fans have entered the market in numerous numbers in different kinds. They are constructed with durable high-grade materials that can withstand the worst of outdoor weather conditions. Most importantly, they will keep you cool and comfortable through the blazing summer months.
Today, after doing deep research, I have curated the best quiet outdoor fans that will provide you with the cooling that you need on those hot winter days.
Also Read:
Best quiet bathroom fans with lights
What Is an  Outdoor Fan?
Outdoor fans are fans that are made of materials that can withstand high winds and weather elements. Outdoor fans must also use a stronger motor to be able to cool the open space. There are two types of outdoor fans: damp rated or wet rated.
Damp-rated fans are perfect for outdoor areas that are covered and protected from the heavy rain. Damp-rated fans can resist dampness to an extent but can't handle rainfall directly on them.
On the other hand, wet-rated fans can withstand heavy rains and can even be washed off with a hose. The wiring of both types of outdoor fans is made with a special protectant.
Do Outdoor Fans Really Work?
If you are wondering if outdoor fans really work, well, the answer is an absolute Yes. Outdoor fans can keep warm air moving so it feels less oppressive.
Outdoor ceiling fans do this by forcing the hottest air down and pulling cooler air up in a circular fashion so the freshest air is what you feel the most while wall mount fans pull air across an area, creating a heavier breeze that feels cool and provides relief.
Best Quiet Outdoor Fans
These quiet outdoor fans here are comprising of different types of outdoor fans, depending on which type you deem suitable for your situation, you can choose accordingly below.
1). iLIVING Wall Mounted 18 Inches Speed Indoor/Outdoor Weatherproof Fan
The iLIVING wall mount outdoor fan comes in two sizes: 14 inches and 18 inches. This fan is designed for use both indoors and outdoors. It is a powerful quiet wall mount fan that is easier to install than a ceiling fan.
This wall-mounted moisture-resistant outdoor misting fan is perfect for cooling down your home, warehouse, coffee shop, loading dock, greenhouse, amusement park, livestock building, or sporting event.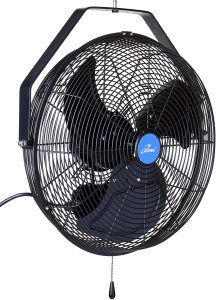 It features three speeds that are adjustable with a pull chain control. The airflow is at 6360 CFM. Also, the fan is made of durable materials that are industrial grade, the motor is sealed and permanently lubricated for wet locations, hot and harsh weathers.
This indoor/outdoor fan is OSHA-approved.
Features
Three variable speeds
Airflow of 6360 CFM
Two options to choose from: 14 inches and 18 inches
OSHA approved
Made of industrial-grade materials
---
2). Designer Aire Oscillating Outdoor Standing Floor Fan
The quiet floor fan by Designer Aire has a vintage style, it sleek and quiet. This timeless design adds a flare and style to any room of the house.
Made of high-quality stainless steel material, this fan has a 45-watt motor with three speeds. With the low setting at 900 RMP, medium setting at 1100 RPM, and the high setting at 1280 RMP. The smooth quiet oscillating feature ensures you get comfortable on both hot days and nights.

This quiet oscillating fan has a telescoping neck that allows you to adjust the fan height anywhere from 40-51 inches high. The oscillating fan heat is 18 inches wide and it tilts in order to cover a wide space for maximum cooling.
The fan is Coated in All-Weather, U/V paint for outdoor use. Wet-listed safety rating, with GFCI plug. Weighted base for extra stability against bumps.
Features
A weighted base to provide stability during windy conditions
U/V-resistant all-weather paint to eliminate fading
ELT "Wet Listed" safety rating with GFCI plug
18-inch fan head with oscillating and tilt features
Adjustable telescopic neck
3). Home Decorators Collection Kensgrove 72 Inch LED Ceiling Fan
This Kengrove 72 inch LED ceiling fan is great for large areas and lofts. Featuring 8-blades, it will push out 10,484 CFMs for maximum cooling over large areas.
Because of the large number of fan blades, it delivers maximum cooling at low noise. This outdoor ceiling fan is equipped with a DC motor that saves on your electricity bills because not only are DC motor fans quieter, but they are also more energy-efficient than their AC motor counterparts.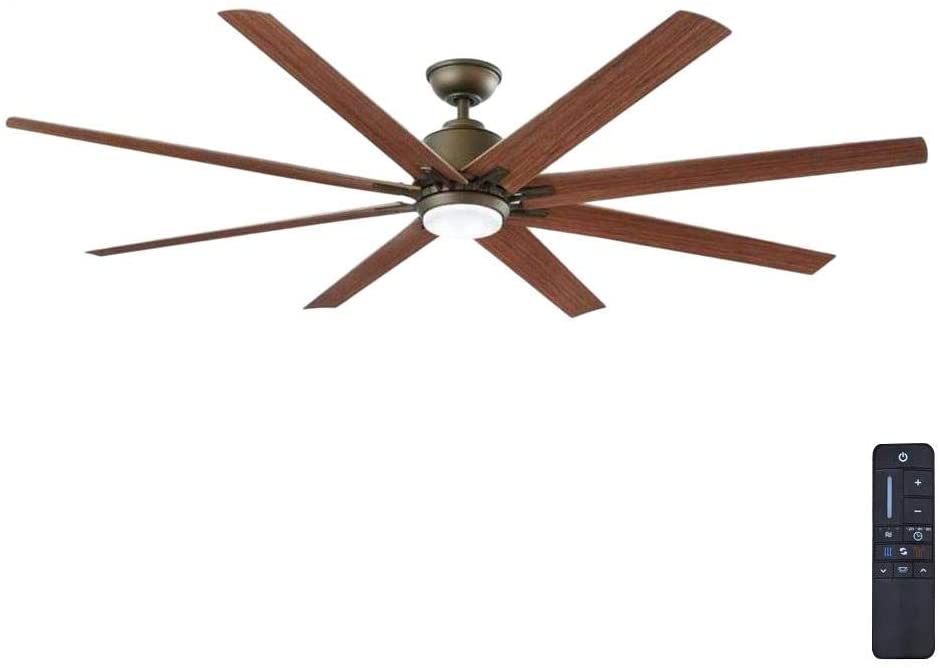 Also, this DC motor fan has 9-speed settings which are three times more than many traditional fans have. Plus, it comes with a handheld remote control that allows you to control the fan from your sitting position without getting up.
Features
Comes with a remote control
8 weather-resistant maple blades
Energy-efficient DC motor with 9 speeds
Ideal for both indoors and outdoors, wet rated
4). Lasko YF202 Oscillating Tower Fan
Lasko has a range of fans in the market today that are loved by many customers all over and this Lasko outdoor fan is no exception. In fact,
Lasko has been making quality home environment products for over 100 years.
It is perfectly engineered to withstand the harsh weather of the outdoor and is ideal for decks, patios, porches, etc.

With a height of
42"  and with a 13" x 13" footprint, the sleek design blends in nicely to any outdoor space and decor.
This fan has 4 quiet speeds and a high-performance motor that allows you to set the fan speed to your preference.
When it comes to putting together this fan,  it is easy to assemble with no tools required.
Features
4 quiet speeds
Easy to use and no tool assembly required
Built for outdoor use
Ideal for the places with limited space
---
5). Hurricane Quiet Pedestal Fan
This Hurricane Pro 20 inch high-velocity metal stand fan is made to last for many seasons. It's ideal for greenhouses, garages, homes, workshops, and other areas that may require a heavy-duty portable stand fan.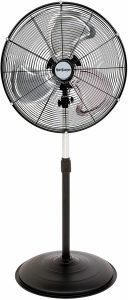 It has an adjustable height from 39 to 54 inches tall with a sturdy weighted base. This fan also has 3-speed settings with oscillation controls and adjustable tilt. Runs at 4500 CFM and 1400 RPM. Comes with a 6-foot 120-volt power cord.
Features
Adjustable height from 30 to 54 inch
3-speed settings
Heavy-duty portable stand fan
Runs at 4500 CFM and 1400 RPM.
---
6). Smartmi Standing Oscillating  Pedestal Fan
This is another quiet pedestal fan that comes with 7 blades to cover a wide range of area. This quiet standing fan runs as low as 28.6 dB, which sounds just like leaves falling in an autumn breeze.
Its also equipped with a DC motor which has a  longer life span and reduces energy consumption compared to the traditional fans.

The Smartmi pedestal fan features a built-in lithium-ion battery, when it's fully charged, it can be used wirelessly for up to 3 hours at its highest speed and up to 20 hours at its lowest speed.
There is also a smart App control ability once you get the Mi Home App connected, you can control and customize it the way you want it.  It also offers 100 stepless speed settings, a shut-off timer, 4 oscillation angle control, parental controls, natural breeze mode, and normal mode switcher, etc.
Features
Smart App control
Works with a built-in lithium battery

The 120° wide oscillation angle and 40° tilt angel cover your entire room

Ultra-quiet operation at 286 dB
7 blade design
---
7).  RUNACC Battery Powered Floor Fan
If you like outdoor activities like fishing, camping, barbeque, and other outdoor activities, then you will be interested in getting this quiet camping fan.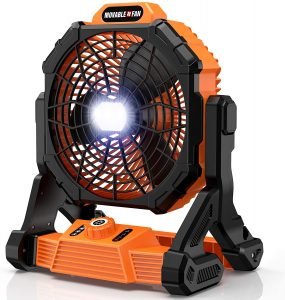 This well-designed fan delivers a maximum airflow of up to 3500 CFM and giving you a good air circulation and cooling effect. With the built-in 14400mAh rechargeable battery, you can use it between 4 and 15 hours after a 3-hour full charging.
Another good thing about this fan is that is portable and cordless, allowing you to carry it everywhere you are going.
Features
Maximum airflow up to 3500CFM

Battery-powered fan with 1000lm LED light

4 wind indicator lights

360° rotatable encoder knob and 270° rotation

3 different lighting brightness Levels
---
What to Look for in a Quiet Outdoor Fan
If you are in the market for a quiet outdoor fan, you undoubtedly know that there are multiple different types on the market today with varying features, specifications, and sizes to choose from. Here are some tips to guide you in your selection.
Rating
There are two types of quiet outdoor fans; wet rated and damp rated. One of the most important considerations when buying any fan or light fixture is the location. Where will it be installed?. There are two options available for outdoor use: Damp-rated and wet-rated fans.
These ratings come from the Underwriters Laboratories(UL) for short, its a safety organization that certifies products with regards to electricity and fire safety.
The wet-rated fans are outdoor fans that can be either installed in either damp or wet environments and may be directly exposed to rain. Damp-rated fans should only be installed in a covered location that is not exposed directly to rain.
Noise Level
The noise level is one of the most important factors to consider when choosing a quiet tower fan. This is measured in decibels or sones. Unfortunately, manufacturers don't sometimes include this information, especially with fans. You can still get an idea of how quiet the fan is from reviews.
Motor
When you see a fan labeled AC or DC. This simply refers to the type of motor used. AC motors draw more electricity, while DC fans use the electronics to convert the AC current to DC power. Generally, DC fans use about 75% less electricity without compromising performance. They are therefore more efficient and environmentally friendly.
DC motor fans are also much quieter than their AC counterparts.
Aesthetics
Today, there are many viable exterior fans on the market, in styles ranging from ultra-modern to warmly traditional. Picking the right style for your exterior should blend well with your existing design.
This especially true if you are looking for a quiet outdoor ceiling fan. Outdoor ceiling fans come in many of the same styles as indoor ones. There are some varieties that specifically work well in the open air. For example palm-leaf fans and those with a coastal or tropical twist.
 Other Environmental Factors
Besides moisture, other factors such as wind and salty air. If you are looking for an outdoor ceiling fan, be sure to choose a ceiling fan with high-wind areas especially unibody fans that feature sturdy blades with no blade holders. This will ensure that the components do not break or sway in high wind.
If you intend to install a fan at a location with salty air, then its best to choose fans for salt air location. These kinds of fans are built using marine-grade components that won't corrode or rust, even when they're constantly barraged with salty air.
Speed Settings
The fan speed settings are also known as modes, one of the settings you will see on any fan. The more settings you have, the more control you will have over the strength of the airflow. At least, the minimum speed settings you will see are high, medium, and low.
After that, there are plenty of fans with between 6 to 10-speed settings or more. This is also where more settings come in and those extra modes make the fan more expensive and give you more control.
Final Thoughts on the Quietest Outdoor Fan
During summer the weather can really get hot outside. It can be uncomfortable to sit outside with a cooling unit. The above fans are great quiet outdoor fans that can cool the air around you outdoors. Some are portable to move from place to place, others are also battery powered allowing you to use them even in the absence of electricity.
Latest posts by Josephine
(see all)