Quietest Motorcycle Helmet:7 Best Quiet Models in the Market
Looking for the quietest motorcycle helmet for quieter rides?. Perfect, you've come to the right place. In this guide, you can expect to learn the following:
How does a helmet work?
Types of motorcycle helmets
Our top-rated quiet motorcycle helmet picks
Factors to consider when choosing a motorcycle helmet
What makes a helmet noisy?
How to reduce wind noise on your helmet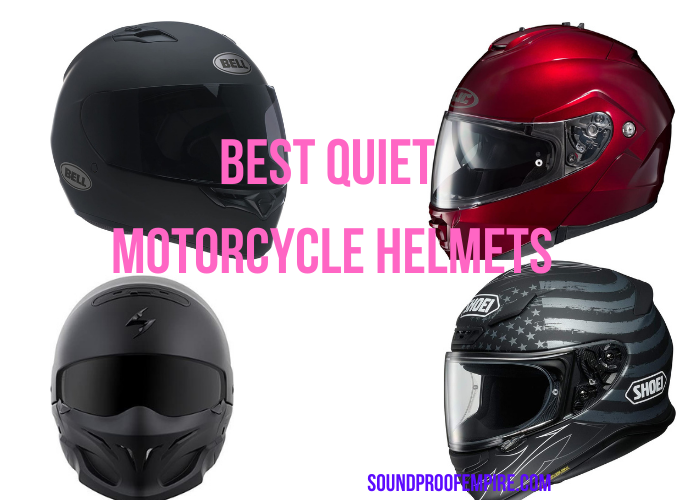 Quick Preview of the Quietest Motorcycle Helmets in the Market
In a hurry?. I understand. Here is a quick overview of our top-rated quiet motorcycle helmets.
Riding is a pretty noisy affair. Between the wind, the engine, the road, and the traffic, things can get loud enough to damage your ears.
So, how do you protect your hearing from getting damaged while you enjoy the ride?. Well, that is what the helmet was made for. Wearing the right quiet helmet will protect you from the loud noise and the harsh wind that cuts through your body.
But with the market flooded with many helmet brands and models, it can be pretty hard to determine which one will provide you with the needed soundproofing.
That been said, I decided to do deep research and gather users' experiences on the quietest motorcycle helmets and this guide was compiled.
Here, you will find some of the top-rated quiet motorcycle helmets for smooth and quieter rides.
Also Read:
The top-rated quietest motorcycle helmets under $200
The best quiet garage door openers
How Does a Helmet Work?
Every rider knows the importance of having a helmet on when on the road. But why so?. Well, helmets are quite a clever invention. They work by combing two different materials in order to save your life if you get involved in an accident.
The helmet comprises the outer shell and the inner liner. The outer shell provides a structure to the helmet and protects you from sharp objects, this is the part you see visibly painted to provide an appeal.
The inner liner on the other hand is usually designed to be thicker than the outer shell and is a lot softer. The common material often used is polystyrene. Its purpose is to help reduce the speed of deceleration, reducing the force that is subjected to your head.
This is why is important to wear a helmet whether it is a law or not. It will literally save your life.
 Best Quiet Motorcycle Helmets for Quieter Rides
These are some of the top-rated quietest motorcycle helmets in the market.
1). Arai XD4 Helmet
Arai is a favorite brand among motorcycle riders and is synonymous with safety and quality. It has a well-earned cult following, along with the lines of Apple enthusiasts. This is a highly rated helmet that comes in a variety of sizes to fit you well.
This helmet comes in six different sizes and colors to choose from. There is a size for everyone.
The XD4 has excellent, intuitive ventilation. Its shape cuts through the wind without a sound. Customers love the high visibility it offers you on the road.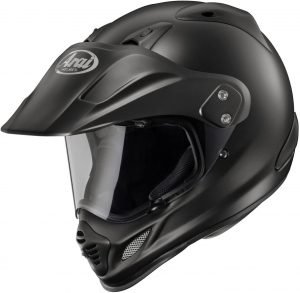 Its new shell shape provides better aerodynamic stability at higher street speeds in concert with its high-flow peak and new side cowl vents.
This Arai helmet is designed to give you the comfort and the support you need. Plus, Its oval form is actually based on the egg's shape, which is long known for its extremely strong and efficient shape.
Arai's amazing new patent-pending FCS (Facial Contour Support) cheek pad design delivers comfort and support.
2). HJC IS-MAX II Modular Motorcycle Helmet
The HJC 980-614 modular flip-up helmet is made from advanced polycarbonate composite. The aerodynamic shell has a large eye port, is lightweight, and very comfortable.
Also with this quiet helmet, you have different sizes and colors to choose from, depending on your personal preferences and fit.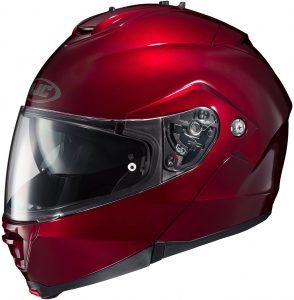 To ensure that there is quality assurance, this Max II helmet is DOT certified and has the ACS advanced channelling ventilation system control the flow of air and the associated wind noise within the shell.
This is one of the quietest motorcycle helmets under $300 that is affordable and high quality.
It also features an adjustable polycarbonate chin bar has a single button release. This makes it easy to release with only one hand even if you are wearing gloves. The visor is pin-lock to help reduce fogging, and the face shield protects your face, and it's easy to clean and replace.
Overall, this is one of the affordable and quietest modular motorcycle helmets for those on a low budget that seeks a decent quality motorcycle helmet.
---
3). Shoei RF-1200 Full Face Motorcycle Helmet
This Shoei RF-1200 full face motorcycle helmet is one of the quietest full face motorcycle helmets in the market. The Shoei brand is known for making some of high-quality helmets for riders and has been in business for the past 56.
The Shoei RF-1200 comes in three different colors- dedicated, black, and TC-5. The sizes also include; small, medium, large, and extra-large.
The Shoei RF-1200 is a full face motorcycle helmet for men who take long motorcycle rides. It is lightweight and has great ventilation.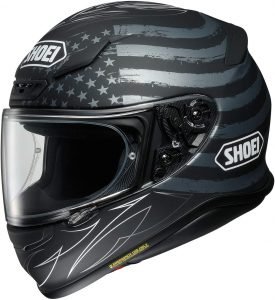 The chin curtain and anti-fog system help keep your vision clear on those longer rides. The reviewers also note that this helmet is more comfortable and causes less neck strain than other helmets.
The RF1200 was designed from its inception to be an industry leader in comfort, performance, and protection. The wind tunnel-tested shell is optimized to provide a compact and aerodynamic shape, reducing wind-noise, buffeting, and weight. This makes it one of the most aerodynamic motorcycle helmets in its price range.
For safety and quality assurance, this helmet is both DOt and SNELL M2015 approved to meet their safety standards.
Whether you are a track day enthusiast or cross-country cruiser, the RF-1200 will allow you to ride with confidence, freeing you to concentrate on the road and, most importantly, enjoy the ride.
---
4). Bell Qualifier Full-Face Motorcycle Helmet
The Bell Qualifier is a full-face DOT approved helmet. The polycarbonate/ABS composite construction makes it a lightweight 4.85-pound aerodynamic shell. It's available in 3 different shell sizes with the EPS liner designed for a better fit.
It is one of the quietest motorcycle helmets under $200. It is equipped with a face shield that hs a quick click release system to make cleaning and replacement easier, plus the NutraFog II system to prevent fogging. The microfiber interior lining improves comfort and fit, which also improves sound control.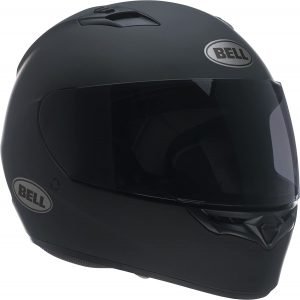 The padded liner helps to control wind and road noise You can easily remove it to wash or replace it .
The Bell Qualifier has two intake vents at the crown that funnel cooling air through channels in the EPS liner to two matching exhaust ports on the lower rear shell. There are also two intake ports on the chin bar for improved airflow under the shield.
Additionally, there are pockets in the liner for easier integration of speakers into the helmet.
The Bell Qualifier Full Face Street Helmet is designed to last. With an antifog, anti-scratch and UV protection all built into the visor, you can be sure it will last you an incredibly long time.
Available in different colors and sizes, you pick one that best suits you.
It is DOT approved and in addition, it also meets the FMVSS 218 Standard, and the requirements imposed by the California Air Resources Board (CARB).
---
5). ScorpionExo Covert Unisex-Adult Helmet
If you are looking for a quiet helmet with an advanced LG Polycarbonate shell, then this may be the one for you. The front mask is removable and is provided with neodymium magnets.
The aerodynamics is simply perfect to provide you with a quiet ride. The scientific design of the helmet makes it one of the quietest helmets. The ventilation system maintains a perfect balance between air circulation and silence.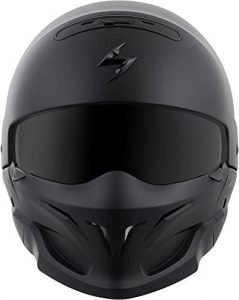 It is a half helmet with an integrated drop-down visor for protection from the sunlight. The rear comfort sleeve allows you to convert the helmet to a 3/4 open face.
Also, it comes with a retractable tinted sun-visor that eases eye strain instantly in varying light conditions, the applied clear coating to both sides is meant to give you a fog-free ride.
Night riders can also undertake safe and comfortable rides with the dark smoke installed for an additional clear visor for night time riding.
Customers have mentioned that the perfect padding of the helmet makes them very comfortable to wear.
---
6). Shoei GT-Air 2 Helmet
If you are on the lookout for a motorcycle helmet that is not only quiet but also provides excellent seamless integration and perfect aerodynamics, then the Shoei GT-Air might invoke your interest.
Refined aerodynamics establishes a perfect balance between silence and air movement. Lift and drag are never an issue with this set due to the shell-integrated spoiler.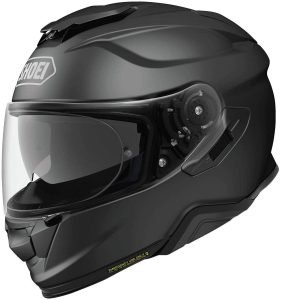 It is one of the quietest Bluetooth motorcycle helmets that has a SENA SRL2 communication system present in it which allows you to connect to your smartphone and enjoy listening to tracks, talk to others or even listen to the GPS direction.
It has cheek pads that can easily be detached and cleaned. This helmet is DOT approved for your safety.
This product is also capable of protecting you against ultraviolet rays that may come from the scorching sun. Plus, the aerodynamic shell design makes it easy to drive through the extreme wind.
---
7). Shark EVO-ONE Unisex-Adult Flip-up Helmet
This Shark EVO-ONE modular helmet with double face-face/open certification is also DOT approved.  Its aerodynamic performance still maintains whether in an open face or full-face position.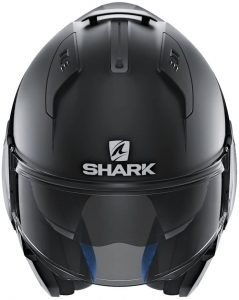 This helmet is equipped with a patented "auto-up/auto-down" system that allows you to automatically lift the visor while raising or lowering the chin guard.
There is also an integrated inner sun visor, the washable CoolMax is washable and it is a universal fit.
This product comes in two colors and many different sizes for everyone.
Types of Motorcycle Helmets
There are six main types of motorcycle helmets: full face, modular, open face, half, off-road, and dual-sport.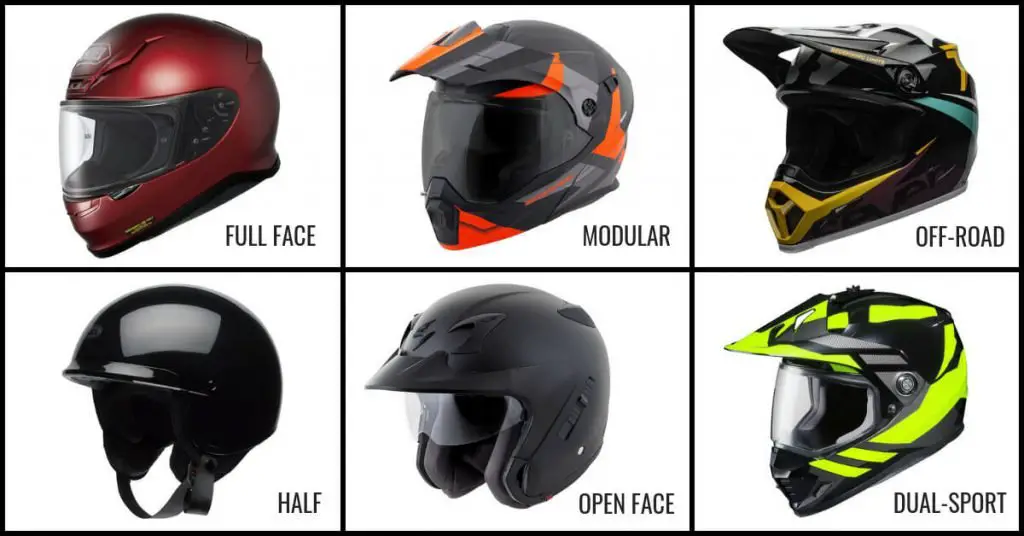 Full Face Helmet
A full-face helmet is a versatile choice for all riders, regardless of the type of motorcycle you ride or where you ride it.
This type of helmet offers the most coverage around your head and neck and is considered the safest type of motorcycle helmet to protect you from potential impact.
Modular (Flip-Up) Helmet
The modular helmet is often used by tourers, cruisers, and adventure riders, as it is designed with an upright riding position in mind.
The modular helmets are a mix between a ¾ helmet and a full-face helmet. The reason for this is that the chin bar and visor can flip up to open the front of the helmet.
The materials used in making these types of helmets are similar to the full-face helmet.
Open Face (¾) Helmet
Open face helmets are considered structurally equal to a full-face helmet, in terms of safety in the areas that they do provide coverage. They are often referred to as the ¾ helmet.  They cover your top back, sides of your head but leaves your face exposed.
These are popular among scooters, tourers, cafe racers, and cruisers.
Half Helmet
These types only cover the top of your head and the area from your forehead to your brows and provide minimal protection. They protect great airflow but give you less protection than the full or three-quarters helmet.
Off-road (Dirt Bike, Motocross, or MX) Helmet
Off-road helmets usually do not offer eye protection, so the rider should be prepared to ride with glasses or goggles.
This type of helmet is designed just as the name suggests, to ride away from the streets and on dirt roads. They aren't the best option for city and highway use, but ideal for places where knobby tires are a requirement.
Dual-sport (Crossover, ADV, Hybrid, Enduro) Helmet
The dual sport helmet is a mixture between an off-road helmet and a full-face helmet. . It has an exterior styling similar to an off-road helmet with a large visor and lower chin bar, but offer more interior padding and comfort similar to a full-face helmet.
These are meant to be a halfway point between each style, as they are designed to be used both on the road and off-road.
Factors to Consider When Choosing a Quiet Motorcycle Helmet
To ensure you pick the right helmet for yourself, here are some factors to consider to help you choose the right one. Especially if you are a beginner.
Noise Levels
Riding a motorcycle subjects you to a lot of noise. Sounds come from the motor engine, the wind cutting against your body, the contact between the road and the tires, and among others. It is important to choose the quietest helmet if you want to reduce the amount of noise you are subjected to.
Luckily, some manufacturers have put in more effort to produce helmets that are quieter while protecting you.
Certified and Tested
The number one reason for wearing a helmet is for protection and safety.  That is why in the US there are safety standards in place to ensure that manufacturers are meeting the safety requirements that a helmet should have. Certifications like the USDOT and the SNELL standards are all in place for that.
Look out for a helmet with any of these certifications to ensure it has passed quality assurance.
Size
Depending on your head size, there are motorcycle helmets with different sizes available to choose from. From extra small to extra large. It's important to choose a helmet that fits your head perfectly. That way, you dont have a loose helmet that can easily fall off or one that is too tight making you uncomfortable.
Design and Materials Use
While it is good to always rely on the safety certification of the helmet, it is also good to know that the helmet is made from the best materials to maximize performance and comfort. The out material of the helmet needs to be strong and lightweight because it is your first line of defense.
Look for materials like Kevlar and carbon fiber in the high-end helmets and lightweight plastic or fiberglass composites. For the inner liner, look out for expanded polystyrene( EPS) foam on the inside which is great for high impact energy absorption and dispersion.
Face Shield
Your vision is critical and you don't want to experience any kind of distortion or extreme fogging. The best motorcycle helmets usually carry a solid, high-quality visor that will provide an optically perfect experience by using high-tech materials to eliminate distortion and many carry an anti-fog coating.
For more added protection, you can look for features such as UV protection and quick to release mechanisms allowing you to swap the visor out for a replacement easily.
Ventilation
Having a helmet that has a proper venting system is also important because you want to be able to get rid of any toxic exhaust fumes that may find their way into the helmet. A well-ventilated helmet ensures there is proper airflow.
On the higher end helmets, the ventilation system is usually adjustable too, allowing you to increase or reduce the amount of airflow as desired.
Type
There are about six different types of helmets and each type is ideal for different situations. The type that offers full protection is the full-face helmet. Check above to ensure you pick the type that is going to meet your needs.
Convenience and features
You may also want to check out additional features like quick-change face shields, strap securing, breath guards, removable padding, noise reduction technology, anti-fog systems, sun shields, and last but not least Bluetooth audio and communication technology.
Price
Helmets of different price ranges exist in the market. There are some that are budget-friendly and some of high premium prices. It will all depend on your budget and the features you want. Investing a high-quality quiet motorcycle helmet will last you for years to come.
What Makes a Helmet Noisy?
Ok, so helmets are not exactly good at the whole soundproofing thing, but why?. Well, according to research at the University of Bath in England
The following factors were seen as the contributing factors to a helmet noise; the helmet's wake and boundary layer ( how air flows on the helmets surface and the resulting turbulence it creates), the chin clearance, and the opening of the neck.
The study shows that even though the helmet wake been shown to contain turbulence over a wide range of frequency, it did not prove to be a significant source of at-ear noise. Rather, it turns out that the helmet's design and the presence of aerodynamic components such as grooves and wings might reduce drag and resistance. But may have little impact on how noisy the helmet is.
Based on the data, it was found that the neck area seems to be the main source of helmet noise.
Also, the third potential noise source from the research was the cavity under the helmet at the chin bar. The helmet angle and flow speed were identified as the key factors governing the production of sound from that area.
How to Reduce Wind Noise on Helmet
There are a couple of ways that you can reduce the noise that is been created by your helmet in order to have a quieter ride. These tricks below will help make that happen.
Wear a Helmet that Fits Your Head Properly
There are different sizes of helmets available in the market for you to pick one the fits your head properly. Wearing an improperly fitted helmet will expose you to a lot of turbulence. If the helmet is not fitting your head properly, with a lot of space inside the helmet, especially with a loose helmet, wind noise will fill the inside causing you to experience the noise.
Wear a Motorcycle Helmet Wind Blocker
The neck area of the helmet can be vulnerable to wind turbulence. If your helmet does have a significant neck padding or is there but not covering enough, it will better you get a helmet neck support to add to the neck area to block the wind.
Wear Motorcycle Helmet Earmuffs
If you are a rider, you can use earmuffs to protect your ears against the wind noise while you ride. They protect your ears against the harsh winter weather and the wind noise.
Wear a Scarf
Scarfs are not only for fashion but in this case, you can use a scarf as a wind blocker while riding.
Wearing a scarf covering your ears will block the wind noise that is passing through your neck into the helmet or just any opened vent on the helmet.
Adjust Your Wind Screen
If you have a windscreen, try adjusting it to effectively shield you against the opposing wind noise.  You can use a windscreen spoiler which will act as an extension deflector for your motorcycle windshield.
The above tips are some of the ways you can reduce motorcycle helmet noise. Getting the quietest motorcycle helmet is one of the best ways to reduce wind noise.