Quietest Motorcycle Helmet Under $200:11 Best Quiet Picks
Cutting through the wind while riding is one of the almost unavoidable things every rider faces. Wind  Noise levels can get pretty high on the highway and as high as 110dB. To ensure that you are not exposing yourself to hearing loss, getting the quietest motorcycle helmet under $200 will come in handy when you are riding.
You are probably wondering, how could a helmet reduce not? well, the wind noise slapping against the helmet can be dampened and reduced. So depending on the noise dampening capabilities of the motorcycle helmet, the wind noise can be reduced.
To reduce this noise, that is why you will need a quiet motorcycle helmet. These types of helmets are designed to dampen the wind noise before it gets to your ears.
A Quick Preview of the Quietest Motorcycle Helmet Under $200
In a Hurry!. Here is a quick overview of the best quiet motorcycle helmets under $200.
Arent these quiet helmets expensive, so you might think. Anyway, the premium quality best quiet motorcycle helmets are expensive.
However, there are also budget-friendly and affordable quiet motorcycle helmets that you can get which are of good quality and less noisy to wear.
Best quiet Motorcycle Helmets
Here are reviews of some of the best quiet motorcycle helmets that are under 200 dollars. With any of these affordable helmets, you will be able to enjoy a quieter ride, especially on the highway.
You don't need lots of money in order to get a good motorcycle helmet to protect you against loud noise on the road.
1. Bell Qualifier DLX Blackout Street Motorcycle Helmet
The Bell Qualifier Blackout street helmet features a lightweight polycarbonate shell that has a flee of comfortable features such as a removable, washable liner, integrated speaker pockets, a padded wind collar, and high-velocity flow ventilation.
The colorway also features 2 shields which include, the clear shield and the dark smoke shield.
The Bell qualifier street motorcycle helmet has been certified by both DOT and ECE for the best safety as much as possible.
This street motorcycle helmet is not just only a helmet but it is also a Bluetooth-ready helmet. It has stereo communication ports that work with some of the popular brands such as Sena and Cardo.
It is a quiet motorcycle helmet because its well-padded wind collar makes it possible to reduce wind noise while you ride.
The Qualifier is built with a photochromatic reactive visor because you don't have to fiddle around with sun visors. With this technology, the visor darkens when the sun is up and goes clear when it's dark.
It is also been equipped with Nutrofog II superior anti-fog and anti-scratch and it is UV protected.
This Black Bell helmet comes with a 5-year guarantee in case of any defects or malfunctions, you can return it.
The qualifier has three different sizes to select from.
---
2. ILM Dual Visor Modular Full Face Helmet
The ILM dual visor helmet is also DOT approved and one of the cheapest and quietest motorcycle helmets under $100. It doesn't cost much.
It is available in 10 colors to choose from. With its aerodynamic and boldly shaped design, it complements your motorbike perfectly and reduces wind noise levels.
This quietest full face helmet is well ventilated making it a best-ventilated motorcycle helmet in the market. This is because it has multiply vents that offer better airflow and you can even close the top and front vents if you wish to reduce more wind noise.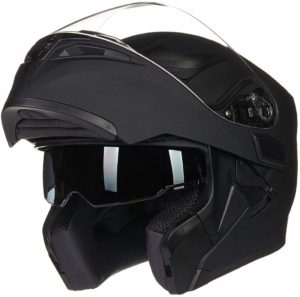 The ILM 902 Modular Helmet is a perfect choice for city and touring, with its rich array of standard features and top performance in terms of comfort, dimensions, safety, and functionality.
This motorcycle helmet is the ideal helmet for those in search of a full-face helmet with aesthetics and safety features as well as the practicality of an open helmet.
it is a motorcycle helmet with a curtain to help block the cold air and wind noise. The inner pads are removable for easy cleaning.
Dual visors can be flipped up with ease. The outer clear visor protects your eyes from road debris with great visibility. The black visor protects your eyes from the bright sun.
---
3. NENKI Full Face Street Bike Motorcycle Helmet
The NENKI helmet has the looks like somewhat the iron man helmet for motorcycle. This is because the NK-856 helmet can boast of striking design with bold graphics and colors.
It is a full-face helmet that is made of fiberglass injected shell making it lightweight and durable. Its design makes it cuts through the wind air easily with less resistance and gives you a quiet ride by reducing the wind noise.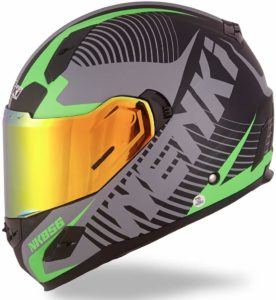 This is helmet is also DOT certified for roadworthiness safety.
The NENKI  helmet has a dual visor for maximum eye protection. The inner sun visor protects your eyes from the sun with great visibility on the road. The outer smoke iridium visor has a gold shade to highlight the matte black and colorful graphics of this helmet.
To protect you against access heating,  a Neoprene -like material is installed inside the helmet and it's covered in the chinstrap.
It's available in 4 sizes and 5 colors to choose from.
---
4. HJC IS-MAX Modular Helmet
This quietest modular motorcycle helmet under $200 is DOT certified for high-impact attenuation. Its aerodynamic shape makes rides on the highway quieter. Plus, it is my number one best-ventilated motorcycle helmet that gives you comfort on the road.
The HJC IS-Max Modular helmet is made of an advanced polycarbonate composite shell with an adjustable polycarbonate chin bar or guard. This makes the helmet lightweight, high quality, and affordable.
This budget-friendly quietest modular motorcycle helmet has a great breath guard that prevents this helmet to fog up. You can install or remove this guard at your convenience but we suggest that you put it in place always.
This HJC modular helmet features a smoke-tented 3-stage adjustable SunShield with a locking system that deploys quickly and easily.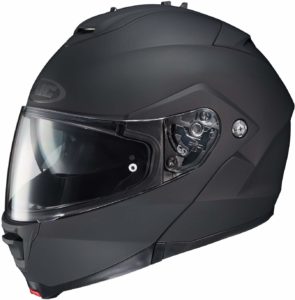 The built-in flip-down internal visor simply allows you to shied your eyes from the sun by simply flipping the Sunshield down to shield your eyes from the sun. This way, you don't have to wear sunglasses for that purpose.
The optical superior pinlock Faceshield provides you with about 95 percent ultra violate light protection to prevent sunburns. This helmet is not only quiet but also has an elegant and classic appeal.
To avoid returns and a too-tight helmet, go for a big size because the small size might just be small. There are 6 colors of the HJC helmet to choose from and 7 different sizes to select the best size for your fit.
---
5. 1Storm Modular Helmet
One of the things that strike when it comes to this particular helmet is the extremely affordable price. For those who want to ride safely and do not require special equipment worth thousands of dollars, this helmet is one of the best purchases ever.
The 1Storm motorcycle full-face helmet also comes in a wide variety of colors, from matte black to pink, red, violet, white, silver, or green. In addition, the helmet also comes in all standard sizes, for a perfect fit no matter the size of your head.
The 1Storm helmet also meets safety requirements and thus is DOT approved. It's designed with all bikers in mind to ensure your safety on the roads.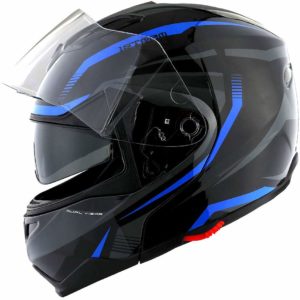 It is made of a thermoplastic alloy shell which makes it lightweight and durable. The padding is removable and can easily be washed and fixed back.
The dual-lens design allows you to easily "pop" the second, smoked lens down when riding towards the sun, this will save you time and could save your life. This is one of the best motorcycle helmets under $100.
---
6.  LS2 Open Face Face Helmet
This open-face helmet has been certified by DOT, it has met the FMVSS 218 standard and it also meets the Califonia Air Resources Board(CARB). If you are looking for the best open-face helmet, this is the most affordable open face helmet I have seen.
This quietest 3 4 motorcycle helmet is a great option for those who feel too constricted with a full face helmet.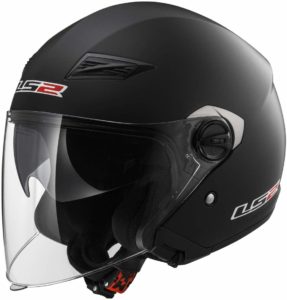 Its open face design provides better ventilation and peripheral vision when you are on the highway. It is made for one of the best open face helmets for touring, scooter, commute, and any type of motorcycle.
The LS2 Track569 is designed with a built-in sunscreen, which is a big improvement from its previous models. Twin Shield System Drop Down Sun Shield drops drawback smoothly with the enhanced slider mechanism.
Multiple vents are fully adjustable to provide great control over outside elements. If it's too noisy outside, close some of the vents for your comfort.
It offers a 5-year limited warranty to cover any defects.
This retro open face helmet is made of a lightweight high-pressure thermoplastic technology shell. This product is one of the quietest open face helmets.
---
7.  Fuel Unisex Full Face Helmet
The Fuel Unisex full face helmet is DOT  and FMVSS N.218 approved. If you are looking for a very affordable with decent qualities, then this helmet is a great choice.
It features a closeable chin and forehead vents, a lightweight thermoplastic shell, a snap to keep any excess chin strap from slapping against you while you ride, and also a removable visor.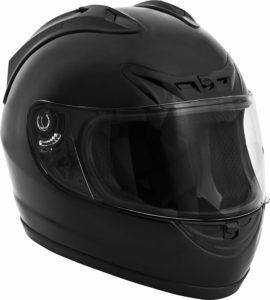 It is one of the cheapest quiet helmets in the market. Its design increases aerodynamics and this reduces the fatigue and wind noise when you are riding. therefore, making it a quietest motorcycle helmet under $200.
It will come in a glossy black design. Safety needn't be worried about either, as it is DOT approved.
---
8. Vemar Sharki Hive Graphic
This Vemar Sharki Hive Graphic is designed for those who want the safety features of a full-face helmet under $200. It is engineered and manufactured to meet the USA's DOT standard and comes with 5 years warranty from the manufacturing date.
There are two available sizes; large and XX-large and three colors; yellow, orange, and grey to choose from.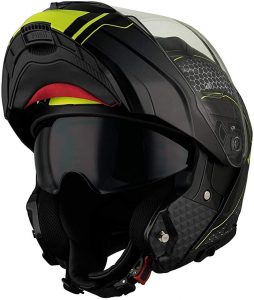 This unit is one of the quietest modular motorcycle helmets and one of the best motorcycle helmet for wind noise that has a modular design with an easy open and removable chin bar. The visor is prepared to fit Pinlock MaxVision lenses.
There are 3 adjustable intake vents and a large rear exhaust port for completely customized air circulation that makes up the Vemar Klima system.
9. AGV Full Face K-1 Quiet Motorcycle Helmet
With this AGV unisex-adult helmet, there are many sizes from X-small to XX-large to choose from. There are about 4 colors you can choose from.
K-1 is the brand new AGV sport helmet for everyday riding challenges. Born from the AGV racing technology, ready for every road experience.
Its Aerodynamic shape, racing-developed front air vents, and wind-tunnel-tested spoiler maximize performances and give stability at a higher speed.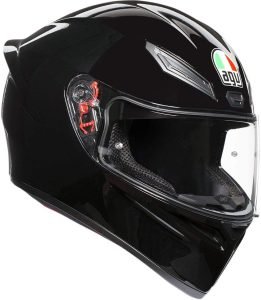 A fully removable and washable 3D inner liner and cheek pads made of Dry-Lex fabrics keep the interior comfy and cleanish.
Concerned about how to clean it?. All its parts are easily removable and washable. It is specially designed to allow the wearing of glasses. The Visor is available in two different sizes to optimize the match between visor and shell in any size and to reduce air drafts and noise.
It is also equipped with an Anti-scratch visor with Pinlock anti-fog allows a wider vertical and lateral  field of vision. Shell in high-resistance thermoplastic resin engineered in two sizes with a four-density EPS structure developed in four sizes.
This product is DOT and ECE 22.05 certified.
---
10. LS2 Helmets Full Face Stream Street Helmet
This cheap quiet motorcycle helmet is affordable and high quality. If you are looking for a built-in, drop-down sunshield on a DOT and ECE-approved full-face motorcycle helmet under $150, then this quiet lightweight helmet is recommended for you.
The Face Shield is scratch-resistant, optically correct and Pin lock ready. There is also an added a built-in Twin Shield System drop-down Sun Shield to get you an amazing value for your money.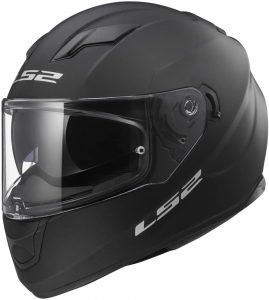 It also has an aerodynamic shell made of LS2's proprietary high-performance HPTT polycarbonate alloy.
It also features a technical fabric comfort liner that includes cheek pads cut from one solid piece of high-quality foam using LS2's 3D Laser Technology for a perfect fit and no "hot spots."It's fully removable and washable so you can keep it fresh.
 It is DOT and ECE approved. It is covered by a 5-year warranty against defects in material and workmanship. This is also one of the quietest full face helmet.
---
11. Fly Racing Street Sentinel Helmet
Off-road enthusiasts may be more familiar with the FLY brand, as the company has produced all sorts of off-road gear from helmets, to jerseys, pants, and gloves for quite some time.
Its made of d
urable and Lightweight Polycarbonate ABS Alloy Shell: A combination of high-strength materials to create a durable and lightweight shell.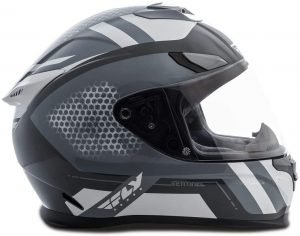 It has Dual Density EPS Liner: Two layers of EPS (Expanded Polystyrene), work together to provide more progressive impact absorption for different levels of impact. Optically Superior Anti-Fog Face Shield: An optically-clear shield with state-of-
The FLY Sentinel helmet is a good sub-$200 price point even including its four graphic styles. The helmet offers a drop-down sun visor, removable liner, easy-to-change shield, and six adjustable vents.
This helmet p
rovides you with peace of mind shield will remain closed no matter what the condition
Types of Quiet Motorcycle Helmets
motorcycle helmets are grouped into two common types. These are full-face motorcycle helmets and modular motorcycle helmets.
we will look at each of these types of motorcycle helmets for you to know which one you will prefer.
Full-Face Motorcycle Helmet
The type of motorcycle helmet usually is designed to cover the entire head.  The eye area is covered with a visor to protect your eyes from sunlight and other debris like dust and stuff when on the road.
One of the outstanding features of this motorcycle helmet type is the chin guard or bar whose function is to provide extra protection.
The full-face helmet type tends to be more soundproof or quieter than the modular type. This is because it covers your entire head and thereby reduces the chances of noise passing through it.
if you opt for this type of helmet, it is recommended you select an anti-fogging visor to prevent distortions in your vision.
2. Modular Motorcycle Helmet
The modular helmet is designed with a removable chin guard. This helmet type is designed with adventure-seeking riders in mind.  You can easily remove the chin guard to give the helmet an open-face design.
To make this type of helmet soundproof, you need to install the chin guard when you are riding because it is the only way you can shut the wind noise off from entering the helmet to get to your ears.
Quick Buyer Guide to the Best Quietest Motorcycle Helmets
Aerodynamics determines the quietness of a helmet. Have you ever wondered why your helmet outer surface is so smooth? well, after a lot of research and effort from motorcycle helmet manufacturers, they identified that any little distortion in the airflow over the surface of the helmet will result in turbulence.
That is why the surface of helmets is so smooth to allow air to cut through easily. Any gaps in the helmet that air can enter through will result in more noise in the helmet.
Interesting Reads:
How to make a motorcycle helmet quieter
Best quietest motorcycle helmets in the market
Best quiet ergonomic keyboards
Here are factors to consider when you are looking for the quietest motorcycle helmets.
The size of the helmet you wear will ensure your safety, quietness, and comfort while wearing it. We all have different heads sizes and shapes. and there are different brands of helmets in the market.
You'll want the interior liners to sit comfortably on your cheeks and ears. Having a gap around the neck and the ear areas will let the wind noise get in and create a bothersome noise.
To get the right size, measure the circumference of your cranium, and refer it to the sizing chart.

One of the main reasons why we wear a helmet is safety on the highway. So, you should ensure that your helmet is DOT-approved to be safe for roadworthiness. Another safety standard you should look for is ECE as this measures high abrasion resistance and shell rigidity.
Helmets that are approved by  DOT have high impact attenuation and peripheral vision of at least 105 degrees.
The best ventilated motorcycle helmet has multiple vents to flush out the hot air inside the helmet. Nothing is as annoying as having a feeling of suffocation in your helmet.
A quiet helmet is great to reduce wind noise but your comfort is also important. Compromise on both to have the best quiet ventilated motorcycle helmet for your rides. This will ensure that you have a quiet and comfortable ride.
The Shell Material of the Helmet
The two common materials that motorcycle materials are made of are fiberglass and thermoplastic.
Fiberglass helmets are more expensive because they are complex to manufacture. These kinds of helmets tend to be more lightweight and harder than thermoplastic but they are prone to cracking when hid hard.
Of the two kinds so motorcycle helmet materials, the fiberglass seems to be quieter because of additional padding that can seal all the gaps inside the helmet.
Thermoplast helmet material, on the other hand, is a type of polycarbonate that needs more foam padding to comply with safety standards.
They tend to be heavier and bigger but they are more affordable.
Final Thoughts
Wearing one of the quiet motorcycle helmets under $200  will not only protect your head from injuries in times of accidents but will also protect your hearing from damage from noise.
Luckily, you don't have to break the bank to get a decent helmet for yourself. The above-mentioned quiet motorcycle helmets are all under 200 dollars and won't break your bank account.
Latest posts by Josephine
(see all)