Top 5 Quietest Leaf Blower Models in the Market
Looking for the quietest leaf blower for your yard?. Great, then you've come to the right place. In this guide, you can expect to learn the following:
What a leaf blower is
How does a leaf blow work
Our top-rated quietest leaf blower picks
Factors to consider when choosing a quiet leaf blower
and more…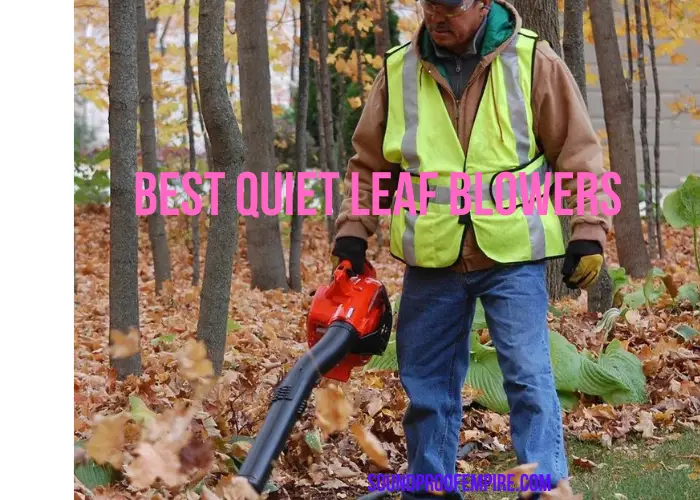 Quick Preview of the Quietest Leaf Blower picks
In a hurry?. I understand. Here is an overview of the best quiet leaf blowers in the market.
Ah, fail foliage. If you're lucky enough to observe the brightly colored leaves from your backyard know it's important to soak up every eyeful because it's no secret what will befall them next.
In a snap of a finger, that stunning scene of fully covered trees turns into every child's favorite autumnal activity and every lawn caretaker's famous annual chore — clearing fallen leaves.
That's where leaf blowers come into the picture, providing you with the best solution for tidying up your leave-filled yards, sidewalks, decks, and other outdoor areas.
But you will agree with me that leaf blowers is not one of the quietest backyard tools. They can make a lot of annoying noise if you don't do the due diligence in choosing a quiet leaf blower.
In this guide, I have researched the best quiet leaf blowers and curated them for you to make an informed decision. Trust me you don't want angry neighbors around you simply because of a noisy leaf blower!.
Also Read:
'What Really is a Leaf Blower and How Does It Work?
A leaf blower also commonly known as a blower, is a gardening tool that propels air out of a nobble to move debris such as leaves and grass cuttings.
Leaf blowers are typically self-contained handheld units or backpack-mounted units with a handheld wand. The backpack-mounted units are more ergonomically for prolonged use.
Much larger units may rest on wheels and even use a motor for propulsion. Those are often referred to as walk-behind leaf blowers because they must be pushed by hand to be operated.
These tools are powered by electric or gasoline motors.
Here is a summary of how leaf blowers work.
In general, electric leaf blowers are simpler as they only have a rotor and a stator, upon which is a charge placed via the power source and a commutator. In the case of a battery-powered engine, the battery provides direct current while the power cord provides AC.
In the case of gasoline-powered blowers, they differ from electric blowers by their engine design. Gasoline-powered leaf blowers can either be 2-stroke or 4-stroke.
The strokes refer to the fraction of movement in which the engine performs fuel intake, compression, combustion, and exhaust.
Additionally, an exhaust, a spark plug, a muffler, a  carburetor, and a starting mechanism are required by the gasoline engine.
In general, Gasoline-powered engines can achieve much higher outputs than their electric counterparts, though this is not a strict rule.
Best Quiet Leaf Blowers
Leaf blowers are numerous in the market with different brands promising wonders in terms of noise, but we all know that leaf blowers are not exactly silent in operation. The below-listed leaf blowers are some of the best and have lower noise emissions.
1). BLACK+DECKER 20V Cordless Sweeper
This is quiet handheld leaf blower is lightweight and weighs only 3.7 Ibs making it easy to handle and suitable for the elderly. It can easily clear debris from hard surfaces like driveways, decks, and garages.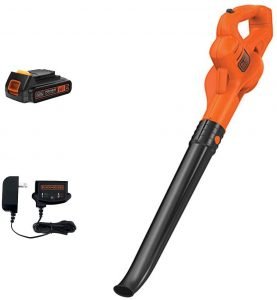 This blower has a rating of 61 dB which is considerably quiet. It operates on a 20V max 1.5 Amp lithium battery that is able to last up to 18 months.
This kind of blower is only ideal for lightweight activities because it's just like a sweeper and cant blow away heavy debris.
---
2). Husqvarna 350BT 2-Cycle Gas Backpack Blower
This Husqvarna 350BT 2-cycle gas backpack blower is ideal for professional landscape contractors as well as homeowners with large land areas.
This quiet backpack gas leaf blower features a powerful X-torq engine that is also fuel economical and has reduced emissions.  The engine has 2.1 horsepower and a speed of 7,500 RPM.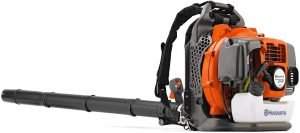 It is able to generate wind speeds up to 180 miles per hour. This makes it strong enough to blow away even the most stubborn yard dirt.
The design of this backpack leaf blower makes it easy to comfortably use for hours. The harness and controls are ergonomically designed for high capacity and ease of use, and throttle controls are mounted on the tube.
Overall, this backpack leaf blower is for those who have large yards and want something relatively quiet to do their cleaning. It comes with a manufacturer 2-year limited warranty.
---
3). Dewalt 20V Leaf Blower
Dewalt is one of the popular brands that manufacture different home and workshop tools. This 20V brushless handheld battery-powered leaf blower has low noise during operation at 66 dB(A) making it ideal for noise-sensitive environments.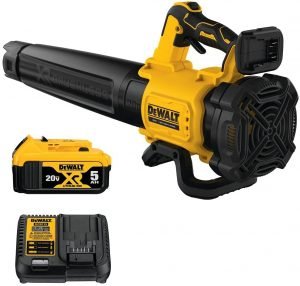 It has the ability to clear debris with an air volume of up to 450 CFM and up to 125 miles per hour with the concentrator nozzle.
It weighs 9.88 pounds making it lightweight to prevent fatigue and its ergonomic design also helps.
This tool has a variable speed trigger and a speed lock to give you full power control. It can give you up to 87 minutes of runtime at the lowest speed and 12 minutes on the highest speed using a DEWALT DCB205 battery, per full charge.
---
4). EGO Power+ 650 CFM Variable Speed Battery Powered Leaf Blower
This EGO leaf blower is quiet, lightweight, and the compact blower is powerful with 650 CFM. It can blow away leaves, mud, snow, and other medium sizes debris.
With its adjustable speed control dial, you can adjust the speed from 250 CFM to 500 CFM with a turbo speed at 650 CFM which can get a lot of debris off surfaces.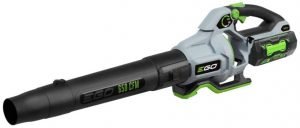 This blower is battery powered and if fully charged, it can run up to 75 minutes on continuous time. The brushless high efficient motor makes it possible to deliver longer run time, low vibrations, and also helps extend the motor life.
There are a couple of customers complaining about the product not working after they have received it and turned it on.
---
5). Greenworks Pro 500 CFM 80V Cordless Axial Leaf Blower
This Greenworks Pro 80V brushless axial blower has a noise rating of 60 decibels, making it one of the quietest leaf blowers that is around.
It can provide up to 70 minutes run-time on speed on speed low, 28 minutes run-time on speed 2, and 12 minutes run-time on speed 3 which is high with a fully charged battery.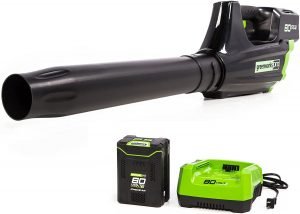 The brushless motor also provides more torque, longer life, and quiet operation while speed giving you a gas equivalent performance.
This blower is quite heavy and may not be suitable for everybody especially if you have a problem with handling weight. Other than that, it works and the pros outweigh the cons.
---
Factors to Consider When Choosing a Silent Leaf Blower
If you've decided to invest in a quiet leaf blower, then there are some factors you need to consider first in order to purchase the right blower that meets your needs.
Noise Level
Running a leaf blower especially early in the morning can be a turn-off for most neighbors because of their really loud noise. Some communities prohibit leaf blower use during certain hours, others restrict the use of gas leaf blowers altogether because they are louder than electric blowers.
In California, some communities have ban leaf blowers altogether no matter how quiet their operation.
The leaf blowers I will cover here quiet in operation. But even at that, avoid using even the quiet leaf blower early in the morning.
Type of Leaf Blower
There are about three types of leaf blowers in the market. These are; handheld leaf blower, backpack leaf blower, and walk behind blower.
Handheld leaf blowers are most common among homeowners. The self-contained units are designed to be held in a single hand because they are compact, lightweight, and a great option for relatively small jobs.
Backpack leaf blowers are used by hanging the harness and rides on your back while you hold the blower in your hand.  These types of blowers tend to be more powerful than handheld models and the harness also makes them quite comfortable to use. These are a good option if you are using a blower for a prolonged period.
Walk-behind blowers also resemble snow blowers. They are the most powerful of the three. They are also the least physically demanding to use, making them a great option for large yards.
There are also physical limitations that come with storing and maintaining a walk behind the blower.
Maintenance
Electric blowers require little maintenance compared to gas blowers. For electric blowers, simply wipe them down and check for any dirt build-up on the air intake. If you use a mulcher, clean out small leaf particles from the bag and blower.
Gas-powered leaf blowers require a tune-up every year or so, not forgetting you will need to keep gas on hand. Two-stroke motors require a gas/oil blend. This means you will have to purchase a pre-blended or mix your own).
Walk-behind blowers have more moving parts and they also require even more maintenance. Nonetheless, the average leaf blower doesn't require that much maintenance compared to lawnmowers or similar lawn devices.
Final Thoughts on the Quietest Leaf Blower
As already established, leaf blowers are not the quietest backyard tools. They can make a lot of noise which can disturb the peace of your neighbors and pets as well.
Though there is a bad rep when it comes to blowers noise, however, there are some brands putting in a lot of effort to make them quiet yet powerful as much as possible.
The above-mentioned leaf blowers are some of the quietest in the market. If a low noise leaf blower is what you want, you can check them out.
Latest posts by Josephine
(see all)