Top 5 Quietest Fireplace Blowers
Looking for the quietest fireplace blower and fan?. Perfect, then you've come to the right place. In this guide, you can expect to learn the following:
What a fireplace blower is
What does a fireplace blower or fan do?
Our top-rated fireplace blower picks
How to choose a quiet fireplace blower and fan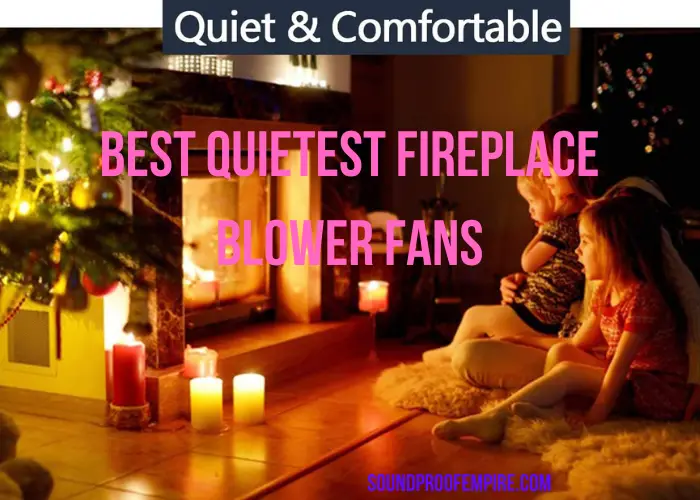 In a hurry?. Well, I understand. Here is a quick preview of some of the top-rated fireplace blowers and fans on the market.
While a fireplace will give you warmth, a fireplace blower fan will make sure that this warmth reaches almost every corner of your room. Given that a fireplace would give warmth only to a certain amount of the room, it is important to have a blower fan.
In this article, we are going to list down and review some of the top and best fireplace blower fans you can buy. We have chosen this list in accordance with the product's quality and a few key factors.
What is a Fireplace Blower and How Does It Work?
Fireplace blowers are also commonly called names such as (fireplace fan, fireplace heater, fireplace circulator, fireplace heater blower, heater fan, fireplace blower fan, squirrel cage blower, fireplace blower insert, forced air blower, fireplace insert blower, tangential blower, forced air fan).
A fireplace blower is a fan mounted on the exterior of the fireplace or inside the unit but outside the firebox itself. It is used to circulate air around the unit's hot exterior before pushing it back into the room.
Fireplace blowers are designed to help distribute the heated air your fireplace produces and to vent the heat and gas created in the firebox out in your home evenly.
Most fireplace blowers and fans are used in a prefabricated fireplace insert. These types of blowers can drastically improve the efficiency of the warm air circulating into the living space and will save energy.
Fireplace inserts have a Firebox that is surrounded by a steel shell. Air from inside your home flows into the shell is heated, and then redistributed back into your living space.
The good thing about fireplace blowers and fans is that they will work in wood-burning fireplaces, gas fireplaces, and electric fireplaces.
Also Read:
How to quiet a fireplace blower
Best Fireplace Blower Fans
It's one thing for your fireplace to generation to generate the needed heat your home may need, but it's another thing for the heat to get evenly distributed. That is where you will need a silent fireplace blower fan to help distribute the heat in your home.
1). AIRBLAZE T12 Universal Fireplace Blower Fan Kit
The AIRBLAZE universal fireplace blower fan is designed to boost airflow coming from your home's fireplace.  It is suitable for fireplaces with space underneath its floor or compartment to install a blower. It delivers an airflow of 160 CFM and has a noise level of 28 dBa.
The way this unit works is that it draws cool air in from the bottom vents, then heats it through the fireplace, and forces it out the top vent into the room.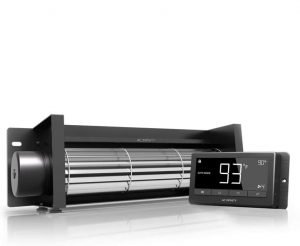 This system features an LCD display with a smart thermostat and humidity programming. The  PWM-controlled motor is also highly efficient and operates at lower noise, making it one of the quietest fireplace blower fan kits.
The programmable controller features temperature triggers, countdown timers, alarms, and 10 fan speeds.
It can also replace existing blowers found in various fireplaces including Health Glo, Lennox, Rotom, Majestic, and many more.
---
2). GFK-160A-GFK-160 Fireplace Blower Kit
This GFK-160A-GFK-160 fireplace blower kit features a variable speed switch to regulate airflow and it also has an automatic power activation of a heat sensor. It has an airflow of 165 CFM.
The blower kit is intended to be installed in the lower vent space under the firebox and it's also compatible with various fireplace models but be sure to also refer to your fireplace manual to ensure it's a good match.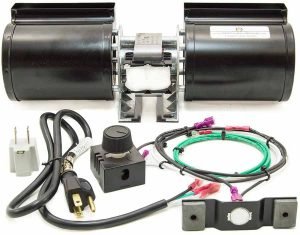 The sealed ball bearing motor is designed to run with power and most importantly quietly.  This fireplace blower kit is able to provide a low-cost solution to help you save energy and circulate the hot air created by your fireplace effectively into your living space.
---
3). Tjernlund Fireplace Blower Fan Gas Insert
With the Tjernlund fireplace blower replacement fan gas insert, there are three different sizes to choose from namely; standard 10″, standard 15″, and deluxe 15″.
This type of blower fan is commonly used to help distribute heat from fireplaces and stoves. It is designed to be very quiet in operation and has a noise level of 1.4 Sones.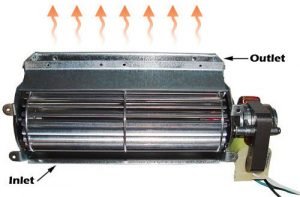 The unit is also having speed controls enabling you to change the speed to a suitable level.  It also comes with an adjustable thermostatic switch and variable speed control. Plus, it's easy to set up. You simply wire in or add a power cord and it's all set.
4). Mr.KAN GFK-160 Fireplace Blower Fan Kit
This blower kit also features a magnetic thermostat and variable speed control. The kit is powerful, quiet, has good ventilation, and is energy-efficient.
It has a sealed ball-bearing motor with 160 CFM and 3000 RPM. This model is able to fit Heat N Glo Moldes series, Quadar-Fire models, GTI model, Heatilator model; Cross Reference numbers: Regency wood stove insert
846515; Royal GFK-160; Jakel; Rotom # R7-RB168 (2016 model), Lennox, superior, etc.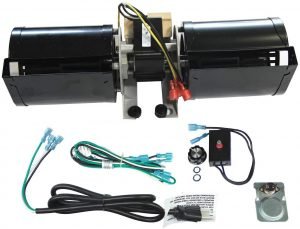 Therefore, if you are looking for a fireplace blower fan kit with less noise that fits any of these models mentioned above, then you can choose it for your fireplace.
It comes recommended by many customers with many of them giving it good ratings.
---
5). VICOOL GFK-160 GFK-160A Replacement Stove Fireplace Blower Fan Kit
This blower from VICOOL has been on the market for six years now (since 2014) and remains one of the most sought-after fireplace blower systems.
For one, it's the perfect replacement blower for multiple products from several top fireplace brands, including GTI, Heat N Glo, Quadra-Fire, and GTI. Secondly, it's very powerful at 160 CFM and 3000 RPM.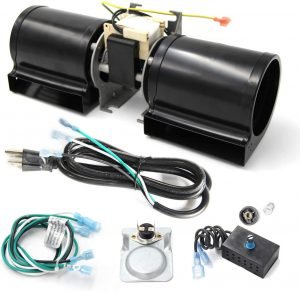 The blower kit includes a 3-prong power cord, universal connecting wire, a rheostat, and a thermostat. Installation instructions are also provided. The dual-blower system is rated 60 Hz and plugs into a 120V outlet.
---
How to Choose a Quiet Fireplace Blower Fan
If it is your first time looking for a fireplace blower fan, you may not be exactly sure what to look out for and how to pick the right one that is the best fireplace blower fan for your needs. If, so here are some of the features to look out for.
Type and Size of the Fan
The first and most important thing to look for in a fireplace blower fan is the size. The size of the fan will depend on how large is your fireplace room. It is also dependent on the type of air conditioning system you already have in your home.
For instance, a central air conditioning system will accommodate exhaust fan-type designs whose size will again vary depending on the outlet vent size. Therefore, choose accordingly.
Power Structure
Fireplace blower fans can operate on electricity, battery, gas, wood-burning, etc.  While the most common ones may be electric fans and battery-based fans, there are also heat-based functioning fireplace blower fans which are quickly getting traction as well. When opting for a battery-based blower fan, you also need to look at the battery capacity of the fan.
Number of Blades
Generally, fireplace blower fans come with about 2 or 3 winged blades but you can achieve much more warmth through 4 blades as they will be able to push and gush more warm air into the circulation.
The number of blades on the blower fan will give you an idea of how much air can be pushed through to the room.
Cubic Feet per Meter(CFM)
The CFM refers to Cubic Feet per Meter and it is used as a unit of measurement of how far the blower fan can actually blow out air. It tells you how much air the fan can displace and circulate. A larger CFM means that the fan can move large volumes of air from one place to another.
Generally, you get about 240 CFM from basic standard fans but this number can increase or decrease depending on the size of the room and your choice of fan.
Latest posts by Josephine
(see all)