Air conditioners are very important since they make life bearable during the hot months. However, air conditioners are known to make too much noise, which is an irritating quality for many individuals.
The noise becomes an unwelcoming source of distraction at workplaces and may lead to loss of sleep in your home.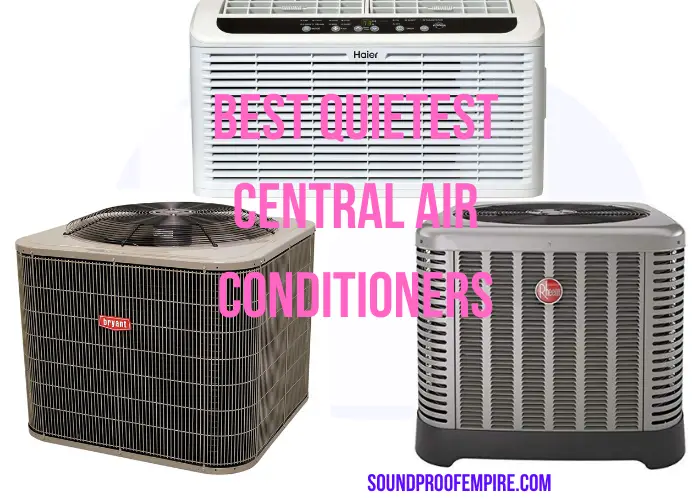 Quiet central air conditioners help you to enjoy time in your home without disturbing your conversations or serenity by the whirring noise from cooling appliances.
The idea of walking into a cool home after a long day is heavenly. A good air conditioner is very important for this function, and an added advantage is if the air conditioner is quiet.
Guide on the Quiet Central Air Conditioners
Energy-saving: A good air conditioner will have better insulating materials as well as instructions that help in good sealing around the unit, to minimize leakage.
Seasonal Energy Efficiency Ratio (SEER): refers to the cooling output during a cooling season divided by the electrical input during the functioning period of the unit. A higher SEER means that the unit is highly efficient. The rating is the ratio between the British thermal unit (BTU) used when cooling and the energy that the unit uses in watt-hours.
Noise levels: The only sound that will come from a good air conditioner should come from the running of the fan. A noisy air conditioner can be distracting and may disturb light sleepers even when the setting is on the low. When the setting is on the high, they become distracting to everyone.
Consider the location of the filter: Ensure that you can easily access the filter for the purpose of cleaning. Cleaning is essential to ensure that the condition of the appliance is maintained.
Warranty: Before you buy a cooling appliance, ensure that you have checked the duration of the warranty. This will act as a protection for your purchase.
Size: The tonnage of air conditioners dictates its cooling capacity. When you buy an air conditioner, ensure that you are mindful of the size of your room or apartment. Also, the price range increases with each size of the unit.
Purchasing small units means that the hot or cold air will be insufficient when your room is bigger. On the other hand, a huge unit means that you will waste energy and will have issues such as temperature fluctuations and failure because of short-cycling.
10 Best Quietest Central Air Conditioners
Below are some of the quietest central air conditioners that
1.Goodman Central Air Conditioners
It is one of the quietest central air conditioners. It generates 73 A-weighted decibels of noise making it the best generator for usage in the home or any place where noise can make a difference. The product is very compact and highly efficient in terms of energy.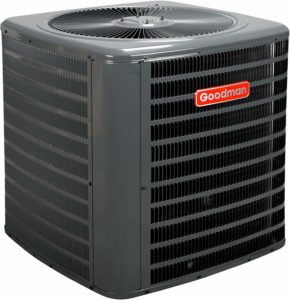 This central air conditioner has the ability and power to cool medium to larger rooms. It has a chlorine-free liquid refrigerant that keeps the environment free of any elements that may be damaging to the ozone.
The steel cabinet unit comes with a distinctive Goodman Sound Control Top design that helps to reduce noise. This makes it one of the best central air conditioner that you can find on the market.
The cost of the product is reasonable since you are getting a high-quality product. It is a dependable two-stage central air conditioner and thus helps you get more than 15+ years of service.
Pros
Reliable and durable
Improved quality
Low-cost
Cons
If poorly installed could result in a breakdown. Ensure you get a qualified technician to do it.
2. Bryant Legacy 4 Ton
It is slightly louder than the Goodman GSX160361. However, it is a powerful appliance that emits 75 A-weighted decibels when used in operation.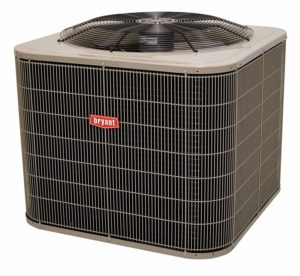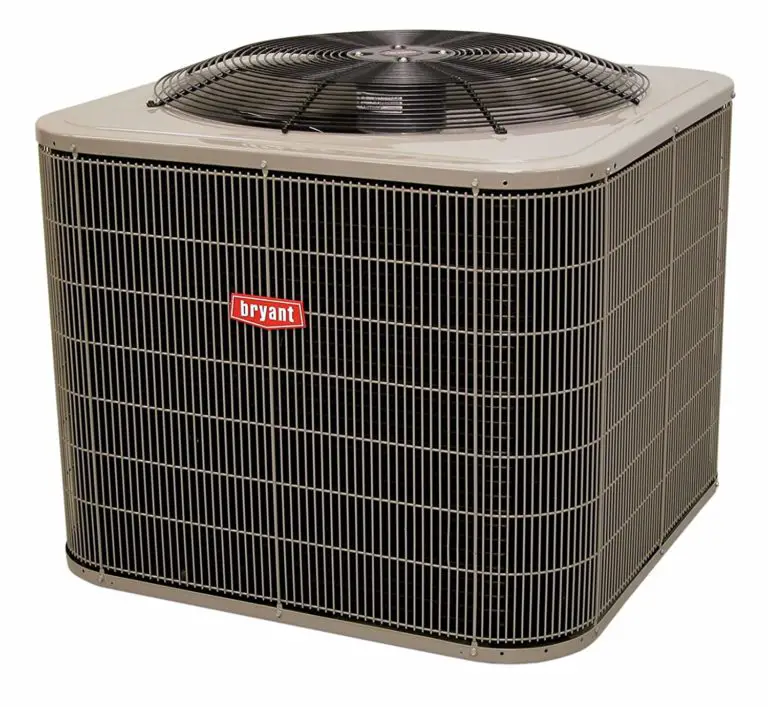 It is a highly efficient air conditioner. It has two-ton condensing unit and uses 410-A refrigerant. Therefore, it is considered one of the best quiet central air conditioners. The noise insulation is very unique making it a quiet appliance.
Pros
It is energy efficient
It is quiet
The installation is through HVAC professionals
There is a warranty provided once it is registered to the owner of the home.
Durable
Cons
Have a shorter warranty period
3. Rheem 3 Ton Central Air Conditioner
It is an outdoor condenser only. However, if you are in a built-up residential area, Rheem 3 Ton will offer you peace because it does not produce any sound. It is known to provide cooling only for your home or your office.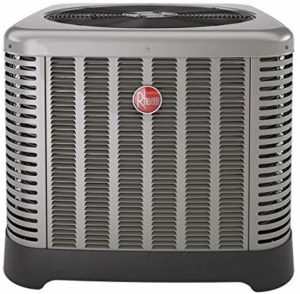 Pros
Lower cost of purchasing
High efficiency
Resistant to rust and corrosion
Cons
4. Ruud EcoNet Ultra Series U20
It is an AC with noise levels of 77 A-weighted decibels and its capacity is between 25% and 100%, making it have a significant range of noise.
However, the noise is less than 60% mostly and exerts the right amount of temperature for your home. They are very quiet except in cases when the thermostat is turned down or when the outside temperature increases significantly.
This makes it hard for the AC to keep up with the changes and thus make noise.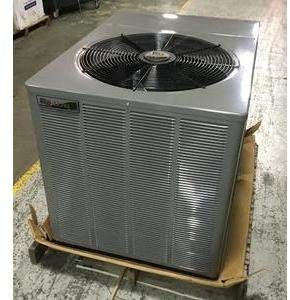 Pros
It is highly efficient with a SEER of up to 20
It is very quiet
It can be connected to WiFi
Lower cost compared to other ACs with high-efficiency ratings
Cons
5. Daikin Fit DX17VSS
It is fitted with an inverter-type compressor instead of a rotary compressor that is used in other different central air conditioners. The range of noise produced by this Air conditioner is between 55-74 A-weighted decibels.
The SEER can go up to 17, making it a very efficient option. With Daikin Fit DX17VSS, the wind produced is very strong thus making it a good AC for your home.
If you are a homeowner, this is the best AC since it is durable and can stay for more than ten years without needing repairs. It is small in size and does not require too much space.
Pros
Very safe compared to other ACs
The brand ensures that the installation is only made by trained personnel and this is why there are no complaints about the brand
Highly efficient
The product has proved to be very reliable
It is a high quality product and durable. Therefore, you will not have to worry about wearing off
It can fit in your garden if you have limited space in your home. It can be controlled using WiFi thermostat
They provide a warranty. Therefore, as a buyer, the company ensures that your purchase is shielded thus getting the best from it.
Cons
The price of Daikin Fit DX17VSS is on the higher end compared to other brands
The SEER rating is not high
6. Pioneer WYS012-17
It is a quiet AC that capitalizes on its multi-split design that keeps the noisy mechanical components outside of your home. It produces cooling power and heat that is all you need with no noise.
The noise level for the appliance is 40 decibels. The design of Pioneer WYS012-17 makes it hard for it to be installed, but this is dependent on the design of your home. The appliance cannot be used in adjacent rooms without there being too much work.
It is built to last longer and this is the best option if you are ready to put in additional time and cost for installation and the product itself. It is the best choice if your environment requires heating and cooling equally.
Pros
Very quiet when operating
The design makes it an effective appliance for cooling
The heat pump add to its functionality
Has a high BTU rating
Cons
The installation process is complex
The price of the product is on the higher end
It is not portable
7. Haier Serenity Series ESAQ406T
It performs well and at the same time, it produces quiet operation, with a noise level of 44 decibels when in use.
You can easily access the filter, which is important for cleaning and maintenance. It is an affordable unit. The remote control included in the unit makes it versatile and makes it easy to program.
It is energy-efficient, which means that it is environmentally conscientious. However, this does not include the cooling power.
It is effective for small rooms in an environment that is dry. In larger rooms, the unit will have a hard time trying to dehumidify and cool your space.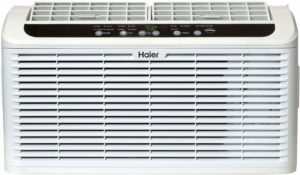 It is a fully functional appliance and is the best choice if you do not want to think about emptying pans or adjusting it manually.
Pros
It is highly versatile.
Easy to use and maintain and access
Highly energy efficient
Great for small rooms
It comes with a remote and digital display
Cons
Weak dehumidifying abilities
Difficult to install
Weak cooling abilities for large rooms
8. Friedrich Kuhl Series SQ06N10C
It works quietly at 43 decibels on most of its settings. This is owed to the in-built fan feature that ensures that it offers quietness in its operation.
It also has a WiFi functionality that you can be separate, which helps you to control the temperature as well as the fan using a smartphone.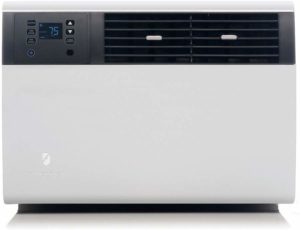 Pros
It has an appealing design
It is easy to use
Highly energy efficient
Very quiet with noise-canceling design
Has a built-in WiFi
Automated speed of the fan that is effective for accurate cooling
Cons
The price is on the higher side
Has a weak dehumidifier thus struggles to cool large rooms
Has a low BTU rating
9. Whynter Elite ARC -122DC
It uses a dual hose setup that pulls in air and releases air from a different location, making it have a speedy operation. The unit pulls humidity out of the air as well as deals with residual condensate automatically.
Also, it has a carbon filter that is activated and a remote that makes its operation simple. Because it is portable, it is space conscious.
Pros
Has a dual hose design for quick cooling of your room
Quick dehumidification
Can be programmed easily
Easy to use a remote control
Does not require condensation manually
Cons
It is large and bulky
Lower flow of air when compared to other units
It is louder when compared to other quiet units
The dual hose may be hard to install
10. Heil Quiet Comfort Deluxe 19 HVA9 Air Conditioner with SmartSense
It is a two-stage series of air conditioners that offer the best efficiency. It is among the best-selling model from Heil.
It is best suited for warm weathers, that is, in areas where the temperature is rare. It is important to note that for maximum efficiency, a two-stage cooling of this unit should be paired with a variable speed blower to help in achieving maximum comfort.
It is a high quality product with lower costs. The noise range for the product is between 56-76 A-weighted decibels. The SEER is up to 19, making it highly efficient.
The Heil Quiet Comfort can help in loading the local power rate as well as annual cooling hours automatically using Chrome explorer. Also, for more accurate results, you can manually adjust the inputs.
It is best suited to warm climates.
Pros
The efficiency is decent
It can be easily controlled from a smart device using a WiFi thermostat
Has a 10 year warranty. The company will replace the unit if the coil or compressor fails within the stipulated warranty period.
Cons
It is not the best efficient AC
11. Carrier Infinity 19VS 24VNA9
It is a hybrid air conditioner that has been in the market for a few years. Five steps are used to change its capacity from 25% to 100%.
This means that the product is reliant on other older and more proven multi-stage technology. It does not keep the temperature at precise.
The noise levels for Carrier Infinity is between 56 and 75 A-weighted decibels. The efficiency of the product is up to 19 SEER. It is convenient for individuals who do not mind paying extra money for the product and its correct installation.
Before you allow installation, ensure that the installer is well trained from the Carrier factory. This is important because you will have a good experience in installing the unit.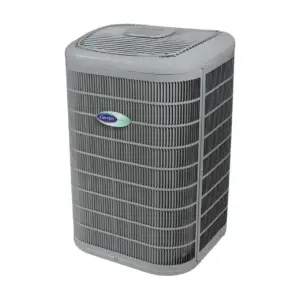 Also, ensure that the reviews indicate that the installers are reliable to avoid installing it only for the unit not to function effectively.
Pros
Have to installed by factory-trained professionals
It is decently efficient
High quality product
Cons
The cost increases once the installation is done by factory-trained personnel
The warranty period is average
Interesting Reads:
Best quiet portable air conditioners for home and office
how to quiet noisy window air conditioner unit
12. Coleman Air Conditioner
The noise range produced by Coleman AC19 is between 68 and 78 A-weighted decibels, making it one of the best quiet air conditioners on the market.
The air conditioner boasts an SEER performance of up to 19. This is owed to its adaptable two-stage operation. It is a highly dependable appliance that helps to efficiently circulate air in your home.
It is a suitable appliance for very warm to hot climates. The increased efficiency of Coleman AC19 helps to reduce utility costs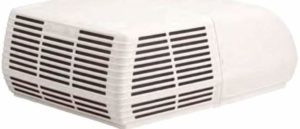 Pros
Highly efficient
High quality appliance
The two-stage cooling helps in improving the control of the climate
It saves energy. The ECM motor saves energy and the composite pan is free of rust
Provides very good warranty of lifetime compressor and more than ten years for its general parts
Cons
The cost of the product is on the higher end. This is because of the improved quality and the longer warranty periods offered.
Latest posts by Josephine
(see all)