9 Quietest Breast Pumps for Zoom Calls, Office and Travel
Looking for the quietest breast pump for your newborn baby?. Perfect, then you've come to the right place. In this guide, you can expect to learn:
How does a breast pump work
Types of breast pumps
Our top-rated quiet breast pump picks
How to choose a breast pump
Do you need a breast pump?
And More…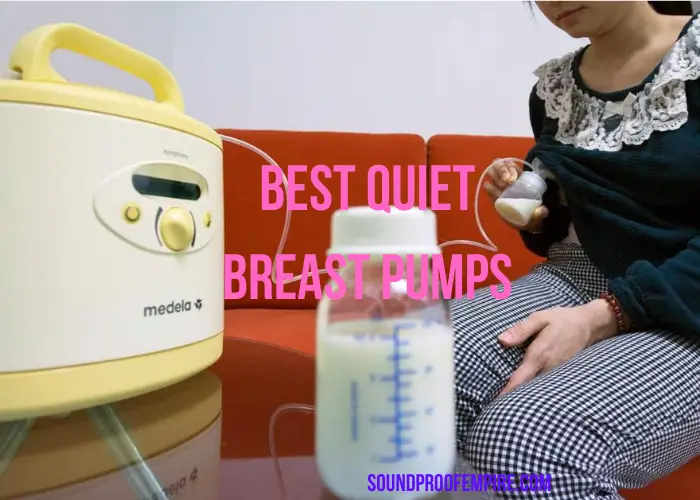 If you are a new mom who wishes to breastfeed her baby but is either busy at work, away from your baby, you are looking to share feedings with your partner, or are struggling with feeding or low breastmilk supply – The quietest breast pump can be a lifesaver.
Discreetly pumping your baby's milk without disturbing your coworkers or those around you is one reason you need to get a breast pump.
In this generation, breast pumps have become popular among new moms who want to breastfeed but dont have the time to do so.
According to research from the National Library of Medicine, 85% of breastfeeding mothers with babies aged between 1.5 to 4.5 months have at one time used a breast pump to express milk for an extended period.
So today, I will be talking about some of the silent breast pumps that are loved by many moms for pumping breastmilk quietly.
Similar Reads:
Best quiet baby monitors to keep an eye on your baby
How does Breast Pump Work?
Breast pumps may seem like these complicated devices you think maybe you can't use but don't worry. They are actually easy to assemble and use.
A breast milk pump emulates a nursing baby by mimicking its natural suckling pattern. The average baby sucks about 50 to 90 times per minute and then slows down once the milk is released.
A breast pump is designed to create this same cycle of suction and release by producing one pull per second to initiate the milk let down as the breast milk begins to flow.
As the milk is flowing out from the breast, it is collected into a storage container. These storage containers are gravity fed as the milk is released, it will drip into the container.
The breast pump comes with flanges which are also known as breast shields, these shields are funnel-shaped plastic parts that are placed over the nipple and areola to create a seal. Make sure you have the correct flange size for pumping success.
Best Quiet Breast Pump Reviews
If you have been looking for the top-rated quietest breast pump for work and other busy schedules, then these silent breast pumps will express your breast milk quietly.
1). Medela Symphony Hospital Grade Breastpump
The Medela Symphony Hospital Grade Breastpump is the first breast pump with 2-phase expression technology which is proven to achieve faster milk ejection and faster milk flow when pumping at maximum comfort vacuum.
It has a quiet whisper operation with a noise level of 49.2 decibels, is efficient, and comfortable, has unique overflow protection, and it's easy to clean.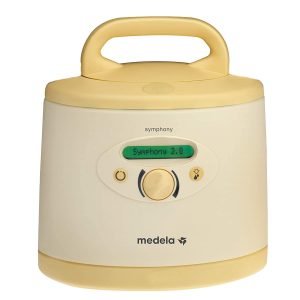 This pump is designed to closely mimic a baby's natural nursing rhythms and has proven to express 18% more milk when double pumping.
Furthermore, it comes with a Symphony 2.0 program card that stores all your information regarding your pumping program.
This kit includes all the necessary components to get started, including tubes, valves, membranes, breast shields, and bottles. However, it should be noted that the Symphony Breast Pump's kit is sold separately. Whether you are looking for the best breast pump for a larger breast or smaller breast, this pump can be used.
---
2). Elvie Silent Wearable Breast Pump
This silent wearable breast pump by Elvis is one of the quietest wearable breast pumps that make it possible to pump on your terms whether at work or on the go. with this pump, you can even lead meetings or simply get out and pump peacefully and quietly.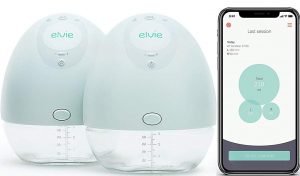 It's small and lightweight allowing you to wear it inside a standard nursing bra, making it truly hands-free. You are free to move around and do other things with your hands.
This pump is responsive in the sense that it automatically switches from stimulation into expression mode when it detects a let-down and will pause when the bottle is full. So, no worrying about overflow.
This Elvie wearable pump is simple to set up and clean. It is one of the quietest breast pumps for work.
---
3). Medela Freestyle Breast Pump
Medela is a well-known brand that makes some of the best breast pumps for mothers. There are a lot of Medela breast pumps on the market and this Freestyle breast pump is one of the best.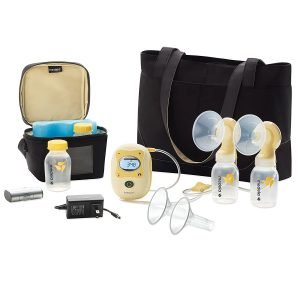 This pump features a double electric pump that has 2-phase expression technology powered by a rechargeable battery and a lightweight motor for providing you a mobile pumping experience.
This is a portable and very convenient breast pump that has an all-in-one mobile and portable solution for the on-the-go pumping mom.
---
4). New in The USA Double Plus Breast Pump
This New in The USA double breast pump is extremely light, ultra-quiet, and also uses hospital technology which also makes it easier to clean and maintain.
Portable (1lb) and versatile with three power options for pumping on the go: power adapter (included), car adapter, and AA batteries.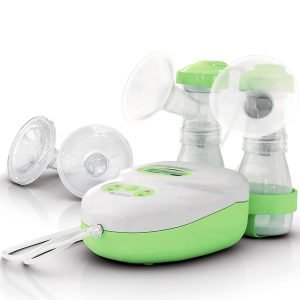 This pump has a completely closed system that prevents milk from entering the tubes and the pump to keep it free from contamination and pathogens. So no cleaning of the pump or the tubes is necessary.
This product is affordable, portable, and comes highly recommended by many midwives as one of the best hospital-grade pumps.
---
5). The First Years Double Electric Breast Pump
The First Year's Double Electric Pump is quick, efficient, and discreet to work with. It is a silent, lightweight, and compact double breast pump weighing only less than two pounds and pumping from both breasts at the same time to help the milk in no time.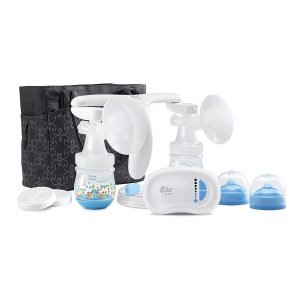 With electric plug-in operation and soft Flexi-fit breast shields, it features eight suction level settings so you can double pump at the perfect speed.
It can either be battery-powered or electricity and comes with a convenient baby tote bag for portability and easy handling.
---
6). New in the USA  Ardo Calypso-To-Go Double Electric Breast Pump
This Ardo Calypso double breasts pump features 64 independent vacuum and cycle settings, 3 different sizes of breast shells, and an active massage insert Optiflow to ensure comfortable, efficient, and gentle pumping.
This product uses hospital technology and is BPA free and FDA approved like the other brands here on this list o ensure your baby safety.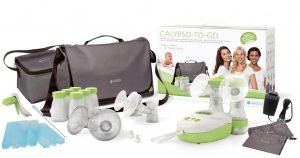 The vacuum seal technology ensures a completely closed system that allows no milk to enter the tubes or the pump. Making it completely free from contamination and pathogens.
It is designed to be able to use AA battery to power up in case of power off. This pump comes with Calypso breast pump and pump set, messenger bag, cooler, 6 bottles, battery compartment, hand pump, breast shells (26/28/31mm) and Optiflow 26mm (2 each), power adapter, various accessories
---
7). Spectra Baby USA S1Plus Breast Pump with Gray Tote and Cooler
The Spectra breast pump is customizable and therefore allows each mom to customize her pump's settings to her own body response follower flow to find her own best settings with S1's completely adjustable suction and 2 phase cycling in let-down and expression mode.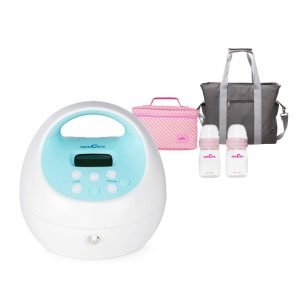 It's powered by battery for portability and the closed pumping system technology pump tubing while pumping protecting the breast milk and baby from bacteria and mold and keeps tubing dry by preventing air flow between expressed milk.
Spectra S1 Hospital Grade Double/Single breast pump, (2) Spectra backflow protector, (2) Spectra duckbill valve, (2) Spectra tubing,12 volt AC power adapter, detachable power cord prongs, (4) Spectra wide neck bottle, (2) flange 24mm, (2) flange 28mm, (1) pink cooler, (1) gray tote.
---
8).  Zomee Double Electric Breast Pump
This Zomee double electric breast pump also mimics the natural sucking and has 9 levels for you to choose the level that gives you the most comfortable experience.
This unit is also designed to work at low noise to enable you to pump the milk easily without disturbing your baby or others around you.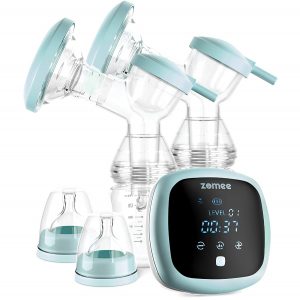 It uses batteries, an AC adaptor, or a USB connection so you can charge it just about anywhere!. Its also equipped with the anti-backflow system to prevent the milk from flowing backward or coming up with the tubing in order to maintain hygiene.
This pump is one of the cheapest quiet breast pumps in this list that you can get for less than $100.
---
9). NCVI Double Electric Pump
This is another inexpensive best breast pumps that have three modes, 9 levels, medical-grade stable suction, and painless lactation.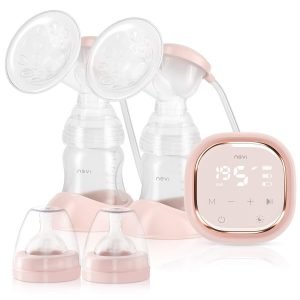 This pump also uses a smart system that gives you a real simulation of the baby's breathing rhythm, quickly opens the mammary gland, and helps you to pump quickly and less painfully.
It also has anti-backflow which provides a hygienic closed system to prevent breastmilk from backing up to the pump, prevent infection, and keep the milk fresh.
The is a soft night light feature that lights at night for more convenient breast pumping.
---
Types of Breast Pumps
Breast pumps can be categorized into four types. These include:
Double-Electric Pumps
These types of breast pumps are powerful and let you pump the milk from both breasts at the same time. They are very fast. If speed is important to you, then these are best for you.
Single-Electric Breast Pumps
These allow you to pump the milk from one breast at a time. This can take longer but are less costly than the double-electric models.
Battery-Operated Breast Pumps
These models are slower and can run down the batteries pretty quickly. They are advantageous because they are portable and battery-powered, hence work well if you dont have access to electrical outlets or its light off. Also comes in handy when traveling.
Manual Breast Pumps
These are lightweight, portable, and inexpensive. The downside? You'll be doing a lot of the work yourself and you may not get as much milk as a result.
How to Choose a Silent Breast Pump
When choosing a breast pump, there are various factors you have to consider when you are picking a breast pump, and to ensure you are picking the right one, check out these tips to guide you.
Noise Level
I believe you are here because you want a quiet breast pump that can pump milk discreetly without been loud in any way. It can pump the milk quietly and even be quieter than background music and conversations.
If you are working mom, then you need a quiet breast pump for work that you can express your milk without disturbing your coworkers.
Performance and Maintenance
Depending on your needs, an ideal breast pump should be portable, lightweight, and compact. You dont want a breast pump that will take a lot of your space and weigh you down.
Maintaining your breast pump is necessary after every use to ensure you dont contaminate the baby's milk. If you are a very busy mom, then you need to pick a hospital grade breast pump which is easier to clean after use.
The Type of Breast Pump
You also need to decide which type of breast pump you will be using. I have listed the types of breast pumps above for you to decide which one will work best for you. If you have limited time, then a double-electric breast pump will be best for you.
Research has shown that a double-electric breast pump can deliver up to 18% more milk than the single or manual types.
Do You Need a Breast Pump?
Every mom's situation is different. You need to think about your lifestyle, employment situation, feeding preferences, and how long you plan on breastfeeding when making the decision on whether or not to purchase a pump.
If you are going to be away after your baby delivery but still plan on breastfeeding – maybe you are a worker or a very busy mom, then you need a good pump to enable you to do that. But if you expect to be with the baby most of the time, it may not be quite as crucial.
We recommend getting a pump if:
You're planning on being away from baby on a regular basis, such as for your job, or for an extended period of time, such as a trip.
You're dealing with low supply or engorgement.
You're looking to maintain your milk supply, either because your baby can't or won't nurse or you're dealing with an illness or a medication that isn't safe for breastfeeding.
You prefer feeding baby expressed milk.
The decision as to whether you need a bread pump solely is on you. You know what your schedule and needs are.
Latest posts by Josephine
(see all)