Top 3 Quietest Box Fans for Your Cooling Needs
Looking for the quietest box fan for your home or office?. Perfect, then you've come to the right place. In this guide, you can expect to learn the following:
What a  box fan is
Our top-rated quietest box fan picks
How to choose a quiet box fan
Are box fans loud?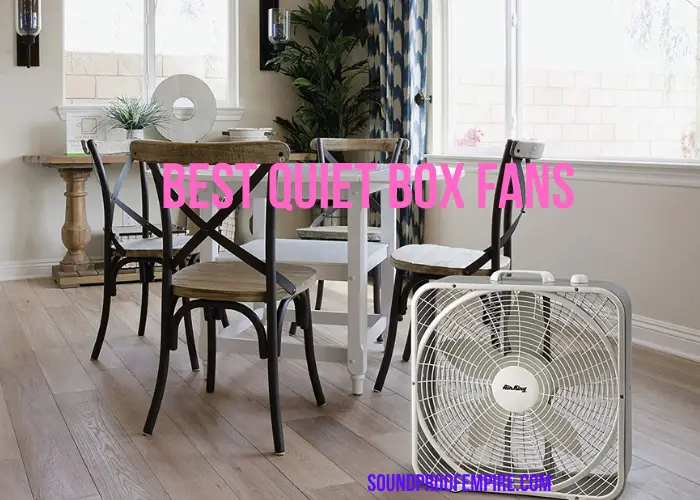 Quick Preview of the Quietest Box Fans
In a hurry?. I understand. Here is a quick overview of the best quiet box fans for your cooling needs.
Whether you are a big fan of summer or more of an autumn lover, chances are you don't enjoy the massive heat waves too much. That's where a quiet box fan will do the trick.
While there are many different types of fans out there in the market, box fan is one of the most uncompleted and effective. With a box fan, it's easy to move it from one room to the next and can also help in getting rid of dust, smoke, and any unpleasant odor.
It's also useful for blowing air into a room to cool it down, or to blow hot air out through a window or a door. Box fans are also great when used in conjunction with natural ventilation and are the perfect solution for cooling down on a hot day.
With the many different box fans in the market, it can be difficult finding the best quiet box fan. That's why  I did some research and have curated the best box fans that are quiet.
Also Read:
Best quiet tower fans for home and other spaces
What is Really Box Fan?
A box fan is a device used to circulate air in order to keep the air cool or eliminate unpleasant smells.  It comprises rotating blades encased in a square covering.
The covering has several open slots on both the front and back in order to allow air to be drawn from one side of the fan and to exit through the other.
Unlike other fans like tower fans or pedestal fans, a box fan remains low to the ground because it is not elevated in any way. Because of this design, it may sometimes not provide the desired circulation since it is low to the ground. Therefore, some people place it on a table or other elevated top to provide better air circulation.
Best Quiet Box Fans
if you are struggling to choose a whisper-quiet box fan for your cooling needs, then the below box fans are low noise and you can consider them before you make a purchase.
1). Air King 20-Inch 3-Speed Box Fan
This Air King box fan is ideal for limited spaces such as offices, kitchens, beauty salons, toll booths, and stores because of its slender box design. The fan has 3-speed settings that you can move from low, medium, and high.
It has impact-resistant grills to protect the blades for long-lasting durability.  The 1/25-horsepower permanently lubricated motor provides a quiet performance and produces a lot of airflows.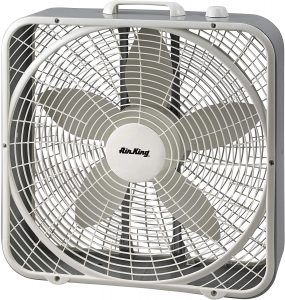 Additionally, this fan is OSHA approved and an 8-foot, 3-conductor type SPT power cord is provided for long reach. Measures 20.5-inches long by 6.375-inches wide by 23.625-inches high and weighs 12.8-pounds. The Air King 9145 6-Inch 2-Speed Clip-On Fan comes with a 1-year limited warranty.
This is a great fan for those that are looking for sturdy construction and great quality. It's thicker and heavier than some of the other box fans and blows a decent amount of air. Since it has lubrication, it also runs smoother than some of the other fans.
Features
Number of speed options: Three
Blade size: 20-inches
Maximum airflow CFM: 2,140
The material is made of: Steel
Pros
Has three different speeds
Grills are impact-resistant
Has a one-year limited warranty
Sturdy construction and great quality
Cons
Some have mentioned that it can be quite loud
---
2).  Lasko Air Circulating 20 Inch Box Fan
This Lasko air circulating 20-inch blade box fan is a slim box fan that circulates a high volume of air keeps the room cool throughout the day.
The slim design also means that it won't take up a lot of space and can fit into snug areas. What's great about this fan is that it also comes with a save-smart design which means that this fan costs less than 2 cents per hour to run – helping you save on your electricity bill. The box fan also comes with a one-year warranty and is fully assembled so all you'll have to do is plug it in to get it running.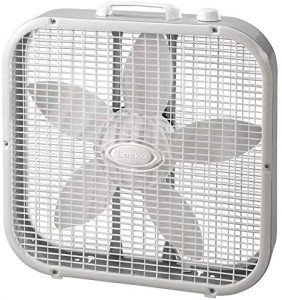 It also has three-speed settings that are all quiet and can be controlled with a control knob mounted on the box fan top.
It's specially designed to have safe and rounded corners so you're able to easily carry your fan and place it wherever you want.
Features
Number of speed options: Three
Blade size: 20-inches
Maximum air flow CFM: 2,140
The material its made of: Steel
Pros
Adds a minimalist modern look to your space
The safe rounded corners mean you can easily carry your fan and place it wherever you want
Can fit into snug areas
Lightweight and comes fully assembled
Cons
Not terribly light can be a little bit bulky
---
3). BLACK + DECKER Mini Box Fan
This small, compact size (10.9 x 4.25 x 10.9) of this mini electric fan fits perfectly on desktops, tabletops, and counters – making it ideal for fast, personal cooling in bedrooms, offices, garages, RVs, and dorms.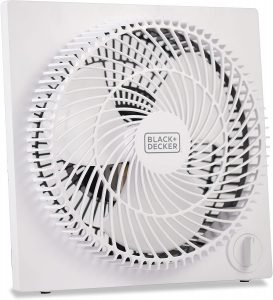 It is one of the best quiet mini box fans for desktops because of it slim, square design, it doesn't take up much space on the desktop or any space you wish to place it. Plus, it's lightweight and only weighing about (3.97 lbs.).
Just like the above models, this box fan also has quiet three-speed air circulation, that allows you to customize the airflow according to your needs whether at work or home from low, medium, and high.
This box fan comes with a 1-year money-back warranty.
Features
Three-speed settings

compact size (10.9 x 4.25 x 10.9)

Weight is

3.97 lbs
Pros
Adds a minimalist modern look to your space
Easy to control
Can fit into snug areas
Lightweight
Cons
Not a very powerful box fan
How to Choose a Quiet Box Fan
If you are purchasing your first fan, you may not be sure of what to look out for, here are some factors to guide you in your selection.
Air Flow (CFM)
The airflow of a fan is measured in cubic feet per minute. This indicates how well a fan moves around in a given space. For example, a fan that has a CFM of 500 will be able to circulate 500 cubic feet of air in a minute. The higher the CFM the more powerful fan will be.
Noise Level
Years ago, box fans' downside was the amount of noise they made. But things have changed over the years. The noise levels of box fans have improved, making them considerably quieter. Noise levels are measured in decibels (dB), this indicates how loud the product is. The lower this number the quieter your box fan will be.
Energy Efficiency
Box fans are a cheaper option for air cooling. Even when they are operating at maximum speed, still they are 5 times more energy-efficient than air conditioning.
The energy efficiency is mostly indicated in the product information and packaging to help you the level of energy efficiency. Actually, this is often indicated using the star ratings, with 5 stars being the most efficient.
Speed Settings
Box fans offer two or three different speed settings. Unlike other types of fans that may offer more speed settings, that you can easily customize the airflow for your personal preferences. This is not the case for box fans. They are popular because they are functional, easy to use, and affordable so very few models will come with a remote control or a wide range of speed settings.
Size
The size of the blades will influence the fan size. Most box fans have 20 or 21 inches even though some of the much smaller box fans come with a blade diameter of only 9 or 10 inches. Generally, box fan blades are made of lightweight materials like plastic and they are easy to move.
To make sure you choose the right product for you, remember that it is best to check the size of the whole product, including the casing. Often the product specifications will state the blade size, not the actual size of the whole fan, which is usually one or two inches wider.
Are Box Fans Loud?
The older models of box fans were known for being noisy. However, as technology advanced, there are now quieter box fans than they used to be. The noise level of the fan is usually indicated on the specs in decibel (dB). The higher this number, the louder the fan will be.
If you want a quiet box fan, the above-reviewed box fans are all quiet in operation so, you can make a selection from there. You can also check on customer reviews to see the best box fan that most people recommend.
Final Thoughts on The Quietest Box Fan
Box fans are generally portable and can fit into most spaces. In the time past, these fans used to be very loud. But as the technology has advanced, you can now get quiet box fans at an affordable price that are powerful and durable.
The above-compiled box fans are some of the best box fans that are quiet. Hopefully, you find one that will meet your needs.
Latest posts by Josephine
(see all)