Quietest Bathroom Fan: Top 5 Whisper Quiet Bathroom Exhaust fans
Looking for the quietest bathroom fan?. Great, then you've come to the right place. In this whisper quiet bathroom exhaust fans guide, you can expect to learn the following:
What a silent bathroom exhaust fan is
How does a bathroom exhaust fan work?
Our top-rated quietest bathroom fan picks
How to choose a quiet bathroom fan
How to install a quiet bathroom fan
How to make a bathroom fan quieter
And more…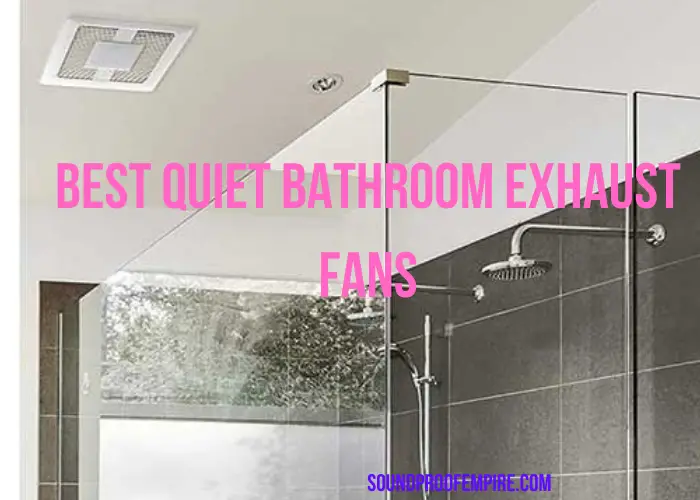 Quick Preview of the Quietest Bathroom Fan Models in the Market
In a hurry?. I understand. Here is a quick overview of the best quietest bathroom exhaust fans to help you remove moisture and odor in your bathroom.
Broan-NuTone QTXE080 Very Quiet Ceiling Bathroom Exhaust Fan( Best Value for Money)

BV Ultra-Quiet  90 CFM Bathroom Exhaust Fan( Best Budget-Friendly)
Taking a hot shower or soaking yourself up in the tub after a long and tiring day, can be a great way to relax and refresh your body and mind.
But the same water that cleanses your skin and the steam that leaves you feeling refreshed can also spell doom for your bathroom. Humidity and condensation, if left unchecked can create annoying marks on your glass shower enclosure and other surfaces in your bathroom.
Not to talk about the damp environment that can also create a breeding ground for mold and mildew. Their presence can be a risk to your health and also make your bathroom look ugly.
Mold and mildew present in any home also reduce its market value significantly. I am sure you do not want that because you can simply avoid that by installing a quiet bathroom exhaust fan.
That's why for all the above reasons, it is important to have bathroom exhaust fans in homes, hotels, and other commercial buildings all other the world.
A high-quality whisper-quiet bathroom fan can get rid of all the moisture and odor in your bathroom. Even if you get a quiet bathroom fan with led light, it will not only work in removing moisture and odor but also provide illumination and sometimes, heating.
After doing deep research for many hours, I finally have put together this guide to help you choose the best quiet bathroom exhaust fan with low noise.  I have curated and reviewed the best quiet bathroom exhaust fans and yeah, there is a buyer's guide included so that you won't fly blind when shopping. So keep reading to find out more!.
Also Read:
Best quiet ceiling fans for home, restaurant, and office
What Really is Whisper Quiet Bathroom Exhaust Fan and How Does It Work?
Reliable sources like the Home Ventilating Institute, have rated a minimum of 1.0 sone or less, a quiet exhaust fan. Anything below 1.0 sone will be considered a whisper quiet bathroom fan with less than 0.5 sone been almost silent.
A fan with such a rating will be barely perceptible in a bathroom. You will barely notice its presence in the room. That's, why having a quiet bathroom fan with LED light, will indicate that the fan is actually working.
Another common trick you can use to know if the fan is working is to put a piece of toilet paper up to the fan to see if there's suction.
Sone is a sound rating that is used for rating how much noise a product can actually make when operating at its maximum output. Anything from 1.5 to 3.0 sones is considered average loudness and any sone rating from 4.0 above is pretty
So, how does a bathroom exhaust fan work?.  A bathroom exhaust fan works by pulling moisture out of the air before it can cause any harm.
Bathroom exhaust fans are installed in a wall or ceiling to suck warm, muggy air out of the bathroom so fresh air can enter. A properly installed bathroom fan should connect to an insulated metal duct leading directly outside to a roof vent with flashing. The duct should also be straight and as short a possible.
In many older homes, bathroom exhaust fans simply vented the humid air into the attic or the joist space above the bathroom ceiling. This practice is now prohibited under most current building codes.
Best Quiet Bathroom Exhaust Fan Reviews
These are the best quiet bathroom fans to remove your moisture and keep your bathroom fresh and free of mold, etc.
1). Panasonic FV-0811VFL5E WhisperFit EZ  Retrofit Ventilation Fan with Light
This is the best quietest bathroom fan on this guide. It's an incredibly powerful bath fan that has a noise rating of fewer than 0.3 sones. This makes it an ultra-quiet bathroom fan with LED light in the market that you simply cant pass by if you're shopping for the quietest bathroom exhaust fan.
It is an affordable choice for delivering quiet, energy-efficient, and effective exhaust ventilation. It is a perfect unit for those doing residential remodeling, hotel construction, or renovations.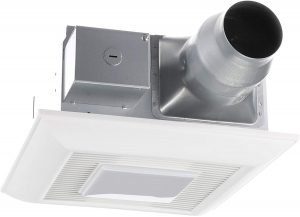 It has a built-in Pick-A-Flow selector that allows you to select your preferred airflow (80 or 110 CFM). Having the ability to choose the CFM gives you the flexibility and assurance that one fan can meet the ventilation needs of a range of ventilation design requirements.
Pros
Made by a high-quality manufacturer — Panasonic
A very powerful exhaust fan, rated up to 110 CFM
ECM motor for efficient operation
UL Listed for tub/shower with GFCI
Cons
May not fit 2×4 wall construction
Used for 4″ or 6″ duct, so if you have a 3″ it will need an adapter
Some LED bulbs won't fit, only buy what is suggested by Panasonic
---
2). Broan-NuTone QTXE080 Very Quiet Ceiling Bathroom Exhaust Fan
This Broan 80 CFM Bathroom fan with light is another high-quality product from Broan that delivers as expected. It has a noise level of less than 0.3 sones and the powerful motor is designed for continuous operation.
This bathroom fan operates between 80 CFM and 150 CFM. The noise level becomes slightly higher as the CFM goes up.
Just like the Panasonic.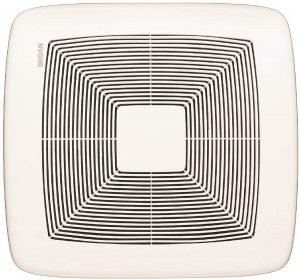 The Broan Very Quiet Bath Fan is for bathrooms up to 75 square feet, which is large enough for the average bathroom.
It uses 6-inch ducting for superior performance and requires a minimum construction space of 2-inches x 8 inches. It's certified for use over the bathtub or shower with the GFCI circuit.
The unit is HVI Certified and Energy Star Qualified. It's also UL Listed. The manufacturer recommends that it's used for bathrooms in the 75 to 80 square feet.
Pros
Very quiet at under 0.3 sones

Continuous operation motor

Hanger bar system included

Certified for use over the bathtub

HVI Certified, UL Listed
Cons 
Difficult to install in existing rooms

Requires professional wiring
---
3). DELTA ElECTRONICS BreezSlim SLM80 Exhaust Bath Fan
All BreezSlim fans are ENERGY STAR qualified and fit in a 4" wall. This bathroom Fan includes a 4" metal oval duct with a 3" plastic adapter. An enlarged grille helps relieve cutting errors. As with all Delta Breez fans, the BreezSlims feature an LED indicator light underneath the grille to assure the user that this quiet fan is running.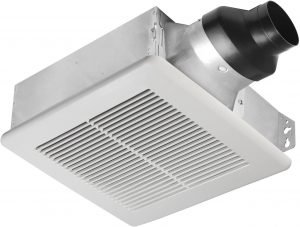 This Delta Breez model is rated at 80 CFM but it also comes in 50, 70, and 100 CFM. The bathroom fan has an indicator light to know if it's on because at 0.6 sones it may be difficult to know.
The BreezSlim SLM80 features an innovative DC brushless motor design for long life, low noise, and low power consumption. It's UL-approved for ceiling and wall mount installation. An LED indicator will be green when power is on.
Pros
Galvanized steel construction
Can fit in a 2×4 stud wall
Can be used for 3″ or 4″ ducting
Enlarged grill cover obscures poor drywall cuts
Cons
If used with 3″ duct it is rated for a lower 57 CFM
The sound also increases to 0.9 sones with a 3″ duct
---
4). BV Ultra-Quiet  90 CFM Bathroom Exhaust Fan
This BV ultra-quiet 90 CFM bathroom exhaust fan is the affordable bathroom fans under $100 that is super quiet with 0.8 sones and is made of a stainless steel body that makes it durable.
BV has used a "silent-clever technology"  which makes it a whisper quiet bathroom exhaust fan such that it can be challenging to know if it's on.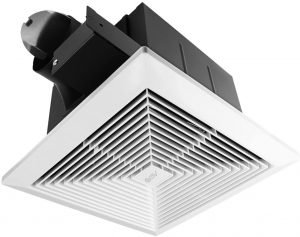 Its heavy-duty motor is suitable for continuous use especially if you have a busy bathroom that requires it to be on a lot of times. The fan comes with an adjustable bracket that makes it easy to install and plus its HVI certified and UL approved.
This 90 CFM exhaust fan is for bathrooms with ventilation space of up to 90 sqft and the mounting opening is  9.25″ x 9.0″. Height: 7.5″ Stainless steel 4″ duct collar. This unit also comes with a one-year limited product warranty with technical support service.
Pros
Quiet at 0.8 sones
Stainless steel body
Adjustable bracket for install
One year limited warranty
Cons
It May be difficult to install
Complaints of unexpected loudness
---
5). Hauslane BF100 120 CFM Ultra Quiet Electric Bathroom Exhaust Fan
The compact Hauslane BF100 is an ultra-quiet 120 CFM fan rated at 1.2 sones and it offers efficient ventilation over an expansive area.
The extractor unit uses suction to remove stale air and smells from your bathroom and is crafted from the highest quality materials. The unit is recommended for spaces up to 120 square feet.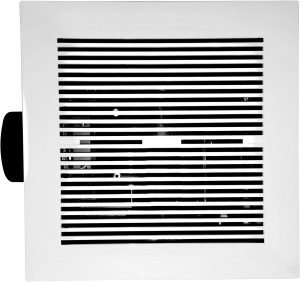 The exhaust fan is made of durable stainless steel housing and comes certified by both UL and ETL.
This fan also comes with a double hanger bar system for ideal positioning and comes in a standard housing to fit most ceiling joists. With the 4-inch vent connector, DIY installation becomes much easier.
This fan backed by a one-year warranty.
Pros
Durable stainless steel housing

Impressively quiet operation

Bright LED light panel

Moves air at 120 CFM

ETL Certified, UL Listed

1-year warranty
Cons
Instructions in the user guide aren't very clear
---
How to Choose a Quietest Bathroom Fan
Choosing a bathroom fan can be a daunting task especially if you don't know what to look for when picking one. In case you need help, here are some factors to consider.
Sone Rating
If a quiet bathroom fan is an absolute must for you, then sone rating should be considered because it tells you how much noise the bathroom fan will make. Sone ratings of 1.0 and below are considered quiet and a fan rating of 0.5  and below is ultra-quiet. Most manufacturers usually indicate this figure on the product manual.
Anything below 2 sones is good enough for bathroom use. Always choose a fan rated below 4 sones. If you must select a 4-sone+ unit, it should be an irresistible fan with strong abilities in other areas.
Cubic Feet per Minute (CFM)
CFM stands for cubic feet per minute and it's the amount of air the fan can move per minute. So the high this number the more air it will be able to move. A larger bathroom will require a fan with a higher CFM rating.
You want just enough CFM power to effectively remove the moisture in your bathroom, but not so much so that it creates noise. To this end, we recommend one (1) CFM per square foot. Therefore, for an 80 square-foot bathroom, you need an 80 CFM fan.
Add 50 CFM for every toilet, another 50 CFM for each shower/bathroom combination, and 100 CFM for every whirlpool.
House Size
It's also important to consider the size of the bath fan. If you have older 2×4 wall studs, some fans may not fit into the wall. It is important to measure the housing size before you buy the exhaust fan.
Cost
The best solution is to buy the best bathroom fan within your budget that is considered quiet. The good thing is that you can get a bathroom exhaust fan that is affordable and quiet but may not have some features that a high-end model will have.
With your budget in mind, identify and compare the products in that range and pick one with the lowest noise rating.
Customer Reviews
Generally, it's easy to gauge a product quality by looking at what other customers have to say about it. There are a lot of reviews that you can look at especially on Amazon to know what verified customers have to say about the product and rating it.
How to Install a Silent Bathroom Fan
Looking for some tips to help you install your bathroom fan?. Great, these tips will help you to install it.
First and foremost, you will need to remove the existing exhaust fan from the ceiling mount or wall mount, before you can now install a new exhaust fan in the existing cutout.
Most Bathrooms have something called "fast install brackets" which is some type of bracket that exhaust fan can be mounted onto. The bracket gets screwed onto the ceiling/wall framing.
Additional features like light, heater, or humidity sensor would require additional wiring, but if none is present, then the installation will be much easier.
You can just connect the existing wiring in the ceiling to your new fan, and use the same wall switch to turn it on or off.
When it comes to installing a bathroom fan, it can get complex sometimes especially if you have other features on it. This might not be easily installed if you don't have any handyman expertise. Hence you may need to get a certified person to help you out.
If you can handle it yourself, you will need to connect the wiring to the existing switch and electrical wiring.
How to Make a Bathroom Exhaust Fan Quieter
There are many reasons why a bathroom exhaust fan might be making noise.  If your bathroom fan is producing unusual sounds, you can try these techniques to help fix the noise exhaust fan.
Clean the Fan and All Moving Parts
If your fan is making noise, it may be worth giving it a thorough cleaning instead of going out to purchase a new quiet bathroom fan. As dirt and grime build up over the year, it can cause problems for the fan blades.
To clean the blades, first, remove the fan cover so that you can access the fan blades and housing. With a wet rag and some soap water, wipe down the fan blades and the whole fan housing, the motor assembly, and component that looks dirty.
Observe for any damage that may be present and subsequently replace them.
Once everything is dry, replace your fan cover. Test the fan to see if this has alleviated your noise problems. If so, excellent! Your job is done. If not, then proceed down the list.
Absorb the Sound with Sorbothane Rubber
Here is another technique you can use to reduce your bathroom exhaust fan noise. Try using Sorbothane rubber to absorb the sound and vibrations.
Sorbothane is a very soft rubber that is available in easy-to-work-with sheets. It can be purchased with an adhesive backing that makes it simple to apply to your bathroom fan.
Cut the Sorbothane into strips. These can be 1+½" to 2" wide.
Adhere a strip around your fan in line with where the ceiling or wall will be against the unit when installed. This will effectively decouple the fan from the wall, reducing the amount of vibration and sound transferred.
You can also add some of the Sorbothane to the electrical access plate and the fan motor assembly to help dampen some more of the vibrations.
Install a Larger Duct
The larger the size duct you use, the less air pressure is created by the air that the fan is expelling. This equates to less air noise.
Newer fans that are designed to be ultra-quiet usually use 6" duct to help achieve this goal.
If you're upgrading to a larger duct because you're upgrading to a quieter fan that requires 6" duct, then all you need to do is replace the existing duct.
If you're keeping your old fan but upgrading to a larger diameter duct, you will need to get an enlarger coupling that will allow you to use the larger duct with your smaller fan outlet.
Lubricate the Fan Blades and Motor
As your fan ages and with continuous use, the moving parts will dry out and start experiencing increased friction. This will start to cause an amount of wear and tear, thereby reducing the lifespan of your fan.
To check if this is true, remove the fan cover. Make sure the fan is powered off.
First, clean off the fan and the fan housing. Make sure there is no dirt or dust to become thick grime when you add lubrication. This will make your problem worse instead of better.
Now, with lubricant oil, try and lubricate the fan blade. Make to sure spin the blades around a few times while applying the lubricant to ensure that they get a nice coat.
Tighten the Mounting Screws
Another common cause of exhaust fan noise is loose screws. As your fan work for years, the screws and mounting hardware may begin to loosen up. There are two ways to go about tightening the mounting screws depending on how your fan is installed.
If your fan is installed by screws being run through the fan assembly and into a joist, then you may be able to tighten them without getting into the attic. Remove the fan cover. Locate the screws used to install the fan to the joists and tighten them. That's it, simple!
Many fans are installed to the ceiling joists with hangers that are mounted above the ceiling drywall. In this case, you'll need to head up to the attic and locate your bathroom fan from above.
Start by tightening all of the screws that mount the fan to the hangers.
Final Thoughts on the Quietest Bathroom Fans
The right quietest bathroom fan can do wonders to your bathroom by helping remove all the moisture in the air after every bath to prevent mold, mildew, and stains on your walls and homes.
All the above are quiet bathroom fans that will work in this regard. The one you will choose will depend on your budget. If you want additional features, then you'll have to pay more for them.