Top 5 Quietest Bathroom Exhaust Fans with Light
Looking for the quietest bathroom fan with light for your bathroom ventilation?. In this guide, you can expect to learn the following:
How does a bathroom ventilation fan with light work?
Types of bathroom exhaust fans
Our top-rated quiet bathroom fan with light picks
Features to look for in bathroom fans with illumination
Can a bathroom fan and Light be on at the same time?
And more…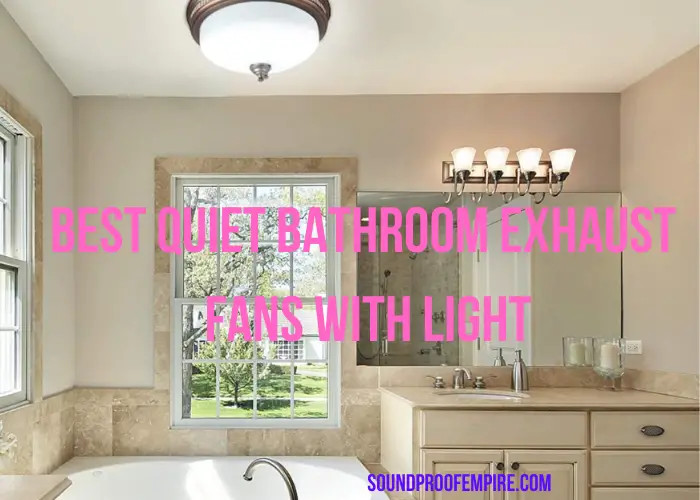 Quick Preview of the Quietest Bathroom Fans with Light
In a hurry?. Quick Preview of the best quiet bathroom fans with light for your bathroom ventilation and lighting.
Delta Electronics BreezIntegrity Series Fan ( Best Budget-Friendly)
If you are looking for a bathroom fan with light that provides sufficient airflow without noisy operation, consider the bathroom fans on this guide. Bathroom fans with light come in different models, sizes, and prices.
If you are looking for a bathroom fan that will remove moisture and heat from your bathroom while providing illumination, Then these quiet bathroom fans with light will be of interest to you.
I have done the research and curated some of the best quietest bathroom fans with light for you to make an informed decision without spending hours of research again. Keep reading to find out more!.
How Does a Bathroom Ventilation Fan with Light Work?
Bathroom exhaust fans with light work by removing air from the bathroom. Most bathroom fans will be able to completely remove the total volume of bathroom air once per minute. This air is transferred to the outside through a flexible or rigid venting hose.
It is essential to make sure that the bathroom exhaust is actually being vented to the outside. This because according to the University of Southern California, if the bathroom vent goes into the wall cavity or into the attic, the excess moisture can lead to mold growth or wood decay, which if not fixed can cause deprivation in property value.
The way bathroom fans with light are that they are designed to work with the wall switches for operation. You have to option to wire the exhaust fan to one switch, so it will turn on the fan and the light at the same time.
Also Read: 
Best quiet attic fans for homes
Types of Bathroom Exhaust Fans
Bathroom fans typically come in one of the three styles: Ceiling-mounted, wall-mounted, or inline/remote.
Ceiling Mounted bathroom fans: These are installed in the ceiling and vented into the attic or out through the roof.
Wall-mounted fans: These fans are mounted on the external wall of the house and generally are used when there is no practical way to vent through the roof; for instance, a first-floor bathroom.
Inline Fans( also known as remote fans): These bathroom fans are located in a remote location such as the attic; ductwork connects the fan to an opening in the bathroom ceiling covered by a grill. Inline fans are often used when a homeowner wishes to use one of the fans to vent multiple bathrooms or to have multiple vents in one large bathroom.
Best Quiet Bathroom Fans with Light
These are my top-rated quiet bathroom fans with light for ventilation and lighting in the bathroom.
1).  Panasonic FV-0811VFL5E WhisperFit EZ Retrofit Ventilation Fan with Light
This Panasonic FV-0811VFL5E  by Panasonic is the top-most pick on this list. This is because, it's quiet, affordable, energy-efficient, and has effective exhaust ventilation.
It's an easy to install bathroom fan that is ideal for residential remodeling, hotel construction, or renovations, and its ability to fit into a lot of different bathrooms including even those with 2×6 construction.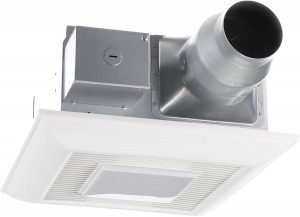 This bathroom fan had a built int pick flow selector that enables you to select between 80 or 110 CFM airflow. This feature is good to help you regulate the airflow and meet the ventilation needs of your bathroom.
WhisperFit EZ fan/light model features a contemporary flush mount grille that incorporates one 10W dimmable LED chip panel with <1W LED night light for warm, energy-efficient illumination.
The Panasonic WhisperFit is also very quiet at less than 0.3 sones.
Pros
Dimmable 10-Watt LED Light
Less Than 1-Watt Night Light
Quiet (less than 1.0 sones)
Speed Selector (80 or 110cfm)
Easy Install Bracket Included
Cons
Slightly expensive
No Humidity Sensor
Fits Only 4″ & 6″ Vents
2). Delta Electronics BreezIntegrity Series Fan
This Delta Electronics bathroom fan is the best budget-friendly bathroom fan that comes with lights on this guide. This model comes in a wide range of sizes from 50 CFM up to 100 CFM  ideal for small, medium, and large bathrooms.
It also comes with an LED light bulb so you don't have to purchase one separately. The great thing about this bathroom exhaust fan too is that it has very low noise from 0.7 to 1.5 sones in order of increasing CFM.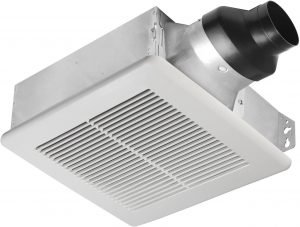 Airflow at 80 CFM for spaces up to 80 sq ft. has a noise level of 1.3 sones. The fan features a DC brushless fan motor that is reliable and it's HVI certified and UL approved for ceiling mount.
Pros
A quiet bathroom exhaust fan
Comes with the LED light bulb
The model comes in different CFM sizes, take your pick
Affordable price
Cons
It is a plain-looking bath fan, nothing decorative about it
Says it is "dimmable," but doesn't come with a dimmer switch
3). Akicon Ultra Quiet Round Exhaust Bathroom Fan with Light
This is another high CFM bathroom fan with light that would match modern bathroom designs. It's a beautiful fan and it's quiet with a noise level of 1.5 sones and for rooms up to 100 sq. ft.
The installation is quite straightforward and has a 9″ x 9″ x 7.7″ Painted steel plate housing, 4″ Duct connection. 15.3″ x 15.3″ Steelpan grille with frosted glass lens cover. It is cUL Listed for over tub & shower with GFCI and HVI certified.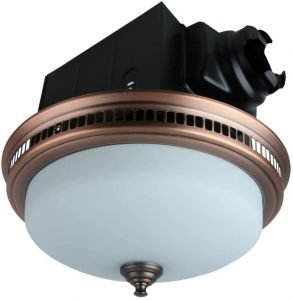 This quiet bathroom exhaust fan has a  Nightlight Copper (3x13W GU24 Base CFL Blubs and 1pcs E12 Nightlight Included). plus, it comes with a 3 Years Warranty by Akicon.
Pros
Long-life b

Great fan for bathroom or shower area.
Quiet, easy to install, and looks beautiful
Excellent customer service as well
Some customers complaint they had an issue fixing the rod
4). KAZE APPLIANCE Ultra Quiet Bathroom Exhaust Fan With LED Light
This bathroom fan with light has a near-silent operation of 0.3 sones and with a CFM of 90. It comes with an 11 watts LED light and 2 watts LED night light. It's a perfect combination of a bathroom fan with overhead lighting.
The Fan housing is made of rugged 26 ga galvanized steel and painted to prevent rusting. Heavy-duty triple point mounting brackets can be adjusted up to 24-inch joist centers for easy, fast, and universal installation in different types of constructions.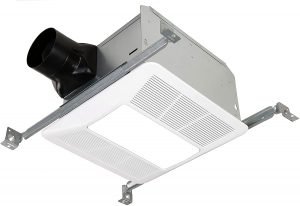 It has quiet performance and its reliable comes with  3 years parts warranty against manufacturer defects. Kaze ventilation fans are certified by the home ventilating institute (HVI), ETL-cetl, and energy star qualified where guidelines exist.
Pros
quiet product with a noise level of 0.3 sones
 It is very well built
Moves a lot of air
Energy efficient
Cons
Instructions for installation are brief
---
5). Hunter 83002 Ventilation Sona Bathroom Exhaust Fan With Light
With a noise level of just 3.0 sones at 110 CFM, this Hunter ventilation bathroom exhaust fan is not the quietest on this list.  but it's just ok. It features a bronze finish with sophisticated scrollwork housing and cased white glass enclosed for 3 bulbs and optional night light.
The fan motor and light fixtures can be wired to the same wire or independently, depending on your preference for your convenience.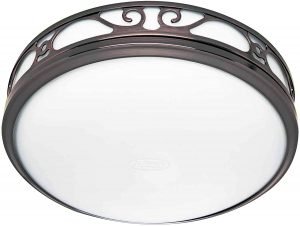 The glass cover is easily removed and replaced with a secure, it also has a screwless design for simple re-lamping and cleaning. The light cover is 15 inches in diameter. The four-inch duct diameter and housing is 8.9 L x 9.7 W x 7.4 H inches.
This bathroom fan with a light is suitable for medium to large bathrooms.
Pros
A beautiful looking fan, it looks like a nice light fixture
Rated for use over wet areas (with a dedicated GFCI circuit)
Fits medium to larger sized bathrooms

5-Year limited warranty
Cons
Light bulbs not included
Some users have complained that LED bulbs get clouded by the glass lens
At 3 sones, it is louder than your average bathroom fan
---
Features to Look for in Quiet Bathroom Fans with Light
There a couple of features to look out for when choosing a bathroom fan that comes with a light. Here are some tips to guide you in your selection.
The Fan Light
There are few important tips to keep in mind when picking the best bathroom fan with light. Here are a few different lighting options to help you choose.
Decorative Light:  These lights look like a normal bedroom light fixture and it's not noticeable as a fan at a glance unless it's turned on.
Normal Light: These are the units that look like your average bathroom exhaust fan. If you install it in your bathroom, there is nothing fancy about it, and it's the most affordable choice.
Recessed Light: These types of bathroom fan lights look like a normal recessed ceiling point. There is a small barely noticeable gap above the light bulb that pulls in the air. These exhaust fans are great fans if you want the exhaust fan to match existing recessed lights, or for installation in a closet.
Noise Level
If a quiet bathroom fan is an absolute must for you, then sone rating should be considered because it tells you how much noise the bathroom fan will make. Sone ratings of 1.0 and below are considered quiet and a fan rating of 0.5  and below is ultra-quiet. Most manufacturers usually indicate this figure on the product manual.
Anything below 2 sones is good enough for bathroom use. Always choose a fan rated below 4 sones. If you must select a 4-sone+ unit, it should be an irresistible fan with strong abilities in other areas.
Airflow ( CFM)
One of the important features to look for in bathroom fans is the CFM which is a measure of how much air the fan is able to move per minute.
Most fans will be anywhere from 50 CFM and up to 120 CFM. The general rule for CFM is that you want 1 CFM per square foot of bath area.
For instance, if your bathroom floor is 8′ x 8′ or 64sf. In this case, you would want a bathroom fan that is at least 64 CFM or higher.
Regardless of size, a bathroom will always need a CFM rating of at least 50 CFM as stated by the Berkeley Lab.
Can a Bathroom Fan and Light Be on at the Same Time?
Sometimes you need to wire a bathroom fan and light on one switch. Code often requires a fan in bathrooms these days, but you may only have one switch. Or maybe you have two switches but just want one switch to run both. Fortunately, it's easy to do.
This kind of arrangement isn't a bad idea anyway.  It's safe to assume that if someone is in the bathroom the light should be on and the fan as well running this is the best way to keep mold and mildew from growing in the bathroom.
Condensation from hot water causes mold and this also affect the life expectancy of the light fixture and bulb. But this can be eliminated if the fan pulls the vapor out before the condensation happens.
---
How Are Bath Fans With Lights Different From Other Bathroom Exhaust Fans?
Bathroom fans with light differ in some ways from other bathroom exhaust fans. For instance, there are bathroom fans that come with humidity sensors. These are special bathroom fans that can turn on and off automatically without needing to flip a wall switch.
Humidity sensors are great for homes where you don't think the residents are not actually using the bathroom exhaust fan and are worried about causing potential damage.
Also, there are bathroom fans with heaters included in them. These are great for the cold winter days. The heater is able to heat up the bathroom in a few minutes without having to touch the central thermostat which helps in saving energy.
---
Final Thoughts on the Quietest Bathroom Exhaust Fan with Light
There are many bathroom fans with light in the market but not all of them are quiet in operation. The last thing you will want is to have a min helicopter over your head with a lot of noise.
That is why I did the research and curated these best quiet bathroom fans with light for your consideration. Hope you found it helpful.