Top 5 Quietest Attic Fans Options for Home Ventilation
Looking for the quietest attic fan?. Perfect, then you've come to the right place. In this guide, you can expect to learn the following:
What an attic fan is
How does an attic fan work?
Our top-rated quiet attic fan picks
How to choose a quiet attic fan
Are attic fans noisy?
How can I make my attic fan quieter?
Do attic fans really help?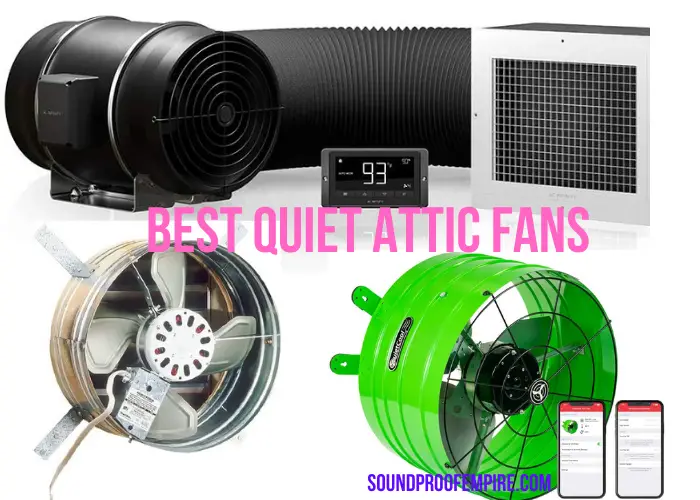 Quick Preview of the Quietest Attic Fans
In a hurry?. I understand. Here is a quick overview of the Best Quiet Attic Fans for home ventilation.
QuietCool AFG SMT ES-3.0 Smart Attic Gable Fan ( Best Solar Quiet Attic Fan)

iLIVING ILG8SF12V 12 Inch Variable Speed Shutter Fan ( Best Budget-Friendly)
Did you know that during the hot summer months, attic temperatures can exceed 160 degrees? Imagine the impact that has on the temperature of your home.
When summer arrives, we all know that hot air arises as well and it can get really hot on the upper floors than the lower ones. In hot and humid climates, this hot air inside the homes can be extremely stifling. In such a case, you need a quiet attic fan to help with the air circulation and cool the attic, this makes it much comfortable for the occupants.
By dispelling hot air from your attic, an attic fan is able to help reduce the temperatures of your upper-level rooms by up to 10 degrees, extend the life of your roof shingles, and cut the air conditioning expenses by up to 30 percent.
Attic fans are not very popular in some areas, so, in this article, I will explain what attic fans do, how they work, and what to look for when choosing the quietest attic fan for your home. I have also curated the best attics fans that are quiet and will give you the best ventilation for your home.
Also Read:
What Really is an Attic Fan and How Does It Work?
An attic fan is as the name implies is a fan installed on the ceiling of your attic. It works by drawing hot humid air out of your attic and pushing it outside. This provides the needed ventilation for your home and it's a powerful addition to your HVAC system.
The basic working principle of an attic fan is that it pushes hot air out of your attic space. Air is pulled into the attic from outdoors using the soffit vents which should already be installed in the eaves. As the attic draws the outside air into the attic, it vents hot, stale air out through the attached dormers. By so doing, the attic fan is able to replace the stifling hot air with fresh air, thereby cooling the attic and also the living space below it.
Best Quiet Attic Fans for Home Ventilation
1). AC Infinity CLOUDRAY Ceiling Mount Whole House EC Attic Fan
This whole house fan system is designed to exhaust hot air from indoor spaces while creating passive intake to pull in the fresh air. The AC infinity whole house attic fan features an LCD digital controller, a smart thermostat with triggers, fan speed control, and status alerts.
The fan uses a PWM-controlled EC motor that allows it to run efficiently and quietly. The digital controller has programmable triggers that activate the attic fan when the house gets too humid or hot. You can program the fan to either run continuously or be on a timer that can be on and stop when you need it to be.

The fan speed is customizable between 0 and 10  to optimize your desired cooling and noise level. Each smart controller includes a 12 ft. corded sensor probe that detects temperature and humidity in your home. Other features include LCD screen energy-saving mode, backup memory, and alert notifications.
Another good thing about this fan is that it is energy efficient and consumes 95% less power than air conditioning units.
Features & Specs
Designed to cool and ventilate the entire home
Smart Digital controller
2-door shutters with dampers

Duct Size: 10"

Dimensions: 9.8 x 15.2 x 11.3 in.

Airflow: 1201 CFM

Noise: 48 dBA

Bearings: Dual Ball
---
2).QuietCool AFG SMT ES-3.0 Smart Attic Gable Fan
This QuietCool smart attic gable fan can run as low a 22 watts while producing 2830 CFM of airflow. The smart pro attic fan comes with a smart control app that allows you to set presets, control your fan from anywhere in your house, and be able to regulate the attic temperature.
This premium gable fan has a high-quality ECM motor with 10 different fan speeds. It will start at 3000-CFM fan speed when the attic is very hot and then drop to 1000-CFM as the temperature goes down.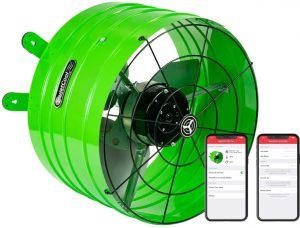 And not only is there an adjustable thermostat, but it also comes with a humidistat to keep the attic moisture below 60% — helping to prevent mold growth. This gable attic fan is plug and play which means you can just insert it into a standard 120-volt outlet.
Feature & Specs
Ultra-Energy Efficient ECM Motor

Runs at 2,830 CFM

As low as 163 watts

Built-in Mounting Tabs

Vent Cover

Plug and Play

Easy Installation

3-Speed Motor
---
3). Remington 40 Watt Solar Attic Fan
This solar-powered attic fan is one of the awesome products from Remington Solar that provide home cooling and ventilation at an affordable price. This attic cooling fan improves your home's HVAC and furnace performance by taking the stress of the furnace and your wallet.
This solar-powered attic fan is able to automatically combat moisture and mold in your home.  Another great feature that this attic fan has is the hybrid adapter that automatically runs at night. There is also a humidistat and thermostat that automatically change the airflow based on the attic needs.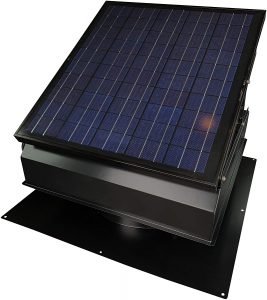 It is also equipped with a brushless motor that generates little to no noise, is hail and weather resistant. Because of its design, it creates no friction and turns the motor without any wear thereby prolonging the lifespan of the solar roof attic fan.
Remington Solar has trust in their product such that they ensured it with a 15 years warranty on the fan and a 2-year warranty on the 110V adapter.
Features and Specs
Solar Panel
Hybrid adapter, humidistat, and thermostat
Humidistat/Thermostat
Comes with 15-year warranty on the fan
Mounting Screws
110v Hybrid Adapter
---
4). Broan-NuTone 35316 Gable Mount Attic Ventilator
Since 1932, Broan-NuTone LLC has led the industry with forward-thinking residential ventilation products, unsurpassed built-in convenience products, and superior customer service.
The fan is rated for attics up to 2280-SF and has a maximum speed of 1600-CFM. The Broan fan also includes a built-in insect and pest screen. It keeps your attic cool and dry all day long.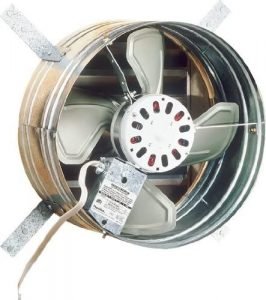 The Broan 35316 is a high-quality gable attic fan so you can push heat out during summer, and stop ice dams during winter.
This single-speed 4-blade gable exhaust fan has a thermally protected and permanently lubricated motor — it is also HVI certified.
This attic ventilator operates automatically and it includes a built-in adjustable thermostat with a thermally protected and lubricated motor.
Features and Specs
For attics up to 2280-square feet.

Fan Blade: 4 Blade Steel.

Housing Dimensions: 15-inch diameter x 8-inch.

3.9-Amp; 120-Volt maximum.

Split Capacitor Motor.

Power Type: 120-VAC.

1420-RPM.

Built-in insect/critter screen.
---
5). iLIVING ILG8SF12V 12 Inch Variable Speed Shutter Fan
The iLIVING is a very affordable and well-built gable attic fan and rated at 800-CFM. The fan motor is variable speed with the purchase of a separate motor controller.
This 12″ gable attic fan is UL-listed and has OSHA-compliant wire guards. Perhaps the best part of this gable attic fan is that it comes with automatic shutters that open and closes.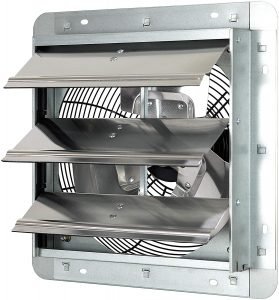 The iLIVING wall mount shutter exhaust fan is great for anyone looking for a good option to reduce their cooling costs while maintaining a cooler home all year round.
The fan comes fully assembled out of the box; the only installation required is the electrical hardwiring
Features and Specs
Affordable and reliable
Variable speed to customize to your needs
Water-resistant shutters
Powerful and efficient
The 12-inch runs on standard 120 volts at 1/20 HP, 0.60 amps with 1610 rotations per minute
Cooling and ventilating an area of 772 cubic feet per minute!
---
How to Choose a Silent Attic Fan
Attic fans are essential especially in summer when the temperature can climb to a searing 150 degrees. By dispelling hot air from your attic, an attic fan is able to help reduce the temperatures of your upper-level rooms by up to 10 degrees, extend the life of your roof shingles, and cut the air conditioning expenses by up to 30 percent.
How are some of the factors to consider when choosing a silent attic fan for your home.
Types of Attic Fans
A couple of different fan styles can be used to help control the temperature of the attic space. There are different kinds of attic fans that depending on their layout, will suit your home. Here are types of attic fans.
Whole-House Fans
Whole-house fans are installed into the ceiling of the highest point in the finished space. They are typical in an upstairs hallway. When running, they pull heat and moisture from inside of the house and force it into the attic space.
One downside of a whole-house attic fan is that the hot air needs somewhere to go. Therefore, if the attic area is not properly ventilated, the humid and moist air will build up in the attic space and can cause mold to grow. This type of attic fan is best suited for open, well-vented attics.
Attic Venting Fans
Attic fans serve a different function, removing the hot and moist air from the attic and leaving the space below the attic floor alone. These fans circulate the air within the attic, pulling fresh air from the vents (like the ones in your soffit) and pushing hot air outside.
Attic fans can serve a year-round function. In the summer, you can drastically reduce the temperature in the attic, helping to lengthen the life of the roofing shingles and sheathing.
Noise Level
Fans are cost-effective air cooling systems, but the noise can also be an annoying factor. But not to worry. There are quiet attic fans that will cool your attic without any noise.
Luckily, the above-mentioned attic fans are low noise models that provide cooling without noticeable noise.
Material
Attic fans are exposed to excessive heat and they should be made of material that can survive this heat. cheap materials will not last under extreme weather conditions. Plastic materials may not be able to withstand the winter, may become brittle.
Choose an attic fan with durable metal construction. The body and the fan should both be constructed of sheet metal and steel galvanized or painted if possible. Attic fans of such construction are more stable and can withstand fluctuating temperatures and moisture.
Air Volume (CFM) and Square Footage
CFM measures the airflow and the higher the CFM, the more airflow a fan can produce and the better the cooling. Choose a fan that matches your home or attic size or one that will provide optimal cooling. With a too high CFM, you will be spending too much to maintain it and too low CFM will not be able to meet your home cooling needs.
Not all fans will come with CFM ratings emblazoned on the packaging. Instead, you need to look for the amount of square footage the fan was intended for. This detail is especially important in choosing a whole-house fan.
Ease of Use
Attic fans are great for homeowners who want to be able to forget that their fans are there. Advanced models do come with either a programmable thermostat or can be wired to one such that it will automatically turn on when the attic reaches a certain temperature.
This is because most people don't want the hassle of turning on or off their fans. Some even come with a remote control allowing you to control the fan from your comfort zone.
Venting Requirement
The venting requirement of your attic fan another important factor to consider. It's important to choose an attic fan that fits your attic venting needs. If you pick a fan that requires more ventilation than your attic can offer, it will begin to pull air from inside the conditioned space.
If your whole-house fan doesn't have the proper ventilation, it's not going to work very well either. It'll fill the attic with hot air, which will stop it from pulling more air into space through open windows.
Safety
Safety is very important when it comes to any fan installation. You need to consider safety especially around furnaces installed in an attic.
An attic fan can create enough draft to blow out a pilot light on a furnace. If this happens, the furnace will empty gas out into the attic. At first, the fan will alleviate most of the danger by forcing the gas outside, but once it shuts off, it's a different story. Your attic can fill with gas and then seep into the rest of the home, posing a danger to you and your family.
Are Attic Fans Noisy?
Even though attic fans are great home cooling units, they are mechanical devices and they sometimes can be quite noisy and annoying. In most cases, the noise does appear due to low-quality products or some parts getting old or being worn out.
Loud Noise from whole-house fans is because whole-house fans are working with metal blades and cheap motors that don't bend with the air but fight against it. The metal blades can also hit against the surrounding metal frame as well.
How Can I Make My Attic Fan Quieter?
If your attic fan is making disturbing noise, you may be looking for ways to make it quieter. The techniques will help you make it quieter.
Balance the Blades
If the fan makes a constant metal clanking noise, in all probability the fan blades are imbalanced. This is something that can occur even in regular ceiling fans as a consequence of regular use. In such cases, either balance them out or replace the blades entirely.
Replace the Bearings
Attic fans have small ball bearings that help lubricate the fan's movement. Due to regular wear and tear, these bearings can become worn out or lose their lubrication ability. This can cause the fan to start making constant noise in some cases, even a loud squealing sound.
To fix this, remove the current worn-out bearings and replace them. Ensure the new ball bearings are the same model as the ones you want to replace.
Tighten the Screws
The screws that are used to fix the fan to the gables or roof can become loose. This can cause the entire assembly to vibrate and make noise. To fix this problem, simply tighten the screws.
Get a New Quiet Attic Fan
Sometimes, some broken things can't be fixed unless you replace them. An attic fan can last between 10 to 15 years. If you suspect the noise coming from your fan is due to old age, you can replace it by getting a quieter attic fan that will give you peace of mind.
Do Attic Fans Really Help With Home Cooling?
Generally speaking, attic fans can cool down a house in less than an hour. Once the house has cooled, the fan can be turned off and the windows closed. Powered attic ventilators or ventilation fans are designed to cool the attic pushing out the hot attic air and rushing in a flow of cool outside air.
Final Thoughts on the Quietest Attic Fans
Quiet attic fans are a great addition to your home cooling systems. The summer can get really hot and with the right attic fan installed in your home, you won't have to ensure the extreme heat.
The above-mentioned attic fans are some of the best and also the quietest in the market. Many customers have got very good things to say about them, plus the manufacturer's information.  Hope you find what works for your needs.