Top 5 Quietest 4000 Watt Generator Models in the Market
Looking for the quietest 4000 watt generator to power your electronics?. Perfect, then you've come to the right place. In this guide, you find some of the best quiet 4000 watt generators that you can use as a backup for your home or as a portable power supply for your RV.
Here is what you can expect to learn in this guide:
Our top-rated quietest 4000 watt generator picks
How to choose a quiet 4000 watt generator
Is a 4000 watt generator really for you?
And more…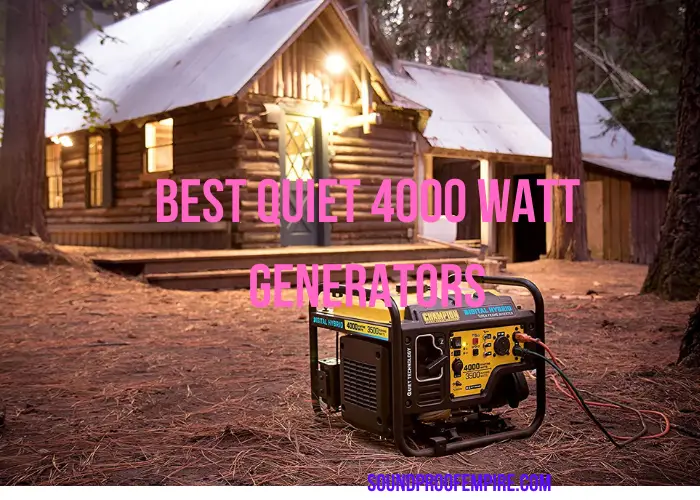 Quick Preview of the Quietest 4000 Watt Generator Picks
In a hurry?. I understand. Here is a quick overview of the best quiet 4000 watt generators in this guide.
Champion Power Equipment 4000 Watt RV Ready Inverter Generator( Best Value for Money)

WEN GN400i RV-Ready 4000 Watt Open Frame Inverter Generator (Best budget-Friendly)

Predator 3500 Watt Super Quiet Inverter Generator ( Best High-End)
Even though a 4000 watt generator isn't quite enough to supply your entire house, it will keep more than just your bare essentials powered up.
What makes this size generator a great option is that it is a reasonably lightweight and portable generator than the larger counterparts in the market.
Also, the best 4000 watt generators are more fuel-efficient than larger generators and are much more affordable too.
Today, we will be looking at some of the best quiet 4000 watt generators that will are powerful, fuel-efficient, and generate less noise when in operation.
Also Read:
Best quiet 10000 watt generators 
How to quiet a Onan 4000 watt generator
Best Quiet 4000 Watt Generators
If you are looking to invest in a quiet 4000 watt generator as a backup generator for your home or outdoors, below are some of the best quiet 4KW generators for your consideration.
1).  Champion Power Equipment 4000 Watt RV Ready Inverter Generator
Champion Power Equipment brand is one of the popular brands that has earned a reputation for designing and producing the finest power equipment in the industry. This 4000 watt digital open frame inverter generator is one of the quietest generators in the market.
This quiet 4000 watt inverter generator operates at 64 dBA from 23 feet, which is a bit louder than normal speech.
It uses an innovative advanced technology from Champion itself which makes it 50%  quieter and 20% lighter than a traditional generator with a similar power rating.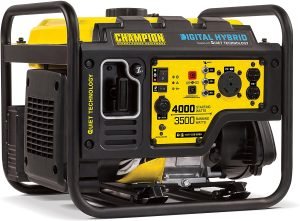 This generator is lightweight and RV-ready which makes it a perfect addition to your RV and a cost-effective power solution. It also features cold start technology, a reliable 224cc Champion engine that produces 4000 starting watts and 3500 running watts, and runs for 17 hours at 25% load when the 2.9-gallon fuel tank is full.
With the inverter technology incorporated, you can confidently connect your sensitive electronics since hybrid produces cleaner power. This generator also has outlets that are RV-ready and also two 120V household outlets.
This unit is also backed by 3-year limited warranty and FREE lifetime technical support from Champion.
Features
Noise level of 64dBA at 23 feet

Starting Wattage: 4000W

Running Wattage: 3500W

Engine: 4-stroke 224cc OHV

Fuel Tank: 2.9 Gallon

Run Time: Up to 17 hr.

Assembly Required: No

Product Dimensions: 20.5″ x 17.9″ x 17.7″
Pros
Good Value for money
Portable
Low noise
Cons
---
2). Westinghouse iGen4500 Super Quiet Portable Inverter Generator
Westinghouse is another famous generator brand in households. They have a series of high-quality portable generators that have been trusted to produce reliable power time and time again for the past 130 years.
This Westinghouse iGen4500 generator is one of their products that has a 3700 running watts and 4500 starting watts with a noise level as low as 53 dBA. This makes it my top recommended quiet generator on this guide.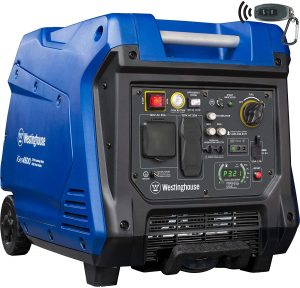 It has a remote start and push-button electric start for ease of use. Whether you're looking for a quiet generator to power your household essentials during power outage or to power your recreational activities, you can trust this Westinghouse iGen4500 because it has been used by many verified customers with many giving positive feedback on it.
It also features two 20A household outlets, TT-30R RV-ready outlet, and built-in USB ports. It is made to be fuel efficient with a variable engine speed to produce only the power you need at any given time, running up to 18 hours on a 3.4-gallon fuel tank to save you repeated trips to the gas station.
The iGen4500 is ensured by 3-year limited service, labor, and parts coverage with lifetime technical support.
Features
 Push-Button Electric Start and wireless remote start, the key fob starts up from up to 109 yds

3700 Rated Watts and 4500 Peak Watts at Less Than 3% THD

Very quiet with the noise level at 52 dBA
Fuel efficient up to 18 hours run time on a 3.4-gallon gas tank

Features a 5–20R 120V Duplex Household Outlet, an RV-Ready Tt-30R 30 Amp Outlet, and Two USB Outlets
---
3). WEN GN400i RV-Ready 4000 Watt Open Frame Inverter Generator
This WEN quiet 4000 watt inverter generator provides clean energy free of voltage spikes and drops that makes it ideal for those who intend to use a generator to power their laptops, phones, and other sensitive electronics.
This generator has a noise level of 67dBA, which is a bit louder than normal conversation but still on the quiet end compared to similar models.
It is equipped with a 212cc 4-stroke OHC engine that produces up to 4000 surge watts and 3500 rated watts of power. This generator has a 1.85-gallon tank that provides over 7 hours of half-load run time.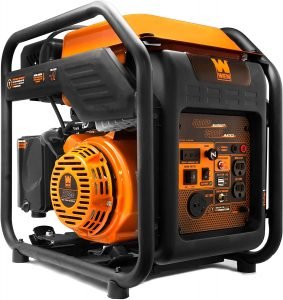 The more outlets you have on a generator, your ability to plug in many appliances at once without needing adapters or strips. This WEN generator comes equipped with two three-prong 120V NEMA 5-20R receptacles, two 5V USB ports, and one 120V RV-ready TT-30R receptacle.
You can also maximize the fuel by engaging the eco-mode switch. This feature allows the generator to automatically adjust its fuel consumption as items are plugged in and plugged out of it preventing unnecessary usage of fuel.
Another good thing about this generator is that you can easily connect two generators in parallel in order to share the wattage across multiple units. This unit comes with a 2-year warranty.
Features
212cc 4-stroke CARB-compliant OHV engine

Produces 4000 surge watts and 3500 rated watts

Dimensions: 19.8″ L x 13.8″ W x 18.9″ H 

Weight: 66.1 lb

The ultra-efficient 1.85-gallon tank provides over 7 hours of half-load run time
Eco-mode switch feature
Low-oil and low-fuel automatic shutdown
4). XtremepowerUS 4000 Watt Gasoline Generator
The XtremepowerUS 4000 watt generator is a portable unit that has a noise level of 67 dBA and is suitable for tailgating, charging tools at construction sites, or providing backup power for your home. It has 0.6 liters oil capacity that can operate for up to 10 hours on a single tank of fuel.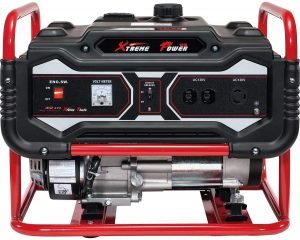 This unit features a user-friendly, recoil start and it's even easier to start than starting a lawnmower. Overall, it's a durable 4000 watt  generator that will for a long time and generates low noise.
Features
Gasoline Running Amps @ 120V: 29.2A
Displacement(cc): 212
Start Type: Recoil Start
Cooling System: Forced Air Cooling
Noise Level(7m): 67 dBA
Low Oil Shut Off: Yes
Run Time: Up to 10 hours
Oil Capacity: 0.6L
EPA Compliant: Yes
Overall Dimension: 24.75″(W) x 18.5″(L) x 19.5″(H)
Featuring (1) 120V A
---
5). Predator 3500 Watt Super Quiet Inverter Generator
The Predator 3500 is a quiet inverter generator with a noise level of 57 decibels at its rated load. If you are running a light load the engine sounds are not too bothersome which is why it is an attractive model for public areas like during camping, on an RV, or for tailgating.
Its fuel efficiency is decent, not ranking at the top compared to competitors in the same output category but still good enough for overnight use. Considering it only has a 2.6 gallon fuel tank, the running costs are very affordable.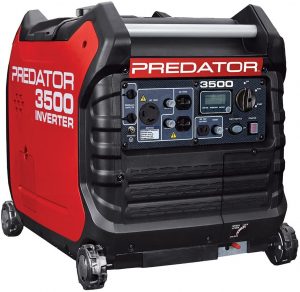 Another money-saving aspect is easy maintenance. Besides the standard routine maintenance of oil changes test runs, there is not much for you to worry about.
Although a pulling handle would be nice given the rear wheels, this model is still lightweight enough for carrying. Even better is spreading the weight between two carrying persons by making use of the basic handle on each end of the generator.
Overall, this is a versatile model that has good features for its pricing. It is a no-fuss, easy-to-maintain inverter generator with qualities that you might pay extra for with other brands.
Features
212cc air-cooled OHV gas engine

11 hour run-time @ 25% capacity

Digital LCD Screen with low oil, overload, and output light indicators

Integrated smooth-rolling casters for portability

Electronic overload protection
---
Factors to Consider When Choosing a Quiet 4000 Watt Generator
Picking a generator can be a daunting task especially if you have never bought one before. Even though manufacturers make them look simple, there are many moving parts involved and careful consideration is necessary.
In this guide, you will find some of the important features to look out for when choosing a quiet 4kw generator. This gives you the confidence to make the right selection.
Engine
The engine is one of the important factors in determining the power output of the generator. 4000 watt generators generally are fuelled by gasoline or propane which gets converted into electrical energy. Most 4000 watt generators have 224cc or 212cc engines which is normal for 4000W models.  The engine power and quality are also huge determining elements of a generator's price.
Noise Level
The noise level of a generator is usually measured in decibel (dB). It is another factor to consider if you don't want the roaring noise of a noisy generator disturbing your peace.
The noise level of every generator is usually stated in the manual by the manufacturer. The noise usually comes from the motor and exhaust and depending on the design of the generator, some are quieter than others.
The noise level is often stated in decibels. With the decibel scale ranging from 0 dB (total silence) to 140 dB (a gunshot noise). For every 10 decibels, the noise level will 10 times more powerful. On the market, the quietest decibel rating of a silent generator is currently at 50 decibels, which is equivalent to a whispered conversation between two people.
A small generator can register a decibel reading of 75, which is as loud as a leaf blower. So it is really important to read up on the decibel data on any brand you are looking to purchase and look into the different brands available.
Rated and Max Power Output
Rated power and surge power are also important to know. The rated power is the power wattage the generator is able to produce consistently, whereas surge power comes into use when a motorized appliance like AC, refrigerator, or pump comes into play.
However, for regular appliances like dishwashers, TV, light bulbs, and TV, the standard running wattage is fine.
Portability
Space-saving and convenience have become a part of people's lives nowadays, and generator manufacturers have made it easier to find a portable generator these days. Thankfully, all 4000 watt generators are not particularly bulky and they are designed to have features that make them easy to move around. They mostly have wheels to which makes them easy to take around.
Total Runtime
The runtime of a generator is typically a parameter that represents the total time a generator can run on a tank full of fuel at half the rated wattage. The total runtime of the generator depends on the tank size and motor is the most significant.
You must bear in mind that the runtime will depend on the number of appliances you're powering at a time and how much wattage they consume in total. So, keep an eye on the appliances that get powered on if you want to maximize the runtime.
Total Number and Type of Outlets
The type of outlets determines what kind of appliances you can connect to the generator without resorting to electrical adapters and power strips. Also, the type of outlets of the generator will depend on the type of appliance you can plugin. The number of outlets will determine the number of appliances that can be connected directly to the generator at once.
For instance, the standard appliances like the TV, fridge, microwave, etc, the standard 120 V outlets should suffice. On the other hand, heavy-duty machines like pumps, 240 V outlets might be needed.  for RV, your generator should have an RV-ready 120 V outlet.
You may also have USB ports for charging electronics like mobile phones, and other electronics. Overall, the more outlets you have, the more convenience you will have.
4000 Watt Generator Price
The price of generators varies depending on the features it has. But generally speaking, most 4000 watt generators' prices range from $400 to just above $1000. The tank size, engine, manufacturer model, and other features determine the price.
Is a 4000 Watt Generator the Right One for You?
With the many different types of generators in the market, there are also different sizes available for people who need them for different reasons.
Most homeowners who are looking for a backup generator mostly look for something that falls in the 2000 watts, 3000 watt to 6000 watt category. This range includes the 4000 watt generators category. But watts the 4000  watt generators a great choice?.
Those who choose a 4000 watt generally have a sort of modern type of setup. Gas or oil-forced air heating systems don't mostly need much wattage at all.
4kW generators can also be used for camping or industrial setting. They are portable and versatile. They are not very loud and won't pose a noise issue to others.
Even if you feel you don't need anything close to 4000 watts at the moment, you can still invest in a 4000 watt generator that will be able to handle other power issues in the future. quiet 4000 watt generators are generally of the best overall value.
Even if the higher wattage is only used a handful of times, it beats having to work with something that is underpowered. Overdriving a generator can be dangerous, so nothing beats having a generator that can handle home needs, RV-ready, and also some industrial applications.
Is An Inverter Generator Better than a Regular Generator?
Inverter generators are somewhat better than traditional ones in some domains. Inverter generators have voltage spikes under control that make them better options for sensitive electronics like phones, laptops, etc. They are also lightweight, more portable, more fuel-efficient, quieter than the traditional counterparts.
On the other hand, open frame generators can be more powerful and able to run many devices at the same time. So an inverter generator is not better or worse, your needs are what matters when it comes to choosing a perfect generator.
Final Thoughts on the Quietest 4000 Watt Generator
4000-watt generator can be used as backup power for home, RV, tailgating, construction site power, campsite generator, etc. The above generators are some of the best quiet 4000 watt generators in the market. I hope you find what you are looking for.
Latest posts by Josephine
(see all)