Top 3 Quiet Trash Can Dolly Picks
Looking for a quiet trash can dolly for moving your garbage cans?. Perfect, then you've come to the right place. In this guide, you can expect to learn the following:
How does a trash can dolly work?
Our top-rated quiet trash can dolly picks
How to choose the right trash can dolly for carrying your garbage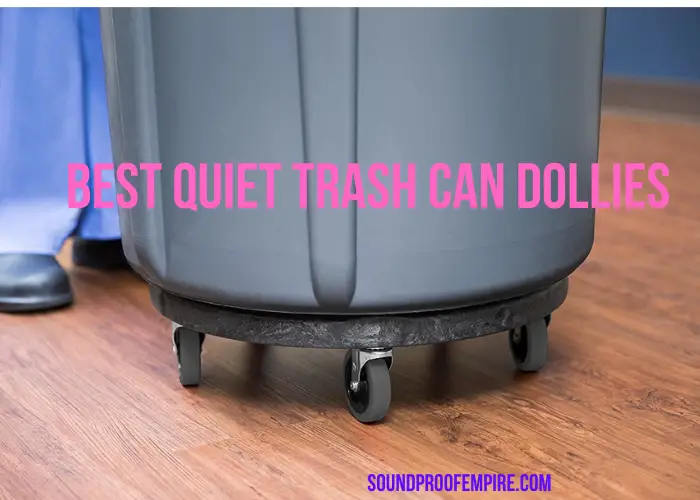 Quick Preview of the Best Quiet Trash Can Dolly Picks
In a hurry?. I understand. Here is a quick preview of the best quiet trash can dollies for securely transporting your garbage cans.
Whether it is at the workplace or home, garbage cans need to be transported to their appropriate locations. To ensure you don't tip your cans, the trash can dolly gives you the needed secure base for your trash cans.  They secure the garbage bin to the ground to prevent it from tipping.
wheeled trash can dollies support the can so it can be transported around a capability without lifting. So, with the right trash can dolly your employees can comfortably maneuver your full bins around your restaurant, diner, home, or hotel.
These units are designed to tightly fit onto the bottom of cans, which prevents them from tipping over or falling when you move them.
However, in as much as you wish to securely transport your garbage bins without tipping, noise is another problem that one has to consider when using these trash can dollies. Because the last thing you would want is to disturb busy workers or customers with noisy trash can dollies.
To solve this problem, some companies have designed their trash can dollies to be much quieter than others. This enables your workers to move the garbage bins around without noise. To find the best trash can dollies with less noise, keep reading.
Also Read:
Best Quietest Trash Can Dollies
Here are some of the best trash can dollies that will get the job done with less disturbance and noise.
1). Rubbermaid Commercial Products Vented Slim Jim 2 Trash Can Dolly
This trash can dolly is one of the quietest trash can dollies that allows you to easily transport slim jim cans throughout any facility with much noise.
This product is designed in such a way that it can be used by itself as a dolly or it can also be linked to another trolley ( which you would have to purchase separately). Connecting multiple slim jim garbage cans help reduces the number of collection trips and effectively moves more than one trash can in one trip.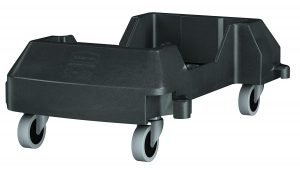 This trash can cart with four wheels from  Rubbermaid Commercial trash is made with space-saving and easy transportation in mind because it's slim jim trolley is able to save you time and also reduce worker strain from heavy loads.
---
2). Rubbermaid Commercial Products BRUTE Quiet Dolly
This BRUTE trash can dolly is another quiet garbage can dolly that is round in shape and quiet as well. It's ideal for noise-sensitive environments like hospitals, nursing homes, offices, and schools.
This product is specifically designed for use with fully-loaded 20, 32, 44, and 55 gallon Rubbermaid BRUTE trash cans up to 250 Ibs.
It is easy to maneuver with and this makes waste collections more efficient, it saves your time and reduces worker strain.
Made from post-consumer recycled content, this product is solid, sturdy, and can resist rust, chipping, and denting.
---
3). Tiger Chef Commercial 5 Caster Trash Can Dolly
This lightweight and durable 5 caster trash can dolly can take weight up to 400 Ibs. It also perfect for environments like hospitals, daycare, nursing homes, offices, and school buildings.
With its 5 roll-able wheels, you get maximum pushing capacity and easy steering. It is also equipped with a safety lock which is a simple twist-lock feature that securely attaches dolly so can don't fall accidentally.
This trash can dolly makes waste collection easy and efficient without putting much strain on workers. This product works great with many trash cans brands such as Rubbermaid BRUTE containers,  Winco, Thunder Group, Excellante, Update International 20, 32, 44-gallon trash cans, and almost all 32 Gallon Trash cans.
This product is sort of like universal trash can dolly that works well with most trash can brands unlike the Rubbermaid trash can dollies above that work with only their brand.
---
Final Thoughts on Quiet Trash Can Dollies
Garbage can dollies are a great way to move your trash cans from one point to another without any strain on your body. They make it easy to maneuver, bring about work efficiency and reduce workers' fatigue.
But if you are working in noise-sensitive environments like hospitals, nursing homes, schools, etc, it is important to work with quiet trash can dolly to reduce the unnecessary disturbance that might come moving your garbage bins.
The above products are all quiet and I hope you found this post helpful.